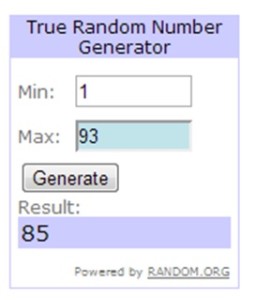 I'm so excited about how many of you responded to the Making Manifest book reflection this week. I wish I could give a copy away to every single one of you.
I counted 93 commenters when I excluded Dave and I. (Literally. I wrote all of your names down on my grocery list notepad to make sure I didn't miss anyone. I'm sure there's a plugin for that but I don't have the technical savvy to figure it out.)
And the Random Generator of Awesomeness has spoken. The winner is Number 85 – Abi! Congratulations! Expect an email from me soon!
If you didn't win, I'd still urge you to go pick up a copy of this beautiful workbook from Seedbed.
If you're doing it with a group, there are bulk discounts that you can take advantage of over there as well. It's such a great alternative for those of us who have done the fill-in-the-blank stuff too many times and just need something different.
I'd like to leave you with this beautiful thought from the book.
" […] To come close to saying what can't be said or being what we can't fully be, we have to choose to set aside time to meet this becoming, to respond to God's incarnate invitation of full awareness. We need solitude in a world that wants to visit, quiet from a world that wants idle chit-chat, and steadfastness in a world where everything's changing and transient. We need time to gather the little pieces of ourselves that scatter. We need time to write down our little lives.

The good news: your life is already poemia — a living breathing work of words. So with a little time and practice each day your bit of energy will become worship you make, not worship made for you. […] You can best worship God by accepting your words and giving them life, by owning them, and then giving them back; or, as Romans 12:1 says, to present them as part of your reasonable sacrifice — offering your words as part of offering yourself."
May you find solitude, quiet and so much beauty this weekend.