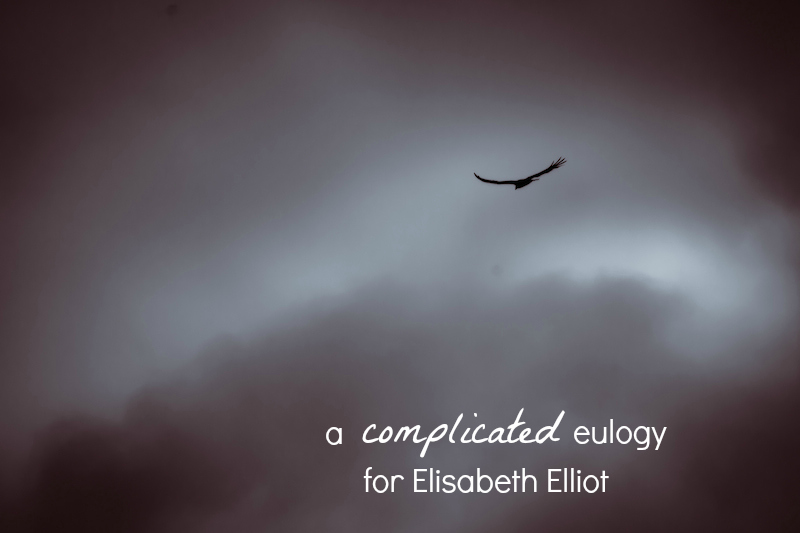 You died on Monday.
I confess, I'd forgotten about you until I started seeing your name flash by in my social media feeds. Elisabeth Elliot, Tenacious Missionary to Ecuador, Dies at 88.
All week, I've been thinking about you…about the way your story, already romanticized into evangelical lore by the time I started high school, collided with mine: You were the woman whose husband was killed by a tribe in Ecuador while you were missionaries there in 1956. You were the woman who stayed there anyway and kept doing her work.
It was an epic kind of faith story, and it had already been shaping and defining American evangelicalism for nearly fifty years by the time it began to shape me.
My sort-of-boyfriend at the time had Africa-shaped stars in his eyes…and what was it about stories of martyrdom that appealed so strongly to him — to all of them — that whole burning-for-Jesus bunch?
Whatever it was, he wanted to be Jim Eliot, living fearlessly in some jungle somewhere, which in my mind, mean that I was supposed to be you.
You — the woman who waited five years in patient purity for Jim to decide whether or not God wanted him to marry. You, who followed him to South America (though you had wanted to go be a missionary in Africa), who made a home among the South American Indians for your small daughter, who went back to the tribe that murdered your husband to complete the task of sharing the beautiful story of Jesus.
Yours were impossibly huge shoes to fill, but I wanted the missionary boy to love me…and so I tried. I read everything you wrote and underlined big swaths of text. And much of what you wrote was about relationships, purity and gender roles.
When I was fourteen, wavering in my own purpose and identity, hopelessly in love with an older missionary boy, I read your books, and you pointed me into the Garden of Eden when God created man, and then, from one of his ribs, woman. "You can't make use of a thing unless you know what it was made for," you wrote. And a woman, you said, was made for man.
And maybe if I'd been older or wiser or less desperate, I would have read something different in those words. But at fourteen, I took them to mean that I ought to devote myself to the boy, submit to his dreams and plans, nod and acquiesce and wait as he tried to discern whether God wanted us to be together…or, finally, not.
I've been re-reading those books this week. Somewhere, either in transition or in spiritual angst, I lost (or gave away, or destroyed) Passion and Purity, but I still have Let Me Be a Woman and Quest for Love. And your words still raises all sorts of complicated feelings in me.
You took the hard line on gender roles. You believed that the meaning of womanhood excluded women from church ministry. You had nothing but contempt for the Woman's Liberation Movement, set yourself up against a "Them" that you believed were set on turning woman into "a caricature, a pseudo-personhood." You did not particularly want women in "the workplace" and were appalled that they were being let into the army. You wrote in certainties and absolutes that make me bristle now.
"The way you keep your house, the way you organize your time, the care you take in your personal appearance, the things you spend your money on all speak loudly about what you believe," you wrote to your daughter in Let Me Be a Woman. "'The beauty of Thy peace' shines forth in an ordered life. A disordered life speaks loudly of disorder in the soul."
Oh Elisabeth. If you could see my house right now. There are so many crumbs on the kitchen floor that I have to wear shoes in there so they don't stick to my feet. Also I have been wearing the same sweatpants for two days because our dryer is broken.
Also,  I have come to terms with the fact that my soul is in total disorder, and that the beauty of God's peace is still there, floating above it all, like the dust from my living room bookshelf swirling around, catching the light.
I read your words, and they sound stern and unyielding and a little obstinate. There are things that I don't agree with. Often, your words make me angry, and I'm tempted to write you off altogether.
But then…you had the most contagious smile.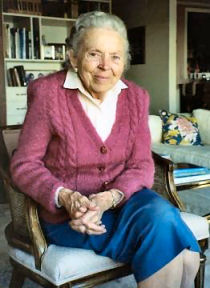 Your photos tells a different story than your books. You are dimpled and braided hair and gap-toothed, standing next to Jim. Then, later, you are holding your daughter, and your face has taken on a kind sad strength as you hold your baby girl. You are wearing those sensible shoes and that dress in the jungle, still doing your work.
Then, you are older, then older still — still gap-toothed and grinning. You look like you might be a little sassy, but that could just be wishful thinking.
The way you spoke of feelings in your books, Elisabeth, feels cold, detached, and absolute. "Keep a tight reign on these emotions," you wrote to a twenty-four-year-old woman who had sent you a letter about the man she liked. "A life lived in God is not lived on the plane of feelings, but of the will," you wrote, and I remember, as an emotional teenage girl, trying hard to shove my feelings again and again into submission like you seemed to do so easily.
Reading now and looking at your photos, I see a different version of that story — a woman who I expect felt everything deeply. Who woke up every day in a tsunami of grief, and had to find a way to stand up and keep going.
I can imagine you then: You are a young widow, a single mother, living far away from family, helping to birth babies in the jungle. You are afraid; you are lonely and sad, and you're doing it anyway.
You say the creeds when you do not feel them. You learn, year after year, to "hang [your] soul on those strong pegs, those 'I believe's'" and to find strength and shelter.
"Lord Jesus Christ, Son of God, have mercy on me." You learn to say it like the orthodox Christians, like breathing — in, out, in out — until the wave of emotion had passed and you were still, miraculously, standing.
And maybe I'm creating a kind of fan fiction, reading things into your life that weren't there so that I can make sense of you. Or maybe you were every bit as complicated and broken and untidy and emotional as I am.
Either way, as I look at your soft, time-wrinkled face in your final pictures, it occurs to me that we'd both say the same thing:
The most important thing about your life is not what you said about God or women or marriage or purity. It's what God said about you. Beloved, beloved, beloved.
It's what he says about all of us. What he's still saying as you wander through the gates of splendor toward Him. As you smile that beautiful, gap-toothed smile, and make your way home.
(Bird Photo by Jonathan Ashcraft at CreationSwap.org)