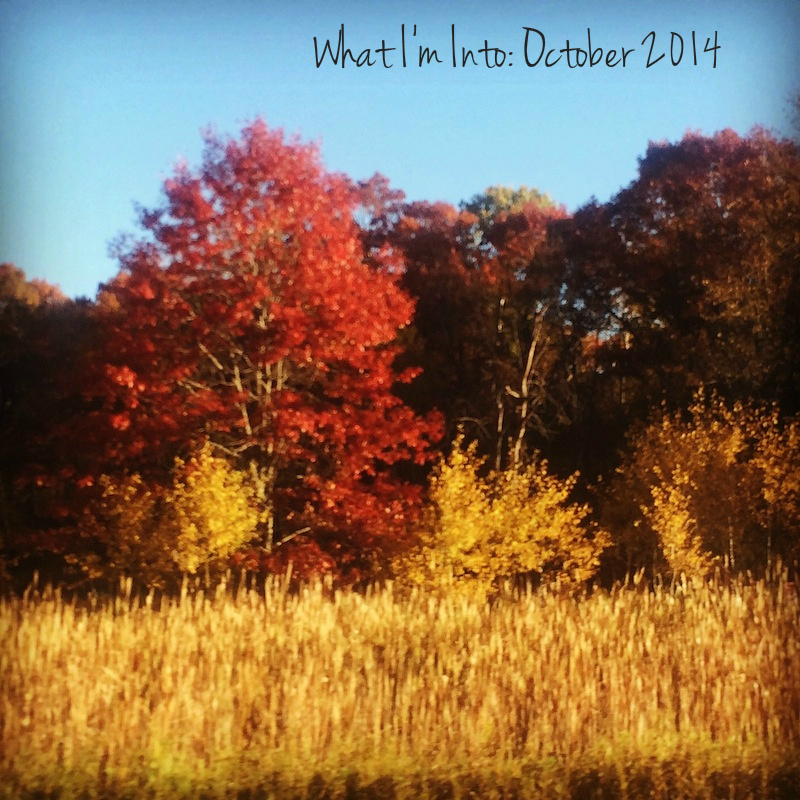 We have had the most amazing October.
I've complained enough about the Minnesota weather on this blog for you to know how completely awful it is for much of the year, but this October? Magical. Perfect fall temperatures all month long…and the colors!
It has been a full and beautiful month, and I feel very grateful for its gentle loveliness, easing us toward the cold slowly.
What I'm Reading:
I've been all over the place this month with my reading. Normally, I'm a finish-one-book-before-going-onto-the-next kind of girl, but this month I've been scattered. I'm reading bits and pieces of several different books.

In the mornings, by my sad little light-box, I am going back between Levertov's collection of faith-based poems, The Stream & the Sapphire (which is stunning) and Debbie Blue's Consider the Birds (which is completely brilliant.) I love both but can only read each in small bits because they give me so much to think about.
I've had a couple different opportunities this month to talk about the intersection of faith and art. It's a conversation I'm so interested in…but haven't thought much about lately. So I picked up an old favorite — Madeleine L'Engle's Walking on Water. Re-reading this is bringing me back to a sort of "home base" as I work toward finishing Book 2. Why I do this anyway. What it means to be a Christian and a writer. What it means to find cosmos in the chaos. Beautiful stuff.
I'm trying to read Kate Morton's The House at Riverton, but I'm having a hard time getting sucked in. And I can't believe I still haven't ever read The Joy Luck Club. I've had it on my shelf for years, but I just started it this month. I've only read a few pages, but I can already tell it's going to be exquisite.
I'm hoping to do better with finishing books this month, and am hoping to play along with Modern Mrs. Darcy for her monthly Twitterature roundup — where you write super-short reviews of everything you've read lately on the 15th of every month. Fun right?
What I'm Watching:
I'm loving fall television, as usual. On my list of regulars: Scandal, Grey's, How to Get Away with Murder, Nashville, (ahem) Vampire Diaries (ahem), and Marry Me.
I had high hopes for Red Band Society, but I lost interest pretty quickly. And I was super sad when they cancelled Manhattan Love Story. I thought that one had so much promise!
Andrew and I got all caught up with Parks and Recreation on Netflix. I keep hearing rumors that there's one more season coming. Is that true?! Please tell me it's true.
We also started watching The Blacklist, and though we can't stop calling the main character Robert California (his Office name) instead of Reddington (his Blacklist name), we're definitely sucked in.
When I've caught up on everything else and there's still laundry/dishes/projects to do, I'm rewatching ABC Family's Greek on Netflix, which I'm way too old for but which still makes me laugh.
What I'm Listening to:
This month, I discovered the gorgeous worship music of The Brilliance. I've only listened to their free live album, Road Recordings, from Noisetrade so far, but I'll definitely be buying more soon.
I couldn't stop myself from downloading a couple of songs from Nashville. ("Joy Parade" and "When You Open Your Eyes.") I also grabbed a couple of song off of Andrew McMahon's new album, In the Wilderness, (because Jack's Mannequin and Something Corporate will always remind me of some of the best times of my life.) "Maps for the Getaway" is my favorite off the new album so far, with "Rainy Girl" a close second.
Other Things I'm Into:
– Leaves, leaves, leaves. Beautiful, crunchy, golden leaves and the boys who love to play in them.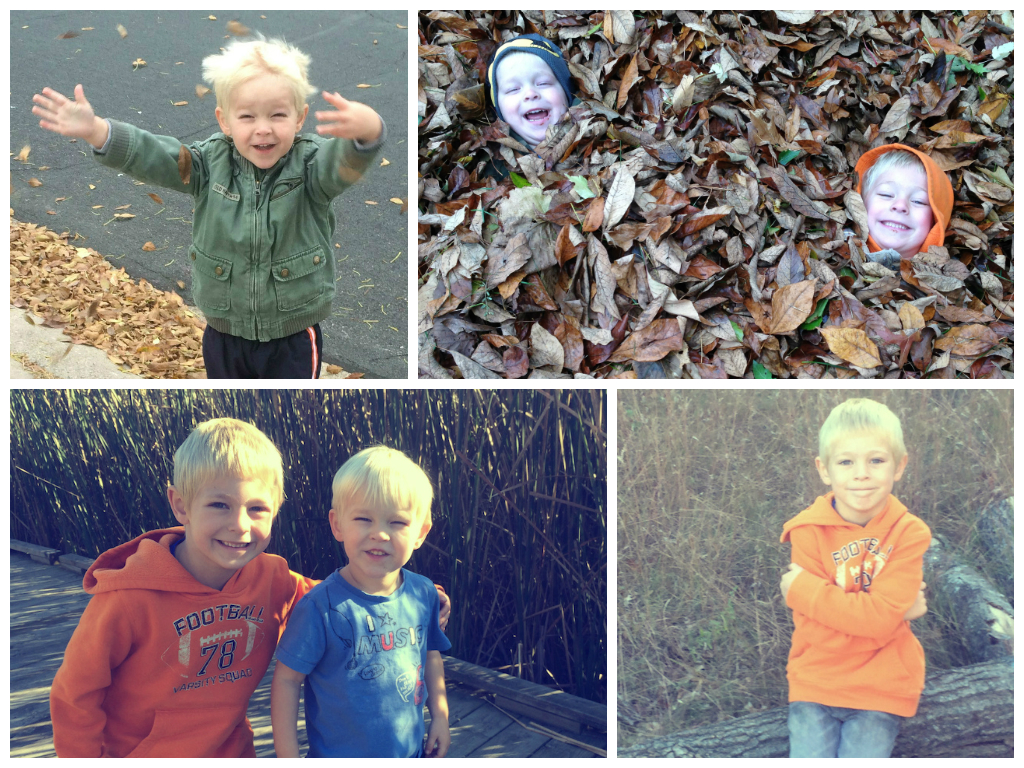 – Green smoothies. I cannot believe I'm even saying this, but it's true. I made a whole bunch of bags ahead of time this month and have been whipping them up every morning LIKE A REAL GROWN UP.
– Don't worry. I'm still into McDonalds. And Diet Coke. And coffee. And wine. And gigantic piles of pasta. So pretty much all the goodness of the green smoothies are counteracted by the rest of my life. BUT STILL.
– A family trip to Duluth over a long weekend.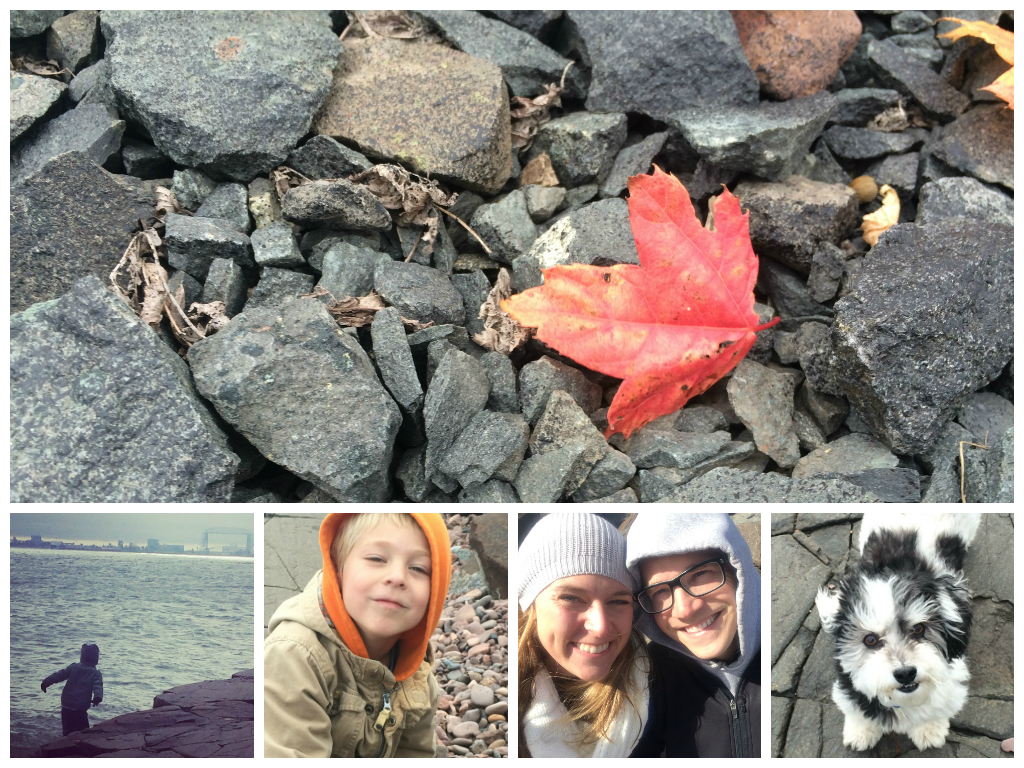 – Scraps of paper with carefully written "I love you"s from my kindergartener, who is so proud to be learning to write.
– Infinity scarves.
– Potato soup. I make this recipe exactly, except I add ham, and I cannot stop eating it. Seriously. I've probably made ten batches this month alone. So good.
– Bonfires with friends.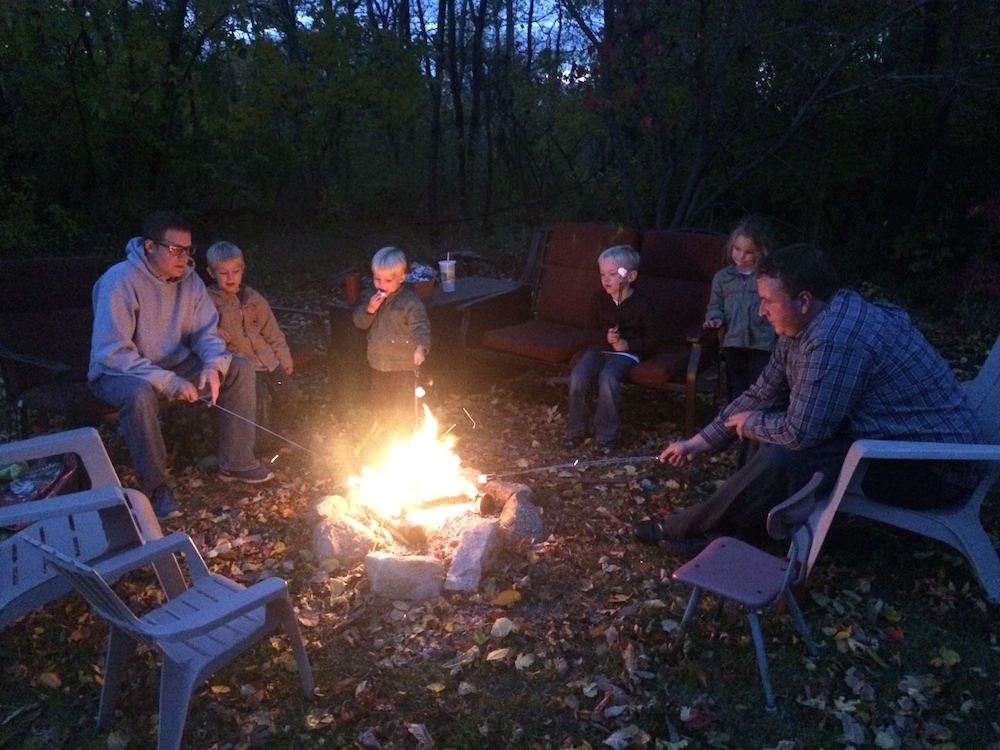 – Carving pumpkins with my loves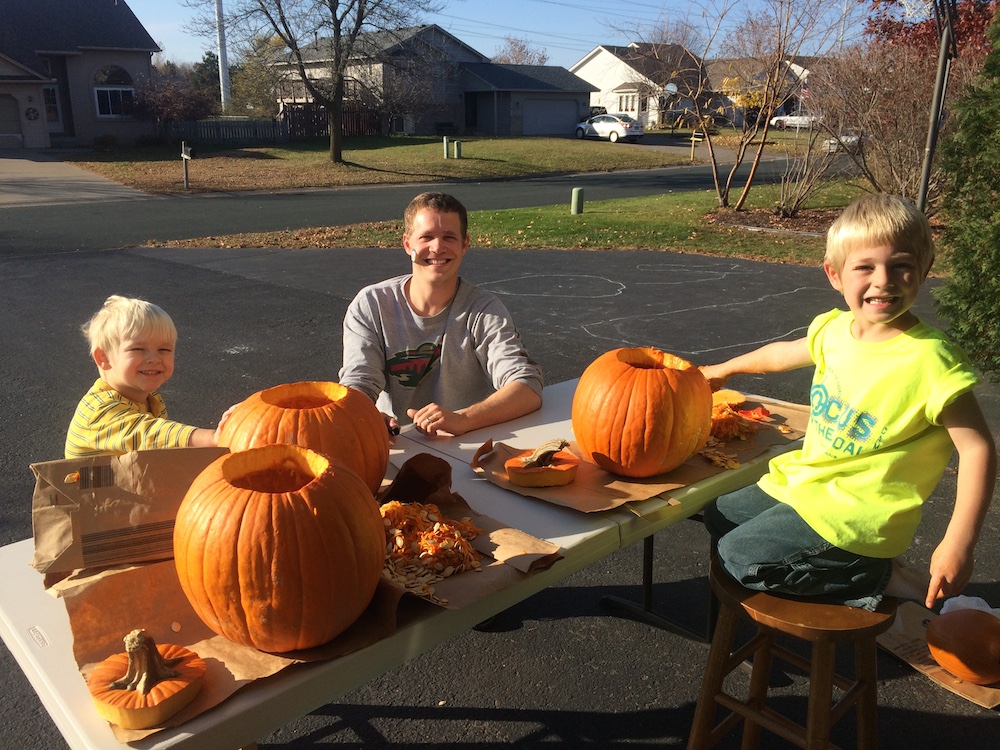 – A kindergarten Halloween party (and parade) in which 6 of the 23 students in Dane's class were dressed as Elsa.
– Apple cider candles
– The ducks on the pond in the evenings, making all sorts of lovely racket.
– Holding a chicken for the first time at a pumpkin patch. How cute is he?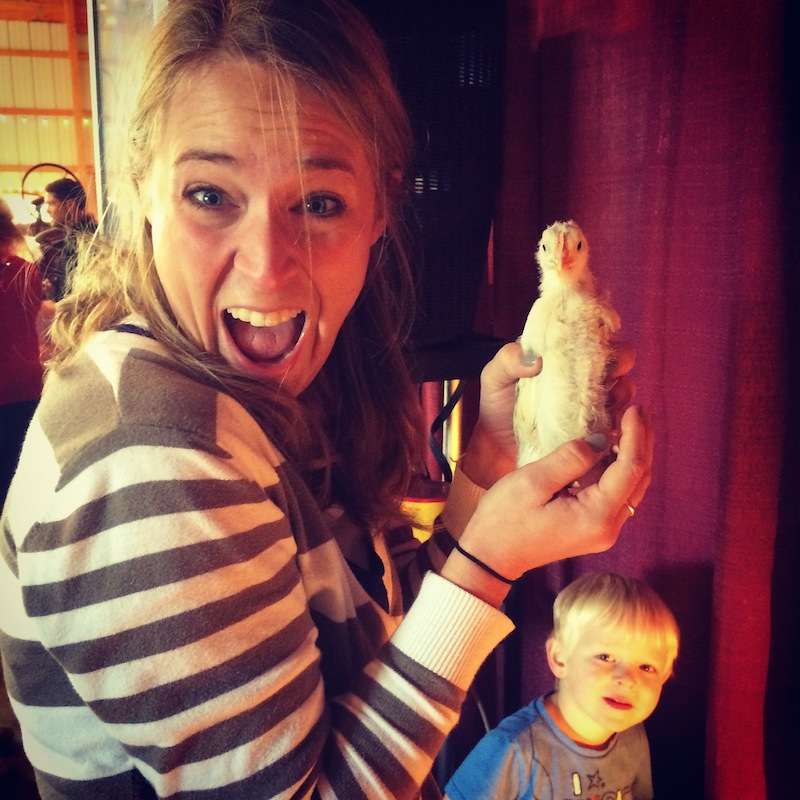 Blog, Speaking, Writing…
I had the chance in October to speak at some really cool places, including Imago Dei church in Peoria (you can listen to that recording here if you want to) and the Emerging Artists Collective in Minnesota. I haven't done much speaking since the Epic Road Trip last winter, and it felt good to get back out there. To say things out loud and to interact with real, wonderful people face-to-face.
Lately, the animosity of the Christian Internets has kept me from wanting much of a part in "The Conversation" happening around faith. (I wrote a little about that here). But being in those rooms, filled with genuine people, talking and listening to one another, I was reminded of everything I love about that Conversation. The honesty. The hope. The expectation. I was honored to be part of it.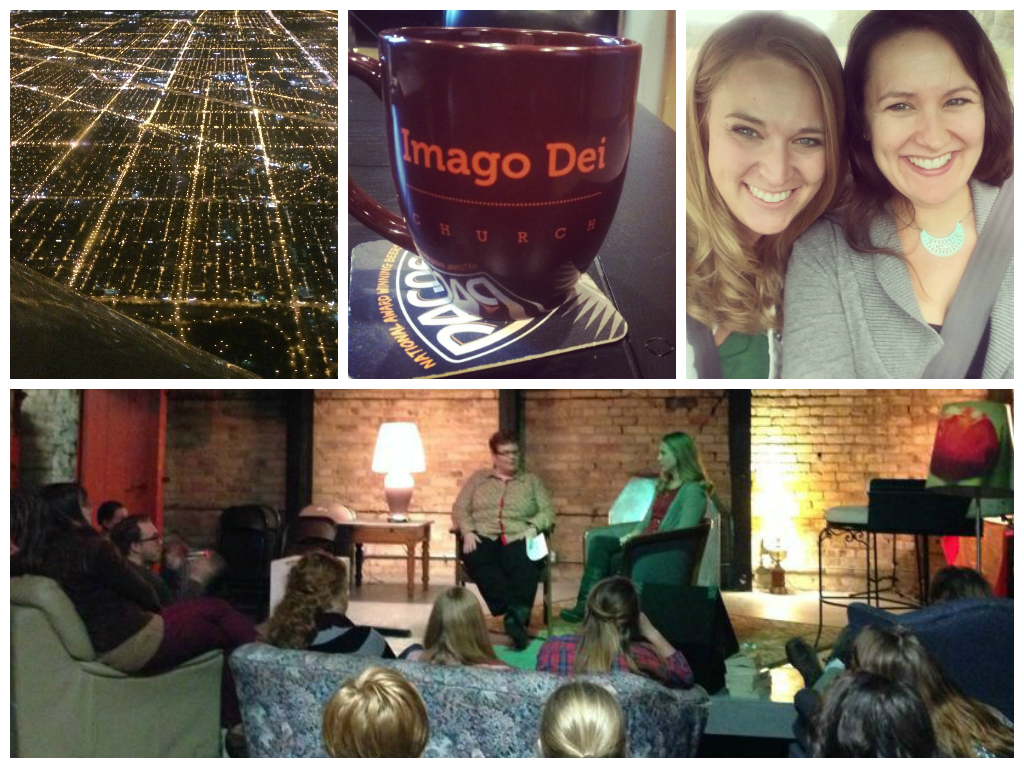 I'm continuing to make slow (but steady) process on Book Two. Over the last couple of months I've turned a corner and am no longer deleting more than I write. So that's a good thing.
I'm hoping to have a complete draft to my editors within the next couple of weeks. If you are the praying type, continue to pray for clarity, insight and attentiveness to God's Spirit as I work to finish.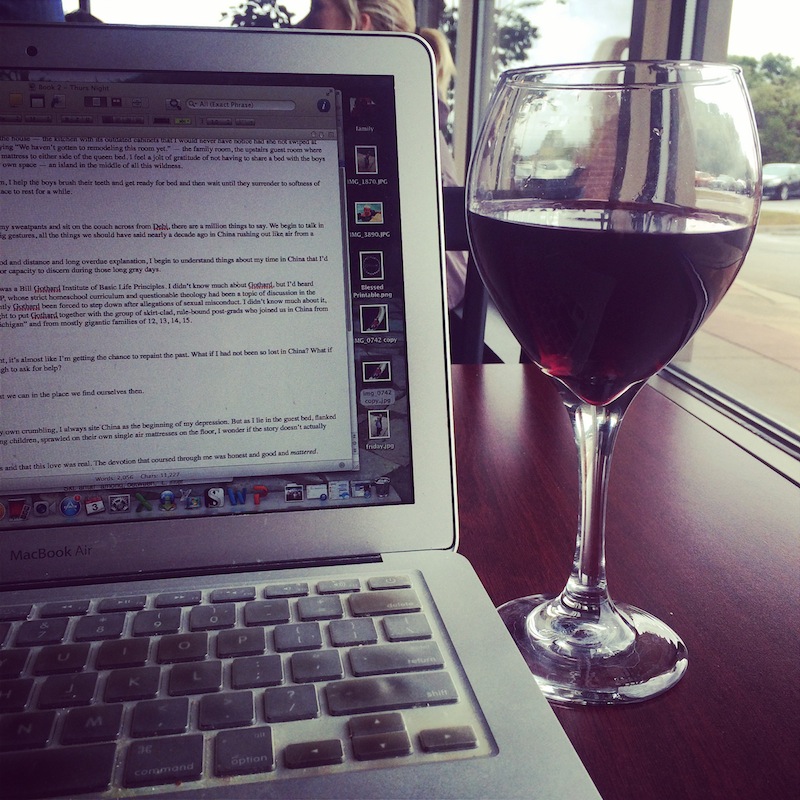 I bounced back into the Blog World this month after a pretty long hiatus, and it's been so good. The post In Transit was my attempt to capture an incredibly meaningful spiritual insight I had at the airport on my way home from Peoria. One of my most unexpected and favorite days of this month.
I also started a series of Modern Psalms this month. So far, the ones I've done have been a way to honor hurting friends and to enter into their world — Psalm for a Lost Child for my friend whose son died last month, and Psalm for Wednesday Morning Chemo for a friend with cancer. Each of these posts has been deeply meaningful to me as I struggle to figure out what it means to enter into the suffering of others and wait.
I celebrated my book turning one year old and then I celebrated the simple beauty of One Day through an Instagram challenge with Hollywood Housewife.
It's good to be back.
If you're just finding me here, you can also follow me over here on Facebook or here on Twitter. Or on Instagram here.
As always, I'm linking up with the lovely Leigh Kramer for What I'm Into. So glad she does this fun linkup!
What about you? What have you been into this month?