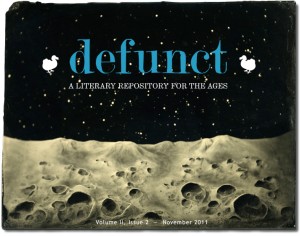 I am so honored to be featured in the November issue of the beautiful online literary magazine, Defunct!
If you're interested in checking out an excerpt of my memoir, this is your chance! It's a short section (similar in style and format to the entries in this blog) examining the phrase "born again."
(Disclaimer: There is a little bit of profanity in this piece, so if that kind of language is difficult for you, you may want to skip this.)
If you have a chance, stop by and check out this gorgeous magazine.