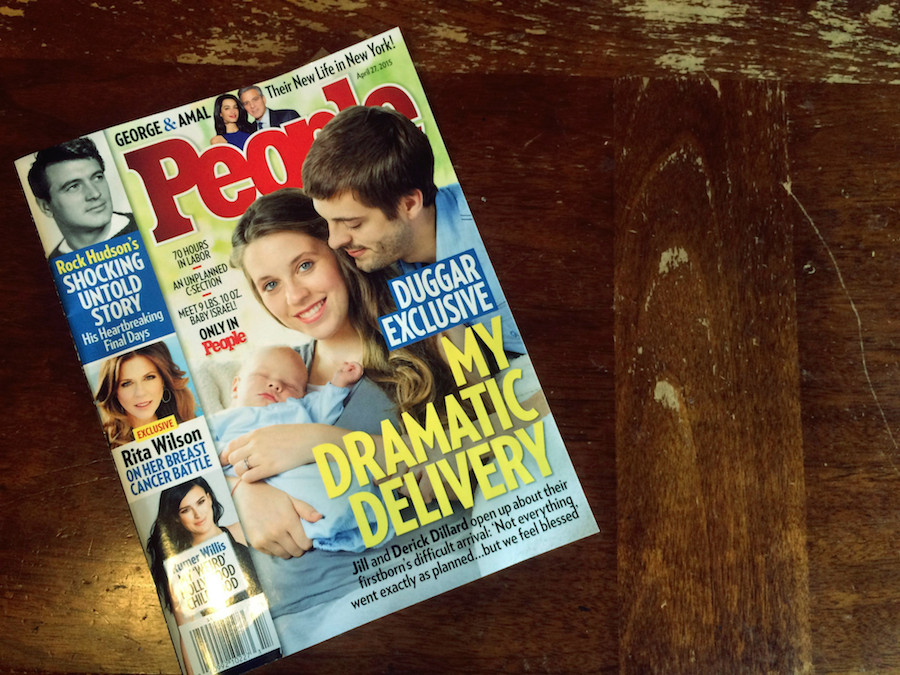 We have a three-and-a-half hour trip home from our girl's weekend in Iowa, so I buy a People magazine off the rack in Walmart. "You can read this to me while I drive," I say to Barb, knowing that she shares my guilty pleasure of celebrity gossip. "Perfect," she says.
The magazine cover story is a "Duggar Exclusive" about Jill and Derick Dillard's brand new baby. On the centerfold, the young couple stare adoringly at each other over their sleeping baby. "We took on everything that happened during our labor with prayer," Jill said. "We could feel that God was with us."
Jill and Derick's birth story is the topic of the article, and I almost choke on my Diet Coke when Barb reads that after Jill's water broke, she "managed to get some sleep, get in a morning appointment with the chiropractor — 'I wanted to get aligned before birth' — indulge in a couple's pedicure alongside Derick and take a two-and-a-half mile walk to get labor going."
"How do you get a pedicure while you're having contractions?" I ask, trying to envision it. "Wouldn't it be hard to keep your feet still?"
"You'll love this," Barb says, and then reads that "to distract his wife, Derick played spiritual songs the couple both love and read Bible verses and inspirational sayings."
"What, like Footprints in the Sand?" I ask.
"And 'God won't give you more than you can handle," Barb adds.
She reads on about the home birth relocated to the hospital (a meconium sighting a clear sign from God that they needed to go in, according to Michelle Duggar), and a divine leading toward a C-section. ("We were grateful for God showing us what to do in time.") The final quote, near a photo of Jill swaddling her new baby says, "We have such love and support around us. God answered my prayers."
Barb puts down the magazine and sighs. "But what does that mean for other people — whose babies don't make it?" It's a valid question — especially for Barb, whose twelve-year-old son died suddenly from an undetectable viral strain this past September.
"I need to take a break before we read anymore," she said. "Digest." We're quiet for a while, listening to the mellow song pumping out of my iPod into the car, looking out the windows at the slate-gray of the April sky.
I think about the first-married daughter of the 19-Kids-and-Counting-famous Duggars. I don't doubt their sincerity and love — this sweet young couple with their brand new baby. And who knows? Maybe it did go exactly like that. Maybe the "inspirational sayings" really did calm Jill down in labor; maybe her cries of pain were laced with prayer and gratitude, and maybe they did feel God's leading and presence every single step of the way.
But the story doesn't leave me feeling encouraged or hopeful or less alone. At best, it makes me feel cynical and suspicious; at worst, spiritually inferior — too earthy and combustible to respond to life's pain with that kind of shiny-eyed faith.
*
The second People Exclusive of the magazine is "The Untold Story of Rock Hudson's Final Days."  I knew that Rock Hudson was gay but had somehow forgotten the fact that he had died of AIDS until Barb begins to read the story aloud.
She reads about the slow decline of the handsome, Hollywood leading man of the 50's and 60's. His illness was marked by secrecy and shame in a world where AIDS was a little-understood disease that "stoked homophobia and terrified the public." When Hudson was diagnosed, little was known about AIDS and there was nothing for him to do but slowly succumb to the disease. I listen to Barb read the accounts of friends and doctors and co-workers, and though I only glance at the pictures from the driver's seat, I can see a certain sadness about Rock Hudson's eyes.
Dr. Gottlieb, the immunologist who identified AIDS and who worked closely with Hudson, is quoted extensively in the article. Barb reads his recollections to me while edge through Minneapolis traffic and back toward the Northern suburbs where we live. "I spoke to Rock. He was lying down. I said, 'The press wants information on your condition. Should I tell them you have AIDS?" and he said. 'Yes, if you think it will do some good.'"
I was only two years old in 1985, so I can't imagine the fear, the paranoia, the stigma of AIDS. The loneliness. I suppose it would have gotten out — that Rock Hudson died of AIDS — whether he publicly confessed to it or not. But there is something about the fact that he did that gives me a chill up my spine. He gave up a persona, a beloved public identity, his rights to privacy — and in doing so, he was the first voice in a changing narrative about AIDS.
"It's the pivotal event of the country's consciousness of the HIV epidemic," Gottlieb said. "He showed tremendous courage and allowed his diagnosis to change the face of AIDS."
And it's no "inspirational quote" of the Duggar variety…but it inspires me all the more for that.
*
I have been absent from this blog lately for a lot of reasons, but the preeminent one is that I'm trying to finish the next round of edits on my second book. There are lots of changes to be made, but the biggest ones have to do with honesty and authenticity. Am I telling the whole truth here? Or am I just playing with filters, trying to make myself look better than I really am?
And Lord, it is so much easier to give the golden, gilded answer — the one that paints me in a prettier light. Just because I managed to be honest in my first book does not make it easier to expose my flaws now — especially as they feel more unfinished, unconquered and unreasonable.
I'd be lying if I said I'm not tempted to make myself the victim or the heroine — anything but the broken mess that I am.
I want you to like me. I want you to love me. I don't want you to think I'm unstable or ungrateful or selfish or self-destructive. I don't particularly want to show you how much wine I can drink if I'm not careful, how toxic my inner-monologue can be, how much I yell at my kids.
Deep down, I want to look wise and lovely, like someone who has come out the other side of things feeling blessed and together. Someone sings Jesus Loves Me to her children while playing Legos for hours and hours. Someone who, when stressed, says a prayer and makes a warm mug of lemon water.
But even more than that, I want to change the narrative. I believe that we can only become the transformative community that we're meant to be when we stop pretending that we have it all together. When we get brave enough to show our broken pieces. When we get brave enough to say "Me too."
I wonder how it would have felt if Jill Dillard had said. "There were times during labor when I did not trust God. When I was afraid that he would let me down. When I wanted to take Derick's inspirational quotes and shove them up his ass."
I'm not trying to crucify the Duggar/Dillards — truly, I'm not. But still, I can't help but wonder what it would have done to the narrative of trust and performance and God's grace to admit that they failed in the process and in the pain…but that God does not. God does not. God does not.
Maybe it would have made someone feel less alone. Less stigmatized for their failure. Less terrified of their own lack of faith.
On the cover of People magazine, the Jill Dillard grins at the camera, while in the corner, a black-and-white-toned Rock Hudson gazes off into the distance, and the truth is that we're all telling our stories the best we can.
May we find the grace to show our un-posed, un-smiling, un-airbrushed hearts.
May we change this world's most destructive narratives one candid, courageous word at a time.