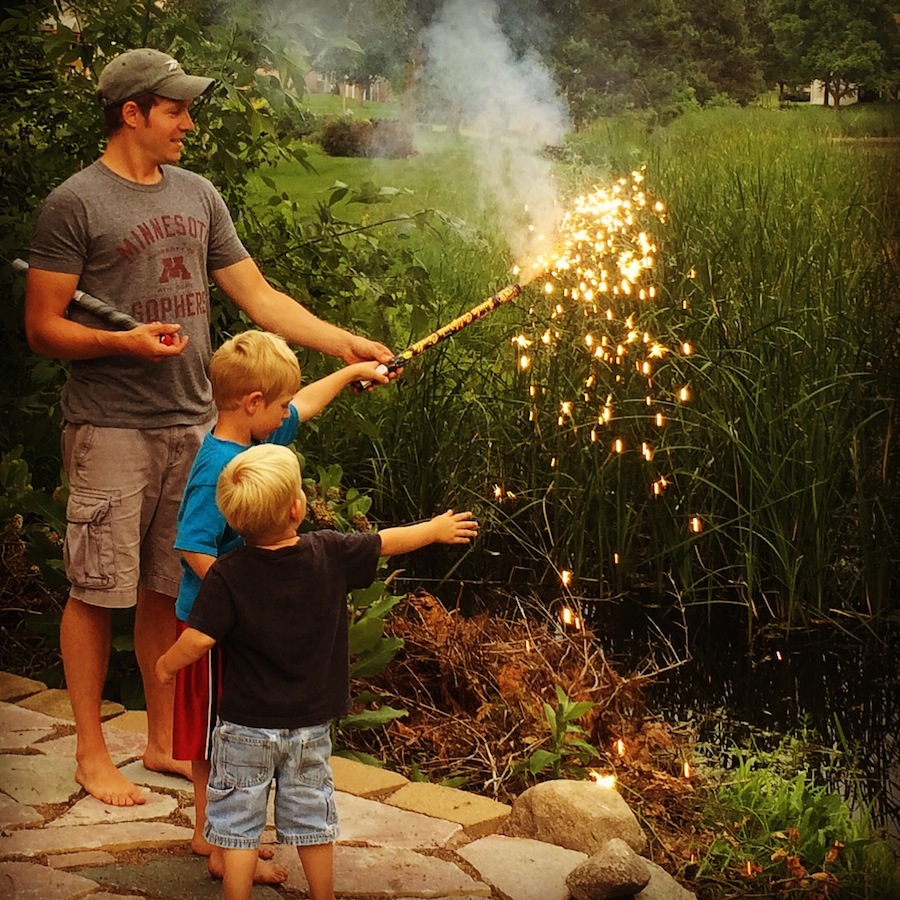 Let me say, first of all, that July is a terrible time to try to write a book.
I took this month off from The Internet in order to focus on my second book. I didn't blog. I barely tweeted or Facebook-ed, and I only Pinterested recreationally.
I carved out time to write. I made hefty goals. I booked a hotel room alone for a night to work, and I spent lots of mornings at Caribou and Panera and my favorite local coffee shop/wine bar, The Bean. And it all would have totally worked had it not been for, you know, sunshine. And the river. And sidewalk chalk and afternoon matinees and parades and road-trips and beach days.
It wasn't that I didn't write this month: I did. Almost every day. And yet, the world that I inhabited in these last weeks wasn't the ethereal world of memoir. I meant to spend the month looking through a telescope at the universe that is The Past. I meant to focus in and out and then back in again until I began to see light I hadn't noticed before. I meant to get something done.
What I learned is that it's a little impossible to fully inhabit the interior world of memoir when the world of Minnesota July is happening all around you.
Word-count wise, the month was a little frustrating. But also, everywhere around me, the world was awash with light and water and sprinklers making rainbows in the grass. Every night, my sons smelled like sweat and earth and had came in with dirt streaked across their faces. When I washed them down in the bathtub, the whole thing became grimy with sand.
So, all in all, I think I'm gonna call it a win.
What I've Been Reading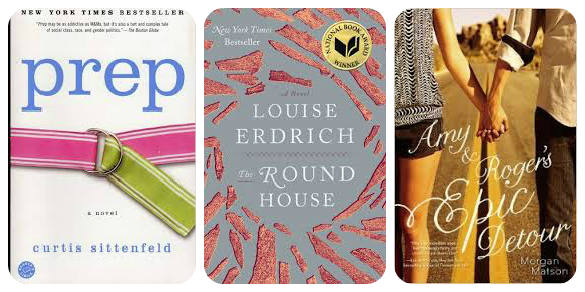 Half-Price Books is located right next to one of my favorite writing spots, and this summer, they've made me deviate from my Summer Reading List in unexpected ways. I picked up a copy of Prep there at the beginning of the month because I'd heard good things about Curtis Sittenfeld. I bought The Round House because I'd heard even better things about Louise Erdrich, and because she's Minnesotan, so it's like we're kin.
Both books were well-written, though I found Prep to be a little depressing and disconcerting. I kept wanting to shake the main character. She was so withdrawn, so self-isolating, constantly standing in her own way. Never taking a chance. It was only after I finished reading the book that I realized that probably it elicited such a reaction from me because I was so much like her in high school. If I hadn't been a Jesus Freak, this might have been how it went for me. Which was sobering.
The Round House was brilliant in ways I still can't quite figure out. (Some of the best books I've read this year feel a little over my head, a little out of my reach. I kind of wish I could go back to class and have a brilliant professor help me uncover the nuances.) Still, it was also a bit depressing.
So then I read about Amy and Roger's Epic Detour, a young adult book that was light and fun and well-suited for summer. No, I don't need any English professor to help me with it. And yes, that was a bit of a relief in the middle of July.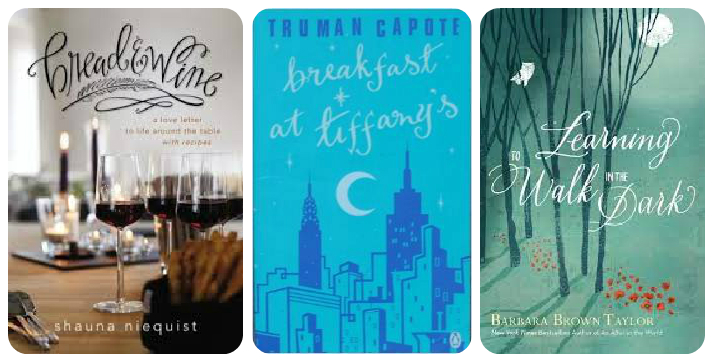 I finally read Capotes Breakfast at Tiffany's…and then I took some high school girls from my church to see it downtown in the park. They all wore black dresses and pearls, and I brought pretend champagne and plastic flutes, and we sat on a blanket and watched Audrey Hepburn embody Holly Golightly. The movie keeps whole pages of text exactly as is…but introduces some major changes. Including the ending. And the romance factor. In the end, I love both the book and the movie for different reasons…though they are far from the same story.
I read Shauna Niequist's Bread & Wine, which inspired me to try my first risotto and to throw spontaneous a wine and cheese party for my 31st birthday. After falling in love with Barbara Brown Taylor in An Altar in the World, I burned through Learning to Walk in the Dark…I found to be extremely insightful and interesting. I'll be unpacking some of the things that I underlined there, I think, for a long time.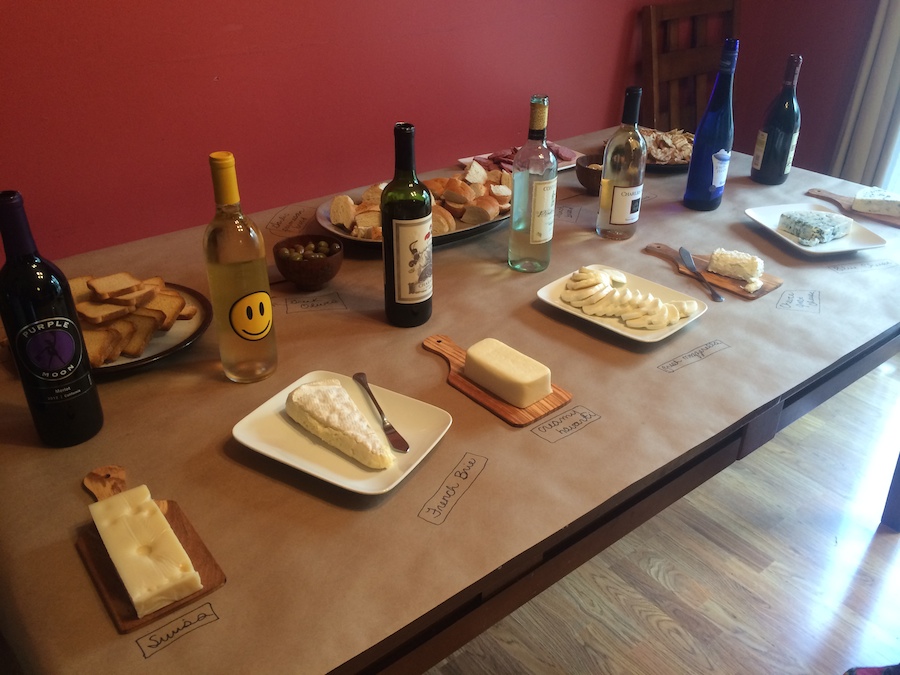 Not pictured here is my friend Liz Bolz Ranfeld's unpublished manuscript Teen Maniac, which I read on my phone in the dark at my parents' house while I waited for my kids to fall asleep. I met Liz in a strange coincidence outside one of the sessions at the Festival of Faith and Writing, where we bonded quickly over Teen Mania experiences that overlapped in really strange ways.
When she told me she'd written a manuscript about her experience, I asked if she'd let me read it. She did, and it was beautifully written and powerful for me in ways I didn't expect. There was something about seeing my experience mirrored in someone else's, hearing the words that she spoke so similar to the language I used in those years. It got me digging through some of my Teen Mania baggage again, and I'll probably be revisiting some of the language I internalized there (Lady in Waiting, Guard Your Heart, Revival, Sinner's Prayer, etc.) over the next months.
What I've Been Listening To
It's been a big Sleeping at Last month for me. I downloaded both their Yearbook project and their Atlas project, and it's been a source of inspiration and grace to me as I've been writing and thinking and untangling this next volume of my story.
Andrew and I also saw Begin Again with Kiera Knightly and Adam Levine this month and really liked it. I downloaded a couple of songs from the movie and have been quite smitten with them as well.
What I've Been Watching
Desperate Housewives. I meant to only watch one season. Now I'm somehow on Season 7. I blame the laundry. And the dishes.
Seriously though. THIS CLIP. Lynette is my favorite.
We've also been watching Master Chef. That plus Bread and Wine make me want to cook all the things. All the time. And use things like shallots and smoked paprika. Instead of, you know, Velveeta.
Other Things I've Been Up to This Month
Another year at the Andover FunFest parade…another giant bucket of candy, most of which I'll end up throwing out. Ahh America.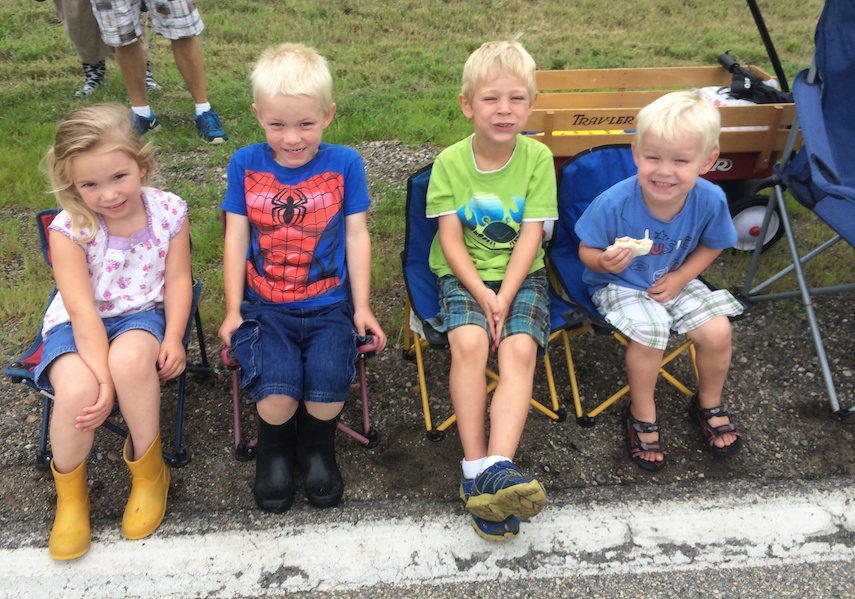 Cheese curds.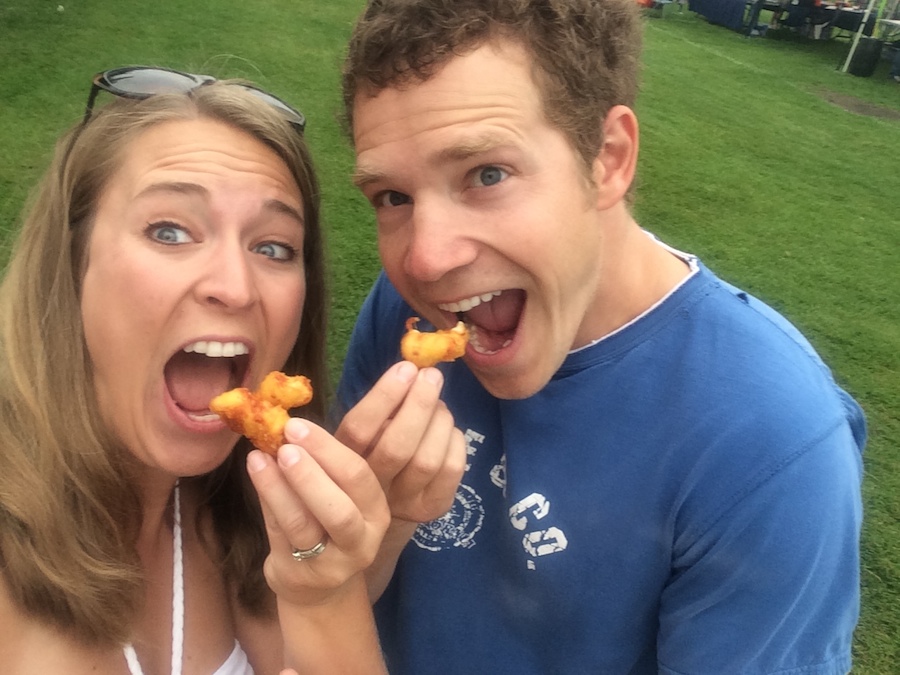 Fireworks. We (tried to) keep the kids up late and walk over to the fireworks for the first time. Dane did great. Liam slept through the entire thing, including the grand finale, even though we were so close to the action that we could actually see the big pile of explosives they were setting off.
The real question here is, how can he sleep through that but not through his mother quietly creeping down the stairs first thing in the morning and sitting down at the table? Mom Radar. It's a real thing.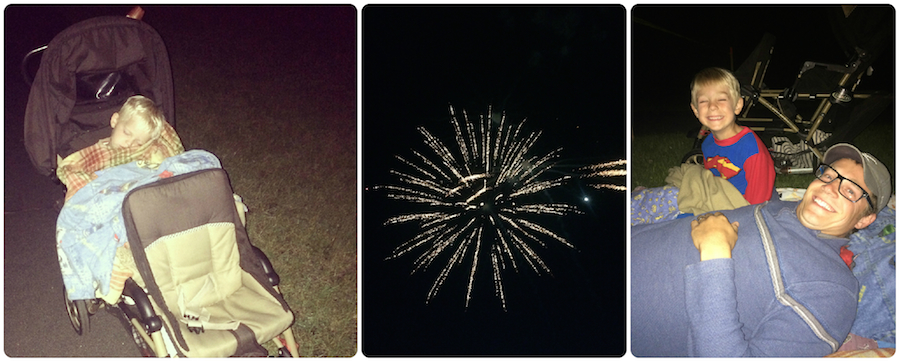 River tubing. We figured bought some river tubes and went down the nearby Rum River for the first time every. And then the second. And then the third. It has officially ruined me for any waterpark lazy river ever. Heavenly.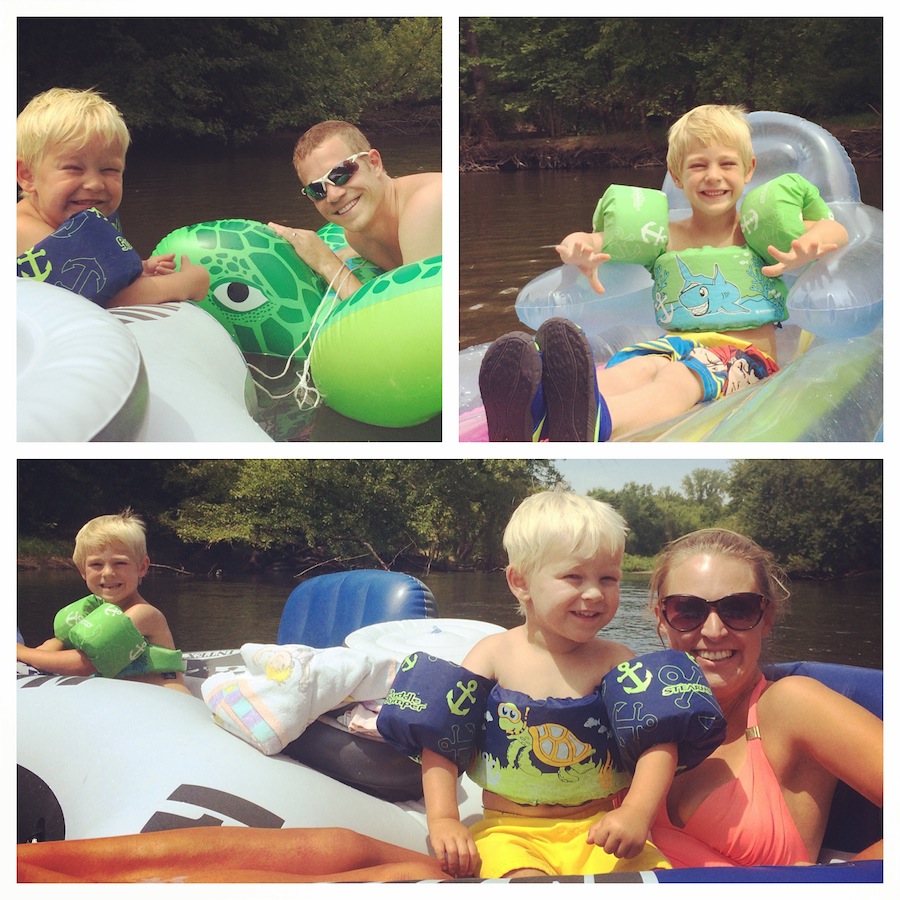 A week in Chicago with the kids so that I could get some writing in while they did VBS with their Grandma. While we were there, we also got to swim in my favorite neighborhood pool and visit the Butterfly Garden at the Chicago Botanical Gardens.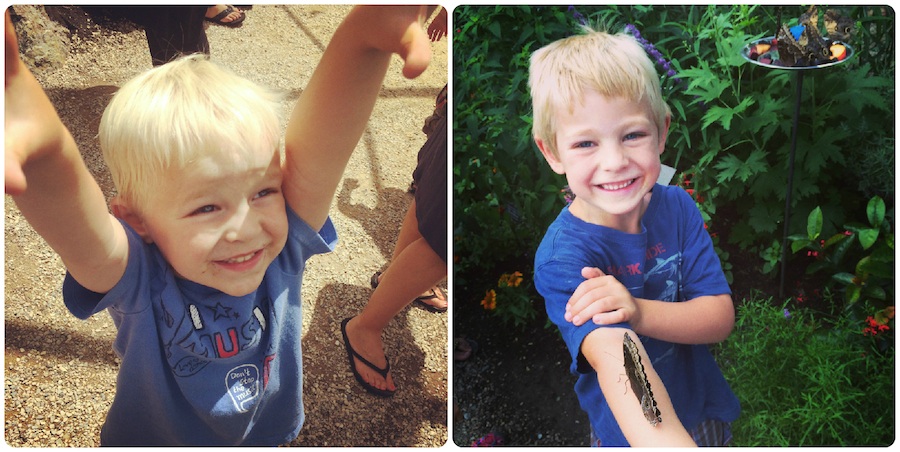 Hanging out on our awesome new patio with my husband.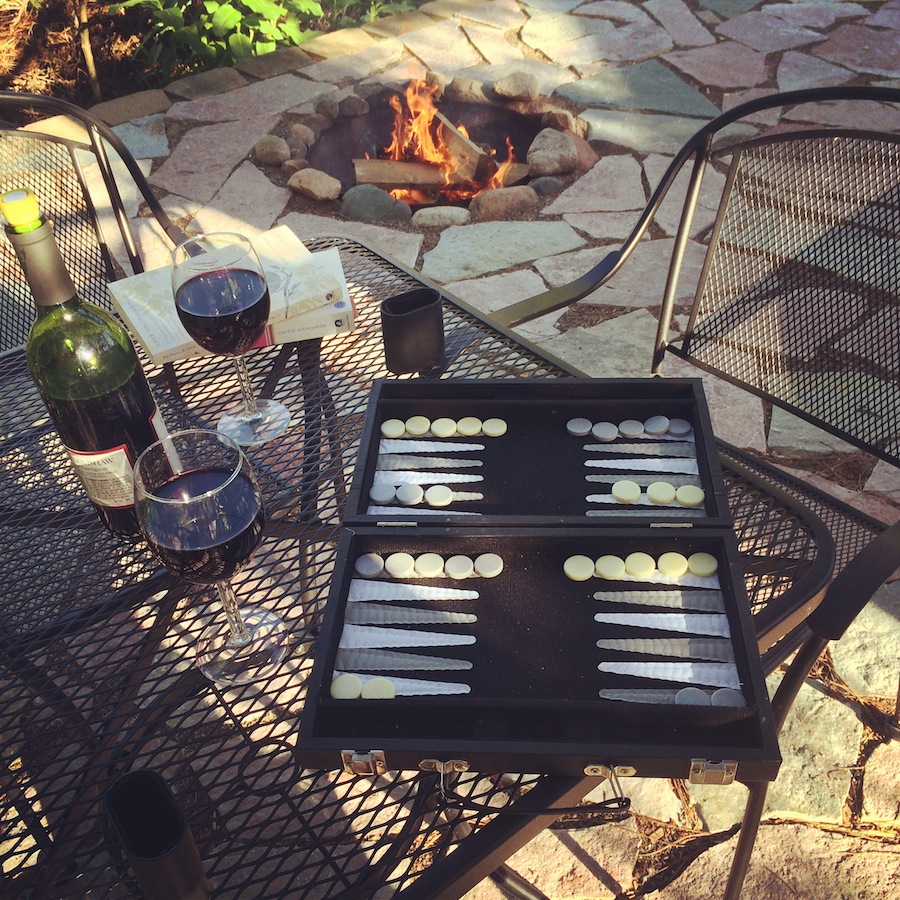 Two beautiful weddings. During one of the receptions, I may or may not have jumped into the nearby lake for a late night swim. Because JULY.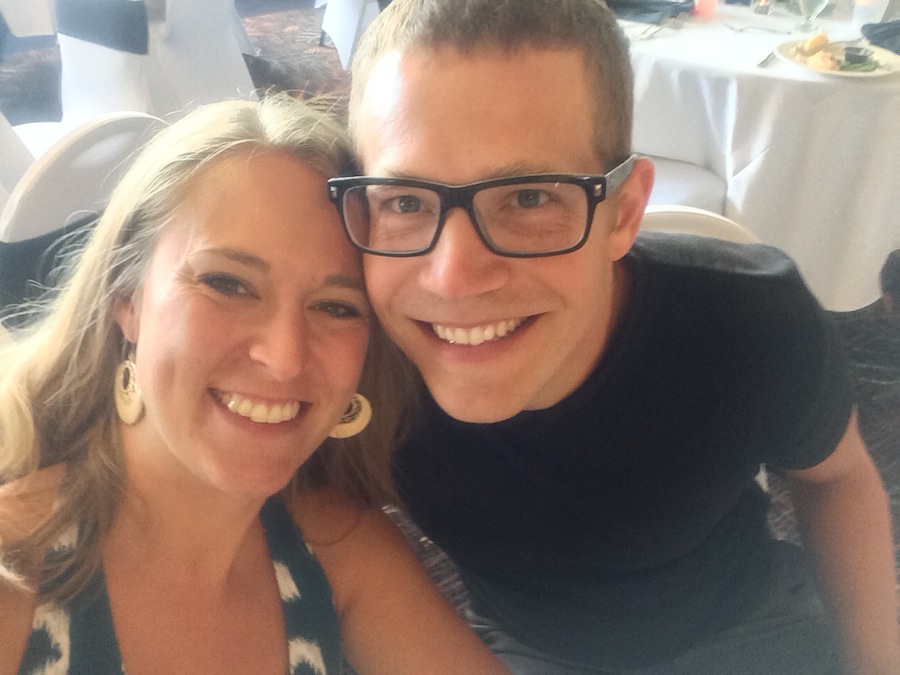 Blog & Writing
I'm officially back to blogging…though I may not be quite as prolific as usual. There's still a lot of writing to do on the book, and I can already feel the crazy energy of August mounting around here. School! Deadlines! Emails!
I'm getting a late start going through all of the beautiful posts you linked to in the Celebration of Blogging last month, but I'm loving every piece I read.  Sorry about the lack of timeliness, but I will read every single one…eventually.
I'm making progress on the book, but it's S-L-O-W. At this point, I think I've deleted at least twice as many words as I've kept. Possibly three times. Sigh.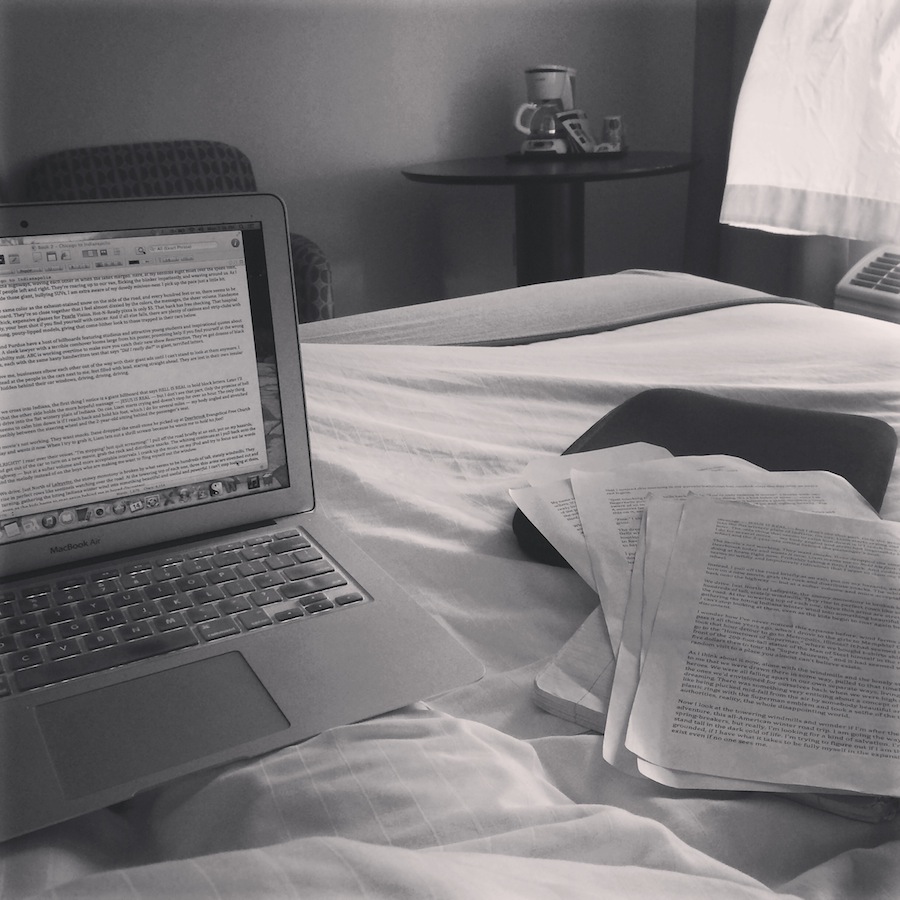 I'm linking up with my lovely friend Leigh Kramer as usual. Did you know she just started a brand new Enneagram Coaching business? I'm SO EXCITED for her and planning to schedule some sessions later this year to figure out more about what my enneagram type means for my spiritual, writing, and mothering journeys.
What about you? What have you been into in July?