Ashley Linne is the author of a new book in the Inscribed Studies series called Inseparable: Who I Am, Was, and Will Be in Christ…which officially releases today! (Congrats Ashley!)
If you're curious about the book and the rest of the Inscribed Studies series, you can download a free chapter from three studies, including Ashley's, here. (No email required). In the meantime, let's welcome her here to this space today!
I always considered myself a good Christian kid.
I never really rebelled as a youth. I always called home if I was going to be out late, and my mom always knew who I was with.
I always went to class and tried to make straight As. I never tried drugs or alcohol, and I didn't have sex. I didn't cuss; I didn't listen to "secular" music. I didn't even see a rated-R movie until I was seventeen. And for all of this, I was pretty proud of myself.
But I still didn't feel right or good or happy.
All these things did very little to convince me that I was in good standing in God's eyes and did nothing to make me feel that I was worth anything. I lived in constant fear that if I didn't thank God for something, even my ability to see or walk, it would be taken away. I was afraid if I made one mistake, it would condemn me to the fiery pits for all eternity.
God was very important to me, but I didn't yet have any real concept of His love or grace. My carefully constructed sense of security was founded on my own efforts. I was living the very definition of legalism.
Even though I didn't sin in the "usual" youthful ways, I was still missing the mark right and left—I was mean to my sisters; I held grudges; I gossiped. I think we've all done a few things we're not proud of.
For some of us, our lists of ugly moments might be longer than we care to admit. We've got skeletons in our closets, bad habits we can't seem to break, and a list of things we wish we could do but just can't seem to get right.
Many of us are grateful we can't out-sin God's grace, but we simultaneously hate ourselves for having to draw on it as often as we do. Others live as though we've forgotten that we're supposed to live differently than our "lost" friends. Maybe some of us get drunk most weekends, have a one-night stand here and there, throw a co-worker under the bus when we need to look good, or tell a lie from time to time. But we're all still Christians … right?
Others of us are so scared of "getting it wrong" that we spend our lives calculating our every move, over analyzing our every thought, and don't know how to just be at peace with ourselves or God.
We are quick to point out the shortcomings of another, if only within our inner monologue, and are grateful we don't struggle with that sin. We go to church every chance we get, we are in multiple Bible studies, we live by checklists and schedules. We would never admit it, but our obsession with being right and busy is just a cover-up for our belief that God will turn His back on us if we aren't.
Whether we lean toward legalism or we lean toward licentiousness, we've forgotten who we are. We wallow in guilt, when we've been cleansed of all unrighteousness. Or we waste God's grace, when we've been set free from sin. If we knew who we really are in Christ, our lives would look different than they do. More of us would be living in unwavering obedience to God because it wouldn't be a burden; we'd simply be acting like who we are.
The truth is, if I'm in Christ and He's in me, Jesus has reconciled me to God. It's been done. There is no way any of us could ever make amends with God on our own, and we need to allow ourselves to enjoy the freedom that brings our souls when we're in Him.
I have to work daily to cooperate with God as He reshapes me and cuts away the things about me that He doesn't want to define me. I also have to work daily to cooperate with God and learn about resting in Him and enjoying life in Him. My prayer is that I live like I know who I am—that I'm His.
"So now there is no condemnation for those who belong to Christ Jesus. And because you belong to him, the power of the life-giving Spirit has freed you from the power of sin that leads to death." (Romans 8:1-2, NLT)
*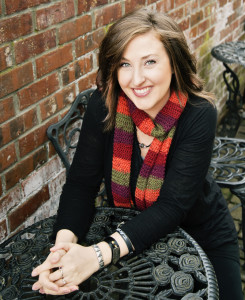 Ashley Linne is a wife and mom who loves to write, sing, and travel. She is passionate about discipleship, mentoring, and sexual abuse prevention. She has been leading small group Bible studies for over 15 years is the author of Inseparable: Who I Am, Was, and Will Be in Christ.
Ashley lives with her husband and son in Bellingham, WA.