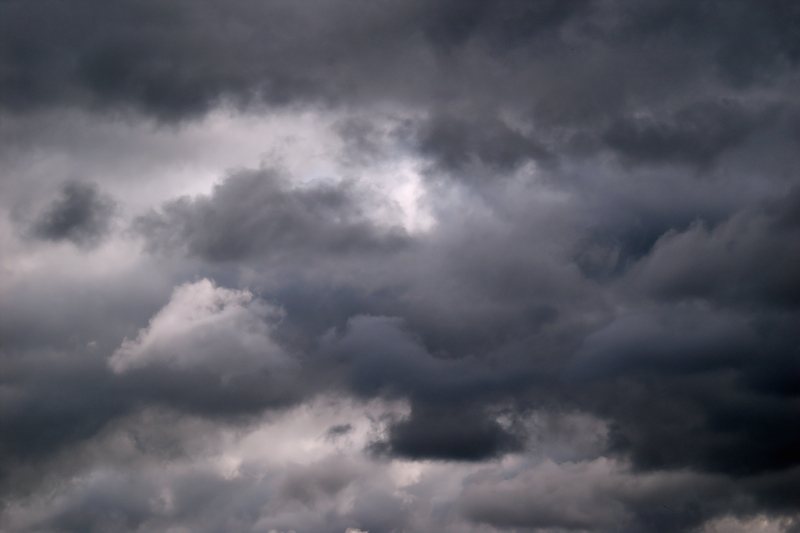 The depression came back a few weeks ago. It was sudden and sharp, and it knocked me off my feet.
It wasn't totally unexpected — I'd started a new medication and I knew that it was possible that it might throw off my fragile emotional balance. But when it happened, when I found myself flat on my back at the bottom of that dark place, unable to move — AGAIN — it surprised me anyway.
I'm tired of being a person who struggles with depression.
I'm tired of these fallbacks and setbacks. Of the mornings that come with a bleak sense of dread. I'm tired of the wary, watchful way I have to approach my sad days, waiting to see if it's just sadness or if it's something more sinister and dangerous. I'm tired of the way that these normal, negative emotions don't pass for me…but rather pool into a sort of sludge that I find myself stuck in time after time after time.
I'm not trying to be overdramatic here. There are plenty of times when things are fine, when everything feels tentatively okay. Mostly, the medicine helps. Mostly, things are manageable.
But a couple of weeks ago, the depression came back, and lately, it feels like it might be the truest thing about me.
*
I'm reading an advanced copy of Emily Freeman's beautiful upcoming new book, Simply Tuesday. When the depression comes back, it feels almost impossible to open my Bible, so I open books like this one — the kind that can take my by the hand and gently lead me toward Jesus. And right now, in this hard, dark space, Emily's words have been exactly what I needed.
There is a part in the book when Emily describes an interaction between her friend Fil Anderson and theologian Brennan Manning at a conference. During the conference the two men met, and Emily tells a beautiful story about their interaction. During the meeting, Brennan gives Fil some Bible verses to read — the ones about coming weary.
"After he read these verses," Emily writes, "Brennan offered Fil this simple instruction: 'Sit with these words until they become the truest thing about you.'"
The truest thing.
What is it about pain and struggle that makes it so defining? You lose someone you love. You get the diagnosis. You can't get the job or crawl out of debt or find that person to spend your life with….and this pain, whatever it is, is ever-present and sharp and dominating. It feels like the truest thing about you.
*
I got up at three in the morning the other night and went into my office. I'd been lying awake for half an hour, listening to the voice of self-loathing whispering in my ear, reminding me all of the ways that I am failing. And then finally I couldn't take it anymore, so I got up and sat on the daybed and looked at the Bible on the end table next to me.
And I'm not sure if it's the depression, or if it's all of my Bible baggage, but it's so hard to reach across that infinite gap between the bed and the end table to pick up my Bible.
But that night, I managed it somehow. I reached across that heavy gap, and I picked up that concrete-heavy book, and I managed to open it to Psalm 40.
I waited patiently for the Lord;
he turned to me and heard my cry.
He lifted me out of the slimy pit,
out of the mud and mire;
he set my feet on a rock
and gave me a firm place to stand.

He put a new song in my mouth,
a hymn of praise to our God.
Many will see and fear the Lord
and put their trust in him.
And here in the slimy depression, the sinking mud feels like the truest thing about me.
But, of course, it's not.
The truest thing is that there is a rock — a firm place to stand. The truest thing is that new song that God is weaving into the empty dark of my life, even when I can barely hear it.
Deep calls to deep in the roar of your waterfalls, Psalm 42 says, and this is the truest thing — not the thin stagnant water of my pain, but these breakers, these waves, this sea-song of love, love, love sweeping over me.
And in the end, I suppose, the truest thing about me isn't about me at all.
It's Jesus.
*
I'm in the middle of switching medications again. I'm off that one that sent me sinking back in despair. I'm about to start a new one, and I'm nervous and wary and this is not something I'm going to minimize to make a neat point. I struggle with clinical depression. It is a hard, defining, true thing about me.
But it's not the truest.
Sit with these words until they become the truest thing about you, Brennan Manning said, and so I am sitting here.
If I close my eyes and stay very still, I can almost hear the waves crashing, true and clear and constant, like love, love, love, love.