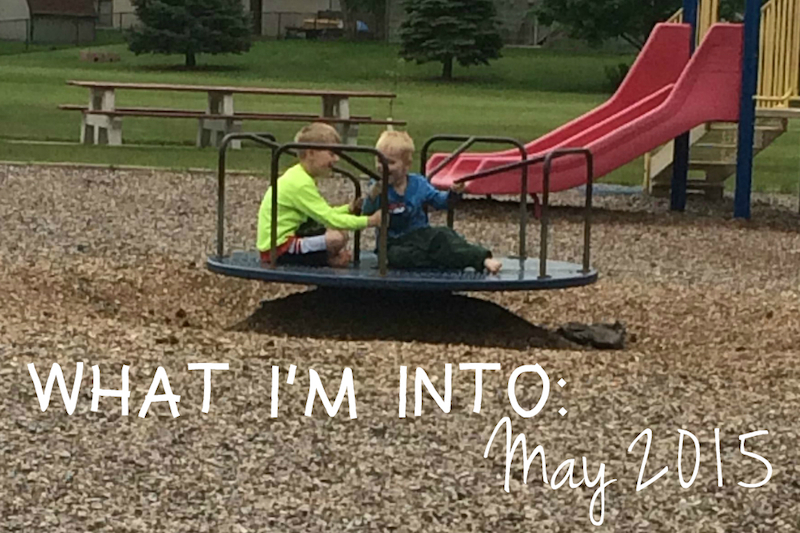 In May, my life became very small.
If you're a regular reader here, you know that my regularly scheduled blogging has been interrupted by long bouts of silence this year due to the writing of the elusive and terrifying BOOK 2. This month has been a sort of home stretch.
I've been working like mad to get a fully revised new draft to my editors by the time that Dane gets out of school on June 9th. So this month, my life has basically been lived in the space five inches in front of my face…where the cursor blinks in Scrivener, and I fill the screen with words…or don't. Delete…or don't. Where I've been trying all month to fix the gaps, to tease out the themes, to be as honest as I know how to be about my life.
In May, I have pushed out social engagements and movie nights with friends. I have let the emails stack up and the phone go to voicemail. It's about the shortage of time, of course, but it's also about headspace. About needing to exist in the ethereal place of the story I'm telling, to inhabit it, to make sense of it. I've gone radio silent on the blog and, save a few pictures of my kids, on social media. I'm only vaguely aware of what's happening in the Internet World; I've gotten bad at reading blogs.
Instead, I've spent countless hours at The Bean, my favorite coffee shop/wine bar, tucked alone into a booth, trying to peel away the layers, to get to the heart of this story, to write it true. A few weeks ago, the server loaned me the staff's "community cardigan" when I was cold — that's how much I've been there.
It's hard, lonely work, and sometimes when I get home after a long day of writing, I feel like I'm looking up at my family from the bottom of a deep well.
In May, if I wasn't writing, I was sitting on the deck in the back of our house. I've been watching the lilacs appear and then open, then close, wither die. Watching the ducklings begin to appear on the pond — little gray puffs of feathers. I've been reading voraciously — and though I love to read, I haven't been a super voracious reader since sixth grade and the Book-It contest. But suddenly, it's like I'm dehydrated of words and I need more, more, more.
Though my editor has been patient and understanding and has barely pestered me at all about getting chapters in, I keep having this dream where he's standing at the end of my bed in the middle of the night, saying, "Is it done yet? How's it coming? Is it done yet? Done yet? Done yet?"
Whenever I see anyone, they ask, "How's the book coming?" and the question is making me come unglued. How's it coming? It's like dragging a rusty nail real slow across my soul. It's like trying to figure out how to tell the world, truthfully, how screwed up I actually am…while maintaining some tiny shred of my dignity. It's too much coffee and too much wine and the start of carpal tunnel syndrome and so much fear that I sometimes can't breathe.
But it's coming. It's coming.
Reading:

Listening To:
Whatever Pandora tells me to. And a lot of Sleeping at Last.
Watching:
All of my shows wrapped up for the season this month, which is kind of a relief. Andrew and I are still watching Game of Thrones and Silicon Valley, and we added Master Chef to the lineup. but that's pretty much it.
I tried to watch The Bachelorette. I gave it two episodes, but couldn't get excited about it at all. It's a stupid story in the first place, but at some point you've watched enough that it becomes not only stupid, but also repetitive…and if I hear Chris Harrison say, "In the most exciting episode of Bachelorette history…" one more time I'm going to lose my mind. Time to let go.
My laundry-folding, treadmill-running show lately has been Grey's Anatomy — back at the very beginning of Season 1. After the shenanigans of this past season, I kind of wanted to just restart at the beginning when it was all so deliciously, dramatically "simple." And our girl Shonda hadn't killed any main characters off yet.
Other Things I've Been Into:
– May Day. For years, I've been meaning to take my kids out on May Day to deliver flowers to our neighbors, and this year, I FINALLY DID IT. I don't know why I waited so long. One of the highlights of my month was hearing Liam say. "We gotta run, or they're gonna KISS US!"

– The deck. When I am not sitting in the coffee shop, I'm sitting on our deck. (Which is probably part of the reason I have reached a total standstill in my weight-loss journey.) (The other reason is wine.) This is the view.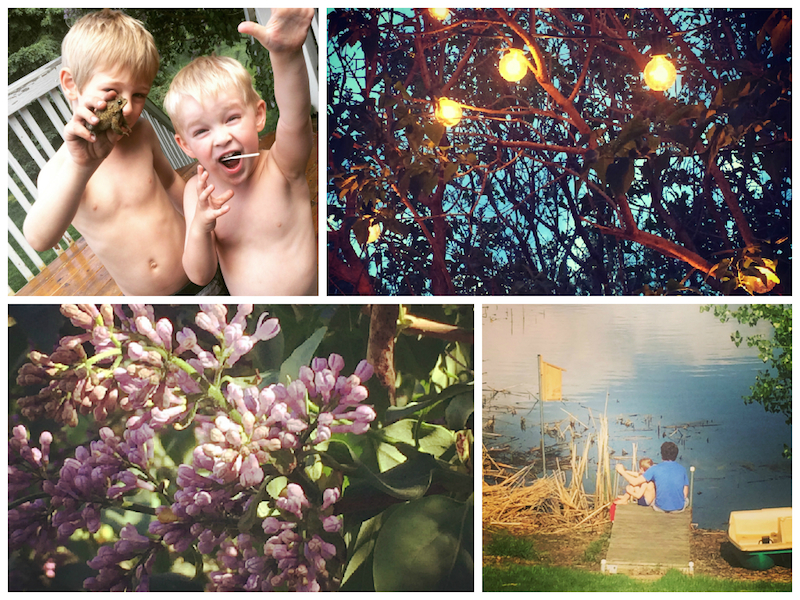 – Dandelions. I know they are the scourge of the flower/weed world, but how can you resist them when someone as cute as this keeps bringing them to you?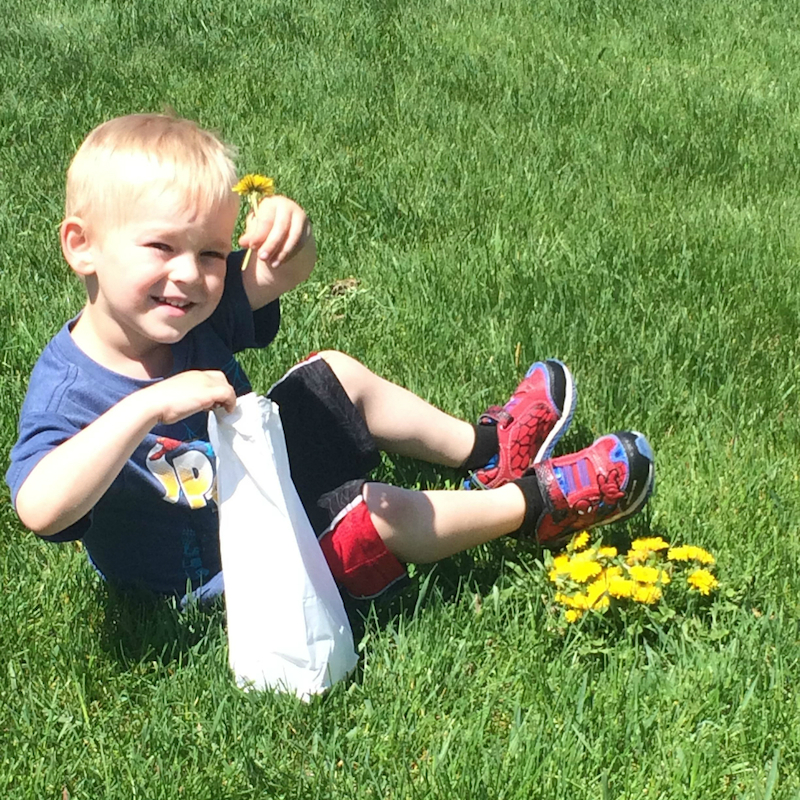 – Super Mario and SIX YEARS OLD.
It's possible that I spent a day or two in what I've started calling the Seventh-Circle-of-Pinterest-Hell. I'll explain it to you sometime, but it involves a lot of last minute gluing and taping of things at three in the morning.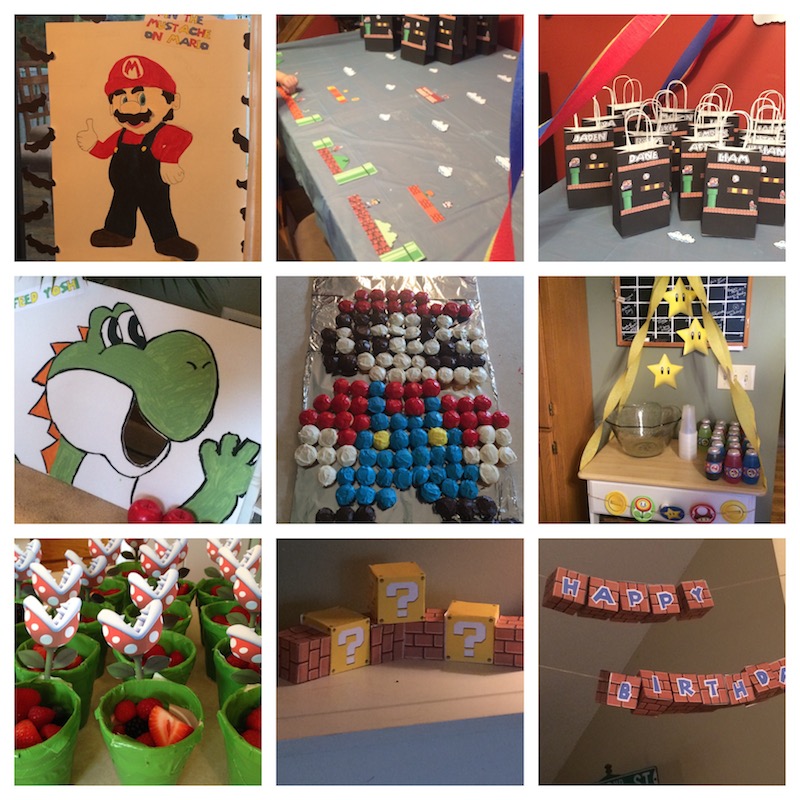 The party turned out great, and Dane had a blast. Still, we probably could have done without the dozen fruit cups made to look like tunnels with green duct tape. Oh Pinterest.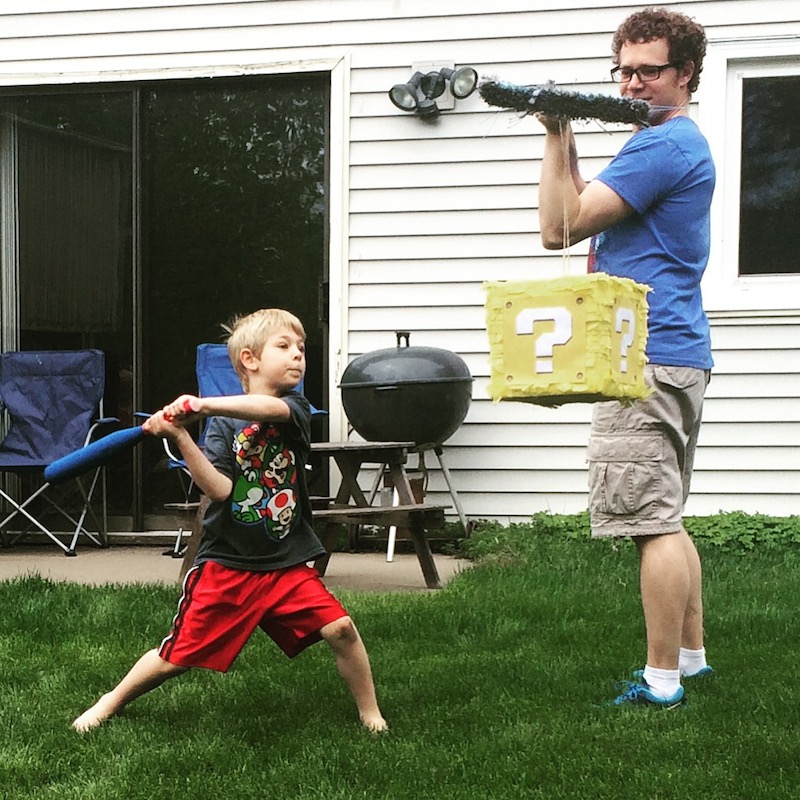 – Embroidery. I've wanted to try this ever since my fictional Christian teen hero, Christy Miller, learned how to embroider from Swiss orphans and then used her new skill-set to embellish her own wedding dress in the Christy and Todd: The College Years books. (You can't make this stuff up.) Anyway, I was needing a creative outlet that had nothing to do with words, and so I started trying to figure out some stitches. Here's my first "sampler." Completed while watching Gone Girl (which, for the record, is nowhere near as good as the book.)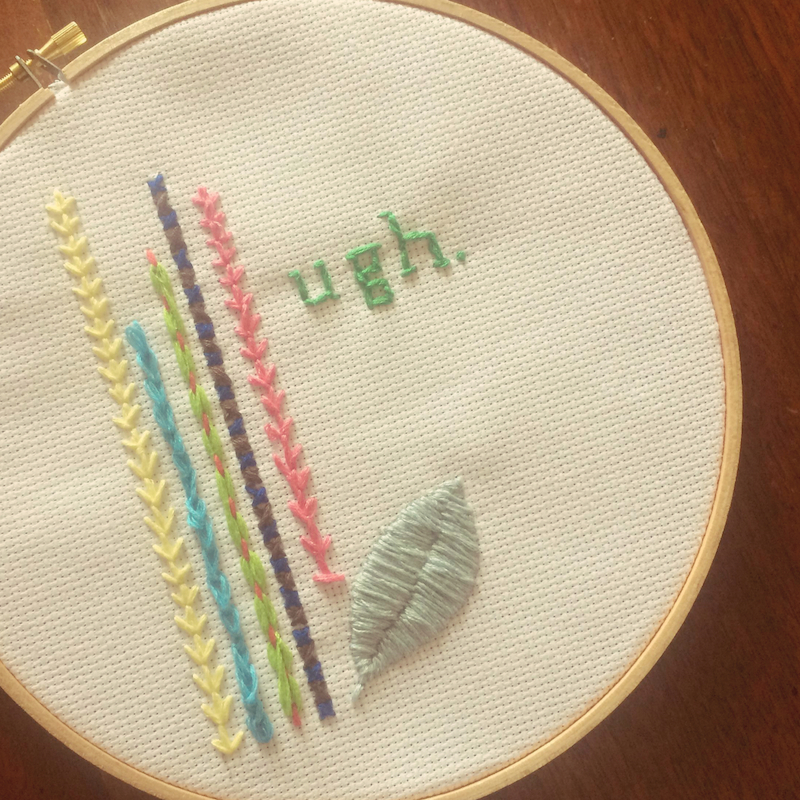 Blog/Book Stuff:
I've already told you about the book, and all you have to do is scroll down to see that there's been absolutely NO ACTIVITY on the blog whatsoever. June should be better, and hopefully I'll be able to finally reveal the title and possibly the cover of the book. Wouldn't that be nice?
I reserve the right to continue being a recluse on social media…at least for the next couple of weeks. But feel free to follow me on Facebook, Twitter, or Instagram anyway. Someday I might be fabulous…
Linking up with the lovely Leigh, as usual. What have you been into?