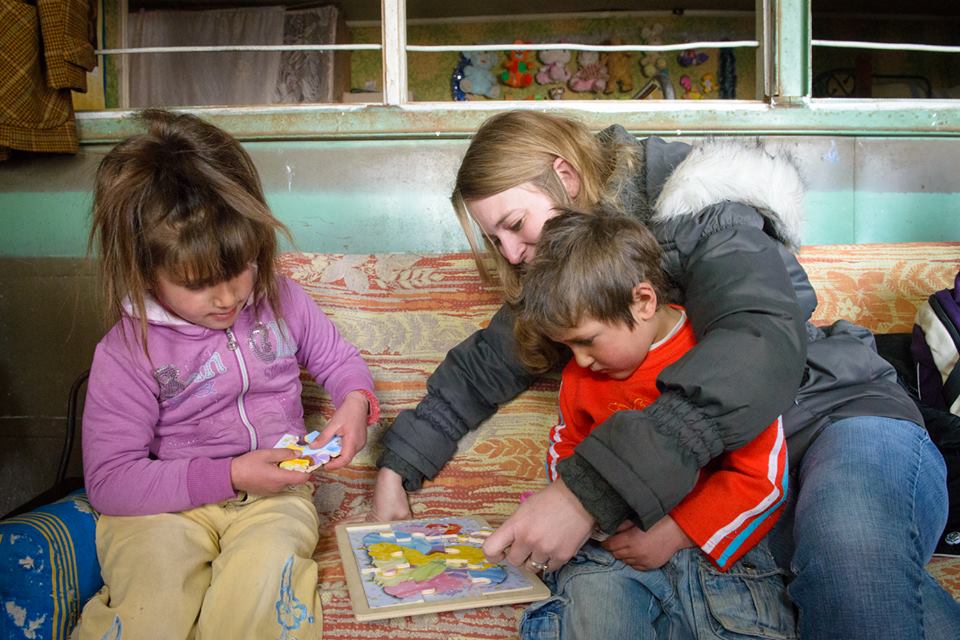 Nearly three years ago, I went to Armenia on a trip with World Vision.
It was February, and it seemed like the most unlikely place in the world to go, the most unintuitive thing to do. I live in Minnesota, after all. My people go south in the winter to places like Mexico and Florida – even Branson, Missouri, in a pinch. Anything to get away from the negative temps and the whipping wind chills and the snow drifts stacking up past your knees.
"It will be cold," the trip coordinator told me when he invited me to come, "but I remember reading some of your blogs about road trips with your kids and the winter weather, and thought that your readers would connect with the cold weather and travel topics we'll be talking about."
Blast my obsession with cold! And winter! And darkness! I thought. And then I said yes anyway.
After all, it's not every day a girl gets invited to Eastern Europe. And it seems to me that when you are offered a glimpse of the way God looks and works and abides in a country very different from your own, you should almost always take it.
*
In Armenia, we visited families – sometimes two or three of them a day. We listened to their halting stories, conveyed through translators. We tried not to be obnoxious, but we couldn't help but take pictures of their startling beauty. There was something about those cracked windows framed carefully with lace curtains. There was something about the way the frayed stuffed animals were lined so intentionally on the bed.
The houses were small. The chill from the outside pulled in through the cracks in the walls, and we had to keep our coats on while we were inside.
When we visited the Ghazaryan family, who lived in a shipping container, I didn't know what to do with my hands. So I sat on the threadbare couch, and I played with the kids.
I remember the shy smile of the oldest girl, Anahit, with her messy brown ponytail and dripping nose. I can still recall weight of that little boy, Varhan and of his sister baby Mariam, who took turns sitting in my lap as we put puzzles together.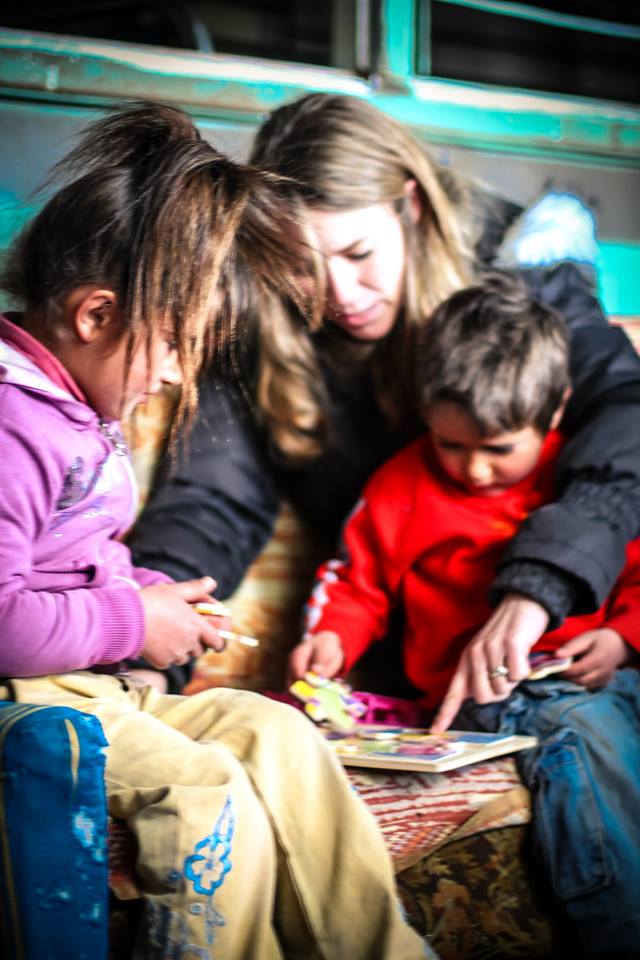 I remember the shorthand ways I found to communicate – a whispered tch tch tch to indicate that they should turn the puzzle piece. The universal sounds of approval when the pieces slid, one-by-one, into the correct spots.
Most of all, I remember the jolt of understanding that fell across my heart as I stood in that shipping container house and realized that the answer to the open wound of poverty is not, in fact, some Extreme Home Makeover (Move that truck!). It is not some lavish gift or building donation. The answer is not even to move into the heart of poverty and live some martyr-y, missionary version of life.
The answer is a lot of average people doing a lot of average things.
The answer is donations that feel completely inadequate in the face of the world's great need. $10 here. $20 there.
It's money for eyeglasses or for a new coat. It's letters in the mail. It's community leaders and public servants who care deeply and have the resources to enact their passions. It's programs like World Vision's "Go Baby Go," that gives mamas like Ani information about child development and resources to foster learning and creativity in their children.
These are things that have happened for this family since I met them three Februarys ago.
In new pictures taken this year, there are four kids – a new baby! – sitting on that same threadbare couch where I put together puzzles once not so long ago.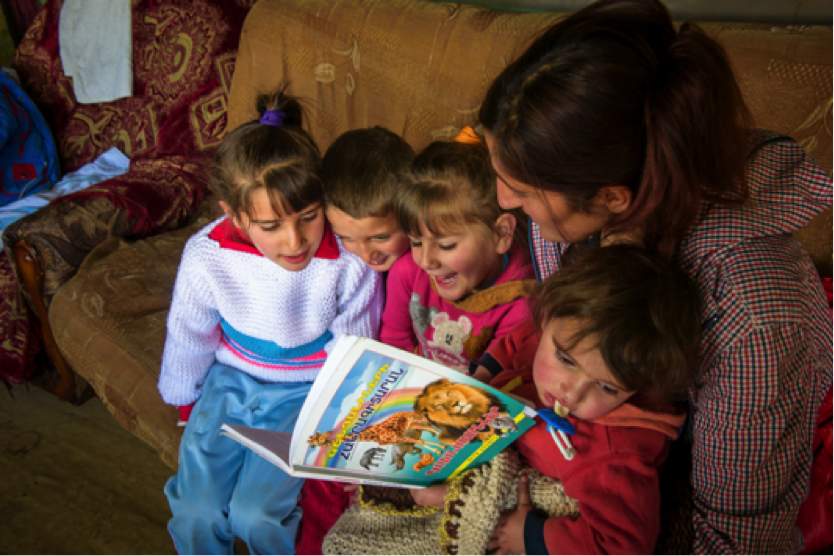 Three winters later, they still have the same couch, but that's okay. The kids are reading books about animals with their mother. They are wearing warm clothes. They are growing and changing; they are learning that there is a world wide with magic and possibilities. They are growing not into a cycle of hopelessness but into that kind of world.
The changes are so discreet they might be invisible to anyone else – but these small pivots toward justice are so much more than they seem. They create their own butterfly effect. These small shifts are the stuff of justice and change and hope.
*
It's Christmastime. The world still, always, feels like it's falling apart.
I know. I feel it too.
There have been new shootings, some of the largest in the history of the United States. And there are the scars of old shootings – Sandy Hook families experiencing another anniversary of that horror, another Christmas without their children.
Earthquakes have demolished entire nations this year; refugees continue to wander across an unwelcome world.
It's too much for any one of us.
And yet.
Sometimes the answer to the unsolvable poverty of the world is so, so small:
A pair of gloves so little hands can grip a pencil in class.
A book of fairy tales.
A hooded sweatshirt to keep the chill off in a house that never really gets warm.
When the world quakes with tragedy in a place that I can't reach with my own hands or, if I'm honest, even with my own imagination, I go to World Vision.
I don't mean to sound commercial-y or sales-y. The reason I do this is as simple as it is obvious: I have seen how they do it. I've been there in those home. I've held those children in my small, inadequate lap.
I know that at World Vision, they don't put Band-Aid "hope" on deep wounds. I know that the money that they get somehow multiplies. It funds community programs and education. It trickles through kids to their families and through parents to their kids. It finds its way to the pain points, not perpetuating a cycle of poverty and dependency and powerlessness, but breaking through it toward hope.
I have been there. I've sat in these beautiful, broken-down homes, filled with so much love, need, and hope, all of it mingled together with the smell of freshly baked bread.
Tch, tch, tch, I said once to children on a couch, and they were not so different at all from my own small boys at home. Turn the puzzle piece a bit, and it will fit exactly right.
Tch, tch, tch. The smallest pivot, the smallest give, and the orphaned piece will snap into place. The picture will come together: Not a wounded world at all – but a wondrous world, hurtling toward wholeness, filled with mercy and love and so much hope.
*
Today is Giving Tuesday! For the fourth consecutive year, World Vision and Thirty-One Gifts have partnered to double the impact made by donors' Giving Tuesday gifts. Any gift given to World Vision today will be matched with a donation of product from Thirty-One Gifts up to $1,000,000, so any donation you make will have twice the impact for helping families in need around the world.
The Thirty-One Gifts sweatshirt that Ani was wearing during the bitterly cold Armenian winter was given to World Vision to match generous donations on Giving Tuesday last year!
You can choose any item to donate through World Vision today, but if you want to make a direct donation to help keep children and families warm this winter, I recommend their Clothing for Children fund!
Please note that World Vision sponsored this post, but every bit of the sentiment, opinion and dedication is mine alone. If you're looking for a reputable organization that enacts real change, this is the one I love.