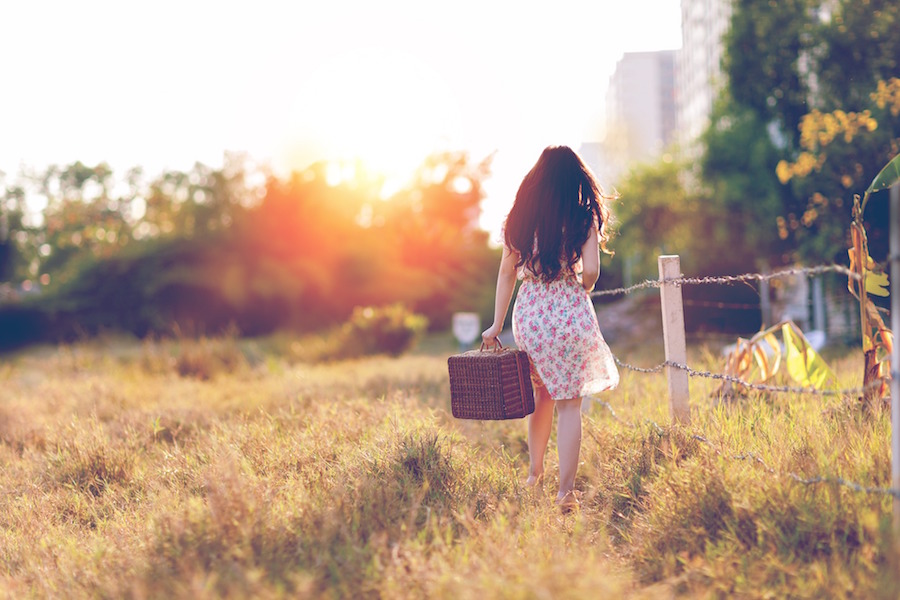 It has been almost a month since we sold our house. We are, more or less, settled at my in-laws house on a gravel road in the country. I have located most of our day-to-day stuff. We have found some new rhythms. I've mostly figured out my mother-in-law's kitchen organization methodology.
We are doing okay. Some days we're even doing really well here in the country in autumn, the trees around us luminous with a thousand colors.
Still, when I say that I'm "settled in," I mean in that careful, surfacey way that you settle into someplace temporary. Someplace that isn't your own.
I don't miss our house that much, which feels surprising to me. I thought I would ache for it, or for parts of it, and I really don't.
What I miss, though, is having a place to invite people. I miss last minute lunch invites after church or on an odd Tuesday night, a half dozen kids running around the backyard while we sit on the deck and talk about all the big and little things.
I miss the beat-up dining room table with paint on it and a million scratches and the capacity to hold so many people, so much food and laughter and tears and beauty.
It's hard not to have a home; it's harder not to have a place to invite people to, a place to open up and give, a place to extend and embrace.
*
Growing up, I learned that it was rude to invite yourself over to another person's house. You can invite. You can accept invitations when they come. But inviting yourself makes it weird.
This continues to feel true to me as an adult. When Dane used to tell me he was going to play at the neighbor's house, I always wanted to know, "Did they invite you?" (He'd mostly just shrug, because in neighborhood play you just go where everyone else is. No one "invites" anyone anywhere when you're 8 and have a bike.)
Only with my closest friends do I ask to come over, and even then, rarely. I am much more comfortable being the one to extend hospitality; much less comfortable being the one to need it, ask for it, receive it.
But this is where we find ourselves – on the reverse side of hospitality.
*
Every Wednesday morning, I drive back up to Andover to help lead the women's group at our church. In the beginning, I was inviting people to hang out afterwards at netural, middle places, since I don't have a place to invite them over to. Restaurants. Coffee shops.
One weekend, when we were in town, I invited Dane's friends to one of those indoor play structures with all the screaming, just because I knew he needed to see them, and I didn't know how else to do it without being rude. Without inviting my kid over to their house. Without making it awkward.
In the gospel of Luke, Mary – pregnant with Jesus – goes to stay with her cousin Elizabeth.
I assume that this was not her preference, to endure pregnancy with its morning sickness and peeing and cankles at someone else's house. I get the sense that Mary had to leave to avoid scandal; that, in some way, she found herself without a home, and had to make herself comfortable in someone else's.
I can't think about this passage without thinking about a piece from Henri Nouwen about community and waiting. He writes this:
"I find the meeting of these two women very moving because Elizabeth and Mary came together and enabled each other to wait. Mary's visit made Elizabeth aware of what she was waiting for. the child leapt for joy in her. Mary affirmed Elizabeth's waiting. And then Elizabeth said to Mary, 'Blessed is she who believed that the promise made her by the Lord would be fulfilled.' And Mary responded, 'My soul proclaims the greatness of the Lord.' She burst into joy herself. These two women created space for each other to wait. The affirmed for each other that something was happening worth waiting for.

Here we see a model for Christian community. It is a community of support, celebration, and affirmation in which we can lift up what has already begun in us." (Henri Nouwen, The Path of Waiting)
 I read this, and it occurs to me that there is something to offer even on the reverse side of hospitality. That when we allow others to create space for us, we are making space, in a way, for them too.
*
I've started inviting myself over.
A few weekends ago, I texted a friend to see if our family could have a sleepover at her house. What followed was a spontaneous pizza party with another couple, the kitchen full of laughter and conversation, all of our kids running wild around the yard. When we went to sleep in their basement that night, it was like settling deep under a blanket of grace.
Last Wednesday afternoon, I invited myself over to a friend's condo with a bottle of white wine and some low-sodium popcorn, and we talked about her family and looked at her wedding album, black-and-white and still so full of life, even fifty years later.
When Liam came home from school with a detailed drawing of the sleepover he really wanted to have at his buddy's house, I text his mom the picture and asked if he could come over some night. She responded not with hesitancy but with an enthusiastic Yes!
I'm learning that there are a lot of people who would actually love to have others come over, but are not as naturally inclined to invite. That maybe, inviting ourselves is not so much an inconvenience as a gift.
I'm learning to say, "We'd love to spend time with you. Can I bring over some lunch?"
It's still not my natural inclination, of course. It still feels unbearably awkward. I still follow up every self-invitation with please don't feel obligated, or no big deal if it doesn't work, or no pressure!
But I also know that you can't give what you refuse to receive, and on the reverse side of hospitality, this is what I am learning to do.
I can't offer my home or my kitchen table. But I can invite others into the spaciousness of my own heart. I can receive the gift of a place to stay.
I have long offered what I call the ministry of a messy house, in which I invite people into our home just as it is — un-picked-up, unvacuumed, heinous stained carpet announcing all of our spills and mistakes to others. Now I can offer this gift differently, a reverse-version in which I'm the one who gets to see the beauty in the mess.
I never expected that we still wouldn't have find a place to live, three months after we started looking. I would never choose to not have a home.
But even here, there is a deep goodness. Even here there is so much grace.
Even here, I can choose to see these moments not as imposition but as community, as the joint work of space-making, each of us offering something essential as wait for our true home – the one none of us ever stops longing for.