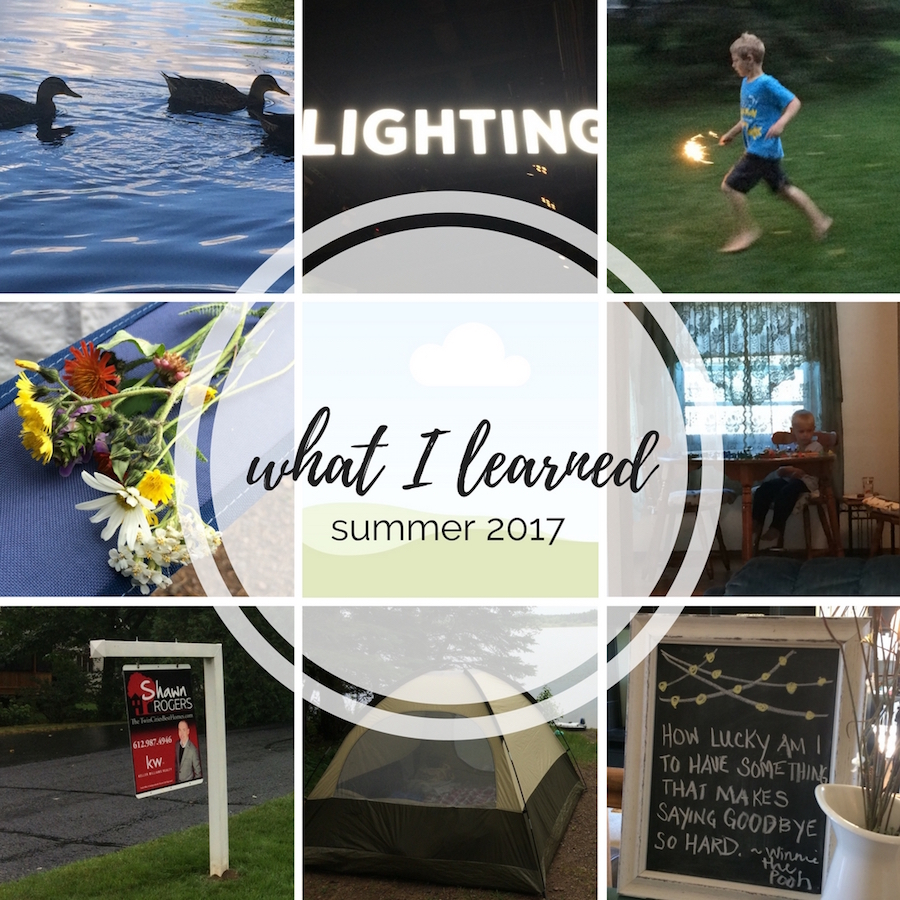 It is (past) time to link up with Emily Freeman and tell you what I'm learning. (Do you guys read her? She writes one of the most gentle, beautiful blogs on the internet. She also recently started a podcast, which I plan to listen to when things finally settle down around here.)
Anyway, most of what I have learned this summer has had to do with moving.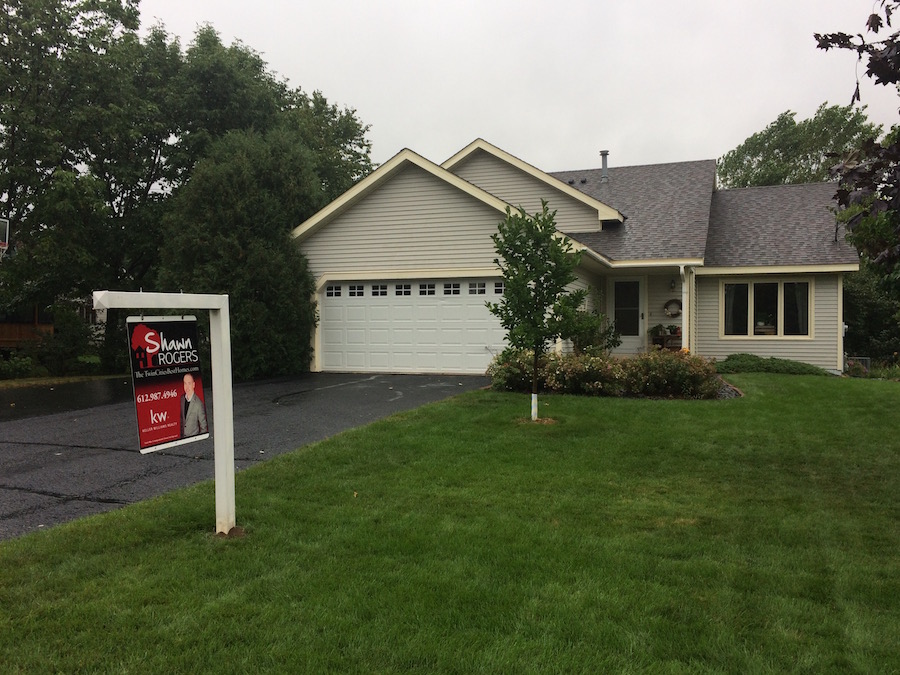 I learned, for example, that when you put your house on the market, they come and drill the sign into your front yard before you've even totally gotten your head around the whole thing.
I've learned that even when I put half the crap I own out on my driveway, people will still not come to my garage sales. I think I must be doing it wrong.
I've learned how to stage my bookshelves, how to speed-clean, and where to go with the boys to look for agates while our house is showing.
We put our house on the market at the beginning of August. It sold in four days.
It sold to a young family with three kids, who wrote in their offer that they love everything about the house and are so excited about the pond. I feel a deep rightness about releasing this home to this new family, who will grow and expand in its walls as we did.
But also, I feel a deep sadness as this house slowly sheds itself of our family. I've donated half of our books and boxed the rest. Most of the photos and decorations have come off the walls. The big bookcases in the living room are gone, sold to a young family on Cragislist. Slowly this house is returning to the blank slate that it was 10 years ago when we moved in.
It might feel different if we'd found a place. We didn't. We made two offers, neither of which worked out. Friday, at the last possible minute, we pulled the kids out of their elementary school and enrolled them at the school near my in-laws.
My mother-and-father-in-law will be moving to Hawaii for eight months so that Mom can attend a massage therapy school there. (Because if you have to go back to school, you should probably do it in the most awesome place possible.) They've graciously offered us their home until we find something of our own. It is an ideal solution, a soft landing place, and I am grateful.
But also, it's hard to be moving into someone else's house instead of my own. It's hard to step into this liminal space where nothing is settled. It feels selfish and silly to even say that when across the country and the world, people are fleeing their drowned homes in canoes. When refugees are leaving their homes and their countries because if they stay, they will surely die.
I am aware that this is an insulated and gentle transition, even though I feel a little raw. My spiritual director suggested a month ago that perhaps this move was not actually about where we ended up but about something else entirely. Get curious about your disappointment, she said. There are breadcrumbs there too.
In addition to the heavy lessons of selling the house, I have learned a couple of other things this summer:
1. Lighting changes everything.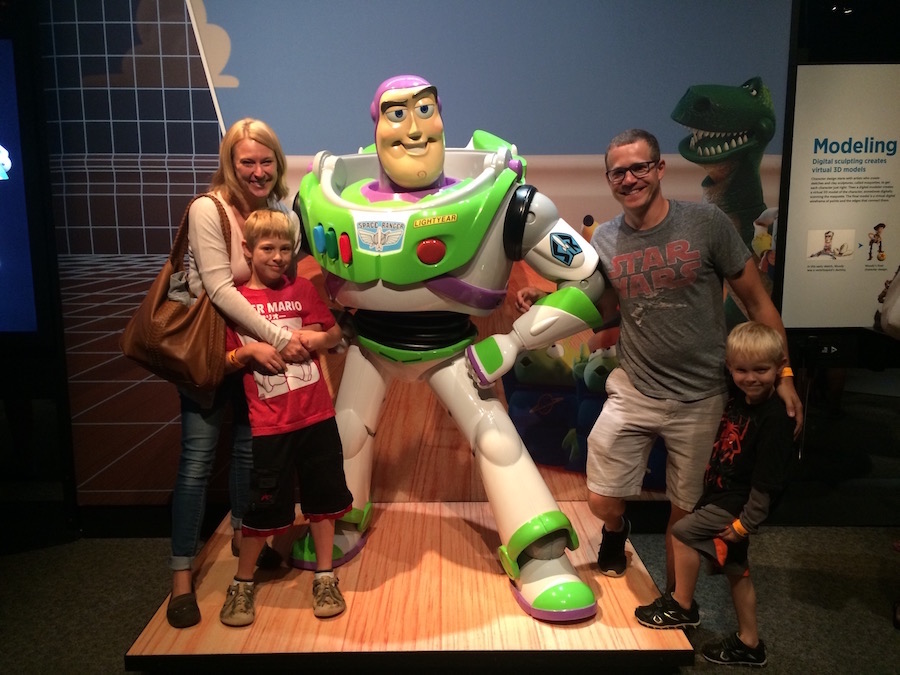 We took the kids to the Science Museum of Minnesota, this summer where they are currently hosting The Science Behind Pixar exhibit. In addition to a million great photo ops, (Hi Buzz Lightyear!), the exhibit had several hands on exhibits that allowed you to play with camera perspective and character micro-expressions and lighting. It was astounding to me, the way that different lighting effects changed the entire mood of a scene, the slant of the virtual sun through a set window making the whole thing entirely different.
I've always been obsessed with light and darkness (my second book is all about that). Still, there was something sort of amazing about watching the impact, learning how much it matters in communicating mood and story and gravity.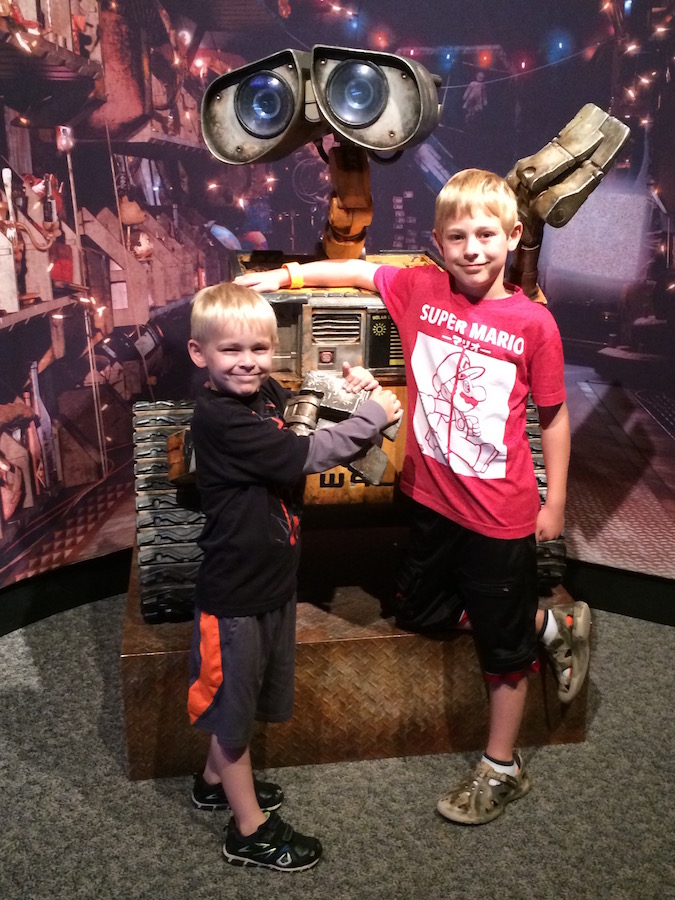 (The kids were not nearly as fascinated as I was; but they did take this adorable picture with Wall-E.)
2. When in doubt, bring the big tent.
The little tent is, admittedly, cozier and easier to set up. But inevitably, it will rain all day when you go camping in the middle of nowhere with your family, and you'll be stuck in a teeny-tiny tent with your sons, who are alternating between fun-wrestling and trying-to-kill-each-other-wrestling.
3. Even healthy churches can act in unhealthy ways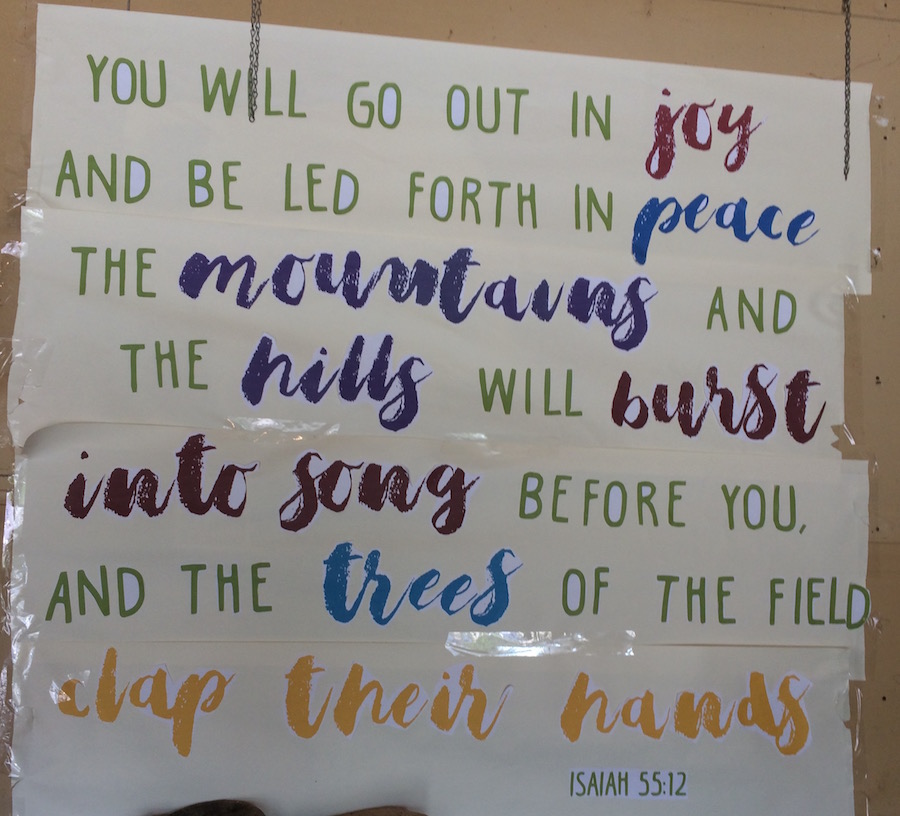 This summer, our little church was rocked by some significant staff changes. A few key people left, and it was sudden, and the reasons were vague and cloaked and unsatisfying. The whole thing was bewildering for those of us who call this church home. Especially those of us with an overabundance of church baggage.
Accepting that churches are imperfect places full of imperfect people was a key part of working through my cynicism a few years ago. Watching that play out this summer in really specific ways was hard. It triggered my flight or fight response. And yet, also, it made me realize how far I've come since those cynic days, because it didn't unravel me.
I think that for a while I've lived with the misconception that, imperfections aside, there are healthy churches and there are toxic churches. What I've learned this summer is that it's more complicated like that.
Believe me, this is a far cry from how I used to feel, and there are definitely situations where the best and healthiest thing to do is leave a church. But also, I've learned that the health of a church is a continuum not a fixed state, and that it fluctuates. It depends on more than the decisions of a small group of people or a single pastor. So much depends on our response to those decisions and our engagement with that which sits wrong with us.
I've learned that we get to speak into the health and the life of our communities with the questions we ask and the ways we love. That church is not something that happens to us, but rather a space that every one of us gets to help create.
And sometimes you leave. Sometimes you have to leave.
But sometimes, you stay.
4. Ducks' gender-distinguishing feathers don't emerge until 3-4 months of age.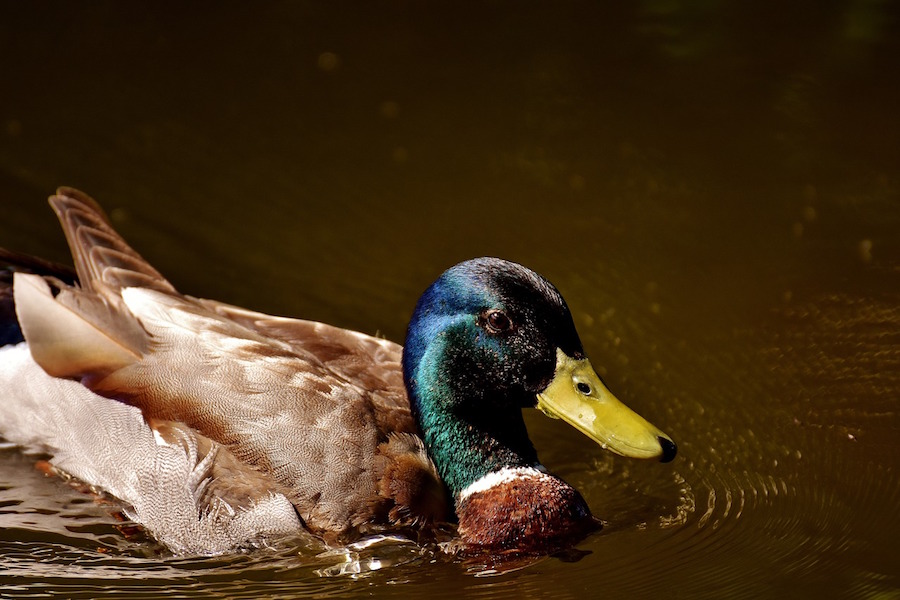 We brought the baby ducks home in April and they turned into teenagers in a matter of weeks. But it's only been in the past month that their feathers have grown in to reveal 4 males with bright green heads and one, lone female.
They still hang around in a pack and come up looking for food. I am preparing detailed instructions for the new owners on taking care of them. Responsibility for the ducks comes with the house. It's non-negotiable.
5. You can get the cabin experience without actually having a cabin.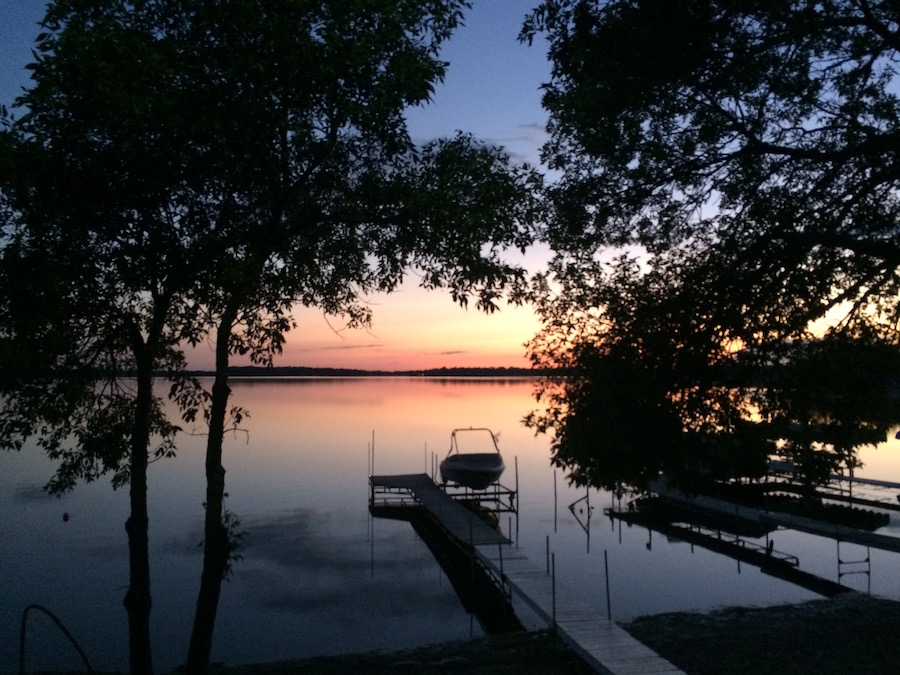 In Minnesota, land of 10,000 lakes, everyone disappears on summer weekends to "the cabin." We do not have a cabin or parents who own a cabin, which means that we are typically the only people at our church on summer Sundays while everyone else is out on the boat.
But this year, I did the AirBnB and VRBO thing for the first time. (I know. I'm way behind the times.) In July, I rented a little cabin on a lake near my Grandma's place in South Dakota. I did it last minute because I was really tired of trying to keep the house clean for showings and having to leave with the dog for hours at a time.
But for less than a price of a hotel, we got a two bedroom cabin with a full kitchen, a grill and a porch swing, and access to the lake and to canoes and kayaks. It was awesome.
Then, later, after our second house offer had been rejected and it was starting to sink in that we were going to be in limbo for a while, I took myself away to a lake in rural Minnesota, where I AirBnBed another little cabin. I sat and wrote and I took my paddleboard out and watched the Hallmark channel on their little old box TV. I made myself nice food every night instead of going out; I slept with the windows open and the sound of the lake lapping in. I allowed myself to feel al the feelings and to resource and heal and prepare for the next thing.
And after I was done, I closed up the house and didn't have to worry about winterizing a cabin or storing a boat! AirBnB for the win!
*
(Later this week, I'll let you know what I've been into this summer, since I dropped the ball on that link-up too. I blame the move.)
What have you learned this summer, friends?