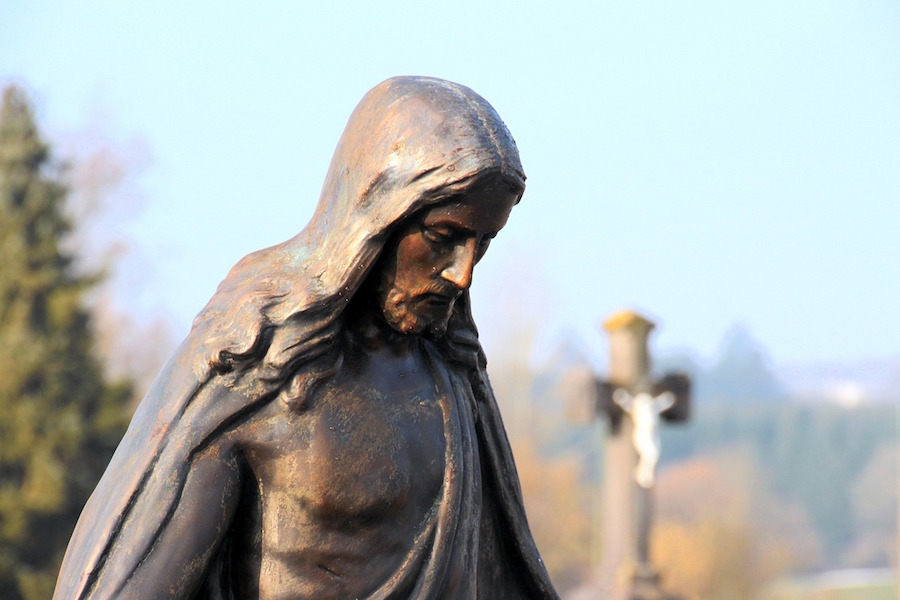 This Wednesday Lent begins, and I have complicated feelings about it.
As I've worked through redefining my faith, the Church calendar has provided a new and helpful structure for me. Growing up, the seasons of Advent and Lent were recognized but not particularly engaged in my church. But being purposeful about marking the Advent season these past few years has opened space for me to embrace my own dark seasons and longings as part of the normal fabric of this life of faith.
But Lent. Oh Lent.
I feel a palpable sense of dread going into this season. Though I believe that sin is real and important and not to be ignored, the word itself still raises my hackles every time. I don't know how to engage with my own — ugh — sin — without spiraling into shame and self-loathing.
I also can't seem to shake the pressure I feel (from myself? Others? My past? Who knows) to have an appropriate emotional response to the story of the cross.
I have heard the story in all of it's horrifying detail every single year. (I have a memory of being in youth group and holding up folding chairs above our heads so that we might understand what it felt like to be strapped to the cross.) I have watched The Passion of the Christ more times than I ever wanted to. I have hammered lots of nails into wooden crosses in lots of different places of worship.
Thinking about engaging with this season again makes me feel tired before I even start.
And yet, I believe that there is something important here for me too. I'm hoping to work through some of this baggage with my spiritual director this Lenten season as well as to find new, gentler ways to spend these 40 days.
Which brings me to this post. I've had a couple of you ask for book recommendations for this season, and I haven't gotten back to you, mostly because of all the baggage-y reasons above. But I finally did some research and found some options that I think might be good for all of us — myself included — as we approach this season and seek to find God and be found by him.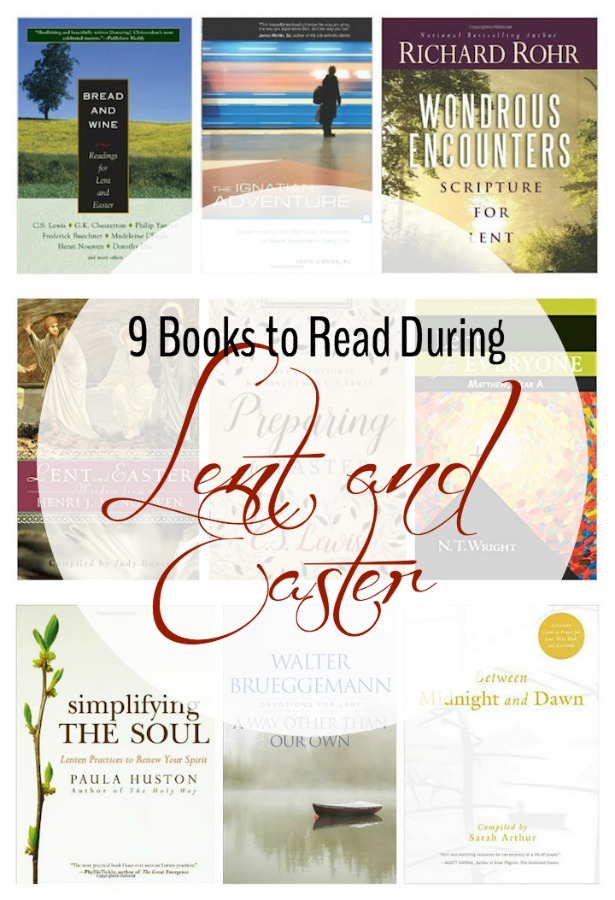 Bread and Wine: Readings for Lent and Easter: This, dear friends, is the only Lent devotional on the list that I've actually read. It is a companion book to Watch for the Light: Readings for Advent and Christmas, which I know many of you love (I do too), and this one is just as lovely. I love the mix of voices in these books — from saints (like Aquinas), poets (like Hopkins), and some of my favorite spiritual guides (Nouwen, Norris, L'Engle). If you're looking for a breadth of voices this is a great way to go.
Preparing for Easter: Fifty Devotional Readings from C.S. Lewis: I have not, to be honest, read that much of C.S. Lewis' work. (Not sure I got through Christian college or my evangelical youth without reading every Narnia book. Whoops.) But I just finished reading a spiritual biography of Lewis, and now I have to go back and read all of his stuff. (Did you know that Screwtape Letters was originally published as a newspaper column, and Mere Christianity came from a series of radio broadcasts he did? He was basically a Christian blogger before it was a thing.)
From the publisher: "Carefully curated, each selection in Preparing for Easter draws on a major theme in Lewis's writings on the Christian life, as well as others that consider why we can have confident faith in what happened on the cross."
Wondrous Encounters: Scripture for Lent, Richard Rohr: From the Publisher: "Father Rohr begins each meditation with a single title or phrase that sums up the point. Then he offers the meditation followed by key passages from the readings. He ends each meditation with a Starter Prayer that invites you to self-disclosure and to enter the wondrous divine dialogue with clarity, insight—and holy desire!"
A Way Other Than Our Own, Walter Brueggemann: Walter Brueggemann is an Old Testament scholar and a leading Christian voice when it comes to engaging injustice and the church's responsibility to provide an alternative narrative to that of Empire. I've been meaning to read more of his work, and the political climate here in the U.S. has given me the push I needed. This is on my list for this Lenten season.
The Ignatian Journey: Experiencing the Spiritual Exercises of Saint Ignatius in Daily Life, Kevin O'Brien, SJ: I recently got this book to work through with some friends. While not strictly for Lent, this book guides you through the Saint Ignatius' Spiritual Exercises, which include praying through the life of Christ and contemplating the Passion and Resurrection. What I love about this book is the way that it gently guides you to interact with God in prayer, providing a structure with lots of space to reflect and contemplate. I'm looking forward to delving more deeply into these Exercises.
Lent for Everyone, Matthew Year A, N.T. Wright: N.T. Wright is a popular biblical scholar whose work has helped me in my own faith reimagining. In this book he "provides his own Scripture translation, brief reflection, and a prayer for each day of the season, helping readers ponder how the text is relevant to their own lives."
(I'm still new to this liturgical business. If you are too and are wondering what this Matthew Year A business is about, it's because there are apparently different readings for different years. This year — Year A — you'd get the book in which Wright takes you through Matthew. (He also has ones for the other years that take you through Mark during Year B and Luke during Year C.)
Lent and Easter Wisdom from Henri J. Nouwen: I just love Henri Nouwen. He always brings it back to our Belovedness in Christ. His would be a great and gentle voice for anyone who, like me, has complicated feelings about Lent.
Between Midnight and Dawn: A Literary Guide to Prayer for Lent, Holy Week, and Eastertide, Sarah Arthur: For my literature lovers out there, of which I am one. I'm totally getting this one. From the publisher, "New voices such as Chimamanda Ngozi Adichie and Benjamín Alire Sáenz join well-loved classics by Dostoevsky, Rossetti, and Eliot. Light in the darkness, illuminating the soul. Between Midnight and Dawn: A Literary Guide to Prayer for Lent, Holy Week, and Eastertide will use imagination to draw you deeper into God's presence. Read it through, then use it as a resource for years to come."
Simplifying the Soul: Lenten Practices to Renew Your Spirit, Paula Huston: And I'll probably get this one too! Not only is Huston a Benedictine oblate (I've been hooked on Benedict since Micha Boyett/Mama:Monk introduced me to him years ago), but she's also an honored literary writer featured in Best American Short Stories and Best Spiritual Writing anthologies. (She mentors MFA students in creative nonfiction for Seattle Pacific University, so clearly she's fantastic.)
From the description, this book seems to combine the contemplative with the practical: "With honesty, vulnerability, and grace, Huston challenges readers to move outward and act, showing them how everyday actions like cleaning out a junk drawer, giving away something no longer used, or spending fifteen minutes in silence can be surprisingly powerful ways of experiencing a more meaningful Lent and a simpler life." So if you're looking for something that propels you to more directed action, this book might be for you!
*
What about you? Do you have any favorite resources for Lent? Share in the comments!