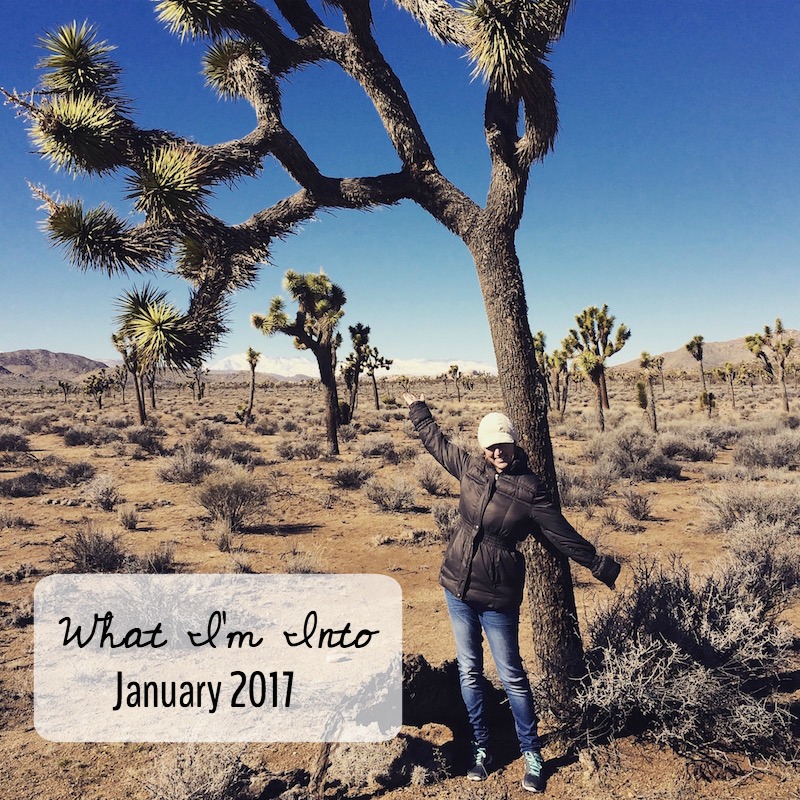 I know. I'm an entire week late on telling you what I was into this January. It's fitting, I suppose, as January was a month of slogging. But whatever. We made it! Halfway through winter! Go us!
What I've Been Reading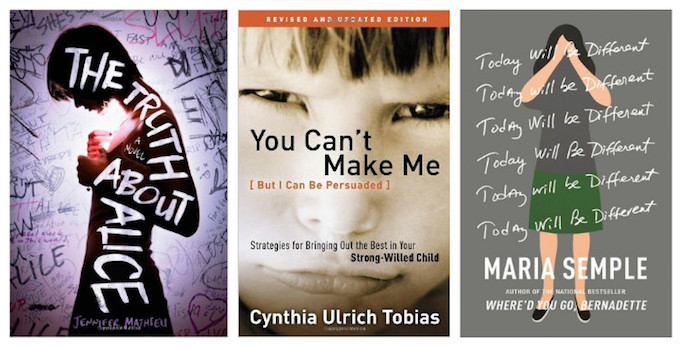 The Truth About Alice, Jennifer Mathieu: I'm not sure where I came across this book. Somebody recommended it, or Amazon told me I should read it…something. But I didn't particularly love this one. While I love YA lit and I love stories told from multiple perspectives, sometimes the first person voice of the typical teenage girl gets tedious for me, and the multi-presence of this voice in this book made me feel old and cranky.
You Can't Make Me (But I Can Be Persuaded), Cynthia Ulrich Tobias: One of my goals this year was to get more informed in my parenting. I have one kid who is deeply strong-willed and another who battles anxiety, so I've gotten some books on both to give me some tools. This book (for the strong-willed kid) was helpful in some ways. It gave me some insights into my son's mental processes that I didn't have before and helped me to be more consistent in my discipline. I didn't realize until I started reading it that the author has history with Focus on the Family, so the book had a lot of the 90s evangelical concepts and language that tend to rub me the wrong way. Still, a helpful book in its right.
Today Will Be Different, Maria Semple: I loved Where'd You Go Bernadette, so I was anxious to read Semple's newest book. But I have to tell you, it was not my favorite. While Bernadette herself was completely quirky in Semple's first book, the main character, her daughter, Bee, felt relatable to me in a way that the main character of this book did not. There's also a Christian thread that felt crudely drawn to me. (I'm all for angst, this was a bit over the top.) I give it a solid meh.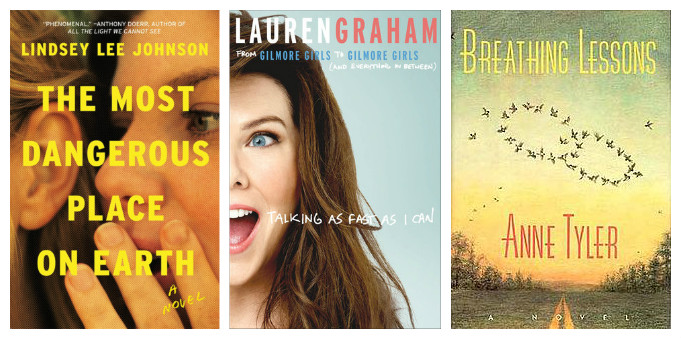 The Most Dangerous Place on Earth, Lindsey Lee Johnson: Like Alice above, this book was set in a high school and told from the perspective of a number of students. But it was so literary and lovely. I found this book when I read a stunning interview with the author (that I now cannot find), and I immediately picked it up. I'm so glad I did. An extraordinary first novel that somehow straddles YA and literary fiction perfectly.
Talking as Fast As I Can, Lauren Graham: I've been meaning to read Lauren Graham's memoir since it came out, and it was good if a bit fluffy. I appreciated the tidbits she gave of the behind-the-scenes of Gilmore Girls and Parenthood…but the memories were all painted broad stroke. I think the problem is me. I always want more than those books tend to deliver. (I want to know everything! I want to feel what it was really like! I want literary themes to emerge! I am always disappointed!)
Breathing Lessons, Anne Tyler: I've never read Anne Tyler's work, but her name kept coming up in my circles these past couple of months, so when it was time to peruse Half Price Books with my Christmas gift card, I picked up her Pulitzer Prize winner, Breathing Lessons. This book about a completely average dysfunctional family told all in a single day was uncomfortable and beautiful and tedious and full of startling insights about marriage and family. I'm still digesting it, I think.
What I've Been Watching
I'm so happy that all the shows are back after the winter break. This Is Us! Greys! Scandal! (You always know when they're trying to disguise Kerry Washington's pregnancies. She wears a lot of capes and shawls.) Andrew and I are also re-watching Parks and Rec, just for fun.

Other Things I've Been Into
1. Backyard sledding.
We figured out this year that the backyard of our house has a nice slope that goes straight down to the icy pond. Most days after school this month, Andrew took the boys out there to play. Liam spent a lot of time sledding. Dane spent a lot of time making "habitats" for animals. I spent a lot of time looking out the window at them from the warm kitchen while making dinner. Perfect.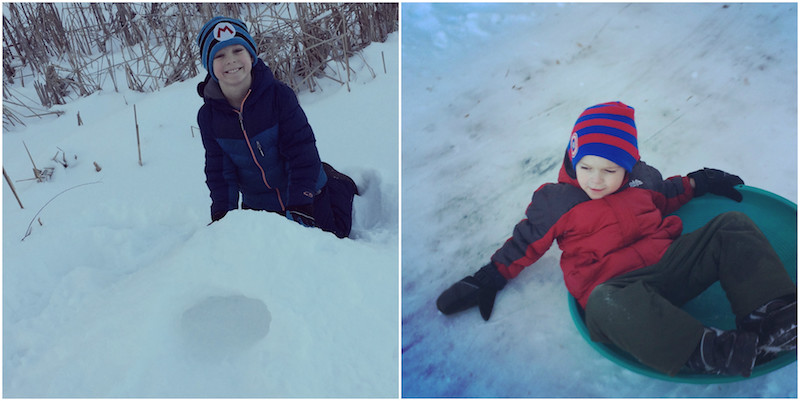 2. Cooking
Trying new recipes and eating beautiful food is what has been saving my life this month. I wrote all about that here.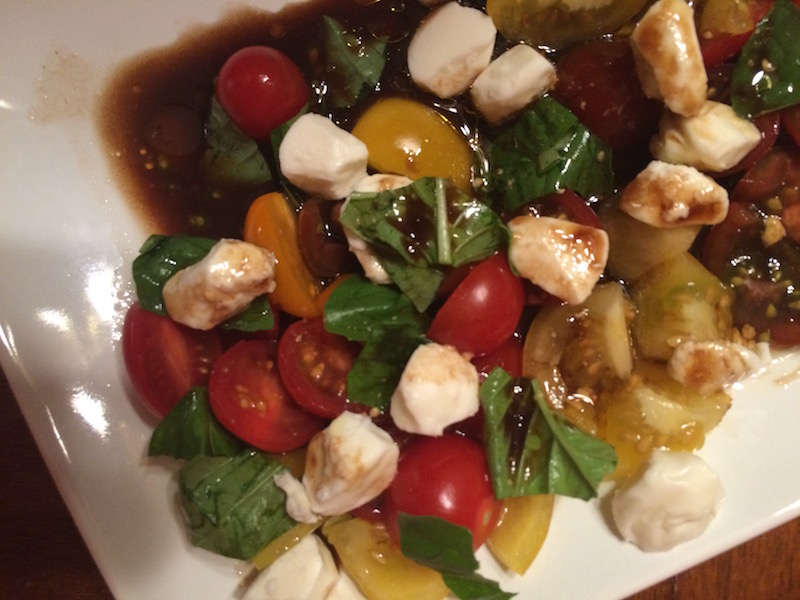 3. The desert
We went on a little getaway to Palm Springs with my mother- and father-in-law and the kids in January. While the weather was a little bit chilly (and rainy), I was amazed at how beautiful the desert is. It's such a different kind of beauty from the kind I'm used to here in the Midwest, but I found it stunning, in all it's starkness.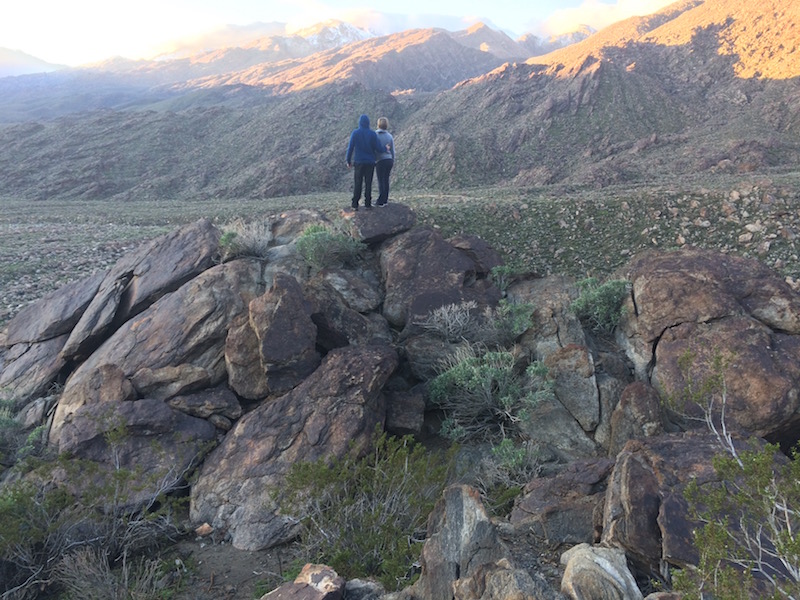 Blog & Writing
I didn't write as much as I hoped to this month. Between the weather and depression and the inauguration, I've been feeling a little…low.
I told you about the things I planned to try in 2017…and then I promptly fell into a pit of unproductivity.
I did write, though, about engaging our world during the refugee ban and about whether it's worth it to wrestle with our faith baggage.
I'm working on some larger projects that I feel excited about but that are going much slower than I imagined they would. I'm beginning February with a much more realistic sense of what I can accomplish and a commitment to be more gentle with myself.
I meant to Instagram more this month but didn't (you can follow me here in case I ever get it together and start posting more regularly). You can also find me on Facebook and Twitter.
I'm linking up with the lovely Leigh Kramer as usual.
What have you been into this January?