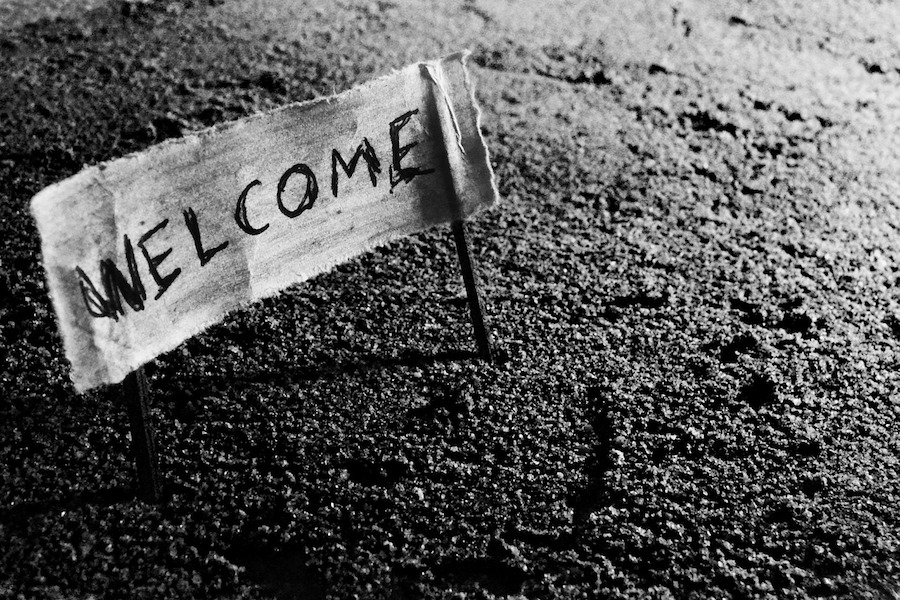 The morning after President Trump signed an executive order halting refugee admission into the United States, I got on an airplane with my husband and my two sons to fly home to Minnesota.
We'd spent the last week in Palm Springs on a short, winter getaway. It was cold. We wore our winter coats and hats while we hiked in the desert and climbed rocks in Joshua Tree Park and boarded the Mountain Tram. At the zoo, we had to move our picnic into our rental car so that we could crank up the heater.
For a few fleeting hours a day, I sat very still in the sunshine by the pool and tried to let the light sink into my bones, where the depression lives. I listened to my kids splash and laugh in the water; I watched the clouds nestle between the hard lines of the mountain. I tried very hard not to think about the rest of the world. Just this moment. Just this beauty.
But on the plane, the world seemed to crash back in on me. I watched CNN stream onto the small airline screen and felt a powerless kind of ache in my gut. But it was difficult to focus on the facts while my kids fought, elbowed each other, lost toys underneath their seats, spilled sticky Coke from their plastic cups.
Three hours in, the flight attendant came again by with the drink cart. "How much is the wine?" I asked. She took one look at my Mom-haggard face and her eyes flashed with pity and recognition. "For you, honey, free," she said. "You look like you need it."
And really, I didn't need the wine. But I did need that moment of small extravagance, that kindness, that recognition and understanding and welcome.
I took it with gratitude; it tasted like communion.
*
When we tumbled out of the plane later that night, I kept thinking about the men and women stuck in rooms in airports across the country, waiting, stuck, unsure. We walked down the concourse, and the kids whined about the heaviness of their bags, and the guards looked bored and resigned as we walked through. No one stopped us. No one would.
We led the kids through the airport — come on now, stay close — and I kept thinking what an uneasy thing it is to be a grown-up in this world. It means that we are responsible. The days of simply following along, complaining about our small loads – those things belong to children who do not yet have the tools to expand out of their self-centering world.
I know that I have readers who support President Trump. I know that I have readers who don't. (In case it is unclear, I will say here: I do not agree with this executive order or with the ethos of the man who made it).
But even so, I know that the world of politics and policies is complex and difficult. I know that there are no real villains here, as convenient as it would be if there were. There are only a lot of broken, complex beloved people doing what they believe to be right.
Still, regardless of what you think about immigration policy or borders or national security, there is work to be done. We who proclaim the love of Christ are responsible for welcoming one another. And in the midst of this executive order, that work has not changed.
I also think that it's easier to get enraged at a policy that blocks refugees from our country than it is to teach English at the refugee center. It's easier to comment from the sidelines than to do the hard work of love. It is so easy in this time of Facebook and Twitter and a thousand social media avenues to play at engagement without actually engaging, without really welcoming, without ever learning the names of a refugee family or touching hands with an immigrant.
There are shirts and Facebook memes and all manner of e-cards that say things like "I can't adult today." It's funny because we understand the sentiment. We, all of us, know what is to wake up and want to volley our responsibilities back to someone else. We all want someone else to carry our bags for us sometimes, to let us off the hook.
But friends: we have to adult today. There is no choosing otherwise, no going backwards into the smallness of childhood. The world is ours to engage, to change, to carry, to mourn, to love. The orphan, the immigrant, the homeless, the widow…the tired Mom on the plane…the exhausted clerk at the store: the world is ours to welcome.
We take Sabbath days and vacations to unplug, to breathe in, and to rest. We need this. We need to let the sun and the mountain beauty sink into our bones – into the places where the despair hides.
But then, after that, we must return to the world, heavy with brokenness, sharp with pain. To be present in this world where we live is to sink into the paradoxes of our own fear and love.
It is to acknowledge that our discomfort and fear of The Other has contributed to the desolation we see on the news and in our communities. It is to find our footing in the low places of humility and, only from there, to begin the work of welcome.
It does not have to look like a protest sign, though it might.
It might look like Twitter and Facebook posts (though be cautious here – it is so easily to confuse shared rage with action, to become an consumer of information about injustice instead of an active instrument of peace). And, of course, it might not look like Facebook or Twitter…for not all of us are made for the social media world, and that's okay.
It might look small – packing dishes at your local refugee center. It might be teaching English to those who are new here or helping at your kid's school. It might be checking out three books written by people of color, people of other countries, people of other religions, from your library and reading them all the way through.
It might be as simple as handing some tired Mama a free drink as you roll through with your beverage cart. "You look like you need this."
Do your work – your own, individual, creative best. Walk the aisles of the airplane or of the classroom or the hospital. Write your book or do your podcast or preach a sermon at a church on Sunday. But do it with your eyes wide open to the world around you. Do it purposefully, with every bit of compassion that you can find.
After all, we can only change the story if you're listening to it. We can only meet the need that we are willing to see, and we are transformed only when we're willing to go deep into the truth of our own, complicated hearts.
Remember that you are no one's savior here, but that you are a witness, a grown-up in these complicated times, a co-creator with God in this wild world. You are responsible. You were made to do this.
Begin now.
Go out to dinner at an immigrant-owned restaurant. Welcome and let yourself be welcomed into a narrative that's bigger than this country, this suburb, this American life you lead.
Take the bread from hands that have held different baggage than yours. Bring it to your lips. Receive it as the truest kind of communion.