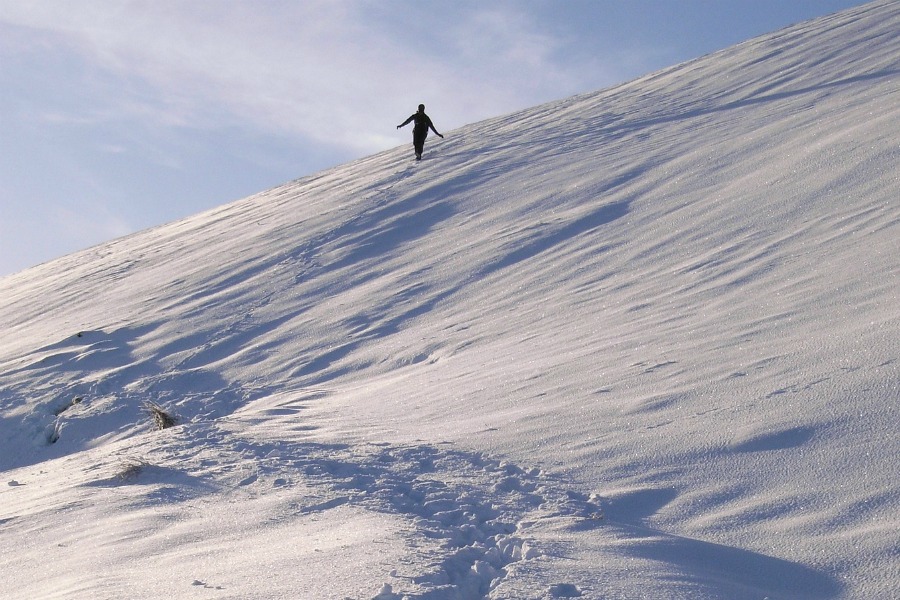 If you've been wondering where I've been this last couple of weeks, the answer is: Here. Slogging through January.
Sometimes it seems absurd to me, how complete my amnesia is when it comes to winter and my seasonal affective disorder and the reality of the work of book writing in January. I remember that it's hard, but I remember in that foggy, distant way that you remember childbirth being "hard." It's not until you're back in the middle of it that the hazy memory is replaced with the shock of reality: Oh right. Not "hard." Brutal, actually. BRUTAL.
January came this year like it always does for me – in a whirlwind of celebration and resolutions and plans and hope. Something about the beginning of a New Year brings out the Type A list-maker in me, and so as 2016 rounded into 2017, I reflected and pondered. I thought about what I'd like to accomplish in the next year and about what things I might try to feed my soul… but I made word-count goals and penciled in draft deadlines
I checked out books from the library on "finding your work groove" and on "deep work" and figured that I might just be able to educate myself into success. I bought a new planner and a new journal and a new package of black Pilot pens.
And then it was time to actually get to work. And all of my big goals and plans ground to a snowy, slogging stop.
It's been a year since the last bleak January, more than a year since I was actively working on my book, and in the interim, I have somehow forgotten how completely unproductive the creative process actually is.
You sit and stare at the screen. You write a few words and it feels like your fingers are concrete-weighted. You can't see where it is you're going, and the only way to get there is to keep casting words one by one into the water.
It could be a waste. It could be a wonder. There's no way of knowing which it will be until you've past the point of no return.
Now, I'm standing here in the shock of reality that is mid-January in Minnesota, sufficiently humbled and a little bit paralyzed. Everything is slower, harder, slippery-er here in the actual work of the new year.
*
In the mornings, though, I am reading the Bible again.
It is the first time in a while that I've done this regularly, as my relationship with the Bible and with "devotions" or "quiet times" or whatever is fraught with its own pile of baggage and angst.
But my Sacred Ordinary Days planner tells me where to turn – Psalm 26, Isaiah 44, Ephesians 4 – and I feel grateful for the guidance, for the compass of the daily liturgical readings pointing me to the next destination.
In the columns of my Spiritual Formation Bible, there are lots of calls toward silence and imagination. Toward the slow work of soul-searching and listening. The whole process is inefficient and ambling, and that God that I am meeting in these pages and words and stories seems pretty unconcerned with "productivity."
This is a God who lets people wander and wait. Who cultivates beauty and life and growth in the silent emptiness of a prison cell or a desert or a lifetime of infertility. This is a God who seems to be working on an entirely different understanding of time, who moves in an infinite abundance of days and moments and seasons.
And there is something important and lovely about those first blank days of January when I am inspired to think and remember. To set plans and intentions, hopes and goals.
But there is also, maybe, something important, something good, about these dark, heavy January days when I can't seem to move nearly as quickly as I planned.
These are the days when I remember that so much of what matters comes slow. Art. Love. Meaning. God, who cannot be wrangled into a neat, goal-sized box. The faith journey itself, which twists and stalls, rushes and idles…and changes us slowly, imperceptibly, completely.
So, it's January. I'm still here. I'm trying to write, and I'm trying to survive. I'm trying to keep stepping forward in my life and in my work even though it feels like I am moving in slow motion.
I am threadbare and tired and annoyed that I can only seem to manage three meager steps, a few hundred mediocre words. It frustrates me to spend a whole day slogging through a freelancing project and getting nowhere, a whole day researching a new idea and coming up empty.
It's January. I'm tripping through the snow, through my goals, through my life.
I am getting nowhere.
And maybe, it's exactly where I'm supposed to be.