I've always been somewhat of a New Year's enthusiast. I love goals! I love starting new! I love a brand new planner!
I did make some goals this year that will be challenging…but when I was thinking about 2017, I ended up reflecting a lot on what things give me life.
What do I want more of this year? What do I want less of? What excites me and gives me energy? What makes me approach the year with hope rather than dread?
The list I came up with is not all that extraordinary, but when I read it, it feels like taking a deep breath. And that's a good way to start the year I think.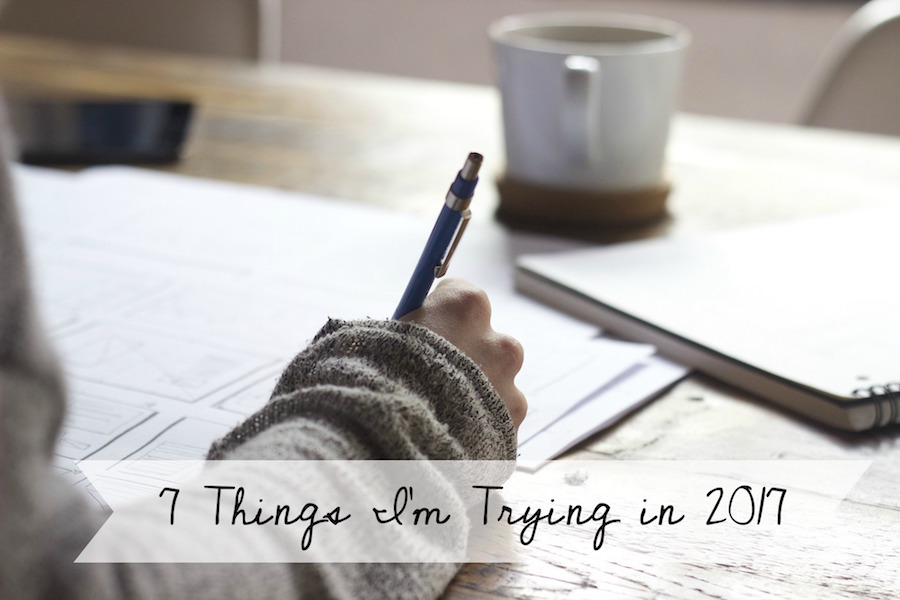 1. New Projects

For me 2016 was a lot about releasing my second memoir and then recovering from the whole thing. Getting that book out into the world…and then tending to my exhausted, overwhelmed soul.
Lots of people do #OneWord for the year…and I like the practice of that. But this year what came to me when I was thinking about this was less a word and more of a title: The Year of Creative Risk-Taking.
This year the idea of trying new things in my writing life sounds exciting to me. A grad-school memoir focus and a 2-year memoir-writing contract meant that basically the last decade of my life has been spent in Memoir-Land. This year, I'm going to try some different things. I'm still tinkering away at my experimentation of a fiction novel, but I have a few other ideas too. I'm hoping to share more about them with you as the year goes on.
2. More Instagramming
If you follow me on my social media accounts (Facebook, Twitter), you know that I'm not what you'd call…awesome…at social media. I just can't seem to keep up, and to be honest, I don't really want to.
But Instagram feels different to me. It feels kind of lovely. For me, it's a life-giving way to mark small moments and see them through (literally) a new lens. So this year, I'm going to try to be more present in that space. Follow me there if you'd like!
3. Focusing on spiritual formation and direction.

If you read my post about "What Worked For Me (And What Didn't) In 2016″, you know that spiritual direction was one of the best things I did this year. For whatever reason, the language and the space in that practice seems to be the exact right antidote to my post-on-fire, prone to performance soul.
I'll continue seeing my spiritual director in 2017, but I also want to integrate more individual work in this area. I recently ordered two books that I'm looking forward to reading through: Finding God in All Things: A Companion to the Spiritual Exercises of St. Ignatius by William A. Barry and The Way of Discernment: Spiritual Practices for Decision Making by Elizabeth Liebert. I don't know a thing about either of them, but they both looked really interesting to me, and I'm looking forward to trying them.
I also ordered myself a copy of the Sacred Ordinary Days daily planner. This follows the church calendar ands begins with Advent, so I'm kind of picking up in the middle…but I like the way that this planner integrates daily liturgical reading with reflection and planning. Plus I've heard great things about it. I'll let you know how it goes.
4. Honing my morning ritual
Along with my focus on spiritual formation, I'd like to find a morning ritual that works for me. I feel like I've never really found one that is both practical and meaningful. When the babies were little, I got up and went straight to writing…and that was fine. But I'd like to carve in more time for silence, listening, reading, and perhaps even journaling again.
I also discovered in 2016 that trying to do my daily run in the afternoons wasn't working at all. I'm not sure if it will be possible to create a morning routine the encompasses both my spiritual health and my physical health without getting up at like 3:30 in the morning…but I'm going to be playing around with it for the next month or so until I find a groove that seems to fit.
5. Creating more collaborative groups and spaces
Writing in a bubble didn't work for me in 2016, so this year, I'll be looking to find/form/restart some sort of writing group. I'm also looking for other ways to be intentional about collaboration. The downside of being an independent writer (and an introvert) is that it's very easy to become very private and ingrown with your projects. In 2017, I'll be looking for some better ways to add others back into my process.
6. More reading
I managed to read 45 books in 2016. In 2017, I've made a bit of an audacious goal: 100. I'm hoping that with both kids in school and no tyrannous writing deadlines (other than the ones I give myself), I'll be able to open up more space for reading in my life. I'm just so much happier when I'm reading more!
7. Two or three personal retreats
Personal retreats are one of the most life-giving things for me, but I rarely make time for them. Normally, I'm lucky if I squeeze in one a year…in the summer.
It always seems like such a selfishness. I should be going away with my husband! Or with my family! It's a waste to spend so much money on a hotel room for just myself. But of course, it's not. It is so good for me to have extended times alone with myself and with God. It's good for me to be in beautiful spaces alone. It's good for me to have time to think and plan and remember and imagine. So this year I'm going to try to make more space for it. Not just a summer retreat but a winter one too…and maybe even one in the fall, if I feel like going nuts.
*
What about you? What are some things that you're trying out this year?