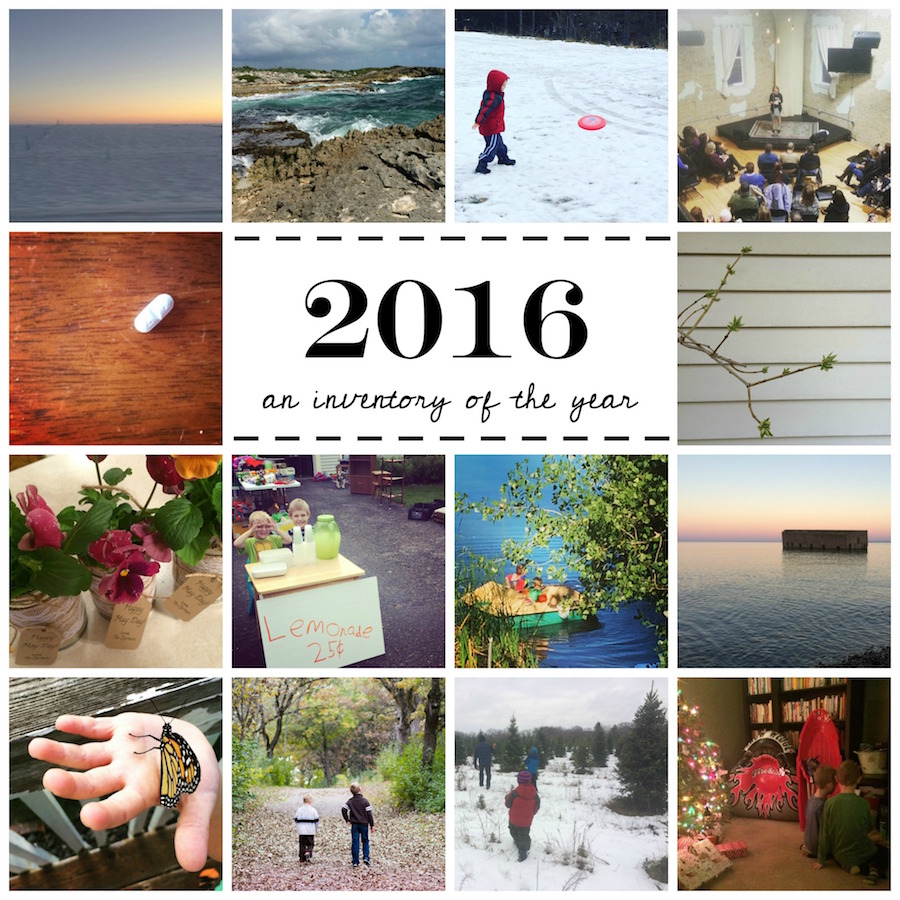 It's almost the end of 2016.
You wouldn't know it at our house, where Christmas festivities are still going full force. (Family in town! Extra dogs underfoot! Kids off school and trying to eat each other! Christmas cookies and champagne for breakfast!)
And yet, the New Year is coming. They are sweeping clean the coffee shop of holiday paraphernalia, and at Target, there are stacks of clear RubberMaids and bulk paper towels where the Christmas trees once were.
It's time to begin again.
The quiet moments in this past week have been few and far between, but whenever I've had the chance, I've found myself reflecting about the year behind me. I don't usually do a great job of doing this. I tend to blow full steam ahead with new goals, new ideas, new year new you! But a few online year-end personal inventories I came across this month encouraged looking back at the past year, noting what worked well and what didn't work, using those insights to guide your goal-making.
So I've spent some time this week doing that. I like the idea of looking back at the year's low points and failures not as a waste but as a kind of guidepost. A side-railing. (Caution: Don't go this way again! This did not work for you!) I like the idea of noticing what did go well so that I can move toward those things that bring wholeness and health.
I thought I'd share a few of them here.
4 Things That DIDN'T Work for Me in 2016:
1. The quick-turn-around, two-book deal.
I remember my friend Micha saying to me as I struggled with this book, "You don't have to do this. You don't have to follow their deadline," and I nodded…but I didn't believe her. I am a first-born, rule-follower with a penchant for people-pleasing. I did push the deadline a little – but only by six months or so, and that was only because I deleted the first 50k words and started over just a month before my book was originally due.
When I first signed my two-book contract back in 2013, I remember feeling odd about the quick turnaround on a second book. I asked my agent, and she mentioned that it was standard, and so, again, I ignored that quiet voice of doubt in my head and signed the paper. I figured that I could muscle may way through it…and I did. But it about wrecked me.
I didn't know that this kind of publishing schedule wouldn't work well for me…but now I do. Next time, I will fight for the time I need. I will surround myself with a writing group and hire a freelance editor to help me so that I don't feel so alone, so adrift. I know now that that is not being lazy, this is not a temperamental artist kind of thing. I know that the work of pouring out your soul on paper requires more space for me, and I will find a way to give myself that space next time around.
2. Writing that second book without community.
Somehow right in the mess of writing that second memoir with its insane deadlines, both of my writing groups fizzled out. Friends who had been able to read and offer critique during grad school were now busy with babies and intense jobs, and so I worked mostly alone. Toward the end of the writing and editing process, when I was starting to feel a little frantic, I approached a couple of people for some help…and that was good. But I didn't do it soon enough.
While writing will always be a more quiet and individual process for me, I learned this year that I absolutely cannot write a book without a dedicated group of engaged critique-and-encouragement-offering readers to help me. My biggest mistake was figuring that my publisher and editorial team would be that for me. They couldn't. They work on so many books every year, and they didn't have the bandwidth to be fully invested in the way I wanted them to be. Next time, not only will I make sure I have my own little team of readers, I may even hire a good freelance manuscript editor to help in the process.
3. Afternoon workouts.
I'll run in the afternoons! I thought. It'll be a great transition between my working morning and the kids coming home from school. I thought. And it was. The three times that it happened.
I've given up on exercising for weight loss or to get those "killer abs" that Pinterest keeps promising me. I love food too much for all that nonsense, and I've made some amount of peace with the size I am now. 
Still, exercise does seem to be pretty essential for my mental health. Running in particular seems to help stave off some of the more dismal symptoms of my depression. It helps me feel less crazy, less claustrophobic in my own body. So it feels important to try to make space for it.
Since my babies were tiny, I have habitually written in the early mornings, but I think in 2017, I'm going to try to flip it. Run first. Then write. We'll see if it works…but this is another way that this kind of assessment helps me. If it doesn't in a few months, we'll reassess. Try something else. See if there's a different, better way.
4. Having a garage sale.
This is my second stab at it, and my second fail. Apparently our house is just not in a good spot for it. After a rainy garage-sale fail this June, Andrew made me promise I'd just donate stuff next time.
5 Things That WORKED for Me in 2016:
1. Spiritual direction.
I have been seeing my spiritual director now for just barely over a year, and it has been one of the best things I've ever done. What my spiritual director does is not so much to counsel me, but rather to help me see what God is already doing. These meetings (once a month for one hour), have filled me with hope and grace in a way that no Bible study or "small group" ever really has, and I'm thankful for the shocks of understanding that I find as someone else seeks God alongside me, with me, for It's beautiful.

2. Zoloft.
After several months off of my antidepressents, I went back on Zoloft. While I recognize this medicine as a gift, sometimes it feels like a bitter one to swallow, which is why I keep going off. Every time I go back on the medication, it feels like admitting that I am not well, that I will never be well in the way that I want to be. I forget sometimes that God is present in places I never imagined, and that his kindness can look like a hundred million different things. Even one small pill.
3. Giant mason jars of water in the fridge.
I figured out that if I fill up 5 or 6 big old mason jars with water and a little lemon and maybe some cucumber at the beginning of the day, I will drink them all. I am a lover of convenience and a creature of habit. And also, apparently, quite a guzzler. I can easily take down a full gallon or more in a day if I'm home.
(Strangely, figuring out that I have an apparently superhuman ability to inhale beverages has helped me on my journey with wine (which I wrote about here.) I am a person who drinks all of the drinks super, super fast. Now that I realize this, I am so much better about minding my refills and switching to water. Small victories.)
4. Learning to use my own voice to speak into difficult issues.
If you've read this blog for long, you know that I typically stay away from "hot-button issues." I struggle with the inherent pressure placed on the writer in the Internet space to take sides, to "use her platform," to elevate causes. Mostly, I like to stay in the quiet work of deconstructing and reconstructing faith – that soul work that seems to me to cross political and idealogical lines.
Still, this year it was sort of impossible to ignore the "hot-button issues," wasn't it? The whole election season was nothing if not a giant flaming red button, and we were all filled with our own thoughts and feelings and fears about it all.
I discovered this year that the way to respond to these issues was not to ignore them, but rather to approach them with my particular voice. I wrote a lot of Psalms during the election season, because this is the voice that felt truest to me – the one that doesn't really know what's best, but feels it all so deeply. The Ask Addie column over at Off the Page was another place where I felt freedom to move into grayer spaces in my own voice, and I am very thankful for the honor of writing there.
5. Semi-regular massages.
I have to physically force myself to get these still because it seems like such an indulgence. My Midwestern, money-saving ethos rages against the idea that this is important. It feels like a luxury. But I work at a computer all day. My neck and upper back hold stress like heavy rocks, and if I truly believe that it's all connected – that body and soul and mind and spirit are valuable to God and to the world – then I have to take care of my body too. So I have been.
Your 5 Favorite Posts of 2016

I wrote a lot of posts in 2016. Here's what Google Analytics (that wily, insecurity-promoting devil) tells me you liked the best.
Size Up: "And of course I need new jeans. After all, I have spent the last two decades expanding. I've made room in myself for big questions, for complexities, for entire seasons and landscapes that I didn't know existed. I made room for two humans to spark into being and then grow into babies — 9 pounds 3 ounces; 7 pounds 10 ounces, respectively. My heart holds a vastness of love at 32 that I didn't know existed at 14, when my stomach was a flat board and my hips were nonexistent and the boy I liked scoffed and told my friends he'd never date a toothpick like me."
How Is Your Walk with God? (And Other Questions Jesus Never Asked): "I think about Jesus' questions – the best kind – that cut through the performance and the religion and the rightness and into the broken, beautiful heart. What do you want me to do for you?"
10 Questions to Ask Instead of "How's Your Walk with God": "We need to be asked better questions if we are going to re-engage with our faith in any meaningful way. Questions that focus not on what we are doing or not doing…but what God is doing.After all, the healthy, whole spiritual life is not about hustling to read the Bible more, pray more, be more, try harder. It's not even about feeling God – a lesson that I have to continue learning and relearning. It's about attentiveness. It's about recognizing God, as Alice Fryling says, here, now – in what is actually happening in my life."
Joshua Harris, Purity Culture, and the Danger of One Defining Narrative: "Who's fault is it when a book – particularly a Christian book – causes pain and damage and fallout? Who do we blame here? The overly passionate 21-year-old homeschooled kid? The kind-hearted woman, God-Lover mom, drinking her English Breakfast tea and writing books in the early morning that she hopes will be impactful for teen girls?"
For the Weary One at Christmastime: "This is how the world becomes new: not in the bright-eyed victory but in the weary surrender. Here is the sound of the Christ-child – of God crying out from weary, infant lungs. It is power and Light made fragile and small, held against the weary breast of a woman. She is crying exhausted tears, and it is a kind of rejoicing. She is closing her eyes, and it is the most honest kind of praise."
5 Books That Spoke to Me in 2016

I don't like the Best Books lists – probably because as a person who regularly writes books, they leave me feeling angsty and insecure. I read so many lovely books every year, and I've listed several of them in my Resources lists above.
Still, here are a few books that were the right thing at the right time this year – all over the board, genre-wise:
Getting Things Done: The Art of Stress-Free Productivity, David Allen: I almost didn't get this book because it looks so gimmicky, but I'm so glad that I did. I wouldn't say that it's actually helped me to be some kind of productivity machine. Rather, the system Allen explains has helped me feel less scattered, more aware of the work I have, more able to do it. I highly recommend this one. 
The Art of Slow Writing: Reflections on Time, Craft and Creativity, Louise DeSalvo: After the whirlwind of writing and publishing Night Driving, this book was very centering to me. It gave me permission not necessarily to be slow-paced with my writing projects…but rather to pay attention to my own rhythms and processes and let them drive my own work.
Roots and Sky: A Journey Home in Four Seasons, Christie Purifoy: I found this book really beautiful and moving. I loved Purifoy's attention to the details of the seasons and the honest way she learned to lean into them — both the spiritual seasons and the physical ones around her. This book also made me want to move to an old farmhouse immediately.
Seeking God Together, Alice Fryling: I bought this book in the early months of my spiritual direction experience, and it has completely changed the way I ask spiritual questions to myself and to others. You can read more about that here and here.
Olive Kitteridge, Elizaabeth Strout: I don't know what it was about this fiction book that moved me so much. The way that Strout wrote a fairly unlikeable character with such grace and empathy maybe. The structure of the narrative. The beauty of the language and insights. The way the lives of the townspeople overlapped and the ways that they didn't. I don't know. This book moved me though. Right thing, right time, I guess.
*
There is probably more year-end introspection to do, but I'm tired.
What about you friends? Have you had a chance to do an inventory of your year? What worked (and didn't work) for you? I'd loved to hear in the comments!