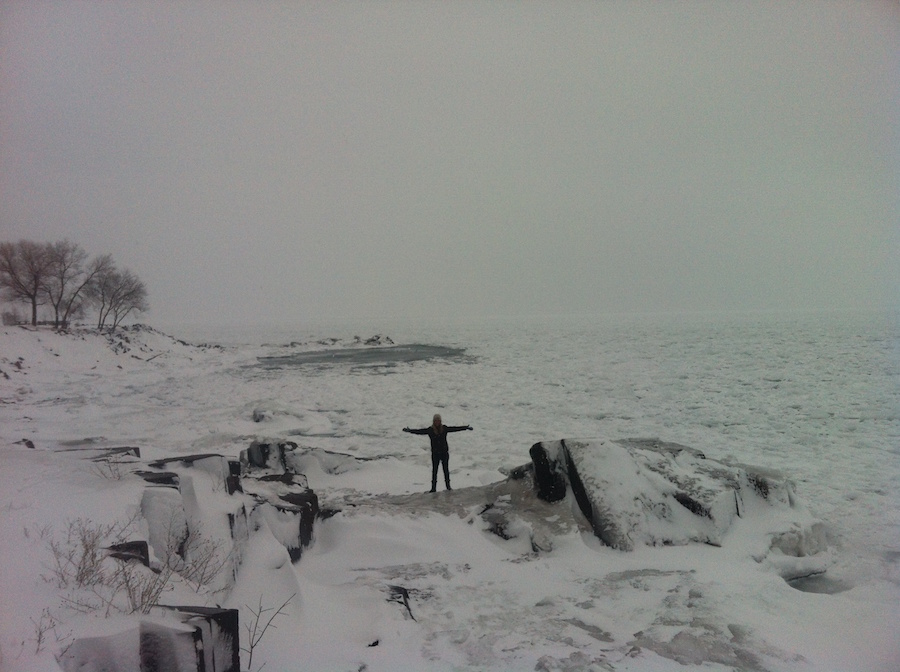 The snow came this weekend and covered our world thick and white and cold.
It's not the first time it has snowed in our Minnesota suburb. A few weeks ago, the snow fell like a magical gift – the air temp still in the upper 30s, the snow itself sticky enough for snowman, the whole thing a child's paradise. The boys were outside for hours without complaint.
But this time, the snow came for real. This time, it came cold and relentless. It came with cutting wind and -7 degree temps and with roads that are slick and treacherous under your tires.
When I sit on the couch at five in the morning to read and to work now, the winter wind whips against our old living room picture window and makes me cold. I need to get out the plastic wrap like my Mom used to do, seal the window up like some kind of saran-wrapped hotdish.
The holiday songs do not tell the whole truth with their upbeat lyrics. We'll frolic and play the Eskimo way, walking in a Winter Wonderland.
Let it snow, let it snow, let it snow!
The simplified sweetness sounds oddly off-key to me this year, as do the Hallmark movies that I keep watching. Usually, I take a kind of measured comfort in these things. I like jingle bells and sleigh rides! I like the story of the advertising executive who finds love on a Christmas tree farm! I generally enjoy disappearing into a world where a Christmas bucket list can not only kindle true love, but also save a struggling town just in time for Christmas Eve.
I like to sing about the snow as if it is gentle, as if it is magic, as if I'll I want in the whole world is a white Christmas.
But this morning, I walked the kids to the bus stop and the snow was piled up in blowing drifts of white. The wind whipped our faces as we waited in a huddle for the warm bus. "I'm cold," Dane kept saying, "I'm cold, so cold, so cold."
Afterwards, I got in the car and watched the way the hazy sun lit against the sparkling branches of the trees and the iced-over ponds. Beautiful and sharp all at once, this snowy scene, nothing like the languid dance of the snow globes on our mantle.
The snow is a gift, but it's not the innocuous, magical glitter-dust that we pretend it is. It is dangerous, unblunted, a stark kind of baptism. It is the kind of beauty that can heal you or kill you. It is insulating soil and plants and tender growing root systems, blanketing the earth with an unlikely kind of protection. It is pulling cars crookedly off the roads and into ditches and medians and light posts.
You must tread carefully here.
I feel like I am cautious this Christmas season. The world around us feels winter-scarred and barren to me.
I recognize that the arrival of Jesus is a gift, but it is not the wan, candle-lit, gentle gift that we like to imagine it is. It is sharp and ragged. It is God breaking into earth, throwing everything into stark relief.
He is blanketing the vulnerable. He is throwing the proud off course, derailing all of our hasty plans.
A child is born, a son is given. The government shall be upon his shoulders.
It is good news of great joy – of course it is. But redemption is not a Hallmark movie or an inspirational song or a sealed up snow globe. It is powerful and beautiful and wild. It cuts deep into our tender hearts, and we feel it like a promise whenever we take a breath.
It is winter. It is Advent.
It is snowing again.
Stand outside in the clarifying cold while the gift falls around you.
Hold out your mittened hand, and take it.