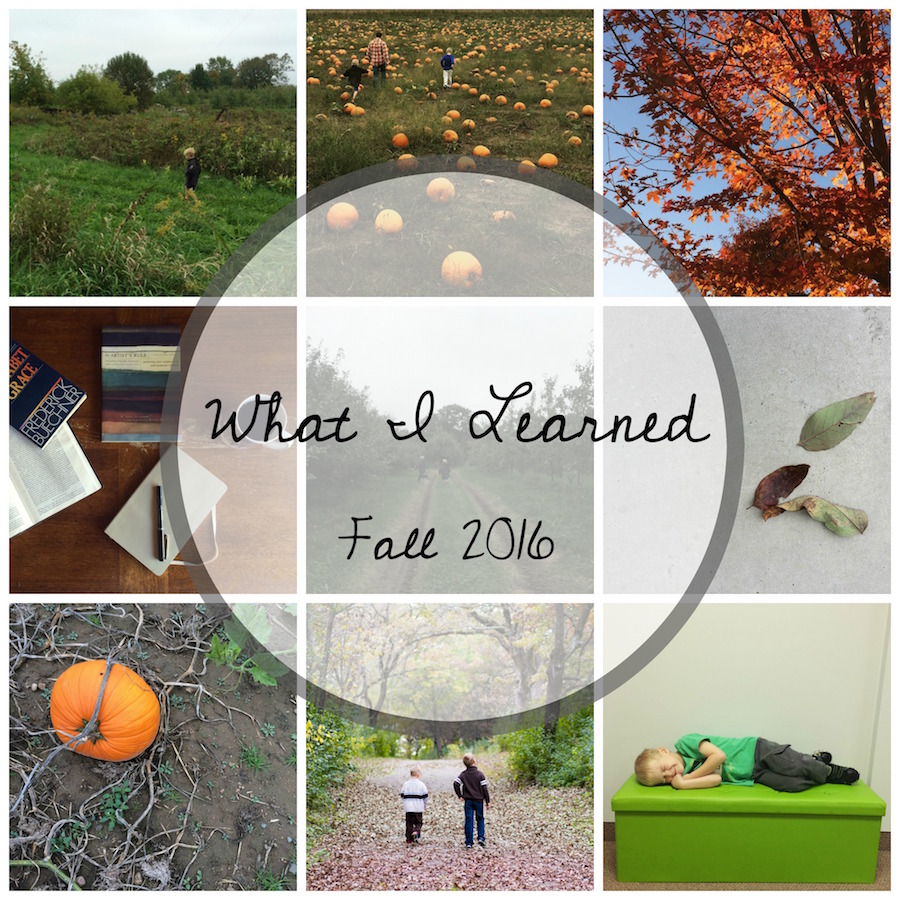 I've been wanting participate in Emily Freeman's "What We Learned" linkup for a while now. She used to do it every month — taking a step back and thinking about what we learned – the big and the small things – during the month before.
I love that idea, but it always felt too much to do right up next to my monthly "What I'm Into" posts…but now that she's doing it quarterly, I decided to go ahead and give it a try. I like the idea of reflecting not just on the things I did but on what they taught me. (You can join in too if you want! I'd love to hear what you learned this fall! Here's the link.)
Anyway, here are 10 things that I learned this fall.
1. Creating a productive routine is hard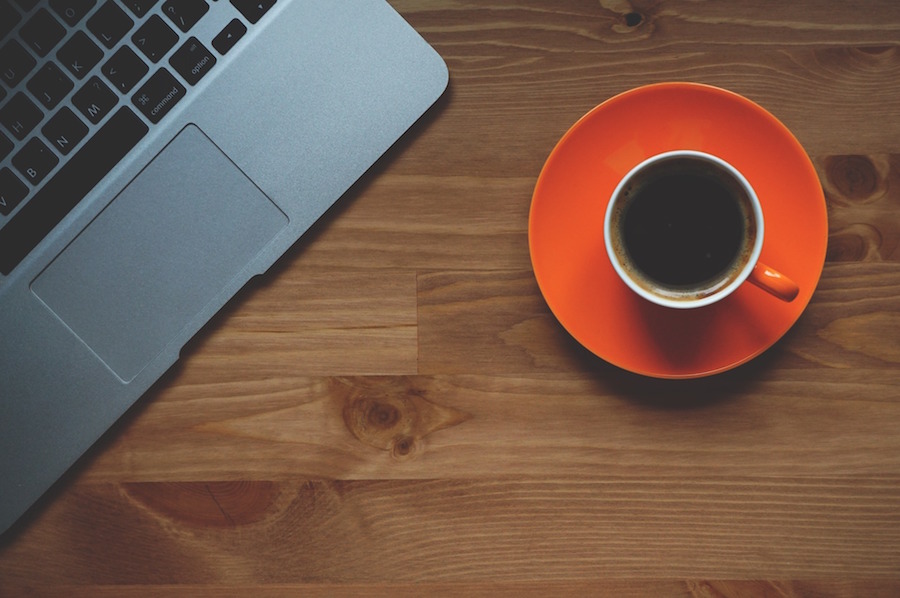 When I dreamed of what my life would be like when I sent both of my boys off to school this fall, I imagined routine. I figured I would work out at the same time, write at the same time, do my errands on the same day, and be an overall boss.
Not so. Three months later, I'm still trying to figure out how to best manage the time I have. Clearly, going to Target every day is not ideal. I'd like to better understand my own weekly working rhythms so that I can get more deep work done during the times that I'm most motivated. I'll be working on this in the new year.
2. These tulle-wrapped helium balloons that look so cute on Pinterest are a LIE.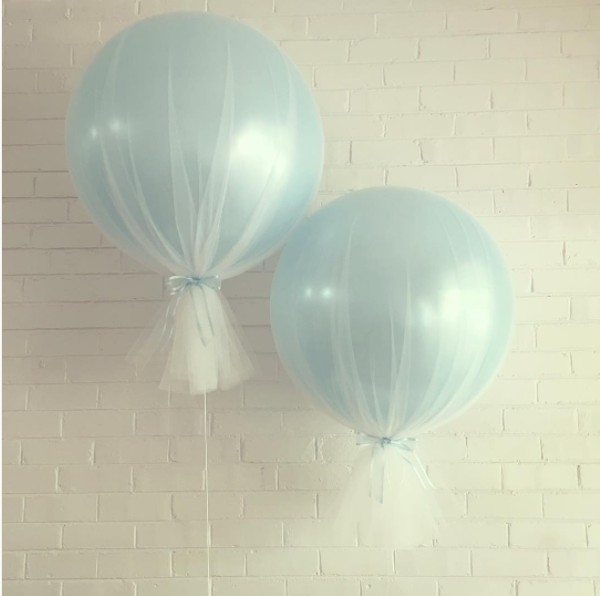 We bought the pretty pink and grey tulle. We had Party City put the extra shot of helium in the balloons when they blew them up for us. We had big plans to use them to decorate my sister's baby shower this September.
Guess what? Helium is not strong enough to hold up tulle. These balloons sink straight to the ground. I don't know how they got these bad boys to look so cool, but it is dark magic, clearly.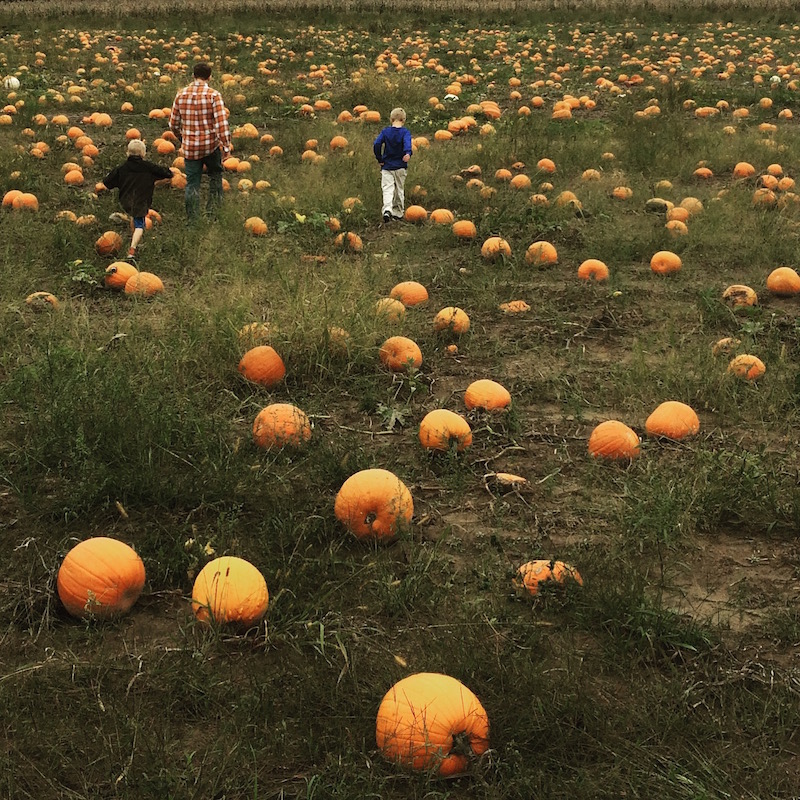 I was taken this fall with the extravagance of beauty around us. It seemed like everywhere we went – the pumpkin farm, the orchard, the woods near our house – there was a feast of goodness all around us. I wrote about it here, and I spent a lot of time this fall thinking about this verse: "We can't round up enough containers to hold everything God generously pours into our lives through the Holy Spirit." (Romans 5:5 MSG)
This fall, I did my first ever reader survey, and so many of you took the time to graciously answer my questions. I was amazed by your honesty, your authenticity, and above all, your hope as you attempt to reimagine your own faith. I'm so grateful for you all.
5. Pallets suck to take apart.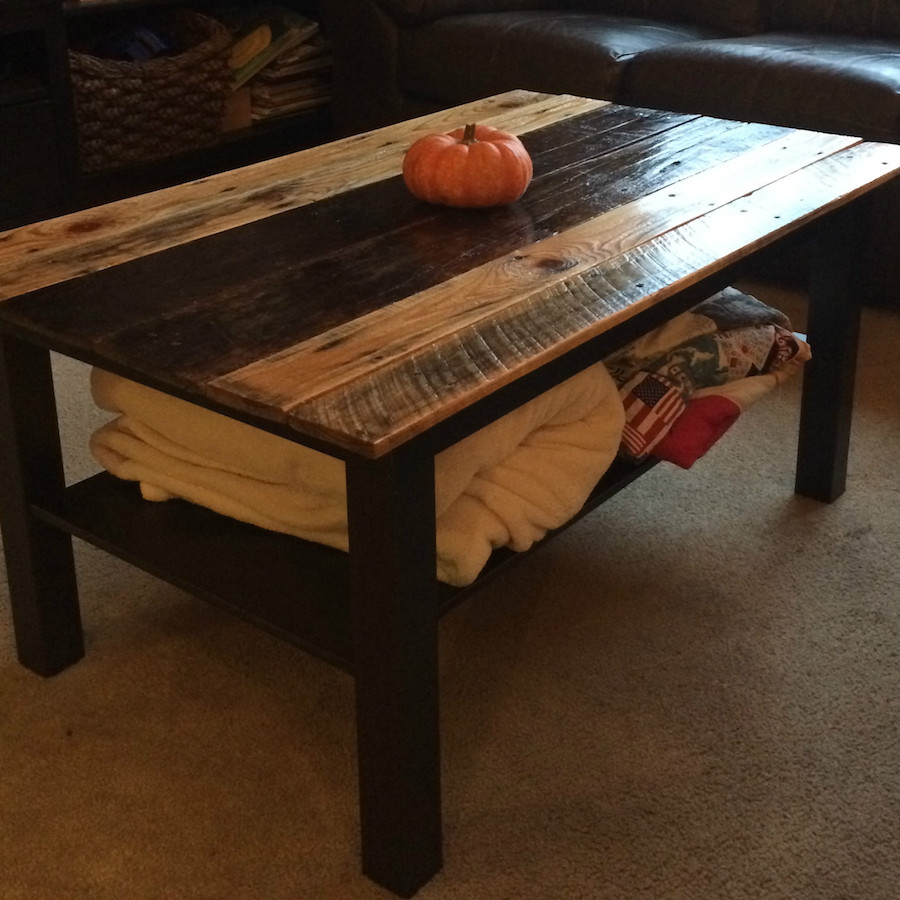 You know all of those cute things on Pinterest where you're like, "That'll be easy! All I need is a pallet!" I'm here to tell you that taking apart pallets is pretty much the worst. We finally had to go buy a reciprocating saw, and even then, it took my awesome husband a really long time to get a few boards for this pallet board table he made for me.
6. I don't actually like pumpkin seeds.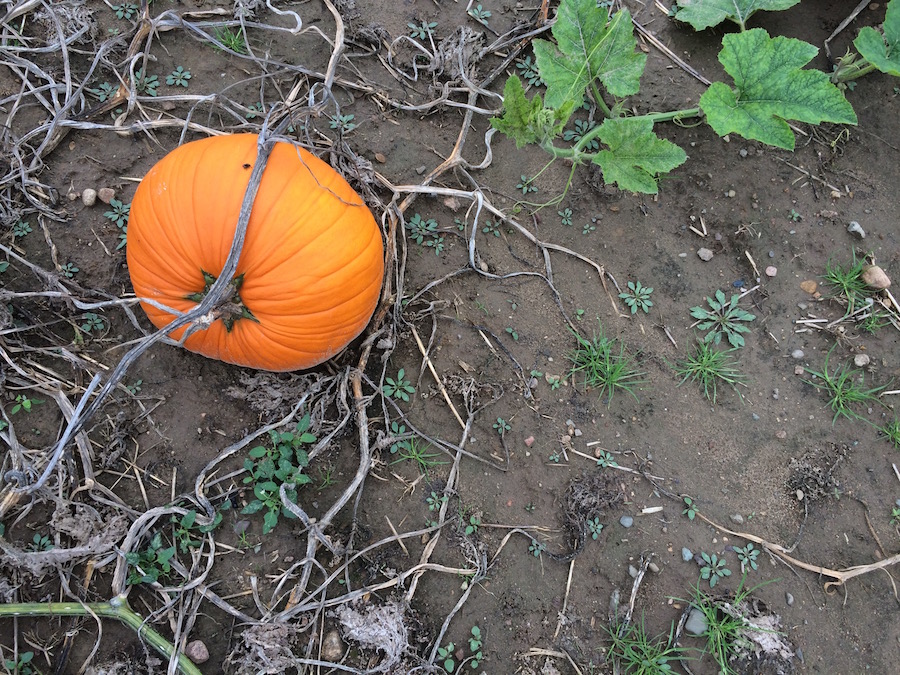 I have believed for my entire adult life that I love pumpkin seeds. How disappointing to have Andrew tell me after I made a batch and said, "I must not have done the spices right," that I never like them. That I make them every year, and every year I throw them out. I truly had no idea.
7. Writing from Scripture might be my best way back in.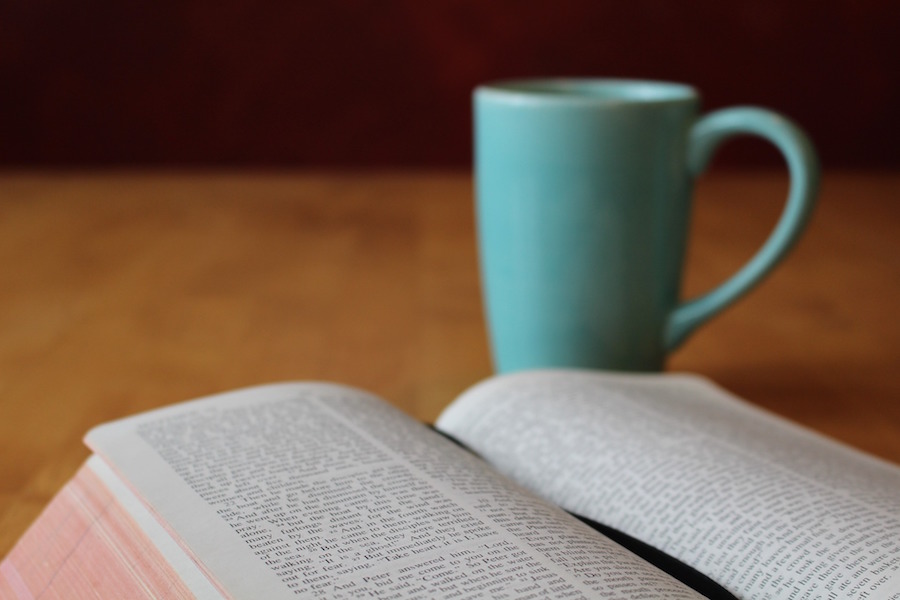 This fall, at the Indiana Faith and Writing Conference, I took a workshop from my poet friend Tania Runyan called "Writing from Scripture." During the workshop, she handed out random Bible verses on little pieces of paper and had us do some freewriting using the following questions:
Describe all the pictures you see (and hear, smell, etc.) when considering the passage.
Describe memories from your life that connect to the passage.
Answer: What scares you?
Answer: What enlivens you?
Answer: What do you want to tell God?
The freewriting time was so powerful for me, this girl with a whole mess of Bible baggage, and as I interacted with a scripture that felt loaded to me (Jeremiah 29:11 – For I know the plans I have for you, declares the Lord. Plans to prosper you and not to harm you. Plans to give you hope and a future.") I felt such freedom to wrestle and rage and…well…reimagine. I am planning to begin using this regularly in my own interactions with Scripture, and I might invite you to join me via some sort of weekly linkup. What do you think?
8. I am a Planner whore.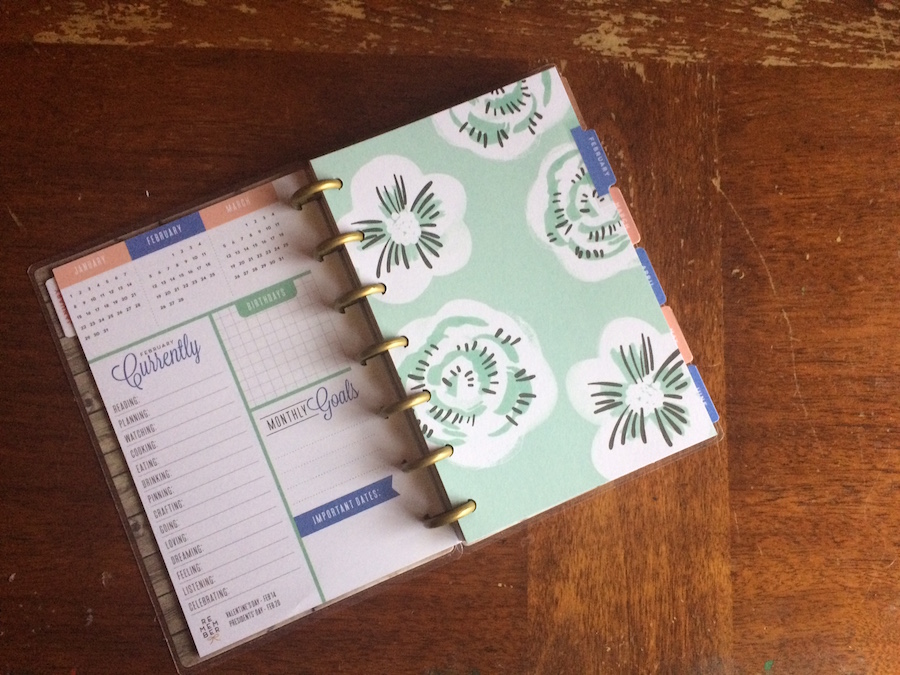 Even though I have been doing fine bullet-journaling most of this fall, when I walked past the display of planners at Michael's a few weeks ago – all 50% off – it was like a tractor beam, pulling me in. I don't actually know how I ended up at the cashier with this cute mini-planner, but I have high hopes for a TOTALLY ORGANIZED 2017.
9. Grey's Anatomy is My Godfather.

Grey's Anatomy is, for me, what The Godfather is for Tom Hanks in You've Got Mail. ("The Godfather is the I Ching. The Godfather is the sum of all wisdom," he writes to Meg Ryan in that old 90s Instant Messenger chat window. "The Godfather is the answer to any question. What should I pack for my summer vacation? 'Leave the gun, take the cannoli.' What day of the week is it? 'Monday, Tuesday, Thursday, Wednesday.")
I'm re-watching Grey's again, mostly while I'm on the treadmill or folding laundry, and it keeps speaking to me.
For example, on the treadmill the week after the election, I re-watched an episode arc in which a serial killer on death row is admitted to Seattle Grace hospital. Derek (McDreamy) Shepherd, whose own father was murdered when he was a child, is determined to fix the serial killer and send him back to death row and his impending execution.
Meredith, however, cannot stop herself from feeling compassion for this terrible person who is also so afraid. He wants to die in the hospital and give his organs to a kid, and Derek and Meredith – in love with one another and coming from fundamentally different places – cannot agree on whether they should allow this. "As much as you think believe you're right," Meredith tells Derek, "I think I'm just as right."
In the wake of an election that broke such a wide schism through the country, this felt like a startling true sentence.
In the end, they never do find a way to agree, but sitting outside the hospital, Derek's mother, who has just met Meredith for the first time, hands him the family engagement ring. "Sweetheart. You see things in black and white. Meredith doesn't. You need a spoonful of that. You need her."
If the question is, How should we respond to each other after the election? The answer I heard in Grey's Anatomy was to recognize that we need each other,. We need the ones who see it black and white. And we need the ones who don't. I turned off the TV and wept.
I got into this game 5 years ago because my agent at the time said I had to. In the past five years, the blogging world has changed and so have I…but I continue to love working out my faith and life in this space. Thank you for being here with me.