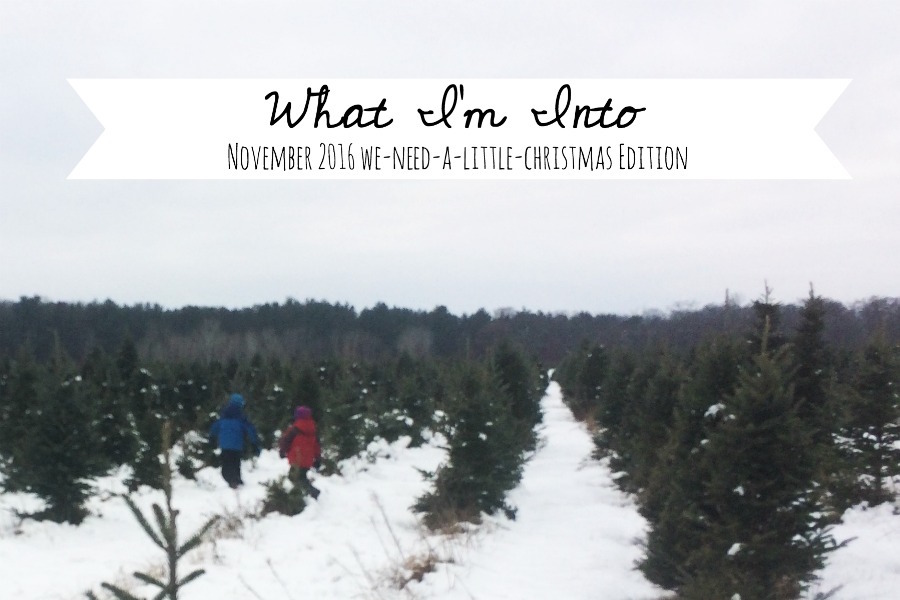 I made it until November 15th before I got out the Christmas stuff. I know that's way too early. But after two weeks of nonstop election drama, it was the only way I could figure out how to move forward and claim hope. Advent, after all, is all about unseen hope, claimed in the face of the darkness.
We waited until the day after Thanksgiving to go to the tree farm and get our tree, but everything else went up, and I don't feel even a little bad. What I was into this November was tidings of comfort and joy and O come Emmanuel and the desperation for peace on earth, goodwill toward men. And that was okay.
Friends, I know the world feels dark. But Christmas is coming. Know it all the way deep down in your soul.
What I'm Reading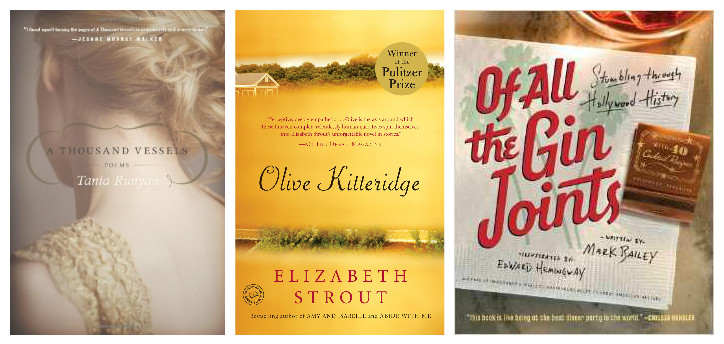 A Thousand Vessels, Tania Runyan: I recommended Tania's book Second Sky in my "Books for Cultivating Faith" resource list, but this one is great too. I bought it at the Indiana Faith and Writing Conference last month and worked my way through it in my prayer time this November. I love the way that Tania lets her whole, conflicted heart sink into the complicated stories of five of the women of the Bible and has the courage to wrestle deeply with the images she finds there. It's beautiful.
Olive Kitteridge, Elizabeth Strout: I don't know why it took me so long to read this Pulitzer Prize winning book. It's been on my shelf for ages. I was so taken with the way Strout wrote Olive, this difficult, sort of unlikeable character, in a way that makes you love and empathize with her. The writing was exquisite. I am adding Strout to my list of faves and adding her other titles to me TBR list.
Of All the Gin Joints: Stumbling Through Hollywood History, Mark Bailey and Edward Hemingway: I bought this one on a whim from the clearance table at the Half Price Book Sale at the State Fairgrounds this fall. I think that Hollywood history is fascinating, and this book did not disappoint. I was a little surprised to learn what a bunch of lushes they were in the Old Hollywood world, but I probably shouldn't have been. I was also surprised to learn how many leading actors and actresses were basically drunk out of their minds while filming Academy Award winning movies. Woah. An entertaining, weird little book – with cocktail recipes!
What I'm Listening To
I started listening to Christmas music in November. I know. I know. Don't shame me. My impatience is your gain because now that it's appropriate Christmas-music-listening time, I have some great recommendations for you. So far I've loved Spotify's "Folksy Christmas" and "Acoustic Christmas" playlists. These mixes are how I discovered The Sweeplings Winter's Call EP, Caroline Pennell's December Songs single, and this Holidays Rule album.
What I'm Watching
I watched the Gilmore Girls: Year in the Life Netflix series over Thanksgiving weekend – one episode with my friend Teresa, one alone, and two with Leigh Kramer. Of course, I have my share of feelings and opinions about the whole thing, but my most prominent opinion was that it was good to be in Stars Hollow again.
I also got to go to a special Gilmore Girls trivia a bar in St. Paul where I sipped a Rory Cocktail and tried to answer impossible questions. (The number of episodes of Gilmore Girls + the age of Keiko Agena when the first season was filmed. WHAT?!?)
Andrew and I started Quantico on Netflix and have mixed feelings. We like the mystery aspect, but Andrew thinks it's a bit too soap-opera-y. (I think it might be too.) This is Us is the highlight of our Tuesday. On my own, I'm still watching Grey's, Jane the Virgin, and Crazy Ex-Girlfriend (though I'm less impressed with this season).
We won't talk about how many Hallmark Christmas movies I've already watched. (If you find that you are also giving into the saccharine predictability of these movies, check out my Hallmark Christmas Bingo. It will not disappoint!)
Other Things I've Been Into
A getaway with my handsome husband to one of our favorite, quirky little Minnesota towns, Taylors Falls. (We stayed in a Bed and Breakfast that used to be a jail, if that tells you anything about the town.) This guy is my favorite.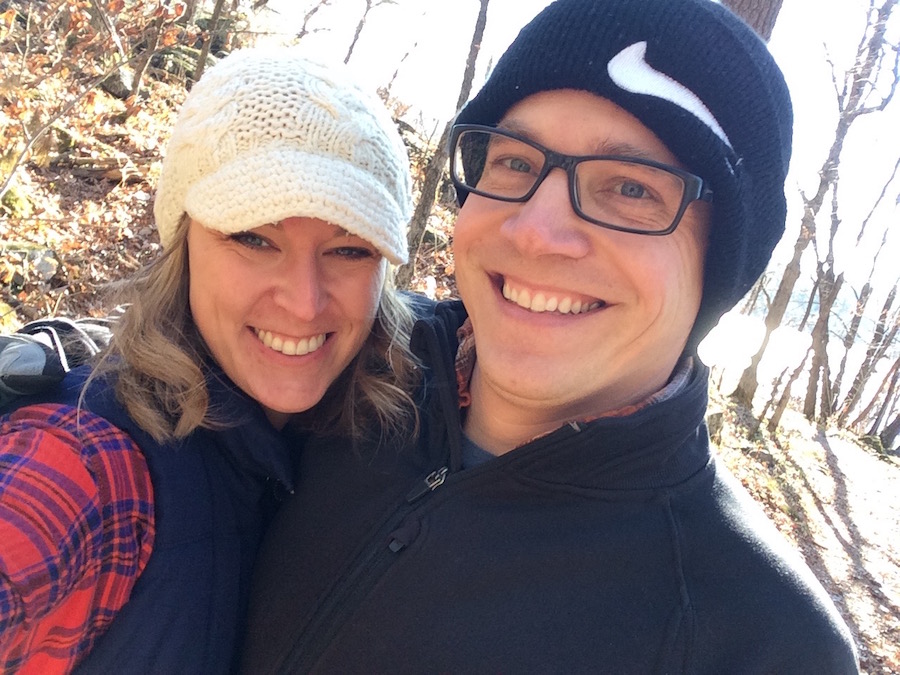 The first snow, just in time for our annual trip to the Christmas tree farm.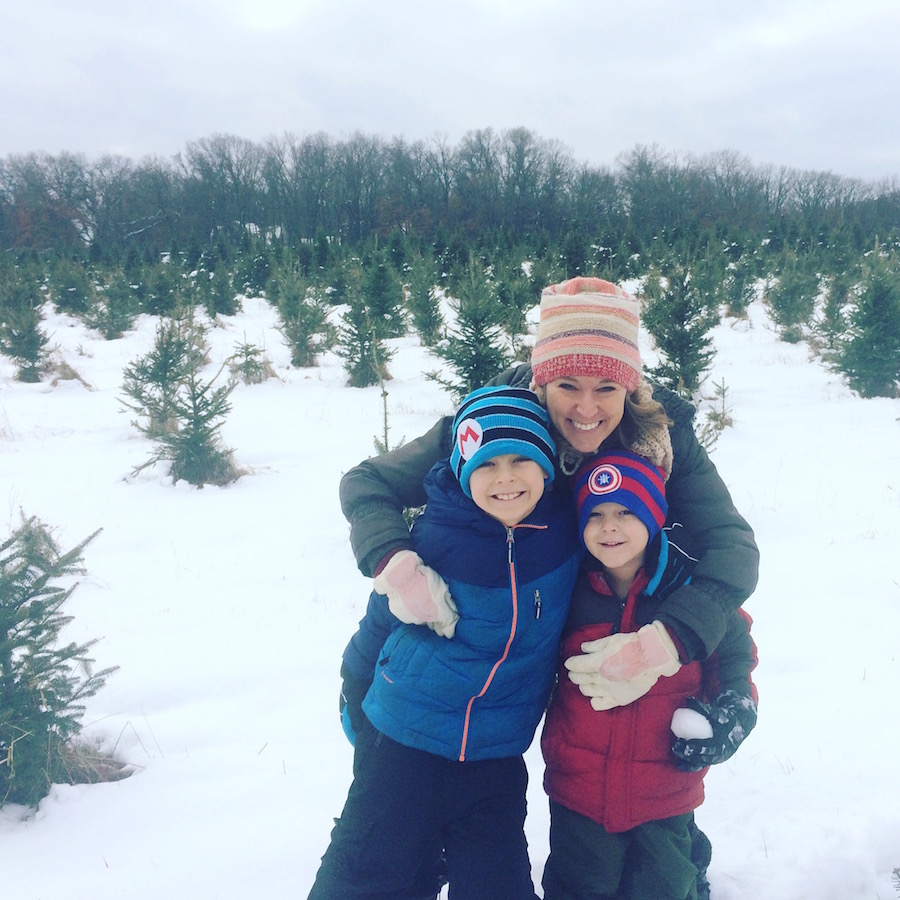 We hosted our first ever Gingerbread House Building Party. It was all the kids idea. They spent hours making the invitations and the decorations, so it was almost worth the two hours of total, sugar-coated chaos that the party brought.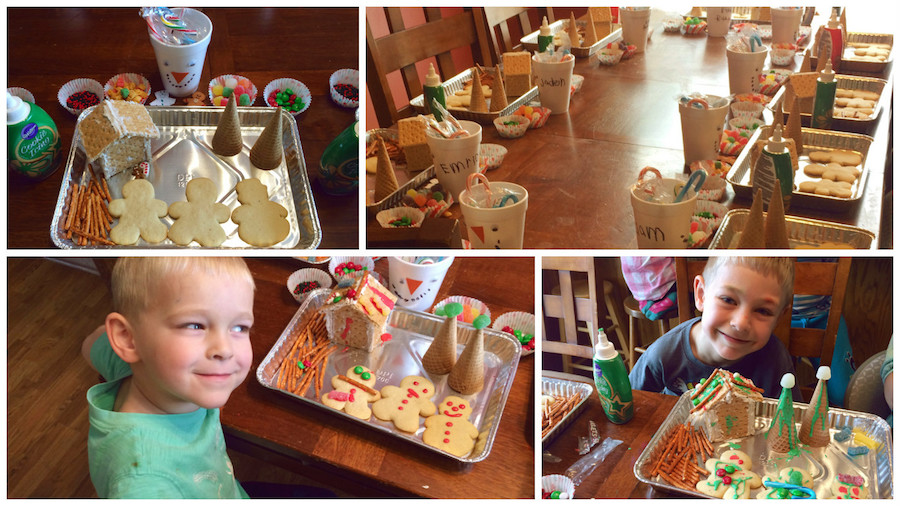 Also this month, I became an Aunt to a precious little niece, whom I can't wait to meet. Welcome to the world sweet Olive Isabella!!
Blog and Writing Stuff
I failed at my National Novel Writing Month attempt. I barely squeaked out 25,000 words – only half of the words necessary to reach the NaNoWrioMo goal of 50,000. I blame the election madness.
Even though I didn't get as much done as I wanted to on my new novel, I am having such a great time working on it. I'm surprised by this – a little caught off guard by how energized I am by fiction — the research, the characters, the intricacies of plot, the imagining work involved in the whole thing. I plan to continue to plug away over the next few months. You'll read my totally non-religious fiction, right?
Speaking of the election, that's what most of my blog posts this month ended up being peripherally about. I published a Meditation for Election Day and then my Beatitudes for the Week After the Election. My Ask Addie Column this month also tackled this space – how to find commonality with evangelical family in the tumultuous post-election holidays.
I also introduced a new Resources tab with all sorts of book and website recommendations, and I recommended a few books for Advent. I finished out the month talking about the myth of "faith heroes" and the ordinary extravagance of giving.
I'm linking up, as usually, with Leigh Kramer for the monthly What-I'm-Into roundup. What have you been into this month?