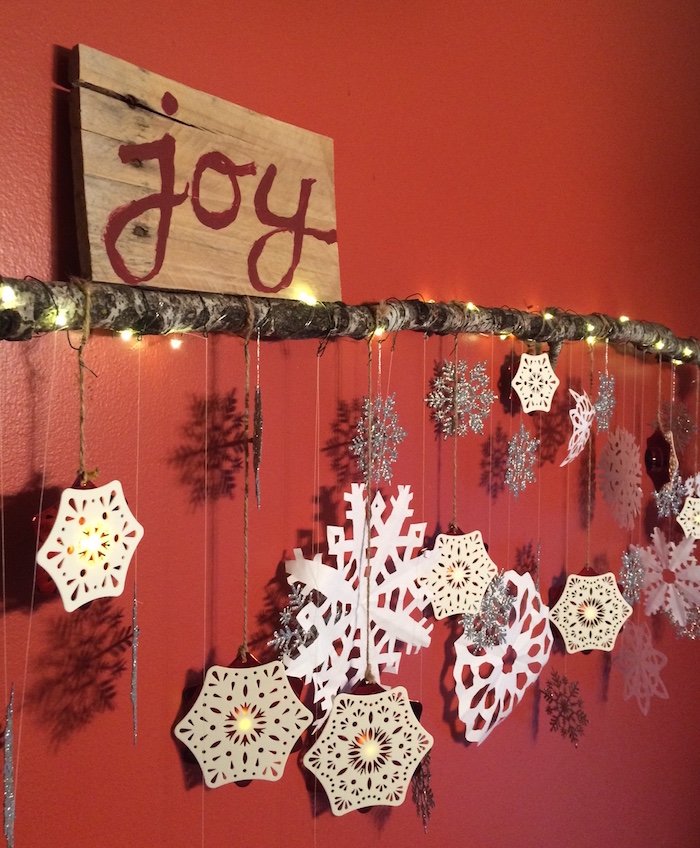 On Tuesday morning, I published my Beatitudes for the Week After the Election, and then I shut my computer, hauled up all of the Christmas Rubbermaid bins from the basement, and took to decorating.
I know it's too early.
It didn't feel like it was too early.
Lines from the old hymns of advent kept cycling through my head as I pulled out the candles and the accumulated décor of 13 years of marriage. O come, O come Emmanuel, and ransom captive Israel.
Come, Thou long expected Jesus, born to set Thy people free; From our fears and sins release us, let us find our rest in Thee.
I am feeling very bound by our collective national sins, by our collective anxiety, aren't you? But also, I keep hearing in my head Isaiah 9:6 as the choir sings it in Handel's Messiah, about this child born – and the government shall be upon his shoulder.
After a week of feeling heavy and sad, it felt like a subversive act of hope to put up my garlands and my snowflakes, stars and wreaths and that sign that says JOY. We'll wait on the tree until after Thanksgiving (after all, we like the real ones, and I don't think the Christmas tree farm is even open yet.) But everything else is up.
I have friends who observe advent in the most austere ways, like lovely Kelley Nikondeha who calls herself a holy contrarian and dims the lights dark during this time of the year.
I love the symbolism of this way of practicing advent, but it's not for me. My own heart is already too prone to darkness. In order to practice expectant waiting, I need my small lovely reminders that Christmas is coming. That it's here and not here all at once.
So I put up my decorations. I got out my advent books. I started working on my Advent Junk Journal, one of my favorite traditions for this time of year.
I am not ignoring what is happening in our country right now, in our world. I don't think it's quite as simple as remembering who is on the throne. But I'm turning my heart from the relentless discourse and toward that star in the East.
I'm letting the glow of it rekindle my spirit so that I can go back into the world and practice that subversive kind of hope and love that we need so desperately right now.
If you're there too, I wanted to tell you about my favorite resources. Advent officially begins next Sunday, November 27, so there's still plenty of time to pick up one or more of these books.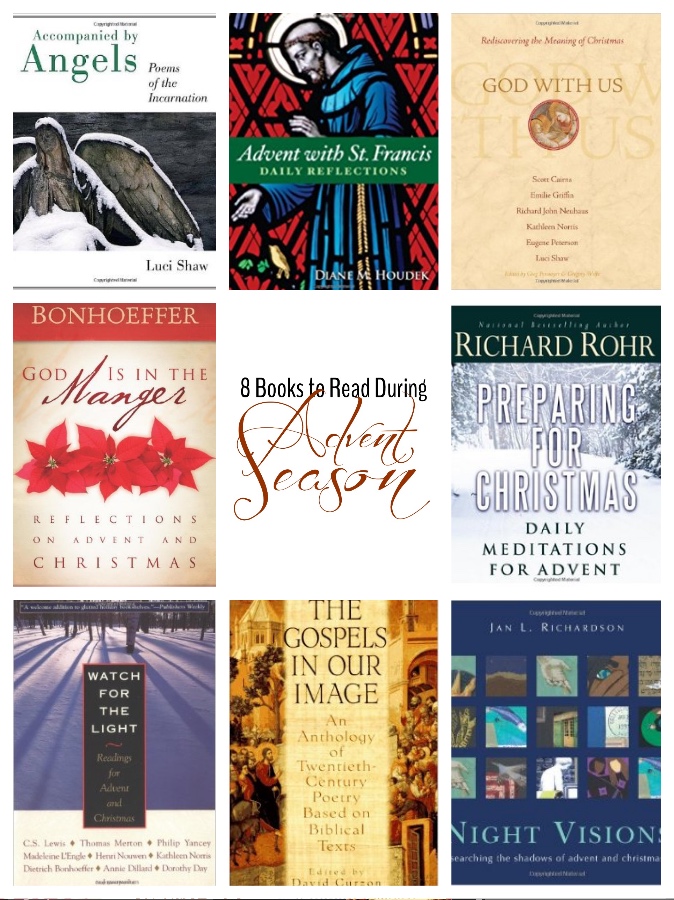 Accompanied by Angels: Poems of the Incarnation, Luci Shaw: The poet's eye on Advent is a crucial one, and I love Shaw's particular take. Gorgeous and haunting.
Advent with St. Francis: Daily Reflections, Diane M. Houdek: This is not, strictly speaking, a series of writings from St. Francis, but Houdek does a nice job of integrating his quotes, insights, and life to deepen the advent experience. It's also the tiniest book I've ever seen, so it's easy to keep in my bag and read when I find myself out and about and with a minute of boredom. (Also, it's only $3.99. That's like less than one of those 8000 calorie Christmas drinks at Starbucks.)
God With Us: Rediscovering the Meaning of Christmas, ed. by. Gregory Wolfe: I haven't read this book yet, but it's my pick for the 2016 Christmas season. I've heard great things about it, and I have the utmost respect for Gregory Wolfe, editor of Image Journal and Here, he's compiled some of the great current voices in faith and literature including Scott Cairns, Eugene Peterson, Kathleen Norris, and more, and I'm looking forward to reading their insights this season.
Preparing for Christmas: Daily Meditations for Advent, Richard Rohr: Rohr is an important voice in the spiritual practice of contemplation, and his reflection questions in this book provide a great jumping off point if you're looking for a way in. This little book doesn't always speak to me, but when it does, it roars.
Night Visions, Jan L. Richardson: This book of art, poetry, and fragments of memoir is simply beautiful. I love the honest way Richardson approaches the tensions of darkness and waiting in this little book. And her visual artwork adds another layer of meaning. Gorgeous.
The Gospels in Our Image: An Anthology of Twentieth-Century Poetry Based on Biblical Texts, ed. by. David Curzon: While not strictly an advent book, this compilation is my current obsession. I learned about it from my poet friend Tania Runyan during her workshop on writing from Scripture at the Indiana Faith and Writing Conference last month.
In this volume, a variety of great 20th century poets respond to Scripture texts from the Gospels. The section on Jesus' incarnation is, predictably, huge, but I like that it continues throughout the rest of his life. (I got my inspiration for my version of the Beatitudes from this book.) If you need a new way to approach this scriptures, check this out…along with Tania's books of poetry.
Watch for the Light: Readings for Advent and Christmas: If you get just one, make it this one. It is such a well put-together compilation of great voices; you won't be disappointed.
God is in the Manger: Reflections on Advent and Christmas: Dietrich Bonhoeffer: Bonhoeffer is such an important voice for our current political climate. I appreciate the mix of writings here – excerpts from both his sermons and letters – and I find that there's something so powerful about advent prayers written from prison cell. Hope everywhere.
(Also this year, I ordered these adorable advent table cards from She Reads Truth to do with our kids around the dinner table. (We've discovered that we tend to lose them still, at this age, with the Jesse tree readings.) And I like the idea of prompting discussion with them. I'll keep you posted on how that goes.)
*
It's been a hard couple of weeks, friends. I know.
But Advent is coming to teach us how to sit in this space, expectant with hope.
O come, o come, Emmanuel.