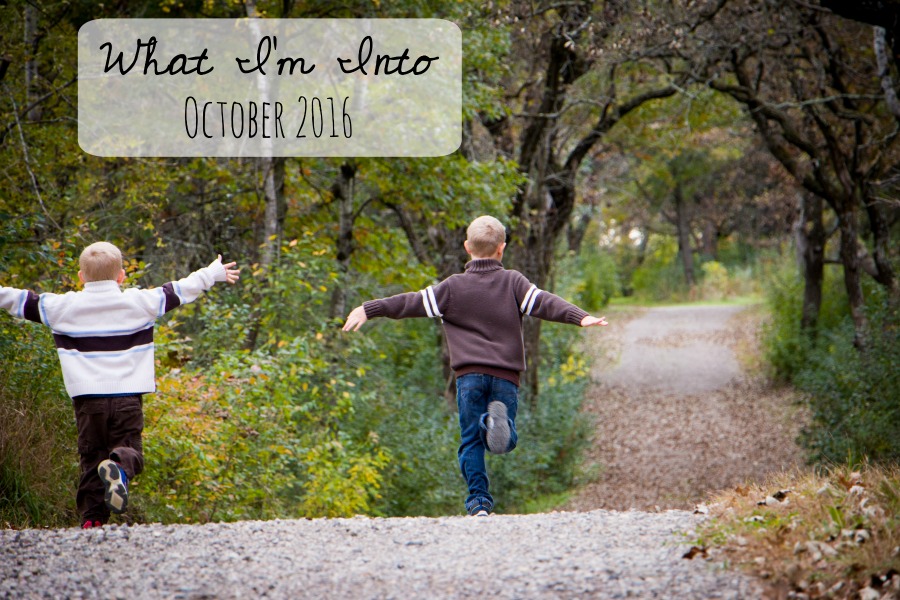 It has been the most beautiful October in Minnesota.
I have learned not to take these mild and lovely fall days, with their slowly turning leaves and their warm, sun-dappled afternoons for granted. Sometimes, autumn is fast and aggressive, a sledgehammer of a season…but this year, it has been so beautiful.
We have been outside. We wore our Halloween costumes without winter coats over them. We went to a Halloween extravaganza in the parking lot of our local Festival Foods and we did not freeze.
Our dear friends took family photos of us in the woods behind our local library, and I know how those photos always look…like you have it all together, like your beautiful family is always just so beautiful. And of course, we are not. We are a mess so much of the time. We fail each other like very family fails each other. But then the sun filters through the trees like glory, and we are the very best version of that. And there has to be room in the picture of our messy, beautiful life for that too.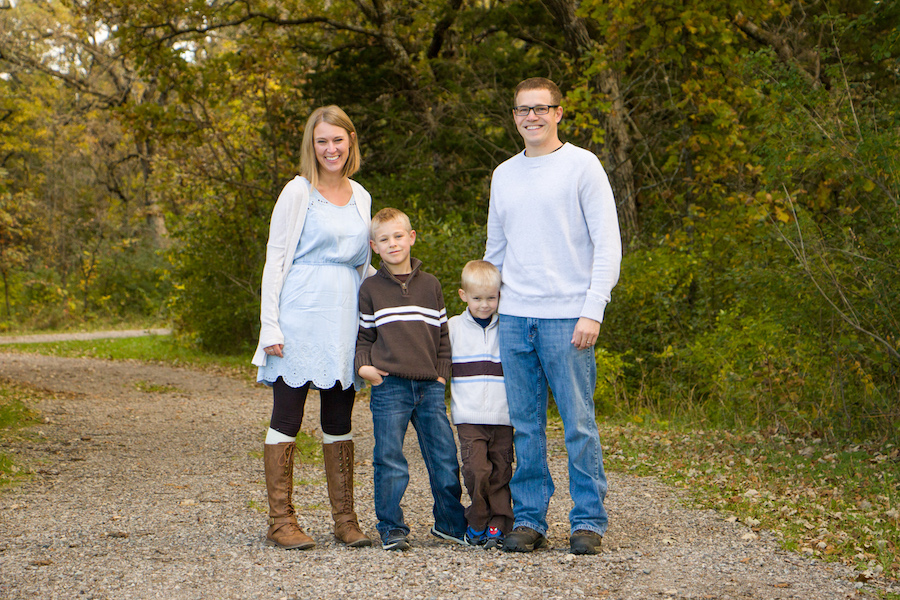 I know I sound a little sappy. But I have lived in the space of depression long enough to be so deeply appreciative. Thirty-three Midwestern winters have taught me that we do not, cannot, will never control when it comes to the way that seasons come and go…and there will be more Halloween blizzards, dark Octobers, cold autumns where the leaves don't so much fall as crash to the ground.
This was not one of them. I have lived enough Midewestern falls to be grateful.
What I'm Reading
I almost didn't tell you this. I almost pushed through just to impress you. But on last week's survey, so many of you said that what you appreciate most about me is my authenticity, so I will be authentic:
I cannot finish Anna Karenina. I can't do it.
Don't get me wrong — I believe it's very important for writers to read the classics, to look back at what has been done by the masters, to learn from their work, to stand on their shoulders. But I apparently do not have the attention span for 900 pages of Russian lit. At least not right now.  I'm a little afraid that they're going to take away my Author card for saying this. But whatever. I'm shelving it. Literally. I am a grown up. I can do that.
(I saw it's on Netflix now. Maybe I'll do that. #ReaderFail)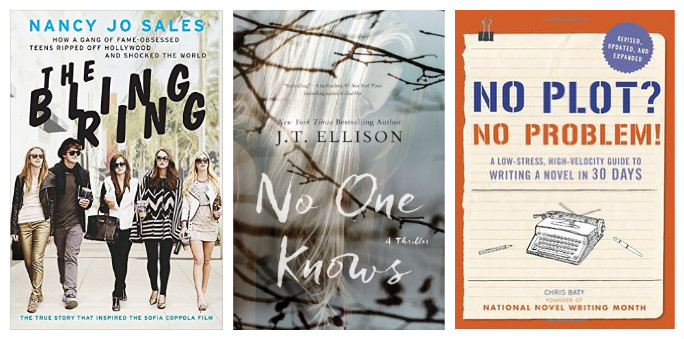 Because it took me half of October to realize that Anna Karenina was not the book for me, I didn't get much other reading done. But here's what I did read:
The Bling Ring, Nancy Jo Sales: I picked this book up on a whim from the big Half Price Book sale at the Minnesota State Fairgrounds at the beginning of the month. I'd heard of the movie, but I didn't know it had started off as a piece of investigative journalism. I'm fascinated by the way the entertainment and celebrity culture has changed over the last several years as they've crashed into social media and the accessibility of the Internet…and the way that this has impacted younger generations. I thought this book was absolutely absorbing.
No One Knows, J.T. Ellison:  This is the big thriller out now, and I got it on audible to make a couple of flights go faster this month. And it did do that. But I gotta say, I felt a little…duped by the ending. I know the big thing right now in suspense is to have a gigantic twist that you could never see coming. And it's true…I didn't see it coming. But I don't know. Meh.
No Plot? No Problem: A Low Stress, High Velocity Guide to Writing a Novel in 30 Days, Chris Baty: I read this book because it is the official guide to National Novel Writing Month…and I'm trying it this year. Never done NaNoWriMo. Never done fiction really. But I've been kicking around a novel idea in my head for a while and I like the built in deadline of NaNoWriMo. I think it might help me generate content, which is really what I want to do. Chris Baty's "bro humor" is a little much for me in this book, but it did get me excited for the month of writing! (Day 1 went great, btw. Day 2…a little less great, but still passable. We shall see. Don't mock me too much if I fail.)
What I'm Listening To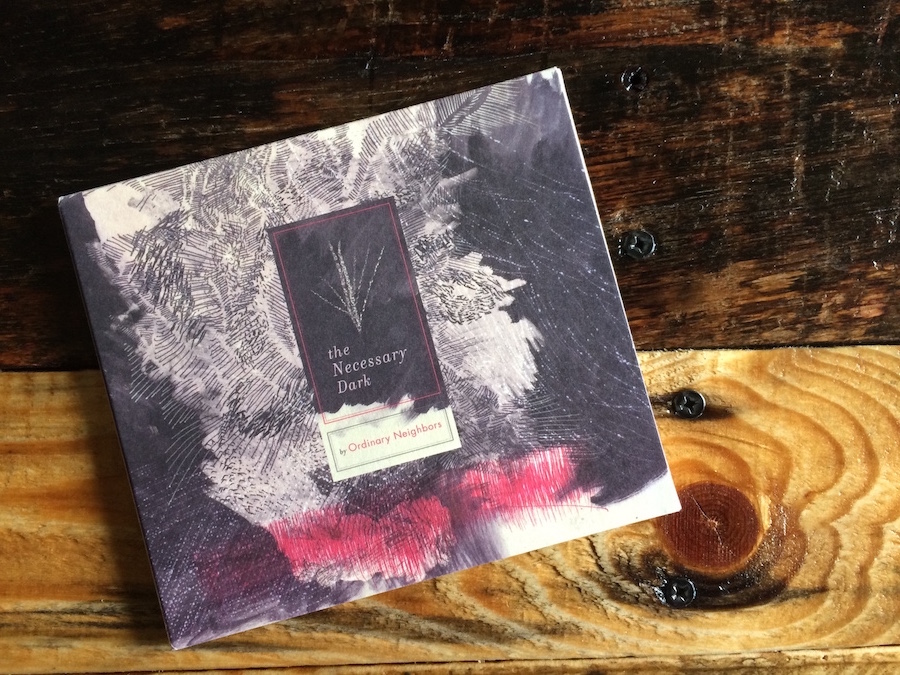 At the Indiana Faith and Writing Conference last weekend, I found out that one of my favorite poets, Susanna Childress, not only writes the most gorgeous poetry…she can also sing. Which just doesn't seem fair at all. She and her mystic-pastor husband have a band called Ordinary Neighbors and an album called The Necessary Dark. Obviously, with a title like that, I was forced to buy it. The Necessary Dark. Come on. So good.
Also this month, Spotify introduced me to Elenowen, Big Little Lions, and John Heart Jackie, who are now all regular fixtures in my playlists.
What I'm Watching
Must see TV includes: Grey's Anatomy, Crazy Ex-Girlfriend, Jane the Virgin, and The Good Place. I cannot get over how awesome This Is Us is. Great writing, complex characters, interesting structuring. It's pretty much the whole package.
Andrew and I watched Limitless on Netflix but were underwhelemd by the ending.
Hallmark has started airing its Christmas movies and thus far I have resisted…but I won't be able to hold out much longer. The sap is a tractor beam, pulling me in.
Other Things I've Been Into
1. School field trips. It is loud. It is chaotic. There are a thousand kids running through a corn maze and picking out pumpkins. It is the best ever.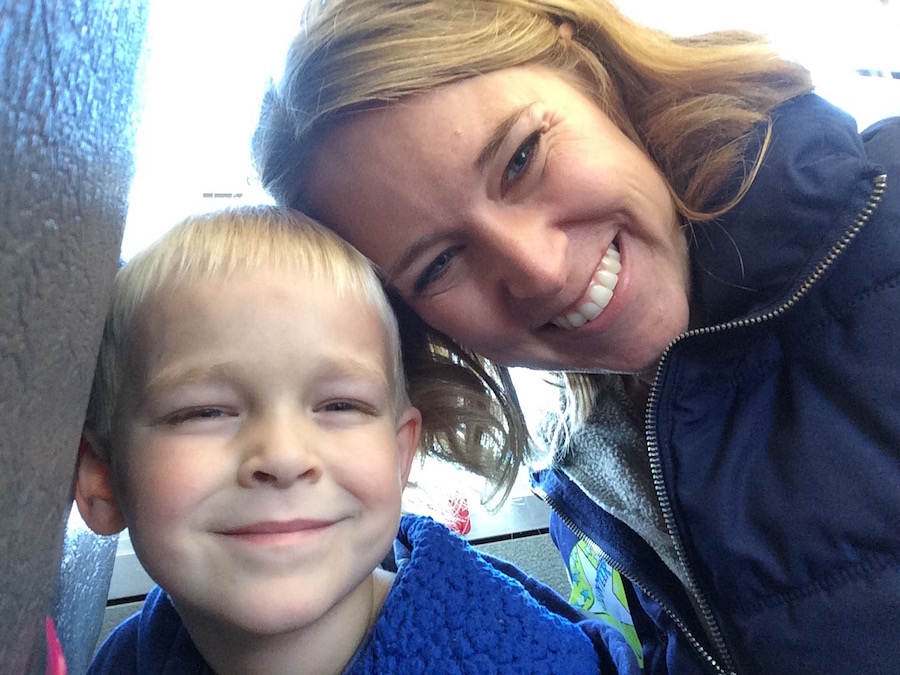 2. Pumpkin carving. This year as always, I sifted the pumpkin seeds out of the slimey pumpkin ooze, rinsed them, coated them in olive oil and spices, and baked them. When they came out of the oven, though, they were profoundly disappointing.
"These pumpkin seeds are not that great this year," I told Andrew. "I'm bummed."
He just laughed. "What?!" I kept saying. "WHAT!!!"
"Honey," he says. "You make pumpkin seeds every year, and every year you hate them."
You guys, this was complete and total news to me. I am shocked. Have I nostalgicized fiction into truth every single year? Really? How long has this been going on??
IS EVERYTHING IN MY LIFE A LIE?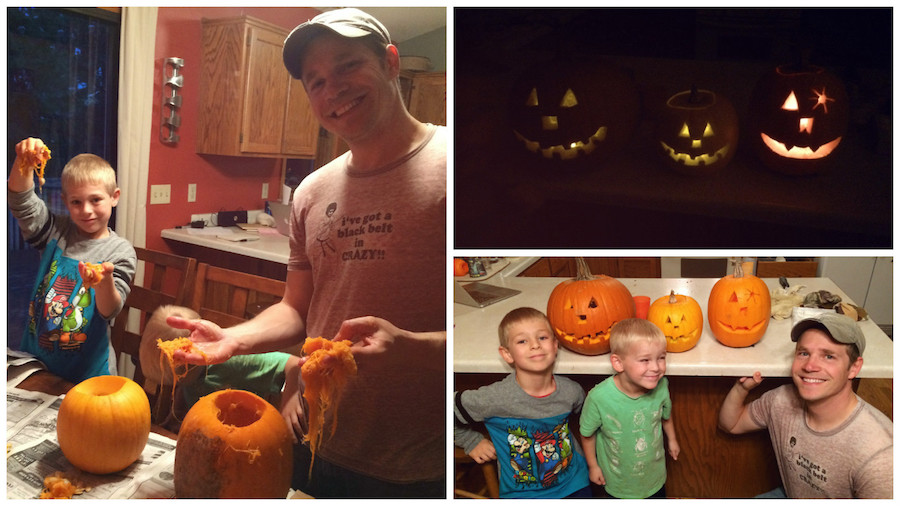 3. The Indiana Faith and Writing Conference. I had the honor and pleasure of being the keynote speaker at the Indiana Faith and Writing Conference. I make no great secret about how complicated speaking engagements feel to me. (Like I told the group at Anderson University, I have an intimate and monogamous relationship with my MacBook, and I'm not big on stepping out.)
But I cannot tell you how good this conference was for my soul. To be surrounded with people who are engaging with the tension and the mystery and they beauty of faith at the same time I was going through your survey responses — your faith struggles and faith topics and faith baggage — was so powerful. I couldn't help but feel like all of this beauty and art has something to do with the answer. That the answer, perhaps, sounds like a poem.
(Also I got to see some of my favorite literary friends, so that's always a huge win.)
4. Halloween. I love Halloween. I always have. I think there is something holy about it (even though at least half of the evangelical cultue that I grew up in thought it was a little evil. So glad that my parents didn't go all boycotty on Hallween.) Truly though — there is so much welcoming, so much beauty in all the giving, all the receiving. It is the best time of year to live in the suburbs (they only time of year to live in the suburbs?), and this year, the night was misty and warm, and it seemed like all the neighbors were out.
I will say it's a little bit humbling to go trick or treating with my Mama Friend, whose theatre-kid past lends itself to the most amazing of makeup and costuming. Here you will see a mildly homemade looking R2D2 with the most glamorous Elsa you ever saw. (And, to really kill it, she made the whole thing with a dress she got for free at a garage sale. FOR FREE. I bow to her Halloween Greatness.)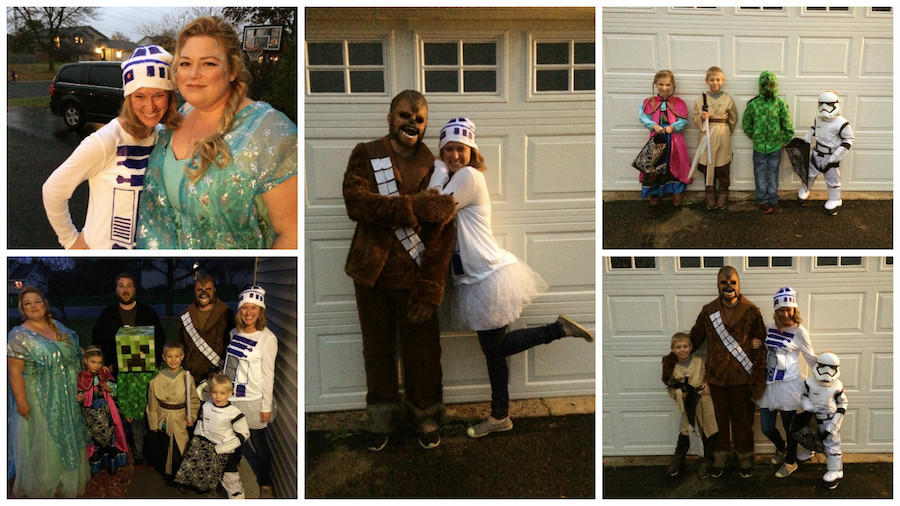 Blog & Writing Stuff
If you're reading this post in a reader or an email, pop over and check out my new blog design! I've been working on it most of the month, trying to make this space a little more mobile phone friendly and trying to make more room for resources (forthcoming!) and new categories and thoughts. It's not that this space is changing so much as expanding… and it feels nice to feel a new surge of energy around the whole thing.
This month, I conducted my first ever reader survey and then shared the results with you all here. Over at Off the Page, this month's "Ask Addie" question had to do with how to respond when your small group is a little less baggage-y than you and just wants to go "all in for Jesus."
I struggled, like so many of you, with Election Anxiety. The two posts that came from that space were my Psalm for a Volatile Election and a post that I called Grace is Not So Poor a Thing. I also felt a lot of wonder and gratitude about the plenty of fall — the corn pits filled with gold, the fields full of pumpkins, the world full of beauty. I wrote about all of that here.
In that survey that you took, many of you said that one of your favorite things about this blog is posts like this…when I share the details of my everyday life. Other great ways to get that glimpse are via my Facebook page (sometimes) and my Instagram account. You can also follow me on Twitter, though I confess, I'm kind of bad at engaging over there. Meh.
I managed a newsletter at the beginning of October and am planning another in the next week. Sign up in the sidebar if you haven't already!
As always, I'm linking up with the illustrious Leigh Kramer, WHO LIVES IN MINNEAPOLIS NOW. I can't get over it. We had lunch downtown the other day. Like it's totally normal.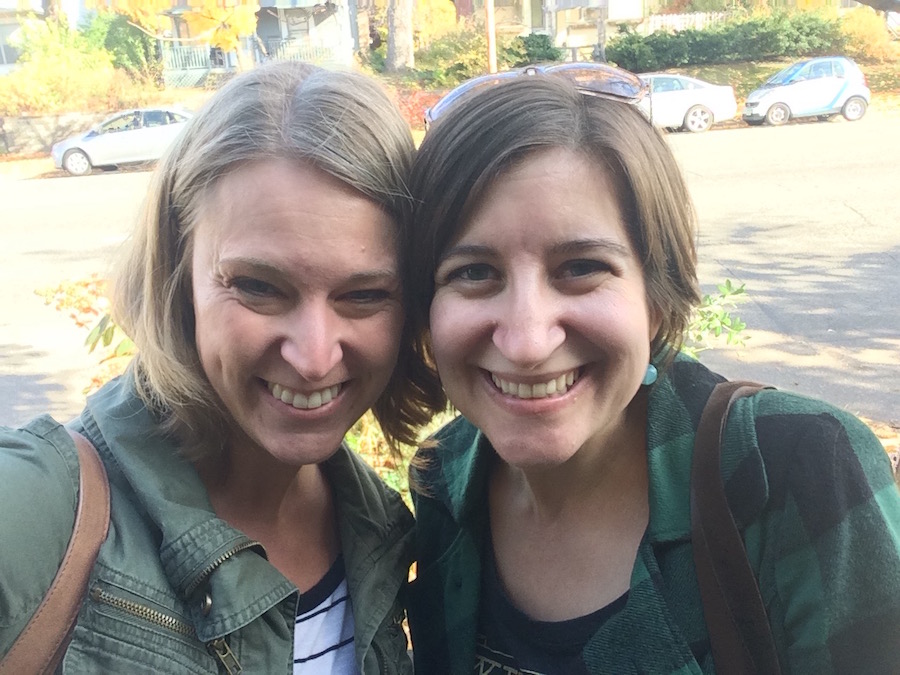 What about you, dear reader friends? What have you been into this month?