"When our lives change, when the world changes,
we must reinvent ourselves as writers."

~ Louise DeSalvo, Slow Writing
Five years ago today, I published my first blog post.
Liam was asleep in the infant swing in the corner of the kitchen, and it creaked and groaned with every revolution back and forth. Dane, I'm sure, was watching Dinosaur Train or Curious George. He was two. Liam was five months old. Those were the days when we lived on animal crackers and PBS.
I remember the sun streaking through the patio door window. I remember the list of "Evangelical Clichés" I'd printed out to write from over the first few weeks – two sheets of paper, front and back.
When I hit Publish that first time, it felt like jumping into the deep end of some pool that I didn't really understand. I remember the palpable fear of drowning in it all.
Those of you who have been here a while know the story, perhaps. You know that I didn't set out to be a blogger, but that I had this manuscript – an unruly, wild memoir of being on fire for Jesus and then burning out – a story too Christian for the regular market and too swear-y for the Christian publishers. You need to get a platform, my agent said that summer. You need to start a blog.
And so when I wrote my first post that fall morning, it was really because wanted to publish that book. But also, it was because I was drawn to the idea of being part of The Conversation. I wasn't sure what The Conversation was, exactly, but I knew that it had something to do with the evolving faith culture and with being heard. It had to do with lending my voice to the deconstruction of the evangelical experience as I had known it and to helping speak something new into being.
At the beginning, this felt desperately important to me.
*
In the five years between that first post and this one, I have written 454 blog posts. I built something like a "platform" and I learned (sort of) how to use Twitter and I found a new literary agent. I got what felt to me like a life-changing telephone call about a two-book deal, and my hand shook when I signed it.
I wrote at four and five in the morning. I wrote during PBS shows and nap time. I published that first manuscript, and then I dove headfirst into the second one. The books I wrote changed me, each of them…but much less than I imagined they would. When I'm honest, I'll admit that the publishing itself changed almost nothing. It was the writing. Always the writing.
Over the past five years, I felt my body let go of two early pregnancies, and then I felt my heart let go of the dream of a bigger family. I schlepped my boys to early childhood education classes to sing songs with hand motions in a circle. I sent them, one-by-one, to preschool, letting go of them bit by bit, a few hours a day. And then, just a few weeks ago, I took them to their elementary school bus stop where they let go of my hands and waved and waved and disappeared.
Over the last five years, I've gotten to read my pieces into microphones at radio stations and at colleges and conferences. Blogging sites swelled and then died. New ones took their place. I did an interview at the St. Paul NPR station and got blindsided by questions about hell.
Five years has taught me what it means to take Internet-comments like bullets to the heart and to keep writing anyway. I've obsessed over blog stats and "Facebook Likes"…and then I figured out that I could stop checking them altogether, and so I did. I cut swoopy bangs into my hair and then promptly grew them out. I became a Mac Person.
In the past five years, I have felt God's presence in the kindness of Zoloft and in the kindness of strangers. Your emails and comments, your photo avatars and twitter handles – they have surrounded me like that great cloud of witnesses in Hebrews as we have seen and acknowledged one another's hurt and hope.
Five years ago, when I started this blog, we were attending a church that fit us all wrong, and then we found a church that fit us exactly right. And somewhere in the midst of all of that, I stopped writing from loneliness and cynicism and anger and started writing from the place of my own Belovedness.
I've wrecked two phones and one computer. I've gone into the ditch on icy roads three times and into a pole once. I warred and ragged against winter and darkness, and then I learned to hold still. I learned to watch my breath spiral above me in the cold, Minnesota air. Inhale. Exhale. You are alive.
And what I mean to say is that five years ago, I dove into the pool of Blogging and The Internet and it was just another pool in and of itself. Just another space in which to do my work. But somehow, the Spirit troubled the waters, and when I jumped in, I found myself unexpectedly and miraculously healed.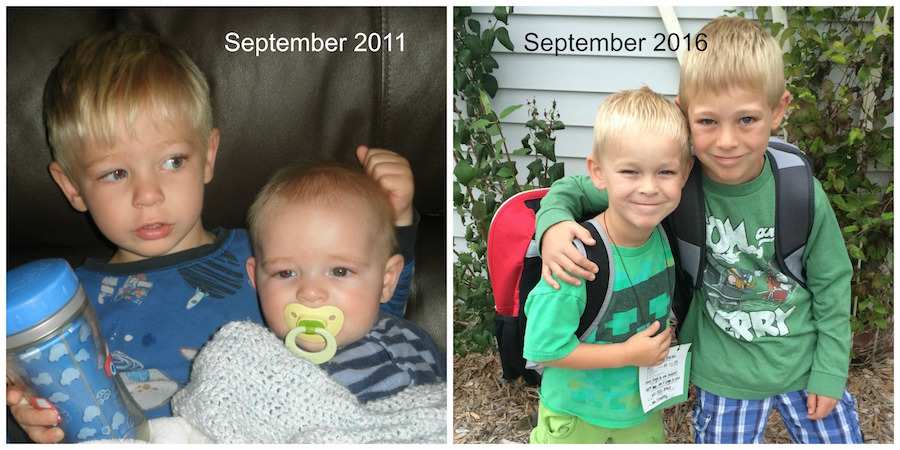 There is that question you're always meant to ask when you're goal setting: Where do you see yourself in five years?
And five years ago, I couldn't have seen myself here. I couldn't have imagined that I'd get everything I wanted – the book deal, the Voice, the platform…or at least something like it – and still find myself starting entirely over.
The kids are off to school all day. The house is quiet. The cursor blinks against the white page that is a new beginning. What next? What next? What next?
All I know is that I'll keep writing here.
It will look different than it did in the beginning – less "how to talk evangelical," more of what Frederick Buechner calls "listening to your life." (I need a new tagline. Suggestions welcome.)
There will be, I think, less and less trying to add my voice to The Conversation, the one about faith or the one about politics or the one in which both overlap. There is important work being done there, such important things being said…but it was never a great fit for my soul in the first place, and I think that's where we get in trouble with faith culture: trying to cram our souls into shapes they were never meant to fit.
Instead on this blog, there will be more of the simple conversations that make up my life. Yours. Ours.
"This is who I am," Buechner wrote in The Alphabet of Grace. "Who you are I do not know, and yet perhaps I know something. I know that like me you wake up each morning to a day you must somehow live, to a self that you must somehow be, and to a mystery that you cannot fathom if only the mystery of your own life. Thus, strangers though we are, at a certain level there is nothing about either of us that can be totally irrelevant to the other.
"Think of these pages as graffiti maybe," he writes, "and where I have scratched up in a public place my longings and loves, my grievances and indecencies, be reminded in private of your own. In that way, at least, we can hold a kind of converse."
It's been five years of blogging, and I want to say thank you. I want to say that this has healed me. I want to say I'm still here.
Cheers to five years. And to whatever the next five bring.
(And yes, I'll be eating that cupcake for breakfast. In case you were wondering.)