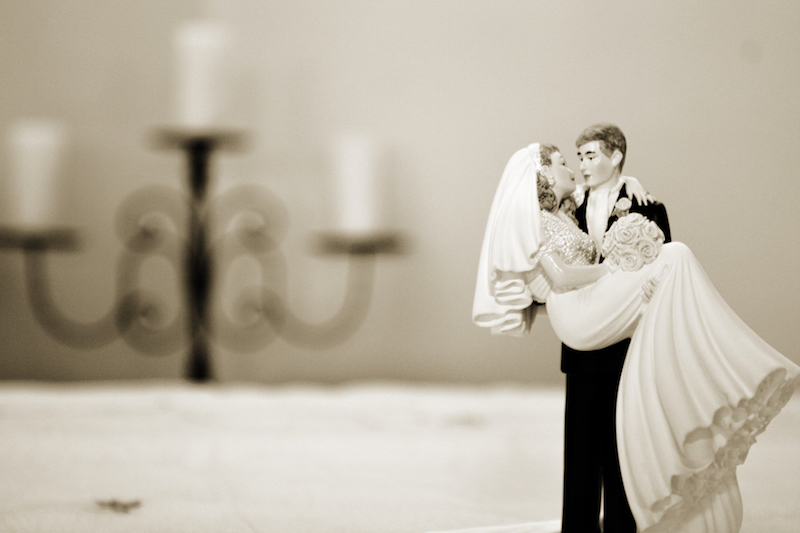 A couple of weeks ago, a friend from high school youth group sent me Ruth Graham's excellent article in Slate Magazine. "I'm sure I'm not the only person who is going to send this to you," she wrote. "But I thought you would be interested."
The article, of course, is about Joshua Harris – the bestselling author of I Kissed Dating Goodbye, that troubling, formational text for so many of us who grew up in the 90's evangelical culture. According to the article, Harris has been recently "re-evaluating the book's impact," and soliciting stories from readers – both the good and the heartbreakingly bad – on his website.
"Part of the reason this has been so hard for me is that I have so much of my identity tied up in these books. It's what I'm known for," Harris tells Graham. "It's like, well, crap, is the biggest thing I've done in my life this really huge mistake?"
I've been thinking about that article, that quote from Harris, for weeks now.
I've been turning it over in my mind as my family has transitioned, from summer to fall, to schooldays and bus rides. To the newness of being alone in the house with time and space to work.
I haven't thought about I Kissed Dating Goodbye in a long time. Though it deeply affected me as a teen, writing about that experience in my first memoir seemed to lessen the power of it for me in ways that were both healing and quieting.
But now, as I'm newly without small children and thinking about what my next writing work might be, I'm haunted by that book. Not the content itself anymore…but the fact that someone who was clearly trying to be true to their faith perspective and obedient to their calling – someone who truly and deeply loved God – could write a book that detonated like a landmine and caused so much harm to an entire generation.
As a writer who finds herself dealing with matters of faith, this is absolutely terrifying to me.
Joshua Harris was only 21 when he wrote I Kissed Dating Goodbye, which released in 1997. The oldest of seven children, he'd been homeschooled his entire life.
From what I can tell, Harris would have been launching into young adulthood right around the time Purity Culture took off. DC Talk's album Free at Last, which contained the song "I Don't Want It [Sex For Now]" released in 1992, when Harris was 18. (Seriously.)
The True Love Waits movement started a few months later with its abstinence-until-marriage pledge cards and its purity rings, and the first year 102,000 teens signed the pledge across denominations. Even Evangelical powerhouse Josh McDowell, got in on the conversation, releasing a popular book called Why Wait?: What You Need to Know About the Teen Sexuality Crisis, which was meant to alert parents to the dangers of teen sex. I'm guessing it didn't take much. After all, the 90s weren't all that far removed from the terrifying outbreak of AIDS in the early 80s. We were all still so afraid.
In short, the evangelical culture was a powder keg of fear about sex and enthusiasm for sexual purity.
And then some handsome 20-something came up with a way to rebrand dating to better aid in the pursuit of abstinence and wrote a book.
Just one book.
Just a little spark of an idea.
And the whole damn thing exploded.
*
I had an on-and-off high school boyfriend whose faith journey deeply impacted to my own. He loved I Kissed Dating Goodbye. He used it, more than once, to break up with me, and so in that way, it left deep, red mark on my soul that has never entirely gone away.
But while I was completely devoted to abstinence itself, Harris' whole "courtship" thing always rang a little off-key to me. After that boyfriend moved on, I went on to date – and kiss – a few different fellows without regret or crippling emotional anxiety.
Higher up on the list of kind-of-destructive-high-school reading for me was, ironically, the pastel-colored Christian teen romance series, Christy Miller. While these books didn't parrot Harris' language – no one was courting anyone on Newport Beach – the basic message was the same.
Here was a group of characters who called themselves God Lovers, who saved themselves – some of them even saving their first kiss – until marriage, who never seemed to doubt God's presence or love or providence. And why would they? Every miracle they hoped for came to be…though never quite in the way they expected, and always in God's perfect time. They, all of them, ended up married – young. They, all of them, managed to stay completely sexually pure until then.
It was these maddeningly perfect stories of faith that I read over and over in junior high and high school and even (secretly) in college. It was these books and this Christian Romance Novel kind of faith that fueled my cynicism and pain and anger in really profound and furious ways in my 20s.
And I've been thinking about these books and about Joshua Harris and his research project. I've been wondering about author intent and also about author responsibility.
Who's fault is it when a book – particularly a Christian book – causes pain and damage and fallout? Who do we blame here?
The overly passionate 21-year-old homeschooled kid?
The kind-hearted woman, God-Lover mom, drinking her English Breakfast tea and writing books in the early morning that she hopes will be impactful for teen girls?
Maybe.
To be sure, it is a weighty responsibility to set pen to paper, to try to communicate such a difficult, beautiful, complex, imperfect thing as one's faith journey – especially as it intersects with other deeply important parts of wholeness, like sexuality.
Certainly, as authors, we should approach the page with a sense of humility, with fear and trembling, with the understanding that the things we write there have the potential to move quietly into the hearts of others and shift the landscape there.
And yet, also, we can never be entirely sure that we're doing it right. Not any of it. Parenting, pastoring, dialoguing, writing. Friendship. Work. Love. Life.
Authors, pastors, anyone speaking into matters of faith are fallible, broken. They are growing – hopefully in a whole-hearted direction – but sometimes not. We have new life experiences. We learn and listen and change. We don't think the same things that we thought five years ago, let alone when we were twenty-one.
"The book is not you," my spiritual director made me repeat, like a liturgy, when my second memoir came out, and I was nearly hyperventilating with the vulnerability of it. "The book is not you. The book is not you. The book is not you."
And it's not. It's something I wrote. I would write it differently now, a year later. Differently still in 20 years.
I imagine that Josh Harris would too.
*
I spent most of my morning reading the stories that people posted on Joshua Harris' blog. Some of the responders are entirely pissed off. Others are defensive: "Your book is fine! It's great! I loved it!" Most, though, come off somewhere in the middle, recognizing the damage…but also recognizing that it was greater than just this one particular book.
"I don't begrudge the book you wrote," an anonymous reader from the UK wrote. "I just wish I'd read another one."
This comment struck me, because I felt the same way. I wish I'd read other things. I wish there had been other things to read.
In the Christian bookstore, when I was 14, every bit of fiction for teens was aimed toward this one version of the story. Sexual purity = spiritual purity. There was no deviation. Everything in the store seemed to be a pulsing arrow toward this point, even the wedding magazines and music.
And I think this is what made those books damaging. Not that they existed, but that they were the only thing that did.
Joshua Harris' method, as kooky as it is, was just one method for approaching dating. But because it was really the only narrative happening in Christian circles and Christian books, it became the method. The defining narrative.
Robin Jones Gunn's books were just one pastel-colored version of faith, but there was nothing else, so it became the faith story I believed.
But of course, neither of these is the only version, the only method, the only story.
The life of faith is so much bigger and more complicated. Stories of grace are dirty and messy and varied. This is, I think, why the Bible contains such a range of characters and narratives, all of it merging into this big, wide, complex, inclusive story that begins God so loved the world that he gave his only Son.
Some wise and lovely people have suggested that pulling Harris' books from the shelves is the best course of action, and perhaps they're right. But to me, that seems like a step back in the fight against censorship. I don't believe that we should ban the "dangerous" ideas in Harris' books any more than we should ban the "dangerous" curse words in mine.
But what then?
*
Last year, around this time actually, I ended up having an awkward live radio conversation with Robin Jones Gunn, the author of the Christy Miller series, after an angsty article I wrote about those books went moderately viral. During the conversation, Jones mentioned that she was among the first generation of Christian writers doing books for teens, and that if it doesn't resonate, we should write our own.
At the time, it sounded dismissive. (It still bums me out a little that she doesn't seem to "see" this generation of Christian young adults with all their baggage and questions and cynicism…at least not enough to do a series of books where Christy Miller turns into a tired 30-something with a lot of doubt and a thing for cabernet.)
But, also, I think there's something to it.
Listen: the internet has blown the publishing industry wide open.
The Christian bookstores are a dying beast. They are disappearing, turning into Walgreens and Paneras. The Moral Gatekeepers no longer have the only say over what gets published and what gets read. And there is so much possibility in this, so much beauty, so much hope.
I walked through the YA Lit section of my library the other day. There is so much there. Of course, there are the token vampire books and the voyeuristic, sexy ones. Christy Miller is still there, though now in three hardcover volumes instead of 12 thin paperbacks.
But there are also books that deal with divorce and mental illness and loneliness and suicide and pain and fear and love and sex in healthy, nuanced ways.
There is room for new stories. There is so much room.
There is room for a new generation of writers to write complex and hopeful books about dating and sex and love and faith and adolescence. There is room for new novels, new work around the theme of pursuing a faith life not only as a teenager…but also as an adult.
And while I recognize the importance of sharing our stories in forums like Harris' blog and in online spaces like Life After IKDG, I hope that we don't stop there.
I hope we don't stop at the places where we were wounded. I hope we don't stop at the anger, at the reflexive response, at the rage.
I hope we move farther.
I hope we write new books. New stories. New songs and plays and movies and shows.
I hope that we write it all.
I hope that this generation who once maybe kissed dating goodbye will expand, expand, expand the bookshelves until they are filled with stories of the grace and doubt and beauty and the hard goodness of this varied life of faith.