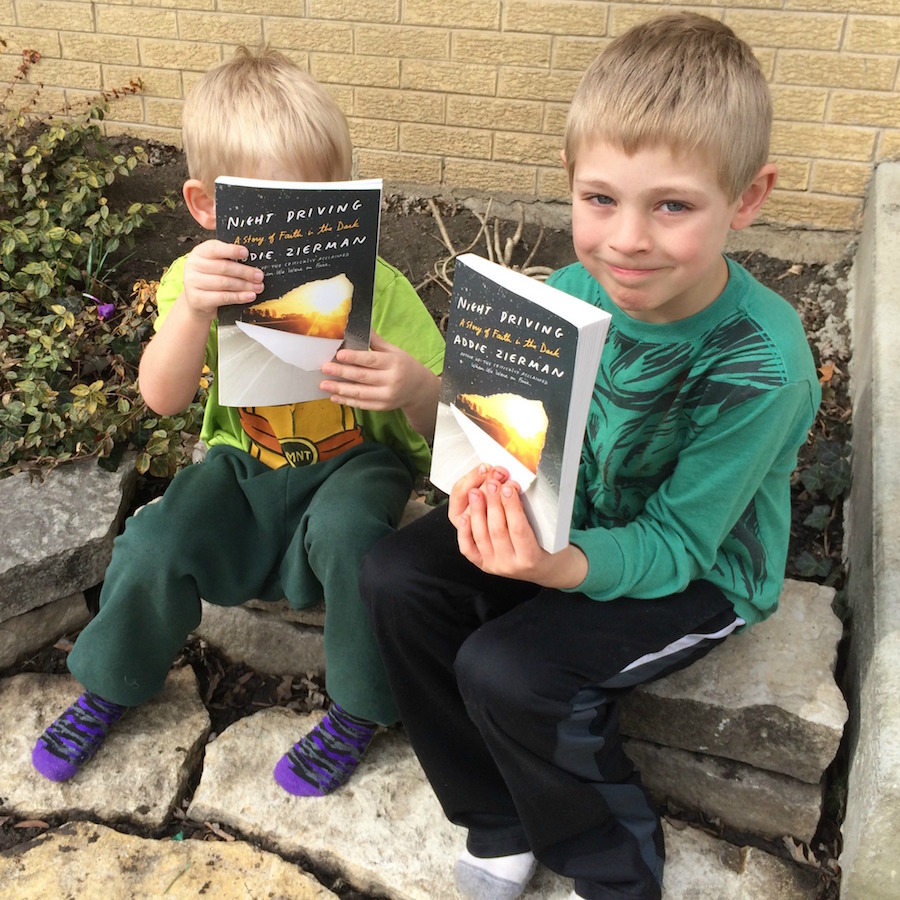 Today is Book Launch Day for Night Driving: A Story of Faith in the Dark.
(Which means you can buy my new book right this very minute! Paperback! eBook! Audiobook! From a retailer near you or from Barnes & Noble, IndieBound, Books-a-Million or Amazon! OK. Commercial over.)
This is my second published memoir, and it doesn't get easier to put your insides on display for the whole wide world. If anything, I feel more fragile this time around. (If I'm not around online today, it might be because I am hiding under the blankets with a pint of Ben & Jerry's. I reserve the right.)
I never imagined when I buckled my kids in the car one freezing February day for a spontaneous, two-week road trip, that it would turn into a book. (If I did, I would have taken better pictures. And much more detailed notes.)
The book I set out to write when I signed my two-book deal with Convergent Books was going to be about what comes next after you have deconstructed the faith of your youth. I imagined the topic would be something about finding a faith home. But I threw that manuscript away, finally, because when you flip off all of the fluorescent lights and neon signs that lit up the on fire faith of your past, what happens next usually does not look like anything quite as tidy as "finding a faith home."
Usually, things look exceptionally dark.
That February road trip that we took was my attempt to get out of the numbing winter dark that I'd found myself in that year and to move toward the light I imagined could heal me.
I never imagined that I'd spend the next two years retracing that route again and again in my mind, trying to remember the exact pitch of my kids' crying, trying to see the nuances of the landscape, trying to uncover the truth about what I was running from…and what I was running toward.
I never imagined I'd find so many threads of hope and meaning in this last-minute, slightly-cliché, Diet-Coke-fueled road-trip.
But this is why I love the creative nonfiction genre so much – because in listening to my life, I have so often found myself listening to something else entirely: the voice of God narrating a story that had been all but invisible in the living of it.
Night Driving is my story of faith and darkness. I have told it as honestly as I know how, and I believe it's an important story, "Not," as Frederick Buechner once wrote, "because it is mine, God knows, but because if I tell it anything like right, the chances are you will recognize that it in many ways it is also yours."
*
Last week, I invited you to participate in the #NightDriving synchroblog by sharing your story of faith in the dark:
"Tell us about your dark places. The ones that you have chosen, or the ones that have chosen you.
What did you learn? What did you not learn?
Are you there now? What does it feel like? What is the most frightening part? What is the most comforting?
What mysterious have you touched on as you've fumbled around in this unfamiliar place?
What things became your touchstones when the lights went out? Were they what you expected?
I know it's all a little vague. (Darkness usually is.) Go anywhere you like with these prompts, or go completely off topic.
Start here, if you need a place:
It was dark when __________________________.
You wouldn't believe what I saw."
If this is the first time you're hearing about all this, it's not too late to join in! I'll keep the synchroblog open until midnight on Saturday, March 19th, so you have until then to add your link here. I hope you'll join us. It really is such a beautiful thing.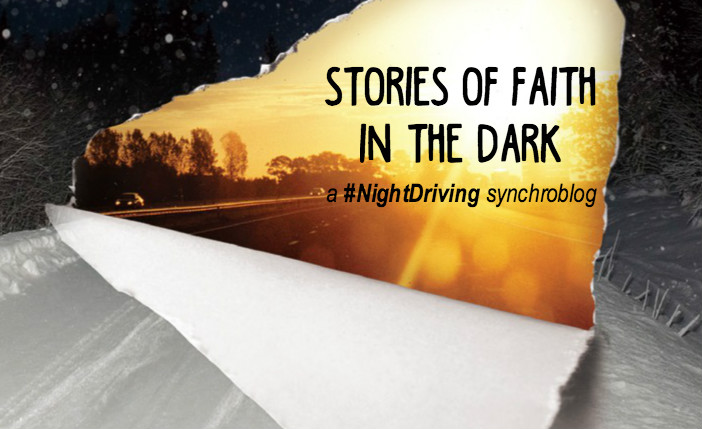 Here's How to Participate:
1. Bloggers: Write your story of faith in the dark on your blog. Use the image above and link back to this post so that others can join in if they want to! (Non-bloggers: Don't fear if you don't have a blog! You can still participate in the synchroblog in one of two ways. Either (a) Leave your story in a comment here or (b) Email me your story, and I'll make sure it's included in the roundup.)
2. Use the link-up tool below to add your post here. Simply click the Add your link button and follow the instructions. (Make sure you link the actual post that you wrote for this synchroblog and not just your blog's home page!)
3. Click around to other people's posts…because you're not alone in the dark. None of us are.
4. Share your post on social media using the hashtag #NightDriving.
Thank you for helping me release Night Driving: A Story of Faith in the Dark out into the world. Truly.
I appreciate you all.
Loading InLinkz ...