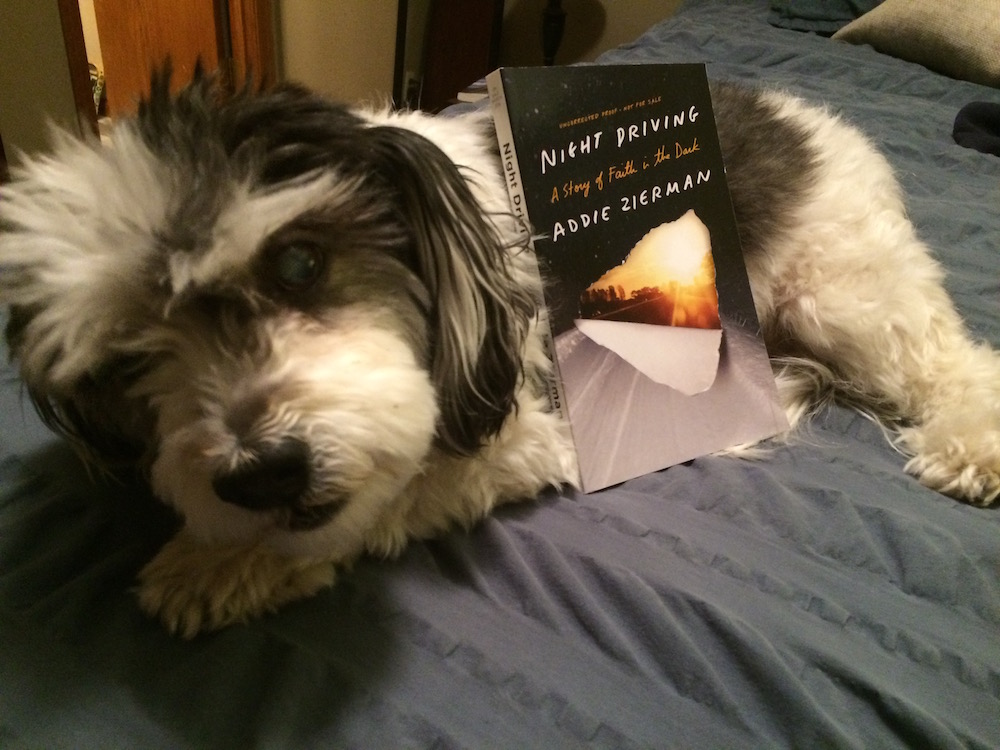 Night Driving: A Story of Faith in the Dark comes out one week from today, and if I've been sort of absent in the online space this past couple of weeks it's because I've been curled up in a ball on my bed, hyperventilating about it.
(I wish I were joking. I'm kind of not.)
This morning, I read back through my posts from when When We Were on Fire came out a couple of years ago. It was oddly comforting to see that I was in a downward cycle of cheese puffs and bad CWTV shows then too.
Apparently this is just how I do book release.
But the other healthier way I like to do the book release thing is by inviting you to share your story too.
One of my favorite parts of the release of When We Were on Fire was the synchroblog in which you shared your "on fire" stories. I have no idea whether it was effective as a marketing tool…but it was effective for me at that deeply human place where we are connected by our stories.
In my books, I share the unfiltered truth of my life not because I think that my secrets are particularly unique…but because I know that they aren't.
I tell the truth because I think that being honest about our secrets and scars, our fears and failures, our light and darkness is not only the way that we begin to recognize that we belong to each other…but also the way that we begin to recognize God moving among us.
In Night Driving, I shared the truth of the collision of my own faith with the darkness in the most honest way that I know how.
And now I invite you to do the same.
Your Stories of Faith in the Dark
Night Driving is the story of a sort of spontaneously, poorly-thought-out road trip that I took with my two boys a couple of winters ago.
I went on the road trip because it was cold and dark and I felt desperate.
I went because I spent half of my lifetime trying to be in the Light (cue this DC Talk song) and to shine (cue this Newsboys song) for Jesus. And because even after dissecting and disentangling the threads of my evangelical past, I still feel like to get to God, I have to somehow get to the Light.
And it was winter in Minnesota. And it was dark at four in the afternoon…and it was dark my head and in my heart…
And the faith of my youth didn't give me language for this.
It didn't give me a theology of darkness.
It gave me that verse from 1 John – God is Light. In him there is no darkness at all. Then it patted me on the head and sent me on my way. Toward the Light that I could not, for the life of me, seem to get to, even as I drove toward it at 78 miles an hour with my two tiny sons in tow.
We all have our darkness.
For me, darkness most often looks like Depression – the kind that seems to sweep in with the changing seasons and stay long past when it should melt away. But of course, that's not the case for everyone.
It can look like loneliness. It can look like failure. It can look like the tender, purpling center of a breaking or broken relationship.
It can be as simple as the weather or as complicated as your own many-layered heart.
It can look like trying to hold on. Or it can look like a loss that you'll never get through but that will remain part of you now forever, as near as your own dark shadow.
It's that place where you don't feel God, even though you open your Bible every morning, go to church every Sunday, stand in the back wondering why you don't feel what everyone else seems to be feeling.
And what if there's something to be gained here that can't be found in the light?
In this synchroblog, I'm hoping you'll tell me your stories of faith in the darkness.
One of my least favorite things in both American and Christian culture is how quickly we skip over the dark spaces of our stories to get to the redemption and beauty and light.
I want to spend a little time talking about those places that we'd just as soon gloss over, just as soon get through.
I want to talk about how they form us, how they change us, how they might be the most valuable gifts we are given.
So tell about your dark places. The ones that you have chosen, or the ones that have chosen you.
What did you learn? What did you not learn?
Are you there now? What does it feel like? What is the most frightening part? What is the most comforting?
What mysterious have you touched on as you've fumbled around in this unfamiliar place?
What things became your touchstones when the lights went out? Were they what you expected?
I know it's all a little vague. (Darkness usually is.) Go anywhere you like with these prompts, or go completely off topic.
Start here, if you need a place:
It was dark when __________________________.
You wouldn't believe what I saw.
How Do I Participate in the Synchroblog?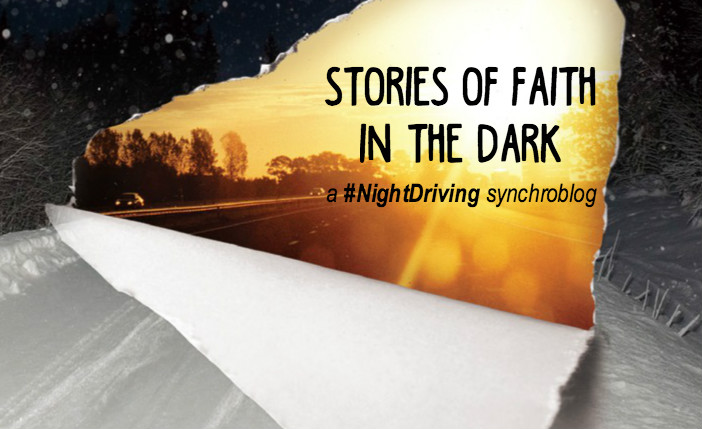 Bloggers: Write your story of faith in the dark on your blog on or before Tuesday, March 15th. (This is release day for the book, but I'll keep the synchroblog linkup open through the release party on Saturday, March 19, which by the way, ALL MY READERS are invited to! Make sure you use the image above and link back to this post or the official synchroblog post on the 15th so that others can join in if they want to!
Non-bloggers: Don't fear if you don't have a blog! You can still participate in the synchroblog in one of two ways. Either (a) Leave your story in a comment on the official synchroblog post next Tuesday the 15th or (b) Email me your story, and I'll make sure it's included in the roundup!
Use the link-up tool to add your post here on Tuesday March, 15th. (It's super easy, even if you're not techy. I promise.)
Click around to other people's posts…because you're not alone in the dark. None of us are.
Share your post on social media using the hashtag #NightDriving.
I'm looking so forward to reading your stories.
Thank you for joining me during these last weeks of Lent as we sit in the darkness and remind one another that God is here. Even here.