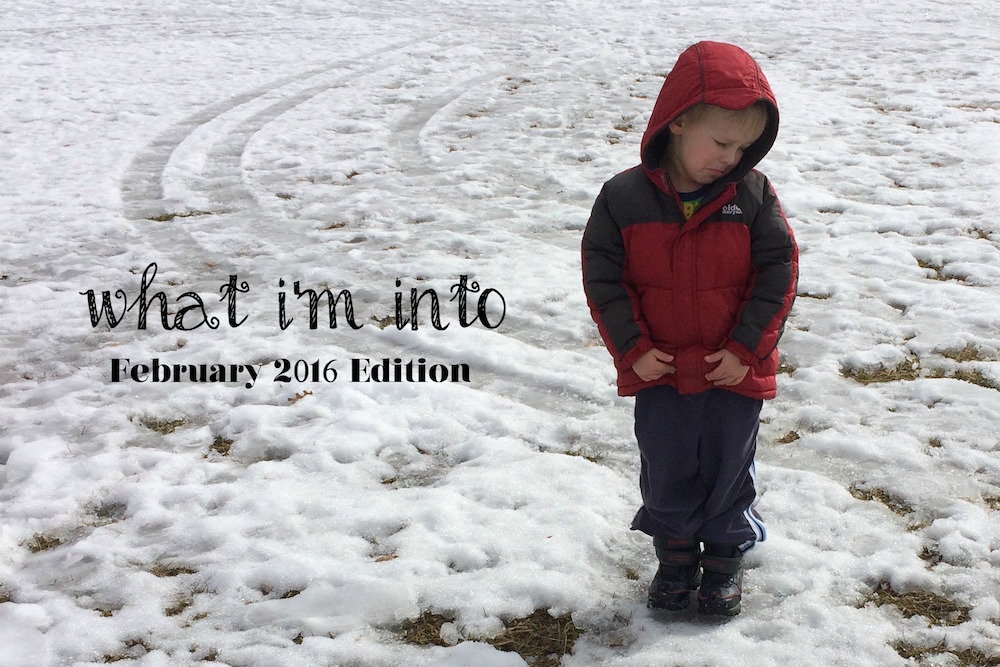 At the beginning of February, I released a trailer for my new book, which is about an epic winter road trip and the desperate ways that we go looking for the Light.
And then, hours later, I crashed my minivan. Into a light post.
Halfway home from that funeral in Nebraska, I hit a patch of ice going into Worthington, Minnesota, and then I was out of control — in slow motion — gliding almost lazily into one of those tall, two-pronged highway lights.
As I hit it, I thought, I'm going to die.
As I watched the post sway and then fall, pulling the front bumper of my minivan with it, I thought, I'm going to be crushed by a light post and DIE.
It wasn't until after I'd called the police, and I was sitting there  in the still middle of the highway, looking at the felled street light that the irony of the whole thing occurred to me. Of course it was the ice. Of course it was the street lamp.
The whole accident is essentially a microcosm of the book I've just written: You are knocked out of control by some winter; you find yourself crashing into the artificial lights that you've erected to keep yourself out the dark.
It's so darkly, ironically perfect that I think I should send the bill I just got from Mark's Towing and Repair to my marketing team at Convergent.
*
February, for me, is always one of the darkest months. This year has been no different, except for in addition to the dull buzz of my Seasonal Affective Disorder, there are early book reviews! A thousand million book-marketing kinds of things to do! The paralyzing fear of rejection!
And also a wrecked car stuck three hours away in Worthington, Minnesota and big, expensive decisions to be made about what to do with it!
I had hoped I'd go into this season of book release with confidence and enthusiasm and a pile of really polished articles and posts ready to publish in all the places. What I actually have is a kind of wrecked car, a concrete-thick sense of dread, and a lot of writing assignments unchecked on my Evernote list.
Yesterday, Andrew and I drove back down to Worthington after more than two weeks to pick up the minivan. It runs now, but it looks like a cyborg — creepy metal face where the plastic bumper used to be, small dent in the hood where the light post hit.
The wind is louder, I feel like, whistling into the open wound of van…and I feel a kinship to my Honda Odyssey. We are both still going…but we're coming out of February a little worse for the wear. Be gentle with us.
What I'm Reading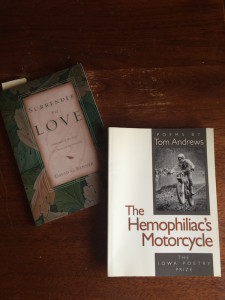 My reading always takes a dive in February — a fact I attribute to the SAD and to the stir craziness of my children and to my own inability to finish month during this month of the year.
At the beginning of the month, I checked out a big pile of foodie memoir and fiction and had big dreams of reading it all and also of learning to bake my own bread and use things like thyme and saffron.
I only managed to read one — The School of Essential Ingredients by Erica Bauermeister — which is about a cooking class and the broken, beautiful people who take it. The writing was exquisite and the cooking was inspired. The endings of the small vignettes sometimes felt a little too tidy to me, but it could be because it's February.
Other than that, I've mostly been letting books happen to me, one short segment at a time. After stumbling across a photocopy of the title poem from a class back in college, I ordered Tom Andrews' poetry collection, The Hemophiliac's Motorcycle, and I've been reading it like I used to read "devotional books." I'm also working through David Benner's Surrender to Love, which was recommended to me by my spiritual director, trying to internalize it, to let it whistle through the open wound of my February soul.
What I'm Listening To
I'm still listening to a lot of Cloud Cult. My friend Rachel, who's kind of a Cloud Cult superfan, gave me their latest album The Seeker, whichI listened to nonstop until it got stuck with the van in that tow lot in Worthington. Some of their lyrics are a little bit too woo woo for me…but mostly the poetry of their searching is a beautiful soundtrack to my own.
I have also gotten into the habit of letting Spotify choose new music for me to explore, which is how I found The National Parks and Handsome and Gretyl this month…both of which I love.
What I'm Watching
Scandal. Grey's. Crazy Ex-Girlfriend. Jane the Virgin. Younger.
Brooklyn Nine Nine with my husband, The Bachelor once a week with the friends who are living with us right now. Gossip Girl on Netflix, I'm sorry to admit, while I fold the laundry or run on the treadmill.
Other Things I'm Into
1. Cross country skiing. Granted, we only went one time this month, and I had the wrong size boots, which resulted giant popped blisters that were so bad by the end that I could barely move…But still. That first couple miles? Bliss.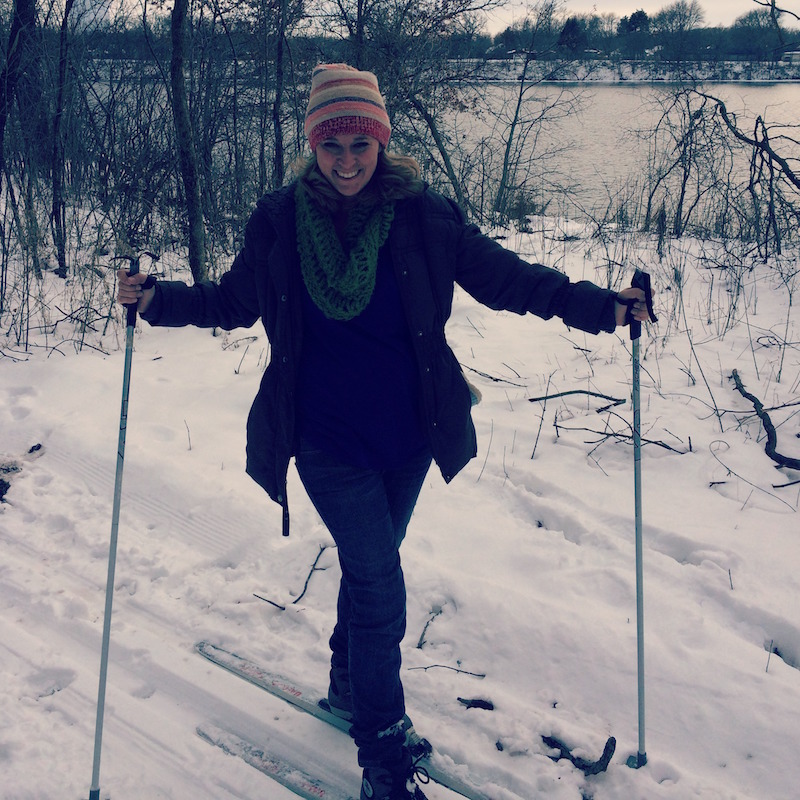 2. Valentines Day. I know it's a greeting card holiday. I know it's all schmultz and sappiness and too much pressure on "romance," but it also means making Valentines with my kids, receiving love letters from school, and chocolate fondue with my family. Oh, and a plethora of sappy new feel-good Hallmark movies with totally impossible premises and small-town Valentines Day festivals. What?

3. Bits of sunshine; the promise of lighter days. February has been bleak, I'm not gonna lie. But there have also been glimpses of spring coming. Sunshine through the windows. Snow melting in the grass. The season changes — it always does. For this I am grateful.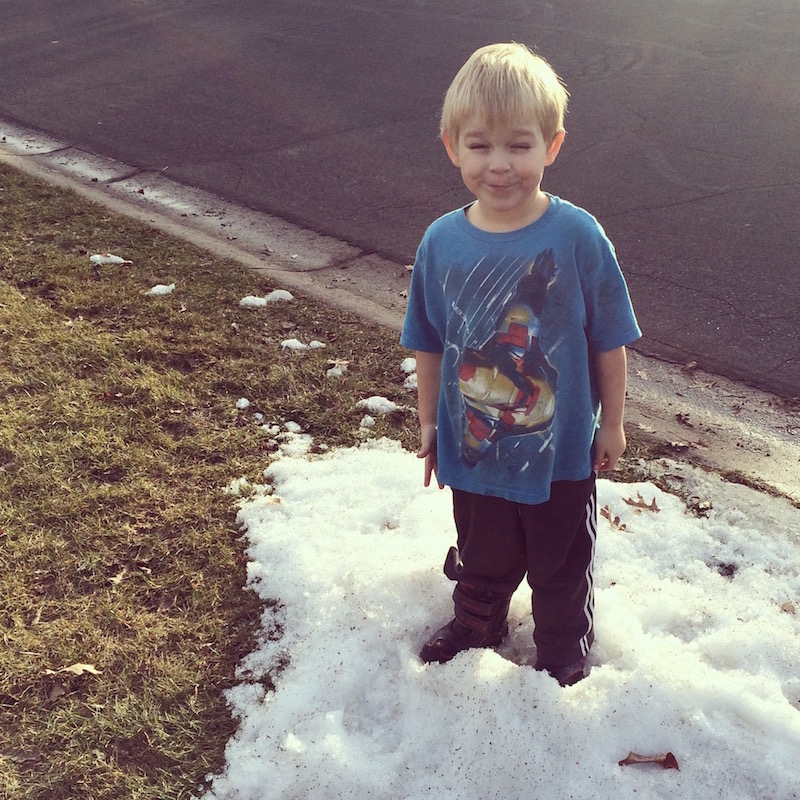 Book & Blog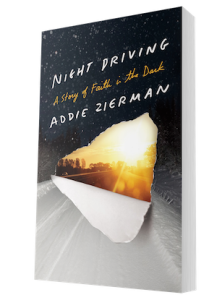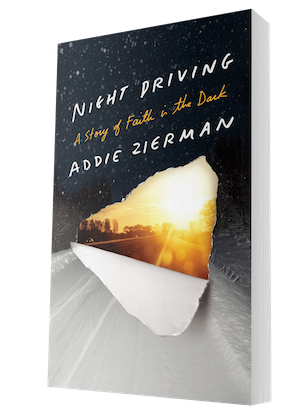 Night Driving: A Story of Faith in the Dark comes out on March 15th, which is exactly two weeks from today. WHAT?
If you're in the Twin Cities area…or willing to drive here…I'd love for you to come to the release party, which will be held Saturday, March 19th from 7-9pm at the Fallout Arts Initiative (Studio 3) in Uptown. View the Facebook invite here and RSVP if you can come!
This month, I wrote about shopping for bigger jeans in my most popular post in a long time, Size Up…but my most personal post was about driving to a funeral during the first week of lent. I also shared the book trailer for Night Driving here.
Over at Off the Page, my third "Dear Addie" post was about what to do when your faith journey takes you to a different place than your friends and family.
I also did a series of three short devotional pieces at The High Calling: Surviving the Winter of Disbelief, The Thick Darkness Where God Is, and Truer Shadows.
Linking up for What I'm Into as usual with the lovely Leigh Kramer.
What have you been into this month?