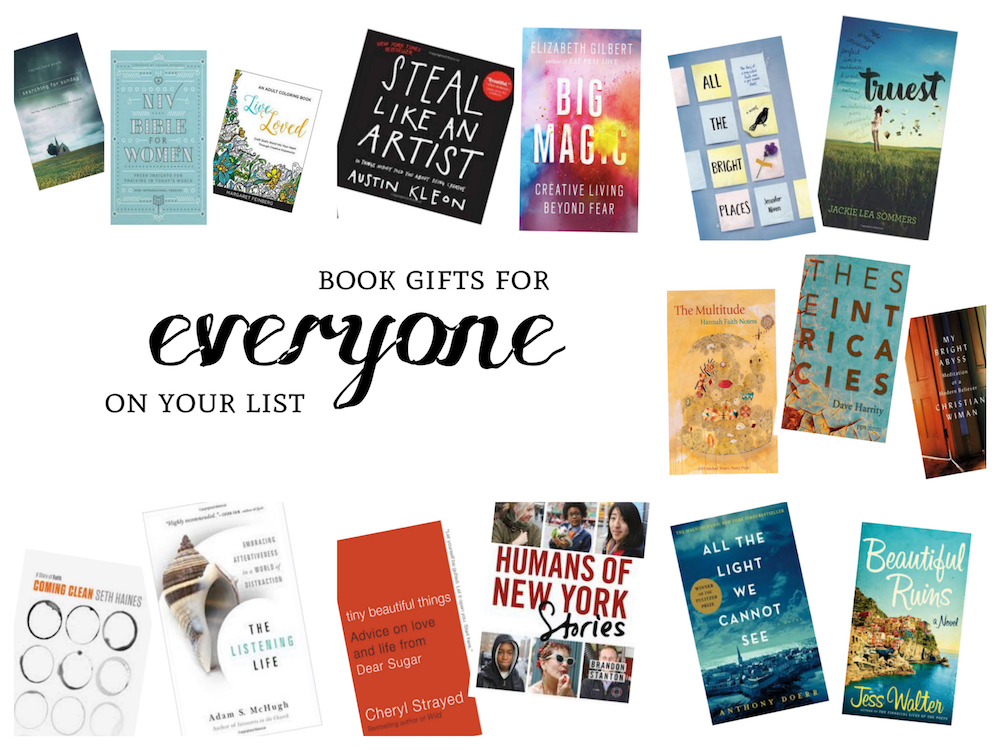 I am a fan of buying books for Christmas.
Books, guys! There's something for everyone! A choice for every taste and sensibility!
I always have a ton of books on my Christmas wish list, and I hardly ever get them…and I think that there is a misguided idea that books are a boring gift. They are not! Books are the best! They are the gift that keep on giving through the holiday season and into the dismal months of January and February when you just want to sit on your couch under a blanket anyway!
Anyway…because I think that books make spectacular gifts, I spent an entire day working on this list of suggestions for everyone on your list. This list includes only books that I've read this year (2015) or books I hope to read before the year ends. I also kept it limited to three ideas per category. (I needed to give myself parameters. Otherwise there are too many to choose from and it stresses me out.)
I've also included a couple ideas of things that you could "pair with" each book if you can't get over the idea that a book-present is lame. It's not. But just in case you need something else…there are a few thoughts in each category from me to you.
So here we go. A few book ideas for everyone on your list!

You know the people: the artists, the writers, the off-the-beaten-path kind of people who are always waxing poetic about their creative process. (I am one of these people.)
Here are my top three book suggestions for the Creative in your life. 
The Creative Habit, Twyla Tharp: Tharp is famous choreographer, and her no-nonsense approach to creative work was both intimidating and inspirational to me. I was amazed at how much crossed-over from the dance/choreography genre into my own writing process, and I appreciated this unique lens. It also includes a lot of helpful exercises, practical tips, and great ideas for moving forward in a project when you're stuck.
Amazon | Barnes and Noble | IndieBound | Booksamillion
Steal Like an Artist: 10 Things Nobody Told You About Being Creative, Austin Kleon: This is an easy, short read, full of inspirational quotes and Kleon's illustrations and graphics. I found it to be positive and motivating and appreciated that I could read it in an afternoon. If you really want to go overboard for your favorite creative friend, there's a journal that goes with it, which is likely equally as cool.
Amazon | Barnes and Noble | IndieBound | Booksamillion
Big Magic, Elizabeth Gilbert: I haven't read this one yet, but it's on my Christmas list. I've heard rave reviews and I love what I've heard from Gilbert on her Magic Lessons podcast and her TED Talk on creativity. (Anne Bogel at Modern Mrs. Darcy does warn that the book includes "equal parts straight talk and woo-woo"…but I don't really know what that means.) From the publisher: "Balancing between soulful spirituality and cheerful pragmatism, Gilbert encourages us to uncover the "strange jewels" that are hidden within each of us. Whether we are looking to write a book, make art, find new ways to address challenges in our work,  embark on a dream long deferred, or simply infuse our everyday lives with more mindfulness and passion, Big Magic cracks open a world of wonder and joy."
Amazon | Barnes and Noble | IndieBound | Booksamillion 
(See also "10 Books in My Writer's Toolbox" for even more book ideas for creative-types.)
Pair with: A gift card to his favorite coffee shop, a set of lined moleskin journals, or a new pack of colored pencils.

For the person who is spiritual…but also a little wary. Here are a few good picks. 
Searching for Sunday, Rachel Held Evans: Rachel has always been a really clear, compelling writer with a great sense of humor. But this book also had layers of beauty, poetry, and best of all, deep intimacy. I loved the honest ways she explored her issues with the church. And being a sucker for a compelling structure, I loved the way she organized the book by the church sacraments. The Communion section might have been my favorite.
Amazon | Barnes and Noble | IndieBound | Booksamillion
NIV Bible for Women: I had the honor of contributing five pieces to this devotional Bible, along with several of the wonderful women writers and bloggers that I know and respect. Not everyone likes a "devotional" Bible, but for those who do, this one's a good choice. The readings that the editors have included alongside the Biblical text feel like a good mix of thoughts with lots of authenticity, complexity, and encouragement.
Amazon | Barnes and Noble | IndieBound | Booksamillion
A coloring book with some colored pencils. Seriously. It's all the rage right now, and it's perfect for the slightly-cynical Christian who just needs something else to do with her hands during a sermon, Bible study, or women's group. For the less-cynical recipient, this one from Margaret Feinberg is gorgeous. For the one who's still…on the other end of that spectrum, you can't beat Harry Potter.
(See "7 Books to Read When You're Struggling to Read the Bible" for more book ideas for angsty-Christian types.)
(I've also heard great things about Sarah Bessey's new book Out of Sorts, but haven't had a chance to pick it up yet.)
Pair with: Why not add a bonus book – When We Were on Fire by Addie Zierman?!?! Or chocolate.

Obviously there are a ton of great fiction reads to recommend from this year's reading list alone, but I tried to keep this short list of three to books that appeal to both men and women. Here are some favorites.
All the Light We Cannot See, Anthony Doerr: Set in occupied France during World War II, this book is about a blind French girl and a young German boy whose lives intersect. It is every bit as beautiful, haunting and daring as I imagined it would be – and yet still completely accessible. Easy to see why it won all the awards, including the Pulitzer.
Amazon | Barnes and Noble | IndieBound | Booksamillion 
Beautiful Ruins, Jess Walters: I loved this book. It's a love story — sort of — that spans over fifty years and all kinds of locations, including a small island on the Italian coast, the movie set of Cleopatra, and modern-day Hollywood. It's a perfect beach read (a great gift for friends with vacations coming up?) — but also smart, complicated and well written. One of my favorite reads of the year.
Amazon | Barnes and Noble | IndieBound | Booksamillion 
Mr. Penumbra's 24-Hour Bookstore: I thought this book was so much fun. The publishers calls it "a gleeful and exhilarating tale of global conspiracy, complex code-breaking, high-tech data visualization, young love, rollicking adventure, and the secret to eternal life—mostly set in a hole-in-the-wall San Francisco bookstore." When describing it to Andrew, I said it was like Da Vinci Code meets Silicon Valley, but Anne at Modern Mrs. Darcy calls it Harry Potter meets National Treasure. Either way, it's good. Plus the cover glows in the dark, so that's a win.
Amazon | Barnes and Noble | IndieBound | Booksamillion 
Pair with: A homemade bookmark from your kids (or yourself) or this super awesome sweatshirt (for women).

Or — let's be real — for the young adult in us all… 
All the Bright Places, Jennifer Niven: From Publisher's Weekly (starred review): "The journey to, through, and past tragedy is romantic and heartbreaking, as characters and readers confront darkness, joy, and the possibilities—and limits—of love in the face of mental illness." I thought this was beautiful.
Amazon | Barnes and Noble | IndieBound | Booksamillion 
Truest, Jackie Lea Sommers: When Silas Hart and his mysterious sister move to the tiny Minnesota town of Green Lake, they change everything for Westlin Beck — the pastor's daughter, who is on her own kind of search. Published by HarperCollins Publishers (and not by any of their "Christian" imprints or subsidiaries), this was the most deeply and poignantly Christian YA book I've ever read. The sweet and confused teenage characters drink, swear, and make all kinds of mistakes…but they are on a very real and honest spiritual quest — proving that a squeaky-clean code of morality and an encounter with God are not necessarily as tied together as evangelical Christianity has made them out to be. A beautiful debut from a great new author.
Amazon | Barnes and Noble | IndieBound | Booksamillion 
American Born Chinese, Gene Luen Yang: I heard Gene Luen Yang speak at the Festival of Faith and Writing a couple of years ago and finally read this award-winning literary comic this year. From the Publisher: "A tour-de-force by rising indy comics star Gene Yang, American Born Chinese tells the story of three apparently unrelated characters: Jin Wang, who moves to a new neighborhood with his family only to discover that he's the only Chinese-American student at his new school; the powerful Monkey King, subject of one of the oldest and greatest Chinese fables; and Chin-Kee, a personification of the ultimate negative Chinese stereotype, who is ruining his cousin Danny's life with his yearly visits. Their lives and stories come together with an unexpected twist in this action-packed modern fable."
Amazon | Barnes and Noble | IndieBound | Booksamillion
Pair with: An iTunes gift card or something. I don't know. I'm 32, what do I know about teenagers?

I don't read tons of poetry, but the stuff I have read this year is phenomenal. Here are a couple of great choices:
The Multitude, Hannah Notess. I haven't read this yet, but I love Hannah's work. (She contributed to my Poetry Month series last April, and I still think about the poem she wrote there.) From the publisher: "These poems explore spaces of everyday life that intersect with both sacred places and fantastical realms. The Multitude invites us to dwell in uncertain spaces between worlds, between the possible and the impossible." Amazon
These Intricacies, Dave Harrity, I've been a fan of Dave's work since I started working regularly through his non-traditional devotional workbook Making Manifest. His new collection of poetry explores "the intersection of family, fatherhood, and faith," and endeavors to "discover and dissolve the discontinuities of how we are loved and how we can love others." Beautiful.
Amazon | Barnes and Noble | IndieBound | Booksamillion
My Bright Abyss: Meditation of a Modern Believer, Christian Wiman, While not technically a book of poetry, Wiman is a renowned poet, a Guggenheim fellow, and the former the editor-in-chief of Poetry magazine, and My Bright Abyss is chock full of bits of poems. This memoir is brilliant and beautiful (but dense) exploration of faith in the face of death (he continues to battle cancer). It took me most of the month to read this book because I had to do it in teeny, tiny chunks. Even so, there's so much I missed…and so much I didn't understand. But so much beauty. SO much beauty.
Amazon | Barnes and Noble | IndieBound | Books-a-million
Pair with: A one-year subscription to a literary magazine. (Here are a few of my favorites.)

Here are a couple of books that felt so universal to me that they might appeal to even the pickiest person on your shopping list.
Tiny Beautiful Things: Advice on Love and Life from Dear Sugar: This was a beautiful book — a compilation of advice columns from when Cheryl Strayed spent time as "Dear Sugar" on The Rumpus. In the preface, Steve Almond describes Cheryl's columns as a practice of radical empathy, and that phrase has been rattling around in my mind ever since. While I didn't always agree with Sugar's advice, there's no doubt about the brilliant way that she entered into people's deepest questions. (I'm helping start a column like this over at Off the Page this next years. Read about it here.)
Amazon | Barnes and Noble | IndieBound | Booksamillion
Humans of New York: Stories, Brandon Stanton: I've followed HONY for years now and am astonished at the beauty of Brandon's photography and the candor of his subjects as they answer his questions and tell bits of their stories. The work he is doing with that camera to intentionally see and hear the most overlooked of people fills me with hope and challenges me to see others through a new lens. This is a gorgeous and important book that is perfect for any coffee table.
Amazon | Barnes and Noble | IndieBound | Booksamillion
Pair with: A plate of cookies, a loaf of homemade bread, or this mug in which Mr. Rogers' sports coat turns into his yellow cardigan when you pour in hot liquid (!!!)

Though I realize that nothing actually changes between December 31 and January 1, I have always loved the idea of a Brand New Year with No Mistakes in it Yet. I love making goals and rethinking the ways I approach my life. Here are a few good reads for a new year. Might as well get them for yourself now…
168 Hours: You Have More Time Than You Think, Laura Vanderkam: This book argues that you actually do have enough time – an idea that was profoundly life changing for me. While Vanderkam gives tons of great tips and tools to make the most of your time, the most valuable part of this book for me was the way it shifted my perspective toward abundance (in regard to my time) instead of scarcity. A great book to read as you're thinking about goals, plans, and dreams for the new year.
Amazon | Barnes and Noble | IndieBound | Books-a-million
Coming Clean: A Story of Faith, Seth Haines: Don't let the title fool you – this is less a book about Haines' struggle with alcohol dependency and more about the ways that we, each of us, attempt to numb our pain. "I suppose we're all drunk on something," he begins the book. From the publisher: "In Coming Clean, Seth Haines writes rawly through the first 90 days of a work of sobriety, illuminating how to face the pain we'd rather run from, and even more importantly, how Jesus meets us there." An important read for anyone who's trying to cut a bad habit out in the new year…and to find God in new ways.
Amazon | Barnes and Noble | IndieBound | Books-a-million
The Listening Life: Embracing Attentiveness in a World of Distraction, Adam McHugh: I haven't had a chance to read this one yet (it just came out a few days ago), but I loved Adam's work in Introverts in the Church, and I'm interested to see what he has to say about this essential part of life. From the publisher: "In this noisy, distracting world, it is difficult to truly hear. People talk past each other, eager to be heard but somehow deaf to what is being said. Listening is an essential skill for healthy relationships, both with God and with other people. But it is more than that: listening is a way of life." What better way to start 2016 than to learn to listen better?
Amazon | Barnes and Noble | IndieBound | Books-a-million
Pair with: A new planner, a photo calendar, or a brand new, blank notebook for a brand new blank year.
*
What about you? Do you have any go-to books that you love to give as gifts?