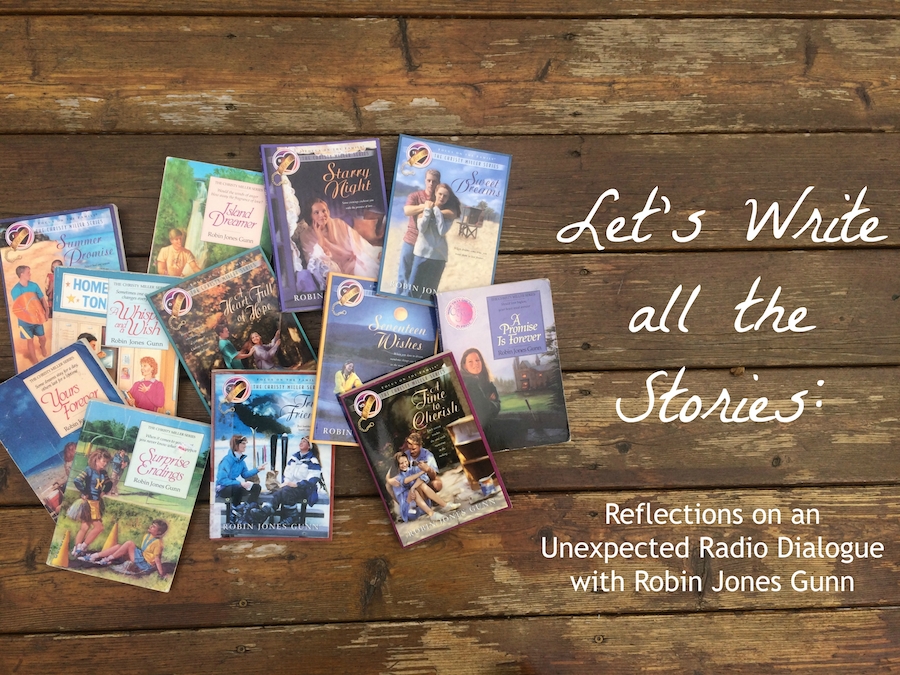 So, funny story.
A couple of weeks ago, I wrote this post about my old fictional, Christian-romance-novel BFF, Christy Miller.
You can read the whole thing here, but the short synopsis is this: in junior high and high school, I read the Christy Miller romance series like it was my job. These idealistic Christian teens informed so much of my thoughts about life and faith in both positive and negative ways.
This summer, I finally got around to reading the two new series about Christy and the gang that author Robin Jones Gunn has written since Christy and Todd (spoiler alert!) said "I Do" in the last book I read 14 years ago.
In the new series, The Katie Weldon Series and Christy and Todd: The Married Years, Christy in the gang are still in their very early twenties…and their faith is still exactly the same.
Everyone still believes what they believed in high school. Everyone has managed to hold onto their sexual purity until marriage. Their "God Lovers" group still gathers for worship and Bible study, and even the far-away friends manage to exchange spiritual encouragement via Skype.
When I finished reading these books, I felt overwhelmed by the distance between this former fictional role-model and myself. In 14 years, so much of what I believed and understood about God and life and friendship and love had changed…but Christy Miller's faith, life and relationships had all stayed exactly the same. Not in the physical sense of course. Christy and Todd moved in the books and so did their friends. There were new jobs, new challenges, etc, etc. But the geographies of their inner-lives were as pristine and unchanged as the Newport beach coastline where Todd still likes to surf.
And that was what was so hard for me. That's what left me crying on the couch — the chasm between Christy's simple faith and my complicated one feeling so humongous. It was the distance the rose-tinted soap-bubble of the evangelical world and the real, broken, messy one that I live in now, and it felt impassable to me.
So I wrote a post. And a lot of people read it. And I got invited to chat on Moody Radio about it and said Sure. Why not.
And then they told me that, by the way, the author of the Christy Miller series (and my junior high literary idol), Robin Jones Gunn, would also be on the air to "dialogue with me about my blog post."
<Cue panic.>
We won't talk about the pathetic "please don't hate me" email I sent to Robin Jones Gunn on Thursday or the fact that I kept waking up in the night, sweaty and panicked about what I was going to say. In one moment, I wanted to cooly explain to the RJG and the Moody audience at large why Christy Miller is a farce; in the next moment, I wanted to beg RJG to love me.
Let's just say that I'm not good at confrontation. Let's just say I was a wreck.
But I did the radio show, and it ended up being interesting and leaving me with a whole new slew of thoughts about faith, fiction, and how to help each other on this journey. Here are a few reflections:
(You can listen to the full dialogue between Robin Jones Gunn, Chris Fabry and me here.)
1. Storytelling is a ministry, and like any ministry, it's not one-size-fits all.
One of the interesting thing about the radio dialogue was how genuinely surprised Robin Jones Gunn seemed at my sort of intense reaction to Christy Miller. She's fiction, she kept saying. Christy Miller is fiction.
And of course I know that. But she was so much more than fiction to me. During a time in my life when I was trying to figure out what it meant to live my faith, she was like an older sister, showing me how. In a youth group culture where students like me, were thrust into leadership roles without a lot of discipleship of their own, Christy Miller was the mentor that I didn't really have anywhere else.
I believe that any time we partner with God to serve others, it's a ministry, and I believe that was RJG's heart when she wrote these books. It wan't just fiction. It was a ministry to me.
And then, one day, I outgrew it.
This is not to say that I don't think that there's not room for improvement in the genre of "Christian fiction" — particular that which is being written for young adults.
While I'm not against escapism in healthy doses (If you read my What I'm Into posts, you know that I have an embarrassing addiction to Hallmark movies and sub-par TV shows.), I still have major reservations about fiction in which God and faith become a kind of escapism. I think that coming face to face with God should always lead us deeper into reality, not out of it, and so I worry about stories where God always comes through in the ways you hope he will. Particularly for a young or new Christian, I think it sets up false expectations about God and faith and can be really dangerous down the road.
And yet, it would be presumptuous of me to assume that because RJG's books often do this, they are to be written off entirely. One only needs to glance at the hundreds of grateful blog commenters on her website and her exorbinant books sales (Over 5 million!) to know that her work resonates with people.
Perhaps, for some readers, the reality-fiction gap isn't an issue. Perhaps they are able to simply accept that chasm and are able to learn and grow and to be encouraged by these books. I'm not one of those people. I used to be. But I'm not anymore.
It doesn't mean it's bad (though, as I said above, I think there's room for improvement). It just means that it no longer fits me. Some ministries bolster you up for a time. At thirteen, the junior high youth group at my home church saved my life. At sixteen, it was the wild, on-fire youth church/coffee shop combo where we went for raucous Saturday night worship sessions and intense Christian ska concerts. (Heyyy Insyderz…).
At 18 it was The Sacred Romance, that instant Christian bestseller by John Eldredge, that ministered most to me and helped me to grow.
At 21, I lived in China, and the depression was creeping in, and it was the ministry of Alias nights with our fellow English teachers, where we passed around American snacks and felt less alone.
At 24, my world was falling apart and I felt alienated from church, and it was the Pizza Pub and their margaritas, the ministry of the Wisconsin Dells where I met my two best friends to cry and rage and hash out our faith.
I'm 32 now, and Christy Miller no longer ministers to me like she used to. Reading Christy and Todd: The Married Years and The Katie Weldon Series was like trying to go back to junior high ten years later. It doesn't fit me. It would be like expecting that watching Alias on a tile floor with sleeves of Oreos now would have the same, healing effect that it did back then. It wouldn't. It couldn't. There are different ministries for different times.
We grow and change and evolve and move on. We're always supposed to move on.
2. Change (including change of beliefs) is a type of loss, and it's normal and important to grieve that.
Right now, my life is hard…but rich. I don't feel God in that fiery, sure way that I used to. But I am growing deep, deep, deeper into the soil of my world. I am spreading my roots. I am growing strong in the quiet soil of grace.
I don't want to go back to the performance-based faith of my youth, the one where I was always trying to prove that I was a Jesus Freak, alienating myself from my peers, scrambling for God's love.
And yet, reading those books conjured in me a hopeless kind of nostalgia. How simple it was then! How easy it was to love God, to believe everything would turn out okay! I remember meeting with my accountability partner on Tuesdays at Panera to talk about what we were learning "in the Word." I remember the feel of that first love, how I'd fill entire journals with prayers in a month, how I'd raise my hands in uninhibited praise at that youth church where we went.
I still have Jesus. I still have my faith. But I've lost the trappings of the evangelical world — and much of its acceptance. I, who was once an evangelical poster child, was recently accused of leading Millennials astray with my suggestions of books to read when you're struggling to read the Bible. For real.
I ran into my pastor the other day, and we talked a bit about this. "Wouldn't it be nice to go back to before there were questions?" he said.
Yes.
My faith is changing. It's supposed to change. But sometimes, grief gets all intertwined in the acceptance. And that's what the Christian romance novel post was — a kind of eulogy, a dirge, the painful song of letting go — again — of the way I used to think life and faith would look.
3. It's up to us to write the books we need to read.
One of the things that Robin Jones Gunn said in our dialogue that stuck with me was how fairly new "Christian fiction" is — how 50 years ago, there was nothing like this. And now there's tons. She said that hers was just one perspective, and that I should write mine. That she was part of the first generation of authors doing this kind of writing, and that she was passing the torch.
I have a lot of thoughts and feelings about "Christian Romance" or "Christian Inspiration" as a genre in general — most of them cynical, all of them complicated. (Anytime "Christian" is used as an adjective, red flags go up for me. I wrote a little about that here.)
But this thing that RJG said about Christian fiction encouraged and inspired me anyway.
Because more and more publishers are springing up who are making space for authors to explore the gray areas of faith and life. My publisher, Convergent, let me use four-letter words in my faith memoir because they felt essential to the story to me. It's possible that in another 50 years, the genre could look totally different. That it could include series with both grace and grit. With doubt and anger and 30-somethings screaming at God while holding a glass of cabernet.
Isaiah 43:18-19 says:
"Forget the former things;

do not dwell on the past.

See, I am doing a new thing!

Now it springs up; do you not perceive it?

I am making a way in the wilderness

and streams in the wasteland."
There are a lot of us who are here — in our own kind of wastelands, desperate for a new thing. We want to see God here, in this desolate place where we're at. We need someone to help us to believe that not everything here is barren.
And of course, it's not. There are streams. The new things God is doing are springing up around us, and we are invited into that work.
So if the books you want to read are not out there yet, it's because you haven't written them yet. If the community that you long for doesn't exist yet in your church or your neighborhood, it's up to you to invite a few close friends over for cabernet or beer or tea or whatever and start the conversation.
It's up to each of us to have the courage to go first — to choose vulnerability and truth and love.
So let's write all the stories! Write them from the wasteland, from the seaside, from the mountain, from the alfalfa fields, from wherever you find yourself now.
Write. Sing. Act. Study. Teach. Lead. Nurture. Coach. Participate. Whatever it is you do, do it from the truest part of your soul.
Here, at the intersection of faith and doubt, belief and unbelief, heaven and earth…this is where the streams appear. They are cutting through the wasteland. They are making all things new.