This post was originally published at A Deeper Story.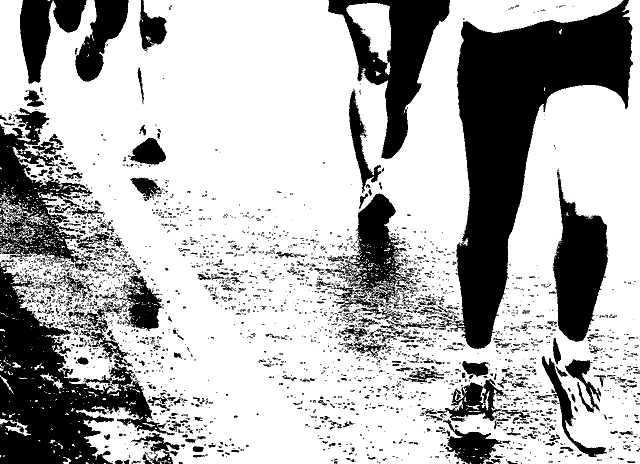 Do you not know that in a race all the runners run, but only one gets the prize? Run in such a way as to get the prize. 1 Corinthians 9:24
It's the New Year, so I'm running again. Or trying to. Every day it's on my to-do list, waiting for me to strap on my sneakers and head downstairs to the treadmill.
The running is mostly about that annual short-lived dedication to fitness that comes with the turn of the calendar page. The prize I'm after? Some other version of my body — that imperfectly remembered tight tummy of my teenage years. The tiny jean-size; the thin, strong arms.
Back then, I hated running, dreaded the inevitable fifteen-minute loop around the high school track every Monday, Wednesday and Friday in gym class. On the field house wall, the clock ticked slowly down, and the gym teachers in their track suits shouted, "No walking!" if you started to slow down. I ran with my girlfriends, and we moaned the whole time.
Fifteen years later, I still don't much like to run, but this stretched out, age-softened, sagging version of myself continues to surprise me when I catch a glimpse of myself in the mirror. Is this really what I look like now?
I get on the treadmill, and I'm going nowhere really, even as I'm running away from the inevitability of change. I am no athlete. I've never liked sports. You won't find me training for a marathon or a triathlon or doing long, languid loops around the park reserve. I run while watching episodes of television shows, relying on intricate plots and scintillating drama to distract me from the exhaustion of my body, the aching of my lungs, the inadequacy that I feel.
Run. Run. Run.
The metaphor that Paul uses in 1 Corinthians — faith as a race — makes me feel defeated…like I've lost already. Like maybe I'm not cut out for this thing. I discipline my body and keep it under control, he writes, and I flashback at once to my own On Fire days in which I felt saddled with guilt if I didn't wake up in time to have a "quiet time." If I didn't pray long enough, didn't do enough, didn't feel the right things at the right times.
I am not a runner.
Run. Run. Run in such a way as to get the prize, the verse says.
Several years ago, when I broke myself against grace, it was the most staggering of revelations. I didn't have to earn anything. God's love was already mine, regardless of what I did or didn't do.
I have not yet quite learned to live in the tension between grace and discipline. Maybe it's my perfectionist tendencies. I want to do it right the first time. Never miss a day. Run far. Run fast. Lose weight. Not eat that cookie, drink that Diet Coke, guzzle that glass of wine.
I tend to forget that failure is an essential part of discipline itself. That maybe, in fact, it's a soft place, a holy place, the place where the grace and discipline intersect.
Try. Fail. Breathe in your Belovedness. Understand that you are enough anyway. And then get up and try again.
I am not a runner. I am learning to run.
The more I run, the less it feels like running away and more it feels like a kind of joy. Not about losing weight or tightening muscles, but about this moment, the sweat on my brow, the endorphins rushing. And then, the last couple of minutes, I do that thing I learned to do on that dreaded fifteen-minute run in high school.
Sprint. 
The end is in sight, and I know that I can do it. That I've come so far. That my legs are strong enough.
I don't know what prompted me to sprint for the first time, but when I did — when I extended my legs as far and fast as they would go, it felt like freedom, like power, like flying. Like the long grueling minutes before were behind me; like I had already won.
Run. Run. Run the race marked out for us. You already have the prize, so run because you are strong. Because you are free. Because when you forget for a second that you're tired and break into a sprint, it feels, for a second like you are flying. Like you are soaring. Like you are being carried to the finish line.