He goes by Stephen now, but when I knew him best, he was just "Steve."
I met him when I was fifteen and on fire, and we became unlikely friends. Him with his punk rock awesomeness; me with my eternal good girl persona.
In the following photo, you will note, he is rocking the frosted tips, Shaded Red visor, and some seriously awesome neckware. And I'm wearing the not-so-clear clear braces and my usual ponytail. I'm fairly sure that tucked under neath that gray undershirt is a necklace I've created entirely of tiny gold safety pins to try to embrace my own punk-rock alter-ego. (Not surprisingly, it did not work.)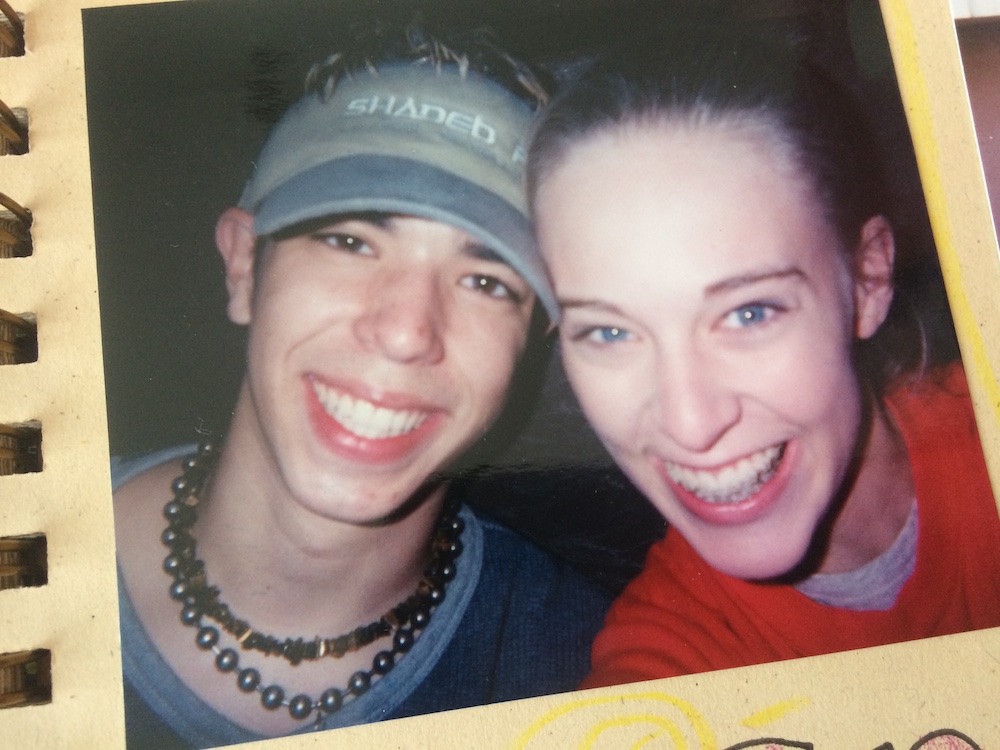 I sent Stephen this photo today via Facebook while we were discussing this post. "Remember these wacky kids, on their way downtown to Acquire the Fire??"
"Ha!" He said. "I remember they had everyone go out to different corners of the arena for where in the world you wanted to be a missionary. I can't remember where I picked, but they spammed me with phone calls and mail for a year or two." Oh Teen Mania.
I haven't seen Stephen since high school, but he is one of the best people I knew during my on fire days.
Soon after we graduated, he got married, and he and his wife moved to Denmark. He became a scholar and a teacher and the very best kind of "missionary." He wrote a Master's Thesis about how to educate young people without sending them to seminaries or discipleship schools. He had two beautiful kids; he was teaching and speaking and taking the most beautiful photos.
And then this happened:
[If you can't access the video, here's the gist: In August 2013 Stephen, husband and father of two, had 3 aneurysms bleed in his spinal cord. When doctors operated to stop the bleeding, the procedure damaged his spinal cord and left him an incomplete tetraplegic with a condition called Brown Séquard Syndrome — which includes chronic pain.]
I think a lot these days about the ways our lives go off the rails. We set out to do beautiful and incredible things, and then, with one swift tug, pain or tragedy or a surgery gone horribly wrong comes in and changes everything that we thought our lives were about.
Over the past few months, I've found myself in a new space in my life, in which I'm surrounded by friends who are experiencing chronic pain of their own. Not always physically, like Stephen's…but just as tangibly. My friend Barb, who lost her 12-year-old son Jack two months ago today, and who feels him constantly, like a phantom limb, aching. Another friend battling cancer, another infertility.
And here's the thing: I think that Christians tend to be great in a crisis. When the tragedy first happens, we are there with the a million frozen meals and cards and flowers and prayers. When there's a funeral, we show up in earnest, and we cry and bring dozens of cookies. We're good at being there…initially. We're not great at staying.
To be honest, it's not just a Christian problem. It's a human problem. We get stir-crazy in one another's pain, fear it, find ourselves speechless and awkward in the face of it. In a cultural — and Christian — ethos that's so often about conquering and victory and getting through the valley to the other side, there's little space for the people who find themselves walking in a valley that has no end in sight.
Fifteen years ago, when Stephen and I sat on that yellow school bus, taking an old-school selfie with an actual film-fed camera, on our way to learn how to ACQUIRE THE FIRE, I never would have dreamed that this is where we'd reconnect. And yet this too is holy ground.
This piece that Stephen wrote on his Facebook page recently made me think of all of you, all of us — of everyone who might be in pain, feeling lonely, waiting for joy. Please welcome him here, give him your encouragement, and then click over and support him in this hard, new journey that he finds himself on.
*
One of my favorite public speakers is Brené Brown. Here is just one gem from her talks:
"When we start losing our tolerance for vulnerability, uncertainty, for risk — we move away from the things we need and crave the most like joy and love and belonging, trust, empathy, creativity."
Some days ago I received a spontaneous text from a friend named Christian–a Norwegian artist living here in Copenhagen–telling me he would be done with work soon and that, if we wanted, he could "come over and hang out or help with anything for a few hours." I say spontaneous because, in Denmark, most meetings are pre-arranged with calendars made days or weeks in advance.
I had recently opened up to him over a pre-arranged coffee date about how lonely it can be for people like us–those who suffer, have sicknesses or who are facing some kind of serious crisis. And we discussed many of the possible reasons why. There is one we centered on.
In Denmark there is a concept called "hygge" that is quite special and valued. There really isn't a great translation although the closest word we have in English is "coziness". But it is definitely the goal for most gatherings or get-togethers. And Danes have really learned how to create these cozy spaces. Dawn recently saw a sign in a shop that gave their attempt at a definition:
hygge (n.) a complete absence of anything annoying or emotionally overwhelming; taking pleasure from the presence of gentle soothing things
I shared with him how from now on, our lives and our story could never be that kind of hygge. And perhaps that is why we have felt so lonely. I said this because our family really needs some people who aren't afraid to come into our home with all of the pain, stress, chaos, uncertainty, annoyances and sorrow. Friends who can meet us right here in our reality and yet find ways of drawing out experiences of joy, laughter, grace and hope. A "redemptive hygge" if you will.
I wrote back to him, "maybe… what were you thinking?"
He replied, "Since the weather isn't all that, I was thinking I could bring a canvas and some paint, and we could make a big painting together"
To be honest, our kids were restless that day and had more than a few tantrums. My pains were pretty high. Our house was kind of a mess. We hadn't planned on having anyone over. But I had been vulnerable and open with him just days before. Now he was being vulnerable and courageous enough to listen and act. Finally, we chose to be vulnerable and let our friend come over even though we were quite unprepared.
And then something amazing happened.
Christian showed up with a large canvas and his arms full of different kinds of acrylic paints. We got out a big white bed sheet, rolled back Hope's rug, and we all began to paint. Hope got started with lots of pink. Esben became fascinated with making hand prints and covering his hands with blue and purple paint and making impressions. And Christian began to teach us all about layers and textures. His passion became ours. Two hours passed and we not only had a unique and I'd say beautiful piece of art — but we all experienced what we crave and need most as humans: joy, belonging, creativity, and empathy. We all came away transformed.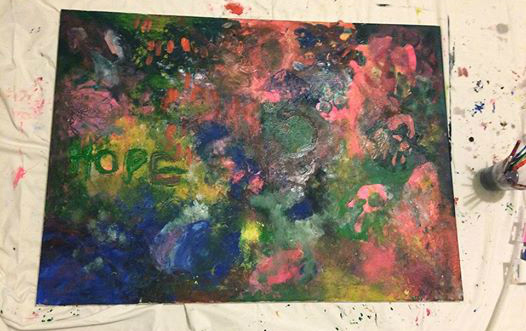 We washed off as much paint from our hands and arms as possible and then gathered around the table for some home-delivered pizza. We were all smiling. We were all laughing. All of the pain, fear, and anxiety had been muted by this one courageous act of "redemptive hygge". As Christian gathered his things to leave for the evening he got more than a few hugs and kisses from our kids. But our two year old summed it up best when after his second to last hug he told Christian, "I love you!"
Later in the evening, Christian wrote about how touched he was when Esben said that, and added how much he enjoyed his evening with us (despite all of the seriousness of our suffering).
We have just over a month left in this campaign and we are far from our goal. Please keep sharing our story: http://youtu.be/3OwMCZ31VpU, our link to the campaign page: http://www.stephenfights.org and ask your networks to see if they'd be willing to offer a little end of the year donation. Ask if they would help by #standingwiththesandovals.
There is no question that the money raised has already helped us and has set us up to be able to pay for some vital things in the year to come. We definitely need more and we hope that with your help we can achieve it some how. But if we are really going to win this fight–if anyone that is suffering is going to "win" their fight–it will come from because of people courageous enough to be vulnerable enough to face their own pains and brokenness so that with empathy a "redemptive (and transformative) hygge" can occur. It's something we all need in the end.
We look at our special painting every day. And it gives us hope. I hope this story from our lives can help you in some way.
Love, Stephen, Dawn, Hope & Esben
*
I don't often ask you guys to donate to causes or to open your wallets here at the blog, but I'm asking you today. Stephen and Dawn are not just some of the best people out there — they are also wise and insightful, and I think the world needs more leaders and voices and stories like theirs. Honest ones about pain. Beautiful ones about hope.
Please, stop by their GiveForward site, and give what you can.