"If your daily life seems poor, do not blame it; blame yourself,
tell yourself that you are not poet enough to call forth its riches."
~ Rainer Maria Rilke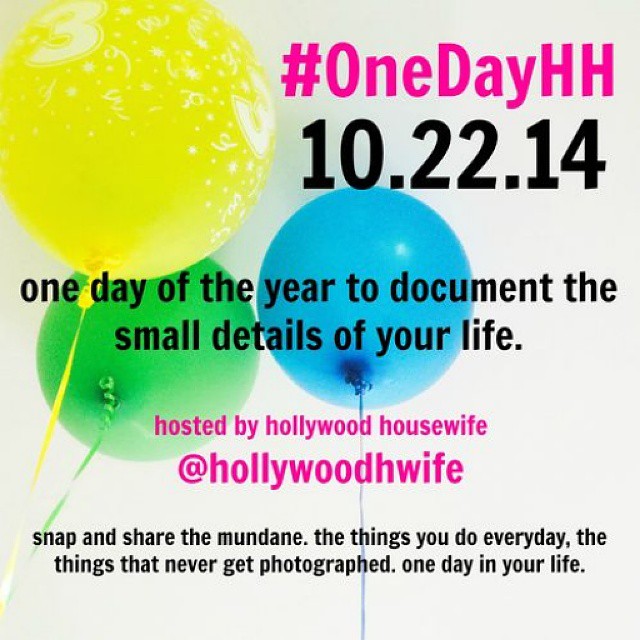 Every year around this time, the lovely Hollywood Housewife does this project called One Day, where she invites us all to spend an entire day photographing the details of life — the mundane bits that make up right now. I've wanted to participate for a while, but every year something has gotten in the way.
This year, I was determined. I put my a sticky note on my phone labeled ONEDAYHH!!! so that I would be sure to remember, first thing in the morning, that this was a day to be captured.
I know that there are all sorts of things to be said about the problems with being attached to your iPhone. To always taking pictures and tweeting about things instead of entering into them and being fully part of them. I get that. And in many ways, I agree.
But I also know about Chronos and Kairos. Chronos is about the alarm clock going off too early. About the long, short days — the temper tantrums and the quick-get-your-shoes-on-or-you'll-miss-the-bus, and the deadlines looming and the waiting for bedtime. But Kairos — Kairos is about what God is doing. About that moment outside of time where everything happens. Where the world stands still and you are noticing it all. The bush is burning, and you are shoes off, seeing it, filled with awe.
And I know that last Wednesday, that wacky little phone with its quick shutter helped me see the Kairos in my everyday Chronos. Instagram — with all of its tricks and filters — didn't so much "dress up" reality for me. Instead, it helped me see the beauty.
Anyway — feel free to stop reading right here. Go put your own sticky note on your own phone and commit to capture the day. So what if the "official" day is over? You can still play along! Maybe you'll see your own little glimpse of Kairos in your random, lovely details.
(But you know, if you're interested in seeing my totally narcissistic collection of photos, feel free to keep scrolling. It's mostly for you, Mom.)
(Also? You can always follow me on Instagram here!)