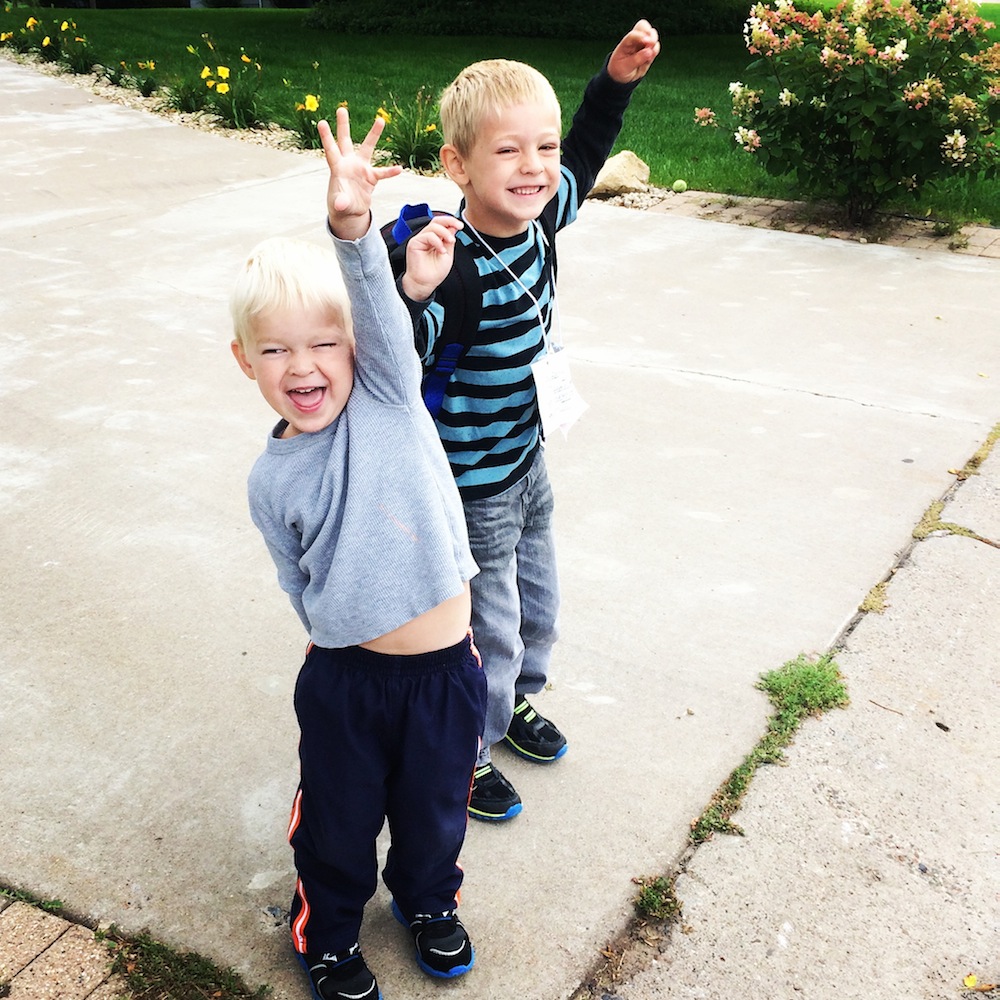 While I was out, the last days of summer came and went. We caught and released the last of the painted turtles that spend the summer on the pond before they all disappeared. I threw out the summer sneakers – all full of holes from running and bike riding and sloshing through the pond, the soles practically falling off – and we switched to the next size up.
The mornings got darker a little bit at a time…then all at once, and the ducks came back. I don't know how they always somehow remember this place, but they do. They come by the dozens, and they spend the early evening wandering our yards for food, calling to each other loudly.
While I was out, my firstborn, Dane, boarded the bus to kindergarten for the first time, Avenger's backpack strapped on his back, waving out the window, and I didn't cry, but I felt it at the back of my throat all day long.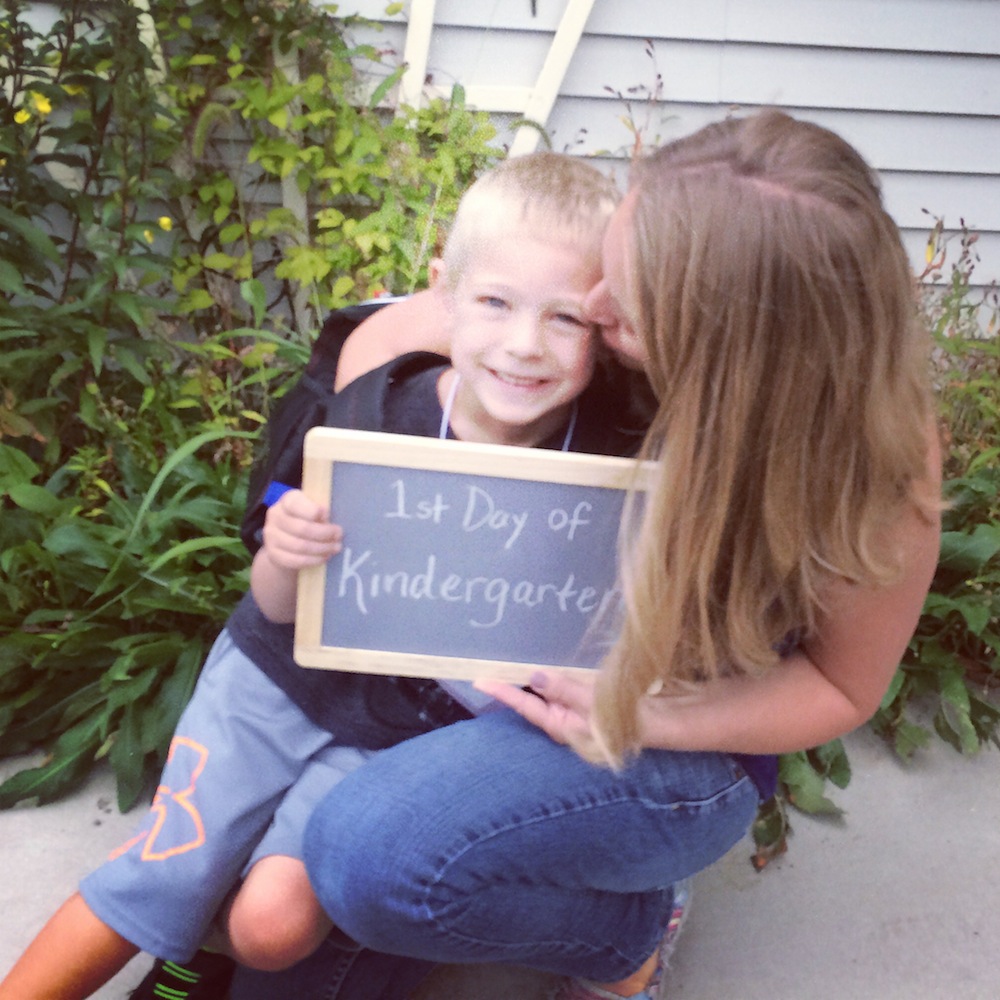 Liam went from age three to AGE THREE and spent long afternoons sobbing over the fact that I put his milk in the wrong cup or that I put it into his hand in the wrong way. We had a lot of long battles about using the potty chair, and in the end I got him 2/3s of the way potty-trained before we hit a total power impasse. Which means that while I was out, there was a lot of laundry to do.
The Internet kept spinning while I was out, but it all felt farther away. I stopped reading blogs and looking at Twitter for the most part. Instead, the world became very small. A kitchen table. A piece of paper. A loaf of pumpkin bread in the oven. A red leaf on the driveway.
I helped one friend welcome a new son into the world with a diaper-and-wine baby shower. People from our church filled up the house with love and appetizers, and we passed the new baby, one set of open arms to another, exclaiming at his tiny fingers, his perfect features, his new baby smell.
I stood by another friend while she let her twelve-year-old son go, unexpectedly, far too soon, on a beautiful September morning. When they put his small casket into the hearse, we all waved checkered flags and popped confetti, and racecars showed up to do a victory lap. While I was out, I stood in a crowd of grievers, and we hugged through our tears and worked very hard to believe that this will all someday be made right.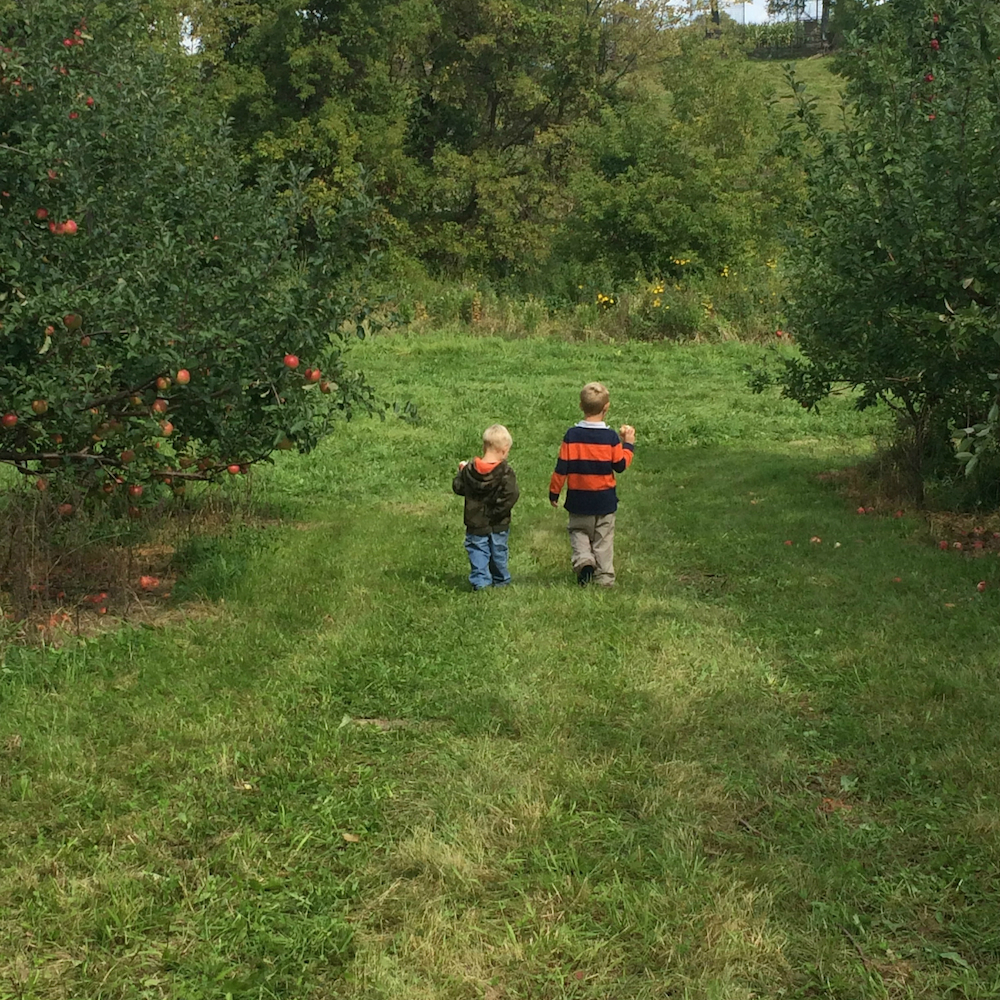 While I was out, I excused myself from calorie-counting and responsible, grown-up eating habits and binged on potato soup and bread and pasta. Sometimes I had lunch-wine at my favorite writing spot, and it felt like a luxury, alone at a table, just wine and words.
I was out, so I didn't blog, but I wrote every day, thousands of words that I didn't show to anyone. I second-guessed and deleted and rewrote and revised. I averaged five cups of coffee in the mornings, writing and guzzling, writing and guzzling.
Every two or three days, I stomped out of the kitchen yelling, I'm quitting writing forever! But then I'd go back, and it felt like learning to tune my violin by ear back in junior high school. Without the instant response of commenters and retweets and Facebook shares to tune my words against, I had to close my eyes and really listen. I had to remember the sound of sharp and flat. The fixed pitch of truth.
I didn't read much – just bits and pieces, here and there. I couldn't seem to manage whole novels, so I read excerpts and a lot of poetry. I renewed The Interestings twice and then finally had to give up and return it to the library.
I spent too much money on IKEA bookshelves and stayed up way too late putting them together. I got one piece backwards on the TV stand that I spent five hours building, and two nights later, I had to loosen the whole thing and redo it.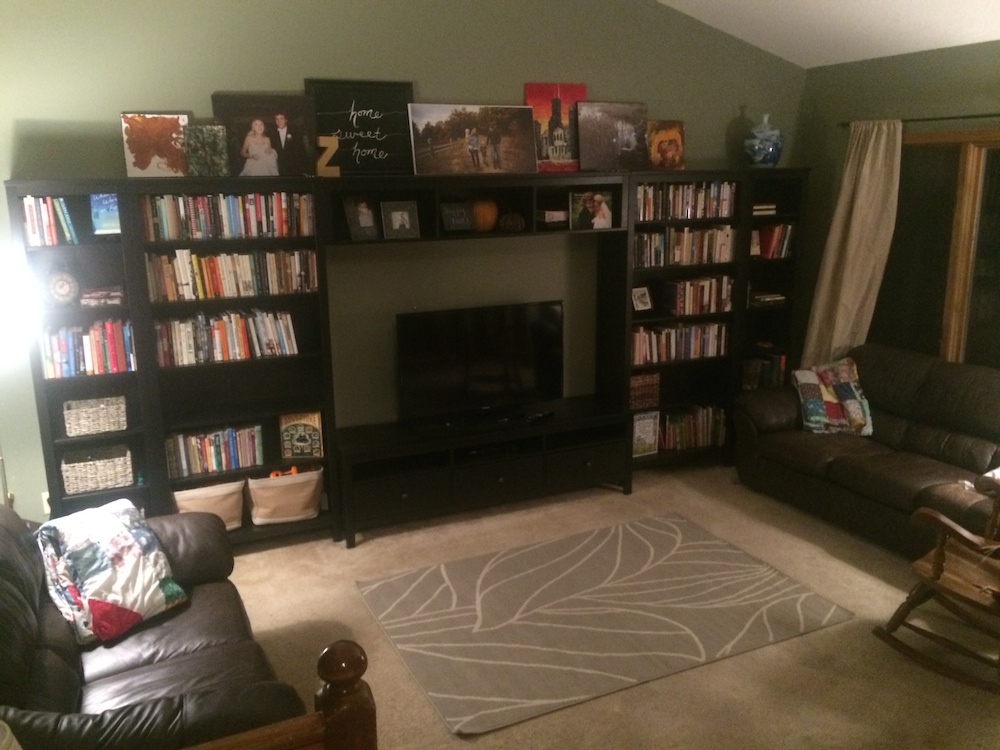 I had a garage sale. I sold our old rocking horse to an art student who will make him into a sculpture. I sold a good portion of our pretend food to new families who will be served imaginary meals by their enthusiastic children. It was therapeutic and sad – letting go of one part of their childhood, embracing a new part.
While I was out, I missed this place and the way I am changed at this blank screen. And I also appreciated having time to rethink what I want this online space to be about. Time to plan and to realign myself and to get excited about this new season of blogging.
While I was out, life kept happening, and I am grateful, and I am refreshed, and I am broken in a few new ways. I am a little emptier and a little fuller.
I am here. I'm ready to get back to work.
[Okay, update me! I missed you all. What have you been up to while I've been out?]