Everything I know about promoting your blog and gaining followers can be summed up in two words:
Be kind.
Really. I know that there are tricks and ideas and best practices, and I'll try to share some of those here. But kindness is where it begins and ends. Get too caught up in getting numbers, and you begin to forget a lot of other things. You start to obsess about stats. You start writing what you think will get you numbers. You forget to write the things you meant to write in the first place. Slowly, you begin to lose your soul and become just another carbon copy of everything else on the Internet.
Listen, I'm all for getting more readers. I work really hard on my blog posts, and I want people to read them! To share them! To come back and buy my book and love it and pass it on to all their friends and family and then to tell me that I'm fantastic!
And yet, most of all, I want to remember that people are people. Not numbers. I want to remember that I'm a person, worthwhile and important regardless of how many people read my blog on a given day or follow me on Facebook or Tweet a link to a post. I want to create meaningful connections — for myself and for others. I want my blog to be about more than just "platform."
I have no perfect solutions. I still struggle, and there are still days when I judge my self-worth by comments or blog traffic. But there are also some things I've learned that seem to help me stay true to the kind of blogger that I really want to be.
Here they are: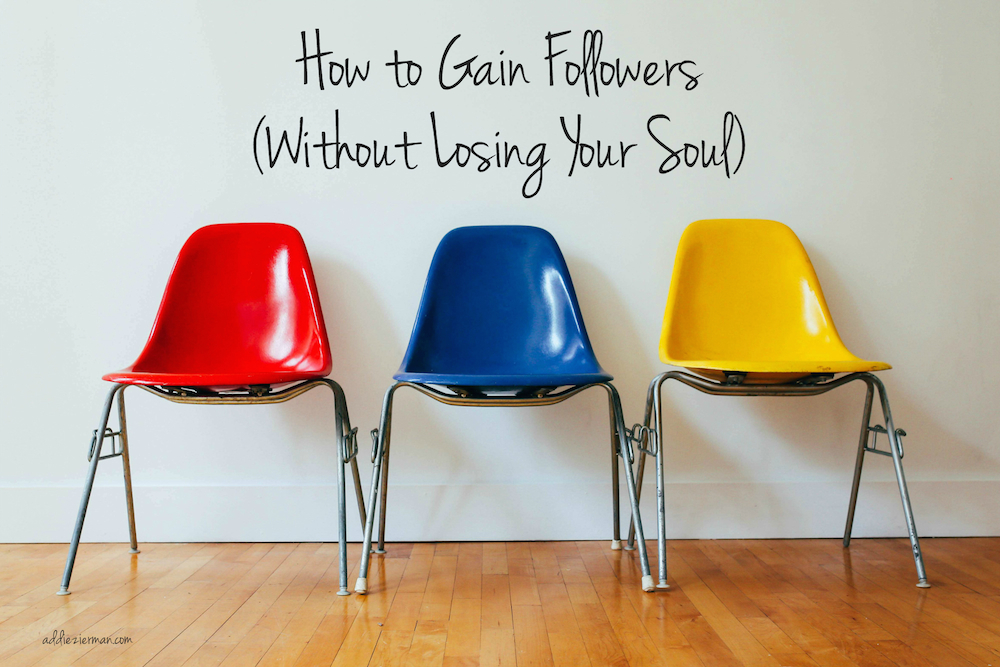 1. Make sure your content is valuable to your readers
We're all allowed a navel-gazing post every now and then, but for the most part, your readers are coming to your blog because they find something valuable there. It might be something tangible like a recipe, tutorial, or list…or it might be something a little more intangible: empathy, community, understanding, hope.
As you write your posts, ask yourself questions like these: What do I want a reader to take away from this post? What am I giving to them? How is the writing I'm doing about more than just myself? How might it connect to others? When what your giving is intangible (as my content mostly is), this can be harder to spot, but I think it has to do with vulnerability. With how much you're willing to let others into your own heart…and somehow a little deeper into theirs.
2. Resist the temptation to make people into anecdotes
In a world where we often get ahead at one another's expense, this is easy to do without even realizing you're doing it.
Assume that the person you've written about is going to read it. Because even if you think that there's no way in the world that they will ever read your blog, they will. They'll find it. (This happened to me once with a post, and I'm still not totally over it.)
This is not to say that you shouldn't ever write about anyone else. I don't think that's realistic or necessary. Only that as you write and edit, you must do so with great care, remembering that this is a person with feelings and fears and hopes and dreams. Hold their stories carefully; make room for complexity; resist the urge to turn them into a caricature to suit your post or your point.
3. Approach "hot-button issues" cautiously
For my own reasons, I tend to shy away from the major "hot button issues" on the internet. But I also recognize that there's value you in engaging these issues — questioning the way things are being done, sharing stories, crying out for change.
Sometimes it's tricky to find the line between being honest and being kind. Sometimes the truth is not kind. And the rotten truth of it is that hateful, mean, or blaming posts will get a lot of traffic because we flock to that sort of stuff. But when we write that way, I think that we lose a piece of our humanity.
Listen: if this is what you have to say, say it! But do so with understanding, honoring the complexity, respecting the person on the other side of the battle line, who is as human and as precious as you are.
A few things to think about as you post about "hot button" issues: Am I being reactionary? Am I being kind? Would I say this to this person if they were sitting across from me at a table?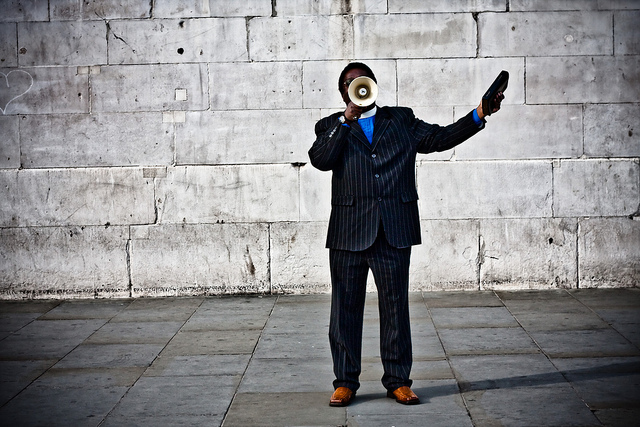 4. Make sure your posts are easy to share
Links to social media should be available at the end of every post, and links to connect to you on social media or via email should be easy to spot. I'm partial to having them at the top right of your screen. That's where I always check first.
My brilliant agent, Rachelle Gardner, often includes potential tweets at the end of her posts, so that if people want to share, they don't have to spend time coming up with something that communicates the heart of the post while staying inside the character limit. They can just copy and paste what's already there. Brilliant.
5. Include pin-able images when possible
I'm not great at this, but I'm trying to get better. It's very easy to modify an image to include a quote from your blog post or the title of your post, using free programs like PicMonkey or (my new favorite) Fotor. Pinterest has become sort of huge, and creating images that give a good idea of what your post is about might help bring some new traffic your way.
If you've had a blog for a while, but have never done this, it's not too late! Pinterest wasn't as big (or even existent? I can't remember) when I started my blog. But I try to go back into the archives once a week or so and change the image on one of my old posts to one that plays nice with Pinterest. Then I pin it to a correlating board. (I'll post more tips on using Pinterest tomorrow.)
6. Read and comments on lots of blogs — both in your niche and outside of it
This is one of the most important tips I can give you. Read, read, read. Comment, comment, comment.
Some blogs you'll just visit once or twice, and that's fine. Others will be ones that you'll want to keep up on. Comment regularly and cultivate a relationship with bloggers and with other commenters on their sites. Be genuine and kind. Ask questions. Tell them which parts of their blog post was most meaningful to you. Do the work to build these webs of friendships. They will be what sustain your blog, even as your other numbers ebb and flow.
Use a reader like BlogLovin or Feedly to make reading blogs easier. You can also subscribe to most of them via email — though you have to then click into the blog itself to comment. Make sure that when you find posts you like, you Tweet them or post them on Facebook.
The practice of reading lots of blogs will probably ebb and flow for you. Right now, my blog reading is kind of pitiful. I have very limited time as I work toward a deadline for Book 2, and I just can't read as much online writing as I used to. But once that project is off my plate, you can bet I'll get back to it.
Ideally, you should spend at least a half hour every day, reading and commenting on other peoples' blogs. It doesn't have to all be at once. Do you have five minutes while you're sitting in the parking lot, waiting to pick up your kid? Read and comment. Show up early for a movie? Read and comment. Chances are you're reading plenty on the Internet already — now just add the comments. (Again, remember our cardinal rule above: be kind.)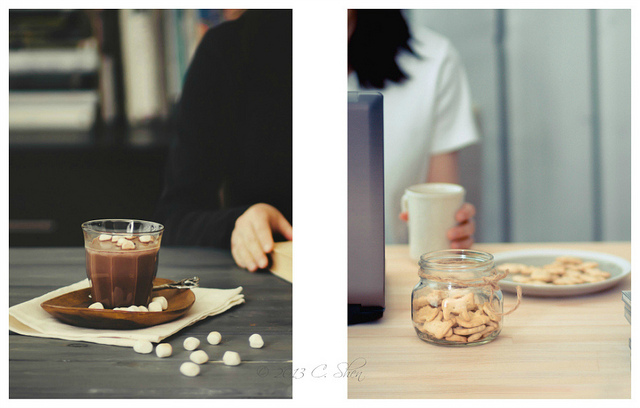 7. Write guest posts
As you begin to read and familiarize yourself with lots of blogs and websites, you'll get an idea of where your writing might fit. Make a list of those places, and spend a few months familiarizing yourself with those blogs and getting to know the bloggers.
When you're ready to begin guest posting, don't send general or form emails. Email each blogger personally. Tell him or her why you like they're blog and then suggest a couple of post ideas that you could contribute. We can tell if you've never read our blog, so don't pretend you have if you haven't.
Give the blogger a few weeks to respond, and then it's okay to send one more little nudge. "Hey there. Just wondering if you'd had a chance to think about this!" I know that my email box gets quickly out of control, and sometimes I need a little reminder to bring that post back to the top of my priority list.
8. Participate in blog link-ups, carnivals or syncroblogs
We already discussed this a bit in yesterday's sustainability post, but it bears repeating. Keep an eye on what community blogging opportunities that are going on…and take part! Not only does it give you a break from coming up with a topic, but it also helps you connect to other bloggers and connects them to you!
9. Use Social Media Intentionally
Social media is most definitely not my best thing. I know how I'd like to be on social media, but I haven't come up with a really good way to balance being present online and present in my own life. So, most often, I choose the latter.
Still, there are few shortcuts I've learned that I've found valuable. I use Buffer almost exclusively to tweet links to my blog posts. Buffer allows you to schedule your tweets and other social media posts ahead of time. I have mine scheduled to send tweets about five times a day, and whenever I publish a new post, I spend about ten minutes in the morning, filling up my Buffer with short variations about that post. That way, I can step away from my computer and still know that my blog is being publicized.
On the days when I don't have a post going up, I try to fill up my Buffer account, instead, with links to other peoples' posts. This way I can share the love without spending all day online.
I also have separate personal and public Facebook accounts. I write mostly about spirituality on blog, and I didn't want to annoy or antagonize my friends, family and colleagues who don't find that particularly interesting. Every now and then, I'll post something really important on my personal Facebook page (book publication news, etc.), but for the most part, all of my blog posts go directly to my public Facebook account.
There are bloggers (thinking of Glennon Melton Doyle, Jen Hatmaker, and my friend Leigh Kramer) who are GREAT at interacting with their readers on Facebook. They say quirky things, post funny pictures, make everybody laugh and like, like, like everything. I still haven't figured out how to do that. But I aspire to be! I'm also still trying to figure out a way to interact more personally on Twitter. I'm not very good at using it to deepen relationships or to enhance what I'm doing at the blog, and I'd like to get better than that.
I have no idea about Google+. So don't even ask me.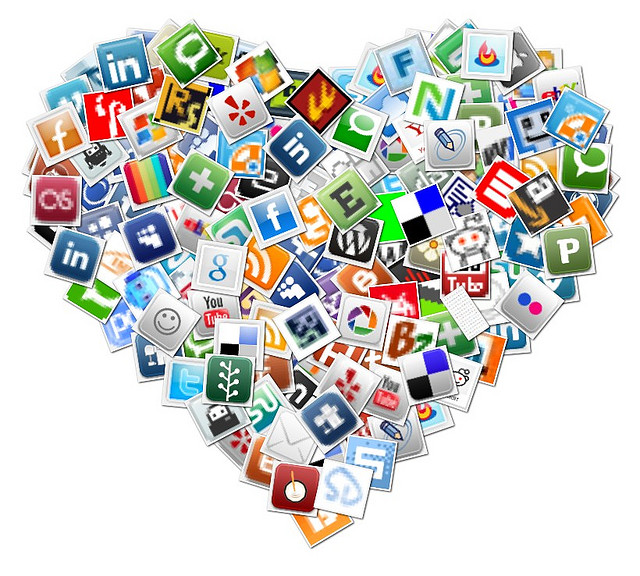 10. Avoid looking at your numbers
It is so easy to figure out how many people are reading your blog on a given day, a given week, a given month. It's easy to check a hundred times a day to see if the number has climbed at all, to see how today's post measures up to last week's, how your traffic measures up to someone else's.
I get it. When I reformatted and changed my blog from How to Talk Evangelical to the lovely new addiezierman site you see before you now, I lost all my Facebook Likes. It seems like a small thing, but there was a minute there when I felt like I lost my bearings. I didn't realize how much I'd been measuring my success by how many people had "liked" what I had to say. When a few months later, it happened again, and my one single viral post lost it's hundred thousand likes, it hit me again like a punch in the gut.
What I learned from this experience is that numbers are fickle. They can disappear in an instant, and the things that they measure are not the things that really matter. But when you get too caught up in checking stats and "likes" and "Retweets," you begin to feel twitchy and nervous and anxious. Let me tell you: it's toxic.
If you can, reconfigure your blog's dashboard so that your statistics don't appear right away, the second you click in. To see mine, I have to scroll way down to the bottom of the page, and believe it or not, having them out of sight helps me keep them a little more out of mind.
Once a month, give yourself permission to check your stats. Are there sites that have been sending traffic your way that you didn't know about? Thank the writer there. Which posts got the most shares and which got the least? Did your average increase or decrease since last month? Give yourself time to sit down with these numbers, to think about them, to make a plan and goals for this month…and then close it down. Let it go. You can't control it, so try not to let it control you.
What about you? What has been most helpful to you in cultivating readership? And how do you guard your soul?