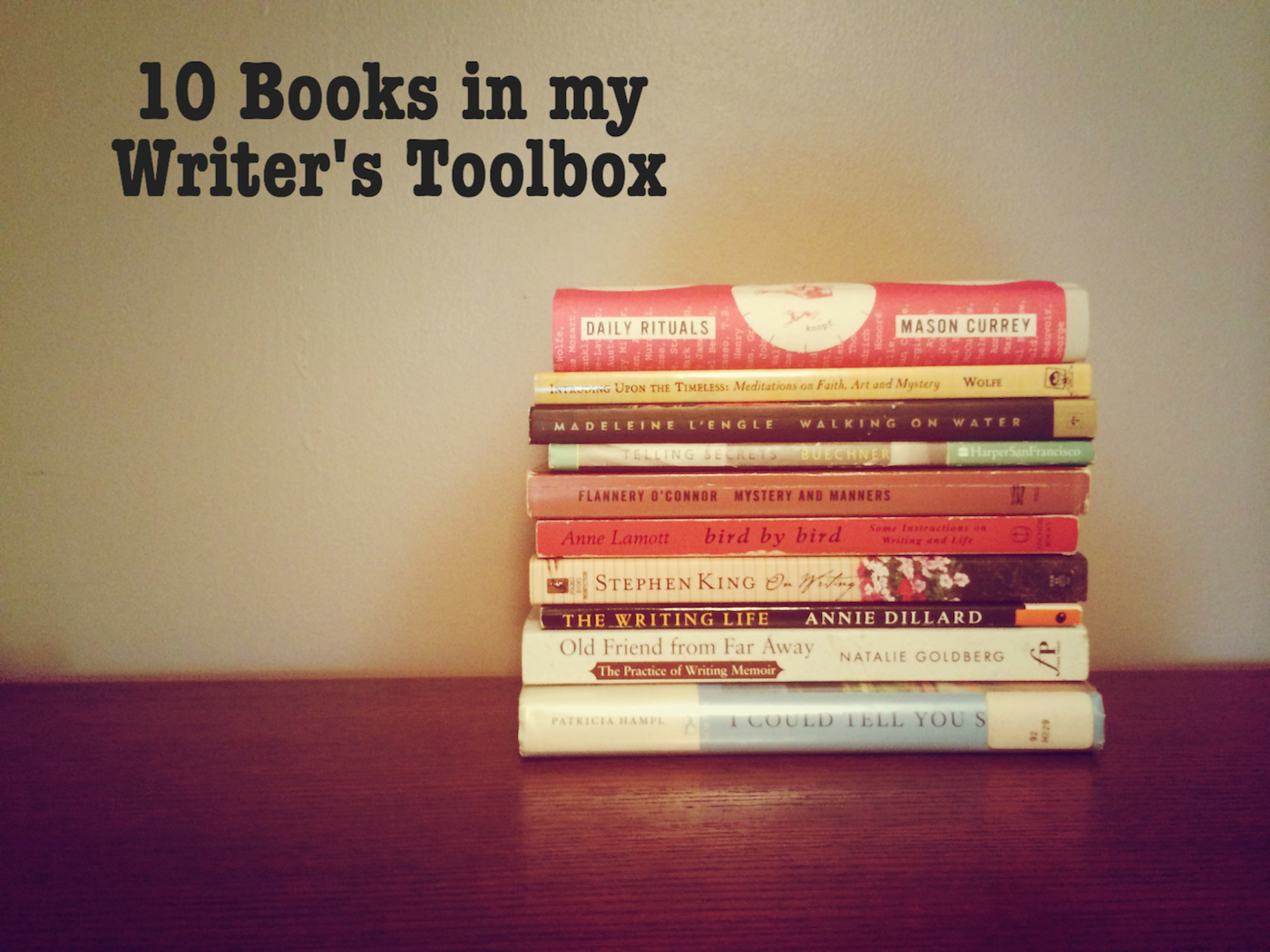 Because I spend a good deal of my time writing or thinking about writing or avoiding writing, it's only natural that I'd have a stack of books on the subject. I thought I'd take a minute to introduce you to some of my favorites.
There are lots of amazing books on writing out there, and the ones that are precious to me are influenced by the kind of work I do. Because I am a Christian, and because I am forever trying to figure out my faith, books that explore that strange and stunning intersection between faith and art are important to me. Because I'm interested in the careful mining my own memories and experiences in the form of memoir or creative nonfiction, a lot of my favorites explore the power and potential of that genre.
I Could Tell You Stories, Patricia Hampl
Whenever I start to second guess if memoir-writing is just a narcissistic, sanctimonious waste of time, I go back to this book. It's a defense of the important work of remembering and a call to make a pledge to history — both that of our own lives and of our nation, our time, our world. When I read this book, I remember what it is about memoir and creative nonfiction that drew me in the first place.
"To write one's life is to live it twice, and the second living is both spiritual and historical, for a memoir reaches deep within the personality as it seeks its narrative form and it also grasps the life-of-the-times as no political analysis can."
Telling Secrets, Frederick Buechner
Another book centered around the importance honesty and the vulnerable rendering of our stories, Buechner's Telling Secret moves the act of writing memoir from simply a literary worthwhile process to a spiritual act. By having the courage to tell our stories, we are in a sense, becoming part of the work of redemption that God is always doing in the broken world. I love this, and I think in some ways, it's why memoir writing and reading often feel like the truest form of devotion for me.
"The sad things that happened long ago will always remain part of who we are just as the glad and gracious things will too, but instead of being a burden of guilt, recrimination, and regret that make us constantly stumble as we go, even the saddest things can become, once we have made peace with them, a source of wisdom and strength for the journey…
"Another way of saying it, perhaps, is that memory makes it possible for us both to bless the past, even those parts of it that we have always felt cursed by, and also to be blessed by it."
Walking on Water: Reflections on Faith and Art, Madeline L'Engle
I was lucky enough to have a brilliant creative writing teacher, Judith Hougen, during my undergrad years, and she slowly but resolutely turned us from a bunch of would-be "Christian writers" to people who understand that "Christian" is not a modifier of writing but something that exists alongside it and within it, that writing is a way to God and God inhabits writing, and all of it is so much bigger than we thought.
Judy introduced me to this book by L'Engle, and I still go back to it regularly. From L'Engle I get a reminder that art is about mystery and wonder and playfulness, and that faith is too.
"In art we are once again able to do all the things we have forgotten; we are able to walk on water; we speak to the angels who call us; we move, unfettered among the stars.
We write, we make music, we draw pictures, because we are listening for meaning, feeling for healing. And during the writing of the story, or the painting, or the composing or singing or playing, we are returned to that open creativity which was ours when we were children. We cannot be mature artists if we have lost the ability to believe which we had as children. An artist at work is in a condition of complete and total faith."
Mystery and Manners, Flannery O'Connor
This book is another relic from my undergrad that continues to sustain my writing life. From O'Connor, I get permission to be honest and to write the ugly truth. (I think that she might be responsible, at least in part, for my insistence upon four-letter-words in my book.)
"The sorry religious novel comes about when the writer supposes that because of his belief, he is somehow dispensed from the obligation to penetrate concrete reality. He will think that the eyes of the Church or of the Bible or of his particular theology have already done the seeing for him, and that his business is to rearrange this essential vision into satisfying patterns, getting himself as little dirty in the process as possible…But the real novelist, the one with an instinct for what he is about, knows that he cannot approach the infinite directly, that he musct penetrate the natural human world as it is."
The Writing Life, Annie Dillard
I both love and fear Annie Dillard. She is so absolute and unwavering in her commitment to writing, so exacting with her words, so unforgiving of anything that might take your focus away from writing. Her writing process is not mine, and over the years, I've learned to understand that and take her wisdom for what it is: a particular kind of brilliance.
"A schedule defends from chaos and whim. It is a net for catching days. It is a scaffolding on which a worker can stand and labor with both hands at sections of time. A schedule is a mock-up of reason and order — willed, faked, and so brought into being; it is a peace and a haven set into the wreck of time; it is a lifeboat on which you find yourself, decades later, still living. Each day is the same, so you remember the series afterward as a blurred and powerful pattern."
On Writing: A Memoir of the Craft, Stephen King
If Annie Dillard's book is like a stern lecture in a formal hall, Stephen King's book is like sitting down next to someone wise and a little rambly at a pub. King's book is practical, focused less on the high-level art and theory of the thing and more on the grittiness of craft. Stephen King might write trade books rather than memoirs, but his advice on spinning a compelling story is unparalleled.
"I'm convinced that fear is at the root of most bad writing."
Intruding Upon the Timeless: Meditations on Art, Faith and Mystery, Gregory Wolfe
This one's new to my toolbox, but to me it feels like another important addition to the conversation on faith and art that is always spinning in my head and working itself out in my writing. This is a compilation of editors' notes from Image Journal, and the short essays challenge me toward excellence and cultural engagement and realign me with the redemptive work of God.
"The space Christ gives us to respond to him is similar to the space the artist must give to us to respond to his or her work. The artist and the mature person of faith know that we cannot simply reach into that mystery and appropriate it. The creative act is an act of reverence, an acth done in humility."
Old Friend from Far Away, Natalie Goldberg
This book is in some ways a kind of "sequel" to Goldberg's first famous book of writing prompts and advice, Writing Down the Bones. I love that one too…but this one is centered on memoir writing itself, and the prompts offer hundreds of different avenues to get at your memories. I use this when I'm feeling stuck.
"You crack open sentences, like egg shells letting the bright yellow, the clear white, in all its unorderliness, fall out. Memoir is about breaking structure, slashing through thoughts and the old way things were held. Know that the subject in the right place might be cumbersome, that the object might carry the true heart. Scramble up your language."
There is no one who speaks about the writing process with quite the wry, self-effacing grace of Anne Lamott. She is honest in a way few of us are honest, and she makes us laugh as she does it, and suddenly the whole thing doesn't seem quite that weighty and terrible and hard.
"If you continue to write, you are probably going to have to deal with [jealousy], because some wonderful, dazzling successes are going to happen for some of the most awful, angry, undeserving writers you know — people who are, in other words, not you."
Daily Rituals: How Artists Work by Mason Currey
A month or so ago, there was a big kerfuffle on the Internet when Donald Miller, a Christian writer and blogger, suggested that the only way to get a book written was to go away to a cabin for a week and write alone. "If you've got a book brewing, rent a cabin. I know you have kids and a job and can't afford the luxury and I'm sorry if that's true because the reality is it probably isn't true."
I don't think that he meant it to, but the post struck a (dissonant) chord with quite a few writers, most of whom wrote respectful but contradictory comments on the post. I imagine it hit us the way it did because I don't know a writer in the whole world who wouldn't sell a body organ for a solid week (or month) of alone time to write. And yet, for many of us, it's just not a possibility. And that doesn't mean we can't write a book.
I haven't finished Daily Rituals, but I love it and know, already, that it will be on a solid rotation in my Writer's Toolkit. In this book, Currey compiles the working habits of creatives all across history, from Kafka to Kant, Wodehouse to Warhol, Austen to Angelou. And the truth is? There is no one true way to write a book. There are a million different rituals and routines, a fair amount of wriggling and procrastinating, and entirely too much caffeine and booze. This book reminds me that writing is hard for everyone, and that really, a few hours of focused concentration a day is all you need — whenever and however you make that happen.
"All those I think who have lived as literary men, — working daily as literary labourers — will agree with me that three hours a day will produce as much as a man ought to write."
~ Anthony Trollope
"When the great lady has an inspiration, she writes quickly, for about fifteen minutes. But often she just sits there, looking at cows and not turning a wheel."
~ Flanner, Thurber and Ross on the writing process of Gertrude Stein
What about you? What books do you keep on hand when you're writing? Or if you're not a writer, which one's challenge you in your chosen craft, calling or profession?