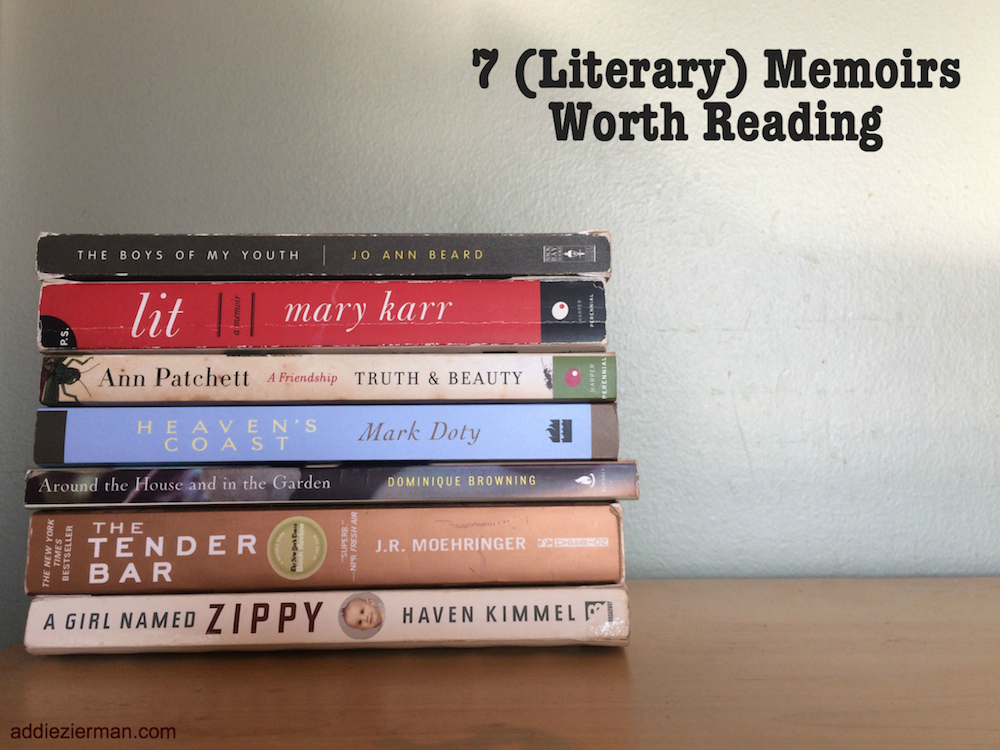 I am a sucker for a good memoir. Creative nonfiction of any kind really. I think that there's something very compelling about writers who are willing to look into their own lives, with all of its pain and failures, joys and quirks, and put it on the page without the protective coating of fiction. There is something beautiful to me in this idea that our memories have things to say to us, truths to teach us, things to reveal if only we will pay attention to them.
I'm not an expert on the genre, but to me, what nudges a book into that vague literary memoir category is a writer's ability to use language to dive through a very ordinary moment of his or her own, average life and touch some core truth about being alive in this world. Obviously there are some overlaps between the literary memoir and other types of memoirs — faith memoirs, for example. But since I've written about faith memoirs before, I stayed more on the strictly literary side this time around.
You don't read literary memoirs because something extraordinary happened to the writer or because the writer is someone famous and fabulous. You read them because, at their heart, they're about you too. This is not an exhaustive list by any stretch, but these are some of the books that give me that crush of understanding, some of the ones I go back to again and again for their language, beauty, structure and art. Some of the ones I love best of all.
The Boys of My Youth, Jo Ann Beard
This is a book of essays – about growing up, mostly, but also about friendship, love and loss. Simple things. And endlessly complicated things. Jo Ann Beard is an expert at pacing and structure. There is no other writer who can make me laugh in one sentence, and in the very next one, make me exhale with the profound weight of the words. Each of the short essays in her book is its own beautiful whole, but strung together, the whole thing glitters. Her essay The Fourth State of Matter changed the way I write, and the book as a whole showed me the endless possibilities of this weird little genre called creative nonfiction. I read this book at least once every couple of years.
"In the porchlight the trees shiver, the squirrels turn over in their sleep. The Milky Way is a long smear on the sky, like something erased on a chalkboard. Over the neighbors house, Mars flashes white, then red, then white again. Jupiter is hidden among the anonymous blinks and glitterings. It has a moon with sulfur-spewing volcanoes and a beautiful name: Io. I learned it at work, from the group of men who surround me there. Space physicist, guys who spend days on end with their heads poked through the fabric of the sky, listening to the sounds of the universe. Guys whose own lives are ticking like alarm clocks getting ready to go off, although none of us is aware of it yet."
If you don't love Mary Karr's memoirs, I don't understand you. (But I still love you.) I've read all three (The Liar's Club, Cherry and Lit) multiple times, but if I had to pick a favorite, I'd have to say Lit. I love Mary Karr for her language most of all – the gritty Texas edge of it, the way she puts words together, the metaphors sudden and striking as lightning – there and then gone – the pace moving, moving, moving, dragging you toward the next sentence. Where Liar's Club explores her childhood and Cherry her tumultuous coming-of-age, Lit is the story of Karr's early adulthood, her descent into alcoholism, a marriage, a loss of marriage, a son. And finally, a shaky first step toward faith.
"On the morning Mother's yellow station wagon deposited me at a dorm and pulled away from the curb, I was seventeen, thin and malleable as a coat hanger wire, and Mother was the silky shadow stitched to my feet that I nonetheless believed I could outrun. I didn't cry when she pulled away, for there were cute hippie boys playing guitar cross-legged on the lawn, but my throat had a cold stone lodged in it. I was thirsty."
Truth & Beauty: Friendship, Ann Patchett
This is the story of a friendship between two writers – Ann Patchett (novelist extraordinaire) and Lucy Grealy, whose memoir Autobiography of a Face, explores the loss of part of her jaw due to childhood cancer. After Grealy's death, Patchett wrote this memoir of their complex, beautiful, difficult, happy, sad twenty-year-friendship. Ann Patchett is a genius with language in all of her novels, but I love the stark honesty of this memoir in particular. In describing her friendship with Grealy, she's saying something profound about the ways our friendships thrive and wane, the way we save and fail each other.
 "Iowa in the eighties was never going to be Paris in the twenties, but we gave it our best shot."
Heaven's Coast: A Memoir, Mark Doty
I came across this stunning memoir in grad school, written by a gay man who lost his partner to the AIDS epidemic. Doty is a poet, and his book is elegant, lyrical, haunting, sad, beautiful. The first time I read it, I inhaled it. Then I turned around and read it again. Studied it. I took out a big piece of paper and tried to map what he was doing with structure, because whatever it was seemed so perfectly suited to the content, so necessary to the journey of love, loss and grief. Stunning.
"I didn't think of the house finches again until this new pair showed up in the roses, spring incarnate, pulses of desire and intention. How little they'd weigh if you could hold one, and how utterly intent they are on their purpose, possessed by their own green and burgeoning industry: to build, to nest, to rear. We further the world, small as we are, little handfuls of feathers and heartbeat; we make it go on."
The Tender Bar, J.R. Moehringer
I've mentioned this book on the blog before, and I'm finding that people either want to marry this book…or they're kind of meh about it. A friend in my writing group looked at me tentatively after I recommended it to her and said, "I'm about halfway through The Tender Bar. Does it get…better?" Which surprised me, since I loved it immediately and passionately from the very first sentence.
Again, it's mostly the language that does me in with The Tender Bar, but also, I love the story of it. A fatherless boy who finds himself, surprisingly, fathered by a strange and sordid cast of characters from the neighborhood bar. Moehringer writes about Jersey and I feel like I'm there, at the bar, and when he writes about the men who became an unorthodox kind of family, I feel a kind of hope about the world. That all of us in our imperfect, addicted, broken weirdness can still somehow take care of one another.
"Long before it legally served me, the bar saved me. It restored my faith when I was a boy, tended me as a teenager, and when I was a young man the bar embraced me. While I fear that we're drawn to what abandons us, and to what seems most likely to abandon us, in the end I believe we're defined by what embraces us. Naturally I embraced the bar right back, until one night the bar turned me away, and in that final abandonment the bar saved my life."
Around the House and in the Garden: A Memoir of Heartbreak, Healing, and Home Improvement, Dominique Browning
In this memoir, former House and Garden magazine editor, Dominique Browning walks through the recovery of her divorce room by room, one empty space at a time, slowly renovating her idea of home and self. It's a little more journalistic than some of the other memoirs on this list (Browning, after all, made her living in the magazine world), but I love this book for its sparseness and its structure and for the way that Browning so deftly roots her emotional healing in the familiar fixtures of home: rooms, closets, furniture, flowers. Also, her description of the moment she realized that her marriage was doomed is one of the best I've ever read. A great read for anyone in the process of rebuilding their sense of self.
 "I watched a candle sputter, and just as I became conscious that the flame was burning too far into the crystal candlestick, there was a slow, violent, cracking sound, and the hunk of gorgeous old glass split in two. The candlestick had been a wedding present from my father. The conversation was stilled by the geological drama of the moment. I stood to pick up the pieces, feeling myself move heavily with the weight of a sadness I had finally acknowledged."
A Girl Named Zippy, Haven Kimmel
I kept going back and forth as to whether I should include this book or Kimmel's second memoir, She Got Up Off the Couch, here. Both are funny, compelling, rooted in small-town Moorland, Indiana and in the small webs of relationships that define your early life: parents. Friends. Neighbors. While Kimmel doesn't take the daring leaps into the depths of vulnerability that I like to see memoirists take, she is seamless in the way she captures her young life and the humor with which she does it. I find this extremely hard to do (I perhaps tend to be a little too steeped in vulnerability and self-exploration in my writing), and it doesn't surprise me that her books have become bestsellers.
"Somehow my first wig and my first really excellent pair of slippers arrived simultaneously.
"Now my hair, my actual human hair which grows out of my head, was slow in coming. I was bald until I was nearly three. My head was also strangely crooked, and it happened that the little patches of wispy bird hair I did have grew only in the dents. Also my eyes were excessively large and decidedly close together. When my mother first saw me in the hospital she looked up with tears in her eyes and said to my father, 'I'll love her and protect her anyway.'"
What about you? What are your favorite memoirs? (200,000 bonus points if you say mine.)