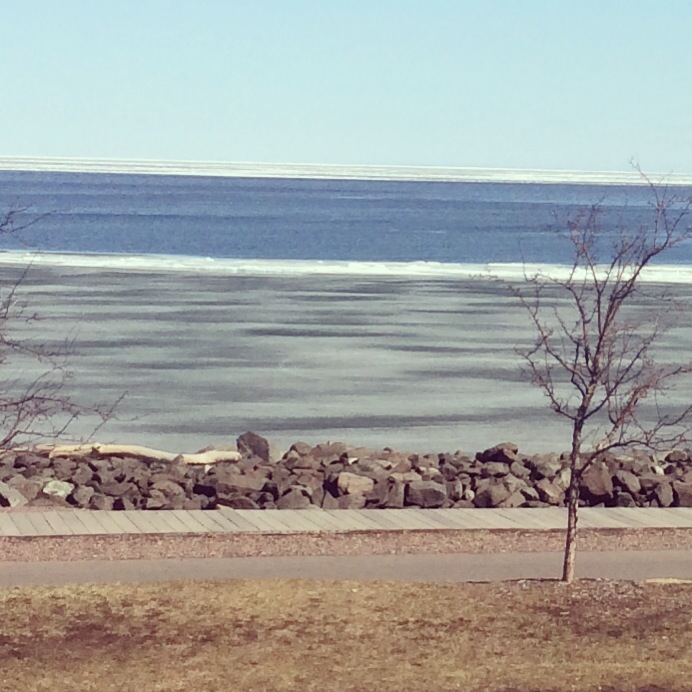 I've been working in fits and starts on the elusive, unnamed thing that is Book 2 since the beginning of the year. The book deal I signed last April with Convergent Books was a two-book deal, and that second effort has never been far from my mind since. What comes next? What story do you write after you've written your whole life's faith journey?
It's a question I've been asking myself and working around. I wrote and rewrote four or five chapters and then got stuck in a pit of writing despair and an unexpected recurrence of Depression. I took a couple of weeks off, went to the Festival of Faith and Writing, got inspired, and took myself on a Duluth writing retreat to really get down to it.
In Duluth, staring out at that half-froze lake, I made a terrifying realization: all 12,000 words that I had written were going to have to go.
I was going to have to start entirely over.
Over the past weeks, I've spent lots of time in our local coffee shop/wine bar sipping either dark roast or house cabernet, feeling my way s-l-o-w-l-y into the new incarnation of this project. I wake up thinking about the book and fall asleep jotting things down. It's been difficult, scary, and fairly all-consuming. (It's the reason I have been around my blog less and have been so slow at answering emails. If I owe you one, sorry!)
I've been meaning to blog about this difficult process for a while, so when my friend Isaac Baker invited me to take part in the #mywritingprocess blog hop, it seemed like perfect timing. Isaac's brand new novel, Broken Bones, came out a couple of months ago, and it's brilliant. (I talked a little more about it in this post here.) He also knows all sorts of things about wine and writes extensively about it at his blog. (I was a little embarrassed to be drinking two-buck chuck when we skyped a couple of weeks ago about our books.) You can check out his blog here, or buy his book here!
The blog hop invites writers to answer four specific questions about writing process, so I'll use those to tell you a little bit about what's been going on over here.
What am I working on?
Book 2. Book 2. I'm not really ready to talk about "what it's about" yet in a public forum, and if you ask me in person, I'll probably babble a lot, and the whole thing will come out more like a question than a decisive, marketing-friendly, elevator-pitch.
There are writers who know what they're going to say before they write it, and then there are writers like me, who have to maybe write 12,000 words of garbage before they get some spark of direction toward the real work at hand.
This is where I'm at…following this tiny spark, one difficult sentence at a time, trying to find the heart of this new book.
How does my work differ from others of its genre?
I don't know what genre my work falls into, really. I would call it memoir, but at Barnes and Noble, it's shelved under Christianity (or Christian Inspiration…I can't remember.)
I suppose my work is different in that both of these genres are so vitally important to what I'm trying to accomplish. While I'm writing, I read almost exclusively literary memoirs because I want my book's structure and language to carry the kind of richness I find there. And yet, because my life has been so steeped in the Christian culture, and because I continue to seek Truth and Light in the Christian Gospel, I cannot divorce my work from the "Christian" genre either – as much as I sometimes want to.
I hope this thing that makes my work confounding, in some ways, to the publishing industry is what makes it memorable and beautiful in its own particular way.
Why do I write what I do?
I have long loved the creative nonfiction genre for its ability to open our eyes to the small moments of meaning that we might have overlooked the first time we lived them. As I sort through my own past in this really specific and intentional way, I find so much depth and connection.
Not that it's not scary – terrifying actually – to lay the Truth of your heart and your life out there for others to judge, dismiss and berate. (An offhanded comment about the content of my book from someone anonymous and unkind has the power to put me in a funk for days.) And yet, I've also found that there is something extremely powerful about this kind of vulnerability. It seems to give others permission to tell their own stories, and I find, more often than not, the same shared struggles hide behind so many of our surface experiences.
I hope that my work in the creative nonfiction genre taps into those deep wells of pain, beauty and memory and gets at something profound and true.
How does your writing process work?
I used to write early in the mornings. I prided myself on this, on my dedication, on my four-in-the-morning wake-ups. And then Liam started waking up when I did. Or earlier. Or ten minutes after.
Let me tell you something: It's really pretty pointless to get up at four to write when your kid is going to be up at five. By the time you get the coffee and get your eyes to open up to the point where you can actually see the computer screen, you've got company.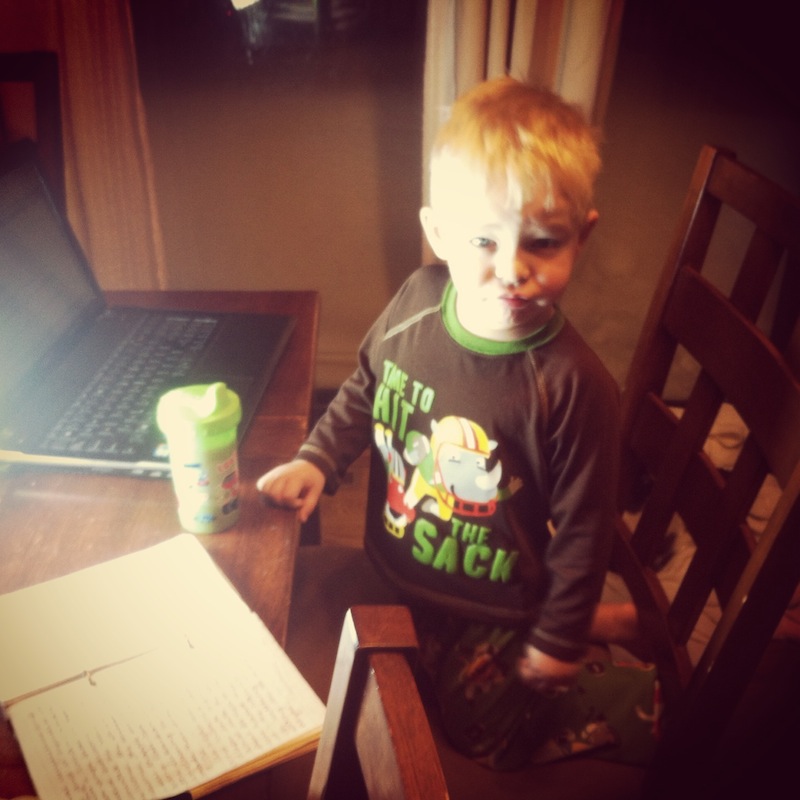 What I learned from all of this is that as a Mom of young kids and a writer, I have to embrace a writing process that is flexible. I can't be finicky about where/when/with whom I write. I have to do it whenever I can.
Lately, I've been hiring a babysitter a couple of mornings a week, and my husband has been stepping up in the late afternoons when he's done with work. But I also write at the playground and as I sit on the driveway, watching them ride their bikes. I keep my notebook and pen with me always – if not always to write pages of paragraphs, at least to jot down an idea here and there that I can explore more fully when I have the time.
When I actually sit down at the computer, I do my work in Scrivener. One of my writing group pals introduced me to this software a few months ago, and it has made a huge difference for me in figuring out the structure and content of my book. Among other features (most of which I haven't figured out yet), Scrivener provides an easy way to look at the whole of your work, either as an outline or a "bulletin board."
As a writer with no office and kids in my stuff all the time, having this stuff built right into my word processing tool has made a huge difference. I write at my kitchen table and have no room to pin up a huge corkboard filled with notecards. It was by using this software that I figured out that I had to trash the first several chapters in order to create the "whole" that I was after. (I'll tell you more about all that later. I'm planning to do a more in-depth post on how I use Scrivener later this summer, but in the meantime, you can get a free trial here.)
The hardest part for me about the writing process, for me, is to sit in that coffee shop, knowing that the time I have with the babysitter is limited, and to have the sentences come so slowly.
I want to be productive. I want to get stuff done. But the process is often so dawdling, so unconcerned with my schedule. The inspiration comes when I force myself to sit down and do the work, but rarely does it appear as a giant whoosh of awesomeness, the words coming so fast that my fingers can't catch up.
Most of the time, it's one hard paragraph at a time, slowly, slowly building into something new. Which, if you think about it, is kind of how faith works too.
*
So that's me! Next up on the blog hop are a couple of great writers that you may not know about:
First, I'd introduce one of my favorite writing group members and friends, Andrew Blissenbach, but he does such a better job at it than me. He says:
Greetings and salutations! I'd offer you something to drink, but I've found that transferring liquids over the internet might lead to data loss and/or electrocution. My name is Andrew Blissenbach, aka MANDREW, and this blog is dedicated to my search for a masculine identity in our modern era.

What is a man? What roles should he inhabit? Why is it so difficult to define masculinity? Is a man a rebel, a conformist, a provider, a supporter? Is he all of these things?

I'll do my best to explore these questions and their deeper subjects in various forms of creative nonfiction (CNF), ranging from personal essay to memoir, literary journalism to biography, travel writing to experimental pieces.

Most of my CNF will inhabit more than one form as I investigate a variety of topics that apply to the modern man: long hair, the birth of a child, authority, bacon, cellphones, diva wide receivers, shaving, roadkill, scars, rated R movies, bench pressing, grindcore music, spitting, fears, hunting, swords, and much, much, much (x 1,000,000) more. Sometimes, masculine identity will be the central and driving narrative theme; at other times, it will be a bit player.
If you need more, there's this: Andrew Blissenbach received his BA in English and Political Science from the University of Minnesota-Morris and his MFA in Creative Writing from Hamline University. He lives in Minneapolis, MN with his wife, daughter, greyhound, and bearded dragon. He enjoys lifting heavy objects, pulverizing drum kits, and writing about himself in the third person. You can find his mantastic blog here.
Kim Van Brunt was my first blog-friend turned in-real-life friend in Minnesota. She lives about an hour-and-a-half away from me, but we don't let that stop us – we try to get together every couple of months for dinner. This April, we car-pooled and roomed together at the Festival of Faith and Writing and she got to know me better than she maybe ever wanted to.
Kim is an adoptive mama and writer, holding up her broken pieces to the Light where everything can be made beautiful. She has four littles at home, including two born in Uganda, and is working on a book or two. For more, follow her blog at www.kimvanbrunt.com, on Facebook at www.facebook.com/kimvanbrunt, and on Twitter @kimvanbrunt.