I started the One Small Change series almost a year ago because social justice is one of those things that I feel passionate about in a sort of wispy, idealistic way.
I started it because I saw the world is cracked through with poverty, injustice, hate and cruelty and it made me feel powerless. There are 276 stolen school girls in Nigeria, and that's just one of a million problems beyond my scope or resources that makes me feel overwhelmed. I want to be a person who intentionally orders her everyday life toward others.
I want the things I buy and use and consume to connect me to these realities rather than to insulate me from them.

In an ideal world, every item of clothing I owned would be carefully considered and good for the one who made it. I'd use eco-friendly cleaning products and healthy-for-you, homemade sunscreen. My toy box would not have sixty-five million McDonalds Happy Meal toys in it.
And yet. I'm raising small kids and trying to write a book and that means a lot of frozen Jack's pizza and bulk corn dogs from Walmart instead of fresh food from local farmers that I prepare lovingly in my kitchen.
Even though I know that there is great freedom in just putting it back, sometimes I handle my stress by buying stuff I don't need. I fall prey to the pretty clothing racks at Target and end up with a brand new shirt-dress and another tote bag that was made in some factory that I can't visualize and don't want to.
I still buy Clorox bathroom cleaner instead of the good-for-the-earth kind, because I have one boy who's potty training and one who's aim is, frankly, not awesome, and sometimes, I just need the brain-cell-killing, nostril burning, chemical scent of CLEAN.
Over the past year, I've hosted more than thirty amazing writers with fantastic ideas about small changes to implement. I've read each one, nodded along, noted in my heart where and how I can integrate these things…and so many times, I haven't done it.
I've been meaning to rid our house of paper napkins since I read Micha Boyett's amazing post on cloth ones. And even though the issue of child slave labor makes me insane, I still haven't been able to make the financial leap to fair-trade chocolate chips.
I am such a work in progress. Sometimes I don't even feel like I'm in progress. I feel like I'm moving backwards.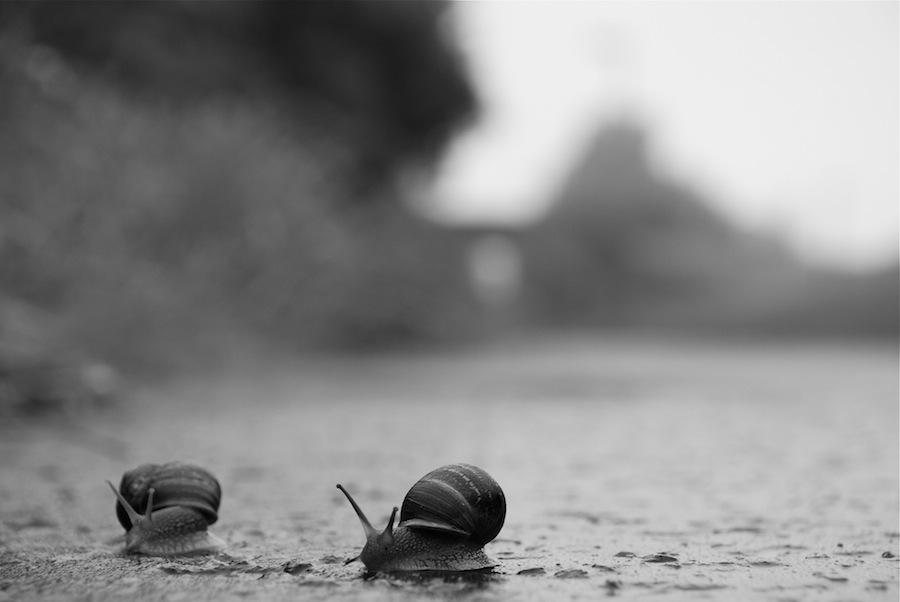 This year has been a strange mix of feeling empowered, while at the same time, recognizing my inadequacy to make even the smallest changes by myself. And yet, here, always here, is where I find myself amazed by grace, His power made perfect in my weakness.
During this series, my victories have been few and my failures legion. But I find that the words and changes of others have begun to orient my heart toward these small moments of justice.
The other day, the Write a Letter card came along with our update on the child we sponsor, and for the first time in the decade we've been sending money, I sat down and wrote that letter. I don't know what's kept me from it all years: the gap between his life and mine, that strange dynamic of sponsor-child that makes me feel uncomfortable with my American privilege. Time. Busyness. All of these things forming a barrier to connection that I haven't been able to cross.
But something changed this month, and I sat down at the table for ten minutes with a pen and wrote.
It felt humbling, to do it after all this time. To say, Listen, I've done a poor job of keeping in touch with you. But I want to do better. And it occurred to me as I stuffed a couple of pictures of our family into the envelope along with my letter, that this is what I was trying to get at all along with this series. I was trying to find the courage to stand in the uncomfortable tension between my own privilege and the world's need. And one small change at a time, I'm figuring out what that looks like.
It's hard and beautiful and worth every failure, every success, every moment of honest prayer and humility.
*
Thank you for following along with this series and contributing your insights and wisdom. I plan to continue exploring these things on the blog, though less intensively as we have this year. You can also follow my One Small Change board on Pinterest, which I hope to keep updating as I find and explore new ideas.
I'm including here the list of every One Small Change post in the series. Take a minute and read a few if you missed them. And then let me know in the comments – are there any that stuck out to you? What changes have you made in your journey toward social justice this year?