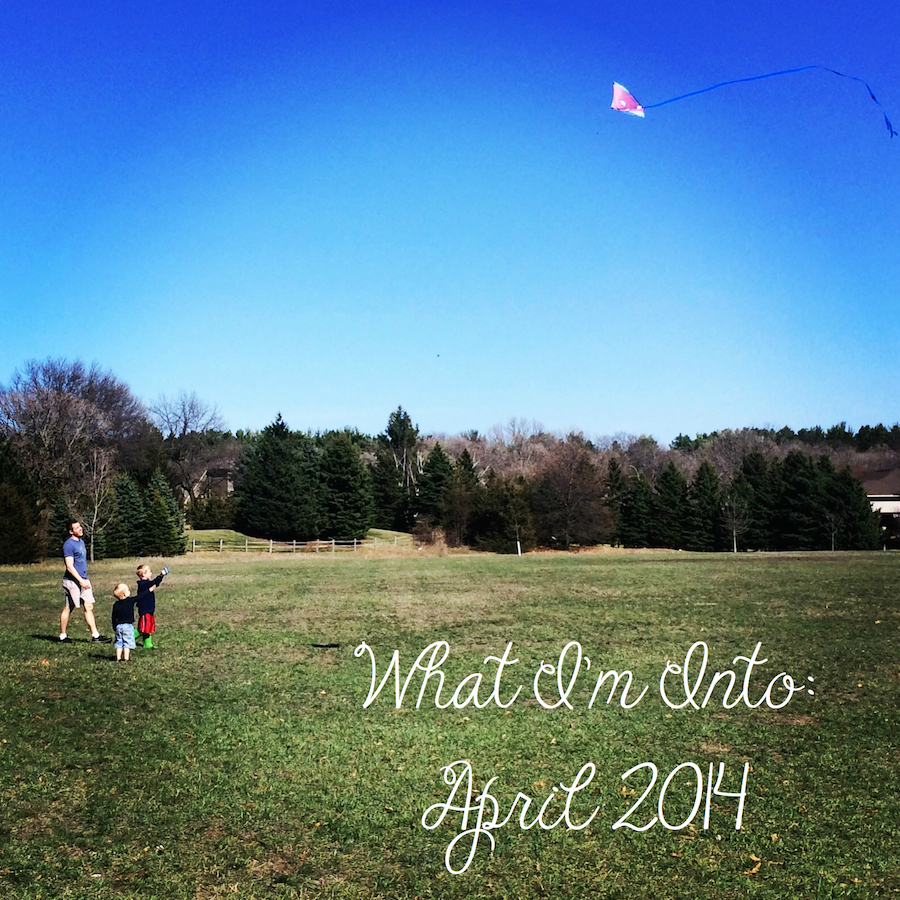 April, man. It's been a weird month. It always feels like April should mean spring, but in Minnesota, it's sort of hit or miss. A little spring. A lot still winterish. It's not awesome.
What can I say about April? I told you already about the resurgence of Depression. Even though I caught it right at the beginning of the month and got help, it's sort of colored the whole thing gray. Kind of like that one unexpected snowstorm makes you forget all the gift days. The sunshine days. The days when it feels like spring.
April's been a little bit like that. Which is why I'm so thankful, this month especially, for this little blog link-up that Leigh Kramer curates. It's a small way for me to take stock of all the beauty and goodness, to cultivate a thankful heart, to remember.
What I've Been Reading:
A couple of years ago, Sarah Bessey invited her readers to participate in a lovely little last-minute synchroblog based on a question from Barbara Brown Taylor's Leaving Church: "What is saving your life right now?"
I think about this question often, especially when life feels hard, as it has this month.  And this April? It's books that have been saving my life.

I've been reading slowly this month — letting myself be moved by words. Letting myself take as much time as I want. Re-reading things again and again.
My friend Isaac Baker published his much anticipated first novel Broken Bones this month, and I was lucky enough to read a copy. It's a beautiful book narrated by a male inmate at an eating disorder ward. It's a story about the ways that the world breaks us…and the surprising ways we learn to recover.
Isaac's book, though largely autobiographical, was written as fiction. We had a great conversation about all of this via Skype: fact and fiction, memoir and novel. Why choose one over the other? Sometimes I wonder: why didn't I give my story to some fictional character? Let her tell it for me? Certainly it would have offered a hedge of protection that telling it from my particular point of view could not afford. It's not a question I've settled in my mind, except to say that I think there's something about memoir that makes me keep coming back to it.
Anyway, whatever the genre, Isaac's book was moving and insightful and exactly what I needed in this month when I found myself so trapped in the constrictions of my own failures. Worth a thoughtful read.
Also this month I've been reading Gregory Wolfe's brilliant book of essays, Intruding Upon the Timeless — which is a collection of the editors' notes from a couple decades' worth of Image journals. It's so beautiful, and it's been a gift every morning to be able to re-immerse myself in everything I love about being a writer at that strange intersection of art and faith.
I'm re-reading Lit, because Mary Karr's memoir writing, more than anyone else's, inspires me to be honest with my life and inventive with my language. I've also been trying to little poetry every day (because National Poetry Month). I started out with Karr's Sinner's Welcome and am finishing up the month with a beautiful collection sent to me by my one of my dearest friends: A Book of Luminous Things. Isn't that the best title ever?

Don't be deceived into thinking I'm ultra literary though. I also read the first brand new Veronica Mars novel this month — which I bought full price at Barnes and Noble since I am a die-hard-Vernoica-fan. (It was excellent. Between Rob Thomas' narrative awesomeness and the talent of the MFA-holder they brought on to co-author the book, the novel captured the tone, feel and voice of the show that I'll always love. I can't wait for the next book.)
It was also finally my turn for the first book in the Divergent trilogy form the library. The book was a little anticlimactic after seeing the movie, but I still wanted to read it so that I could get the full impact of the next two. I'm so not too good for a little dystopian YA lit every now and again.
I also had a chance to read a couple of great new books coming out from my friends: Preston Yancey's Tables in the Wilderness, Ed Cyzewski's Christian Survival Guide, and Nish Weiseth's Speak. Good stuff.
What I've Been Listening To
I'm in a musical rut, you guys. It's not summer-y enough for me to switch to country music for the season, and the Greg Laswell Pandora station is starting to get a little repetitive. (My friend Don says it's because I need to prune my Pandora stations, using the "thumbs up" and "thumbs down" features extensively to create a vibe of pure and total excellence. But I'm too lazy to do that.)
So I need some suggestions. I tend toward mellow and acoustic stuff with really beautiful lyrics…especially while I'm writing. What should I be listening to?
What I've Been Watching
It's finally happened. I quit the CW.
I don't really know how it happened. My long-time fave Vampire Diaries started getting a little convoluted and frustrating, so I let myself get behind on the episodes…and then I just never made the time to catch up. I'd been watching Reign, but after watching the original Game of Thrones, I couldn't take knock-off, tamped down version anymore. And Hart of Dixie lost its steam for me when (spoiler alert) Wade and Zoe broke up and started seeing other people. I was in it for Wade. It only took me 30 years, but I'm CW free!
My list of shows has shrunk a bit this month. Following Gray's, Nashville, Parenthood and Scandal. And Brooklyn Nine-Nine with Andrew. I'm still working through The Good Wife, but I'm losing interest a little bit there too. I blame People Magazine and last month's terrible front-cover spoiler. 
Other Things I've Been Loving:
– Even though the weather has been less-than-ideal here, all the snow did finally melt. Puddle-jumping on that first, warm spring day was a definite highlight, as is starting to see a little bit of green out the window.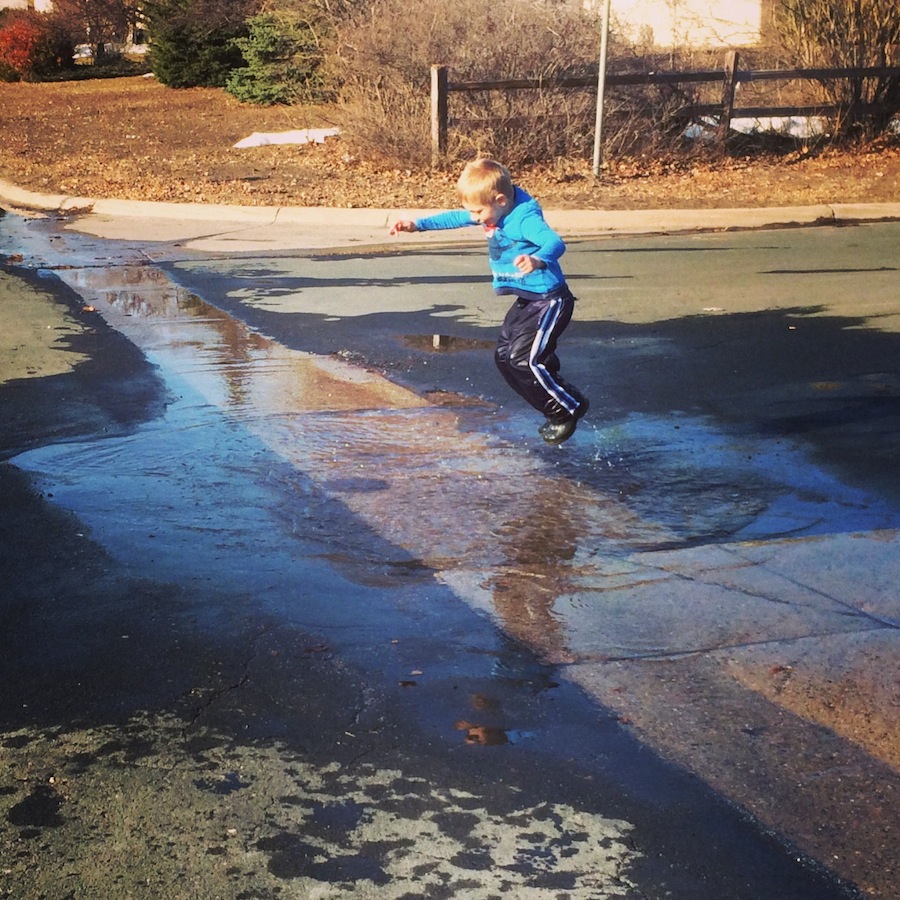 – My all-time favorite conference, the Festival of Faith and Writing, happened this month in Grand Rapids, Michigan. It's only every other year, so I always try to make a point to go.

– I got to drive and room with two of my favorites — Leigh Kramer and Kim Van Brunt — and to see countless others who I've connected with over the years of blogging and writing. I couldn't believe how many people I knew and how wonderful it felt to connect with everyone. (I also can't believe how few pictures I took. I stole most of these from other people.)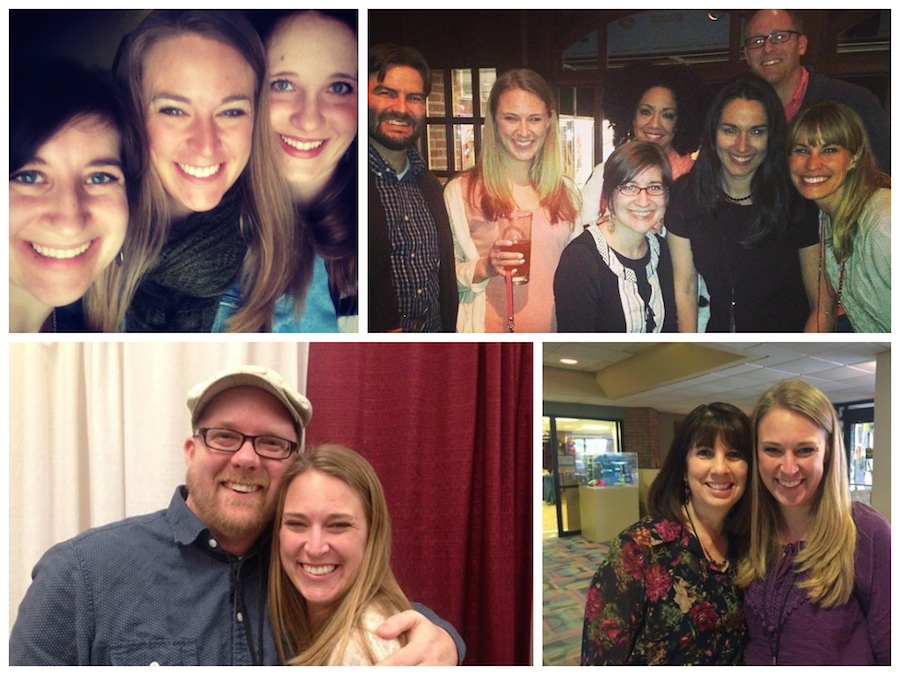 (From the top, clockwise: Leigh Kramer, Me and Kim Van Brunt, Deeper Story writers, Me with Thom Caraway (from Rock & Sling) and Me with the fabulous Carolyn McCready)
– I also got put on a last-minute panel at the Festival about whether it's worth it to get an MFA. I felt like kind of a poser, but that didn't stop me from wearing my Presenter name tag with pride. Plus, I've realized my life-long dream of having my name in the beautiful Festival guide.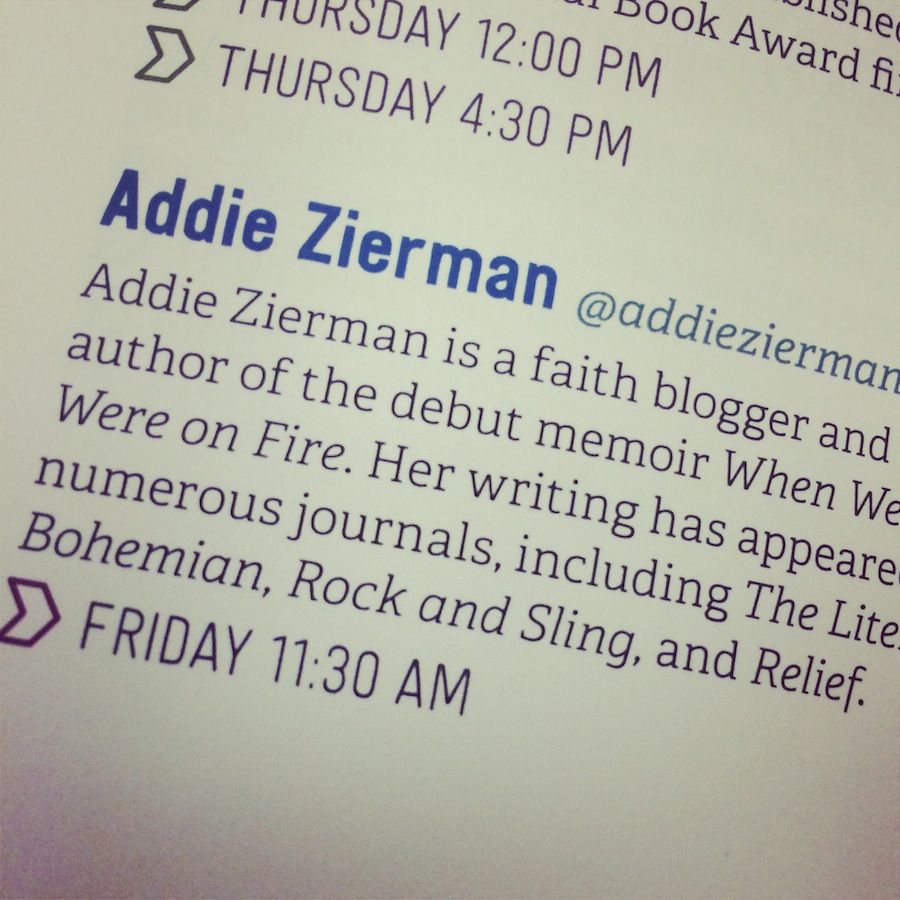 – This kid turned three we celebrated with a chaotic, fantastic turtle-themed party.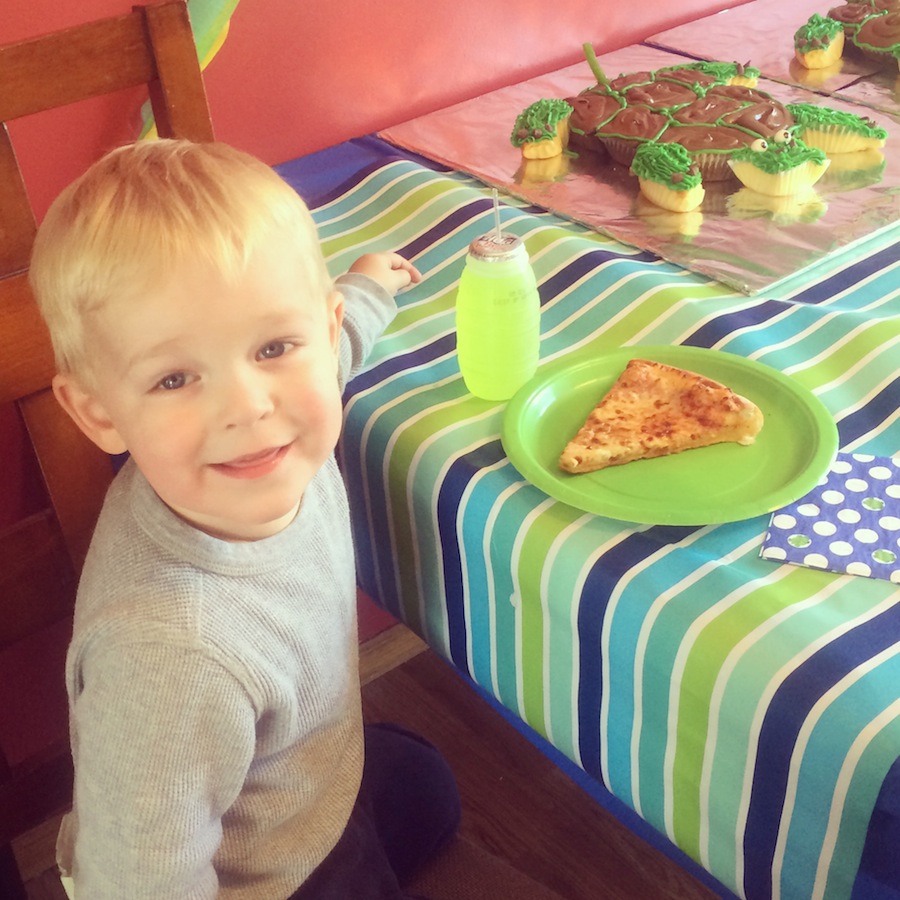 – We had a lot of friends come through town this month. One of my best friends Alissa (you'll remember her if you've read my book) and her husband Don came through for a few days. And then some old small group friends came by with their four kids. Which was bananas. And fun.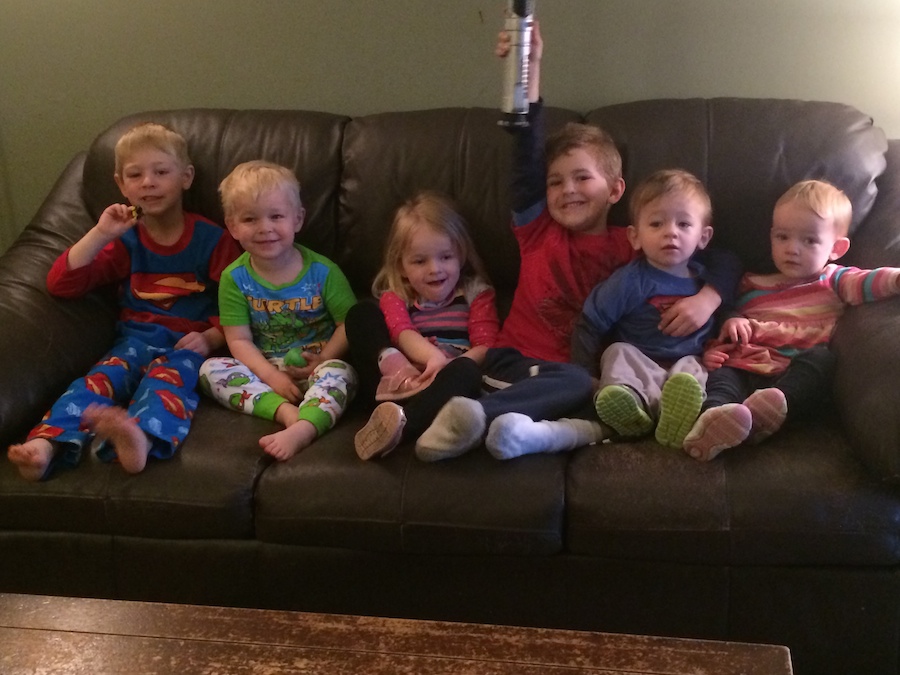 – The critters have been slowly making their way back to the neighborhood. Which makes for some happy boys.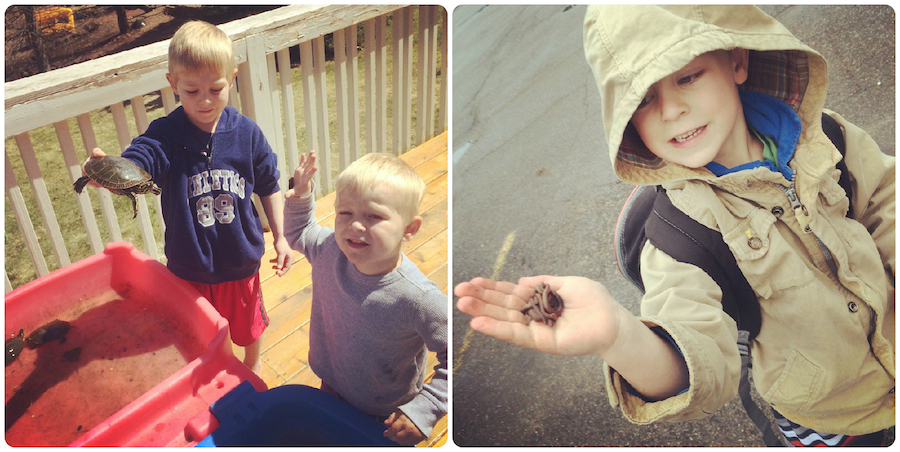 – I've been working s-l-o-w-l-y but very steadily on the second book. I had a chance to get away this month to Duluth — my favorite writing spot on earth. I had hoped that there's be some sort of lake-effect on my muse and that I'd come away with 100 perfect pages somehow. As it was, I spent much of the time staring into a spot at the edge of the horizon, working and reworking, writing and deleting. By the end of the trip I felt empty…but with a tiny new edge of direction. Writing. is. hard.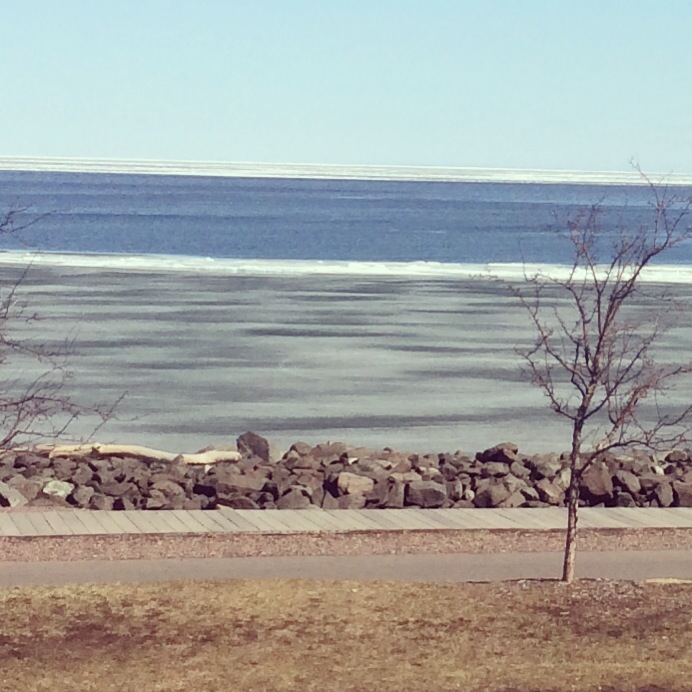 On the Blog:
I've mostly let the poets take over this blog space this month in what turned out to be a fantastic series on Poetry and Faith. If you missed it, I posted a recap here. I wrote about my ongoing struggle with Depression, and I posted over at Deeper Story about the Stages of (Faith) Loss…but other than that, I've been pretty quiet this month. I'm hoping to be more present in this space in May.
I noticed that the Facebook algorithm-of-doom was not super friendly to the poetry posts this month…which is a shame. If you didn't see a lot from me in April over there, make sure to Like the page and then scroll down on the Liked box and click Get Notifications. I think that should help. You can also follow me on Twitter.
Linking up with lovely Leigh. What have you been into this month?