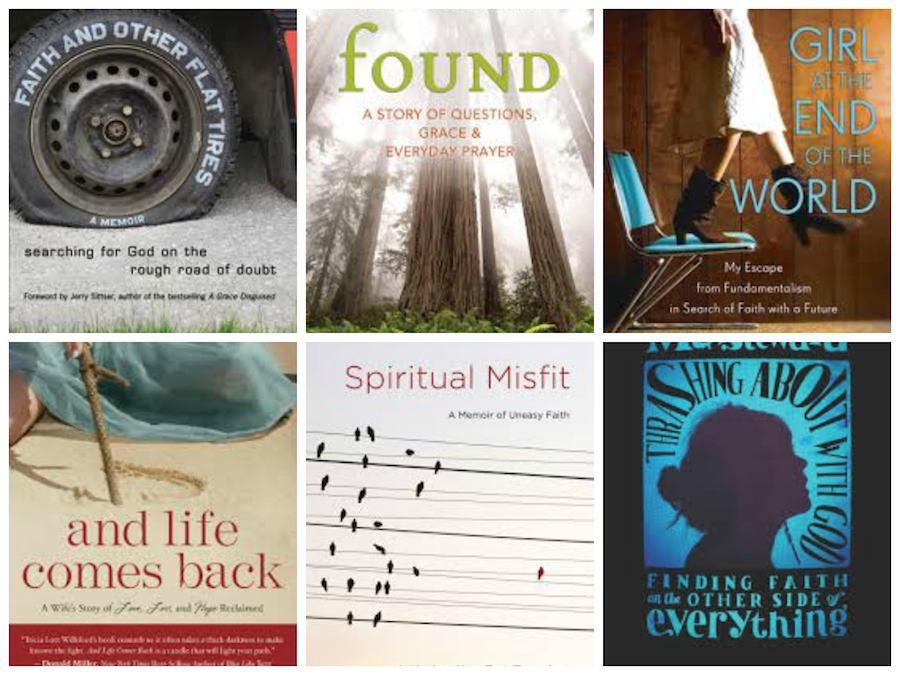 When I was in the downward spiral of my ever-darkening faith angst and depression, I did what I always do. I read. Not the Bible so much…but memoirs. Lots of memoirs. I was looking for someone to make sense of the voices in my head. I was looking for truth and beauty, beauty and truth, all of it bound together in paperback form.
I found every faith memoir I could, and as I did, I found myself faced with a discouraging fact:
The ones that offered the hope of a beautiful and whole faith (Mary Karr, Anne Lamott, Henri Nouwen) came from such different backgrounds from mine. While they spoke to my soul in important ways, they couldn't help me make sense of my own particular and strange set of evangelical baggage.
The ones that did come from some similar background (Julia Scheeres in Jesus Land and Mark Curtis Anderson in Jesus Sound Explosion) always seemed to be leaving their faith altogether – writing about their childhood religious experiences from the point of view of those who have escaped and are long, long gone.
What I wanted most in those dark days was to know that it was possible to fight through your faith baggage and come out the other side. I needed to see someone who'd done it – who'd made it through and found the Light at the other side. I wanted to hear the story of someone who'd wrestled through their evangelical past and had, in the process, been touched by God.
My book, When We Were on Fire, came out in October, and it's the story of my own particular journey from on fire Christianity to the ashes of Depression and back towards something that looks like hope. I hope that you read it and that it speaks to you and that it makes you feel less alone.
The book that I wrote comes in a wave of new memoirs by people who are working through their faith in honest, careful ways. I love this. I love that publishers are making space for people to tell their stories and to grapple with the questions of faith in their own, unique ways.
This month (inspired by Leigh Kramer's Read-the-books-you-have-instead-of-buying-new-ones project) I worked through six new faith memoirs. Not every single one spoke to me in profound ways, but they all spoke to me in some way. And I want to include them here because maybe one of these is exactly the book you need. Exactly the one you've been looking for. The one that will help you make sense of your own spirituality. The one that will help you know that you're not alone.
Please note that this list is just a subset of many beautiful spiritual memoirs out there. This is not a Best Of list (I don't make those because I hate them). It also should be noted that received these books free of charge because apparently that's what happens when you become a "Faith Blogger."
I'm not going to tell you which were my favorites. I'm not going to critique or review. I'm simply giving them to you here because each one is a gift in its own way.
Maybe you'll find what you're looking for.
*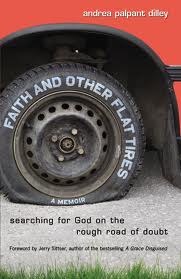 Short Summary: Andrea Palpant Dilley spent part of her childhood in Kenya – the daughter of Quaker missionaries – and the other part attending a Presbyterian church in Spokane, Washington. She was exposed to deep suffering at an early age as her parents faced the world's poverty and need head-on.
It was doubt of all kinds, but primarily this problem of pain and suffering, that led Andrea away from church and Christianity. She carefully, articulately traces this journey of doubt and questions, never offering pat answers, confessing the ambiguity in beautiful, insightful prose.
Quote:
"Even now with the advantage of distance and perspective, I can't entirely chart a clean progression of the events leading up to my departure from the church. It happened over a period of about six months. Rather than being driven by conscious, 'doorway of decision' questions – should I stay or should I go? – my departure seemed less decisive and more confused. I stood on the threshold of the church leaning out. Eventually the critical mass of my weight forced me over the edge." 
Who should read this: "People who, like me, find themselves driven by doubt and wandering the margins in search of a place to call home." 
Buy it: Barnes & Noble | Amazon | Books-a-Million | IndieBound
(Releases April 1)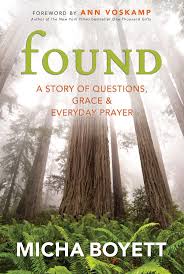 Short Summary: For Micha Boyett, becoming a mother changed her relationship with God in a profoundly difficult way. Where she'd always enjoyed a rich Spirit life, she found herself suddenly estranged from prayer…and like many of us good Christian girls, she responded by blaming herself.
Micha begins this book exploring the quiet practice of liturgy at a Benedictine Monastery, and it becomes the beginning of a new journey toward the prayer in the everyday. Micha's is a beautifully written journey of self-acceptance, of receiving grace, and of being found by God over and over again. 
Quote:
"I wiggle wood chips into place and think, Lord, earth me in truth; earth me in Jesus.
"I am loved by God. Belief is my invitation. I am not my performance. God doesn't love me more when I'm a good mom or when I'm kind to my husband. God doesn't love me more when I take care of a friend's kid or when I say something smart. And God won't love me more when I finally figure out how to pray.
"Then it dawns on me: I am figuring out how to pray." 
Who should read this: Anyone who's ever gotten prayer (or other aspects of faith) all tangled up in performance. Anyone who needs permission to take a deep breath and let go.
Buy it: Barnes & Noble | Amazon | Books-a-Million | IndieBound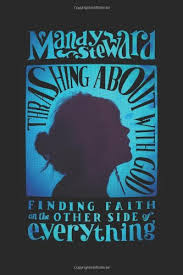 Short Summary: In this intimate book, abstract artist Mandy Steward explores the questions the crop up at the intersection of faith and identity. Hailing, like me, from a Christian culture where self-sacrifice was required and applauded, Steward struggles with figuring out the place of the heart in Christianity. Steward chooses to "go dark," and the book is less a traditional "story" than a grappling with the deep questions of faith.
If you're looking for a narrative structure or straight story, Steward's book might not be for you. This book, much like the "Hidden Messages" art that Steward sells in her Etsy shop, is largely a collage of questions, quotations, and word pictures, all surrounding the "hidden message" itself, which is something about the nature of grace.

Quote:
"Negative emotions need not always alert me of wrongdoing. Sometimes they are just there and must be allowed the opportunity to pass by rather than take up residence. Sometimes they are part of healing. Sometimes they are part of learning. Sometimes they are just part of living this messy life."
Who should read this: The one who feels like her doubts are too big, that her questions are a denial of everything she holds dear, that she doesn't know who she is anymore. That maybe she never really did.
Buy it: Barnes & Noble | Amazon | Books-a-Million | IndieBound
(Releases April 15)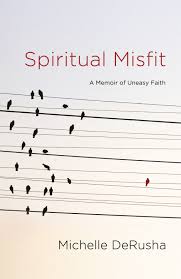 Short Summary: Michelle DeRusha's upbringing was different than mine – she grew up in a Catholic Church where God "was not accessible in a everyday kind of way," but was rather "like a foreman or a CEO—distant and important, someone you might approach with a serious concern, but not someone with whom you made small talk." She spent much of her childhood terrified of hell until she decided that she didn't actually believe in God at all. 
Spiritual Misfit tells the story of a closet unbeliever and her tenuous, careful journey toward Why Not? With a conversational, relatable tone and quirky, hilarious metaphors, Michelle brings her readers along on her journey of faith and doubt in the cornfields of Lincoln, Nebraska.
Quote:
"'Let's sing "Jesus Loves Me,"' [the pastor] suggested. Right on cue, twenty brand-new members [of a new-member orientation class] joined him, singing lyrics as familiar and comforting as 'Twinkle, Twinkle, Little Star.'
"I stood there, rigid and dumbfounded, silently moving my lips while everyone else around me belted out the lyrics memorized from their earliest days in Sunday school. […] I didn't know the words. I didn't even recognize the tune. I stood there with my fake-singing, a smile plastered on my face. I was certain everyone knew the truth: that I was a fake, a fraud, a lying Lutheran, a pseudo-believer among real Christians."
Who should read this: The one who's not sure if any of this is real. The one who secretly thinks that God probably doesn't exist and all of this is a bunch of baloney. The one who feels like a spiritual outsider…but maybe, in some small way, wants to be able to believe.
Buy it: Barnes & Noble | Amazon | Books-a-Million | IndieBound
And Life Comes Back: A Wife's Story of Love, Loss and Hope Reclaimed
Tricia Lott Williford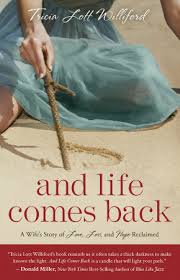 Short Summary: While this book is different than others listed here – it's not really about untangling one's faith background – it is a book about grappling with faith and God in the face of loss. When she was only thirty-one, Tricia Williford became a widow when her thirty-five-year-old husband died suddenly in her arms. This book records the first year of the journey through loss, suffering, and heartache.
I appreciated this book for its unflinching honesty and its mix of all that is humorous and hard. I marveled at the way Tricia was able to cling to God in the midst of what felt like a senseless loss. I wonder if I would have reacted the same way – if in the face of actual unspeakable suffering, all of my theological issues with a God who would allow it might melt away and I might hang on, like Tricia did, for dear life. I hope so.
(Warning: this book will annihilate you. I have been crying for days reading it.) 
Quote:
"I have lived one whole year of winter. There were sunny days that peeked through on occasion, but my heart stayed cold, bundled, protected. Still, there are things to enjoy only in winter: good books, shorter days, enveloping blankets, and isolation. I have relished these. In January, when I began speaking to God again, I made a deal with him: if he would get me out of bed and safely to Starbucks, I would visit with him there. I might not talk, but I would listen. My mornings became my sacred hours; Starbucks became my sanctuary. God met me there." 
Who should read this: Anyone who has experienced loss. Or anyone who feels debilitated by the fear of loss. 
Buy it: Barnes & Noble | Amazon | Books-a-Million | IndieBound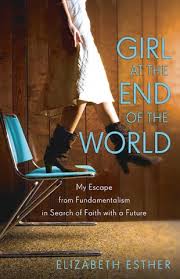 Short Summary: This is the intimate and heart-breaking account of one girl's experience in a fundamentalist cult called "The Assembly." Before I began to sort through my own experiences with organizations like Teen Mania, it had never occurred to me that there could be a thing such as a "Christian cult." However, as Elizabeth and I both learned the hard way, a cult has nothing to do with beliefs themselves and everything to do with coercion, manipulation and shame.
This is a fast, engaging read, and Esther is a master storyteller. The stories she tells from her past will break your heart, but the way that she describes her recovery and the small ways she moves forward is inspiring, insightful and beautiful.
Quote:
"Is it possible that even though I've left The Assembly, that frantic way of living hasn't left me? Have I simply transferred my apocalypse mentality into a new context? The thought haunts and enrages me."
Who should read this: Anyone who has been (intentionally or unintentionally) manipulated by charismatic faith leaders. (Though there are few who will have experienced fundamentalism to the level that Esther did, there are many who will resonate with small pieces of this, barbs still left in our hearts after so many years.)
Buy it: Barnes & Noble | Amazon | Books-a-Million | IndieBound
*
And of course there's mine. If you haven't read it, this might be just the right moment to check it out. 🙂
*
What about you? Any faith memoirs you've read lately that moved you?