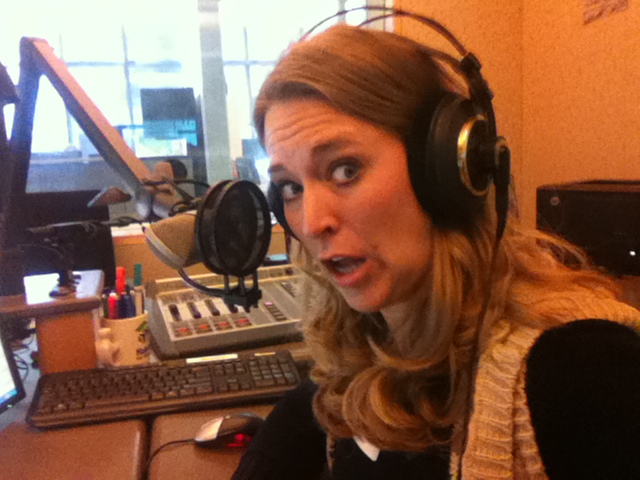 I'm sitting in the Minnesota Public Radio building in downtown St. Paul in a glassed in studio.
The audio guy rattles off the name of the person who sits here normally – someone famous, I gather, by the way he says it. I pretend to be impressed and hope he doesn't figure out that I have no idea who we're talking about here. (I don't really listen to NPR. I pretend it's because I have kids, but really, it's because I'm not cool enough.)
In front of three computer screens and all sorts of levers and microphones, I put on headphones. I listen to the disembodied voice of the producer from the Canadian Broadcast Corporation (CBC) tell me what he's looking for. The radio documentary is about "evangelical Christians who have struggled to redefine what it means to be an evangelical Christian," and I'm one of three voices. The only female. The only American.
In front of me, there's a list of questions that the Canadian producer sent ahead of time. There's nothing too surprising here. Mostly, they're questions I've been answering over and over, in some form or another, since my book came out.
The first hour of the interview, I cruise through the early days of my faith, the junior high years, Teen Mania and my Super-Christian boyfriend Chris. I talk about the Depression and the Church Search that almost broke us in two. I talk about the Other Guy. I talk about therapy and about the slow work I've done since to rebuild, rebuild, rebuild my faith.
With ten minutes left on the clock – just when I'm getting comfortable with my voice in the microphone and the bright lights around me – the Canadian producer hits me with the four core beliefs of the evangelical faith. "I'd like you to go through them one by one and tell us how what you believe about each one now."
I consider saying that I have to go, actually, and don't you think we have enough?
Instead, I wade in with Biblical inerrancy. Yes, I still believe the Bible to be inerrant, I say. And yet, that doesn't mean we always interpret it correctly or apply it right. I believe it's Truth; I also believe we've used it dismissively – putting Bible verses like Band-Aids on really deep hurts.
We talk about "the focus on the crucifixion of Jesus Christ as an act of atonement," and I agree and expound. I cruise through Core Belief #3 about the "conversion" or "born again" experience, and when we get to Core Belief #4 – Christians are called to actively spread the "good news" to others, I think I'm home free.
Yes, I say, I believe that. But I've learned that "spreading the good news" doesn't really look like handing out tracts or standing on some street corner, yelling about hell. One of the most freeing things I've discovered is that it's not my work to convince anyone to follow Christ.
I've pulled out one of my best lines from the blog and written it down for just this moment. My true work, I say, is to lean into the Love of God and be changed – so that when I meet the orphan or the widow or my neighbor or enemy, I have something to offer them besides platitudes.
I say it like the period at the end of the sentence and hope that we can call it a day.
"Wait," he says. "Wait. I want to go further here. Like, what about hell?"
I inhale.
"Yeah," he continues, his voice loud in my right ear. "A guy comes up to you on the street and says. 'I don't believe in Jesus. Am I going to hell?' What do you say?"
In the studio, the clock ticks, ticks, ticks in front of me, and the audio guy yawns behind the glass, and the question feels like an unexpected blow to the side of the head.
"Am I going to hell?"
*
Once, in the second grade, I stood up in front of my entire class while my teacher was on the phone at her desk, and I told them that if they didn't ask Jesus into their hearts, they were going to hell. I wasn't trying to be cruel. It all seemed very logical to me then. They needed to know; I would tell them.
A red-headed girl named Michelle said, "I'm telling that you said hell!" And we both raced to Ms. McGuillicut's desk – her to tell on me, me to explain that I wasn't actually swearing, I was sharing the Good News!
At age six, the fear of hell felt very real to me. It was the impetus between my own "conversion" experience the year before. A dream about Satan and that infamous Lake of Fire is what sent me rocketing out of my bedroom and into my parents' bed, where I "prayed the prayer" and asked Jesus into my heart.
Twenty-four years later, I've revisited most of my core beliefs. Something about idling in the Darkness of clinical depression for four years has changed how I understand my own need for God and his Light.
Finding myself – that Evangelical poster child – on the brink of an affair – changed the way I saw myself and the way that I understood grace. I thought I understood "being enslaved to sin" in high school. But I didn't really. Not until I was driving back to the coffee shop to see the Man Who Was Not My Husband after I'd sworn not to. Again.
My core beliefs have been changed and shaped by this experience of my own inadequacy and God's adequacy in spite of it.
Ask me, and I will tell you that I believe that Jesus came to restore our relationship with God because we were powerless to do it ourselves. I'll tell you that this is what makes us enough for God, and that without it, we live in a state of terrible disconnect. I believed it then, all those years ago, in Sunday School. But now I feel like I know it to the bottom of my shattered soul.
But ask me about a Lake of Fire and Gnashing of Teeth and a curly-bearded Devil with a pitchfork? Ask me if you're going to hell, and it turns out I'm speechless.
What do I know about hell, anyway?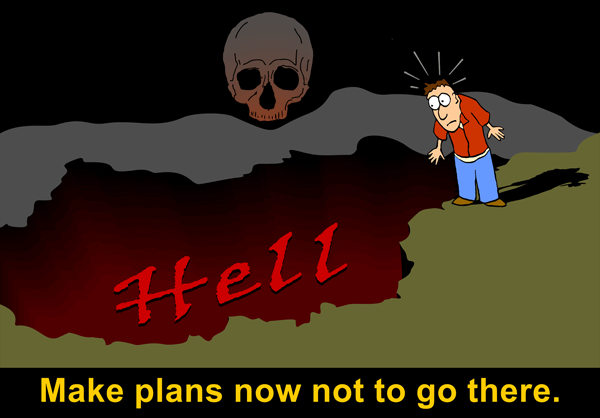 In the studio, in the microphone, I am making absolutely no sense. I can tell.
I mutter something about that question being a struggle for me. "I believe the Bible to be true. I remember all the things I learned about hell as a child. I hold them in one hand," I say – except less eloquently.
"And yet I also believe that God is Good and that God is Love and that God is All-Powerful. And that it's not his will that anyone should perish. And I hold that in the other hand."
I'm trying to say something about the tension and the mystery of it all, but I'm making a mess of it. It seems like it should be a straightforward question, and once I knew the Right Answer to say. I remember, vaguely, the Bible verses and the diagrams and the Gospel tracts.
But as I sit there, other questions are unspooling – ones I haven't gone back to think about in years.
Is hell an actual fire-filled place – or is it simply being disconnected from God and from one another?
Is this life the only chance we have to find and except Jesus? Or does the Good Shepherd descend into the darkness of Death itself to find us?
What about those who have never heard? Hidden tribes, living unaware of the name of Jesus in the jungles somewhere?
How can anyone ever know what happens between God and a person at Death?
What the hell do I know about hell? I'm not a pastor or a scholar. I'm a writer. An English Major. I sat in the back row of my Christian Theology class senior year of college and slept through much of it.
It's the one area of my faith that I haven't revisited, and I can't do it now, in the studio with the lights, the producer on the phone, prodding. "Yes, but what would you say."
"I'd say I don't know," I say finally. "Honestly, at this point in my life, I'd say I don't know."
*
I drive home in Wednesday afternoon traffic with the radio off thinking about all of it. God. Heaven. Hell.
I'm thinking about Jesus, who feels quiet, but also near to me as I merge slowly onto 94. I worry that in my unknowing, in my muttering, unclear answer, I have failed in some way. I have never been very good at this sort of thing.
I'm sorry. I breathe. I thought I knew, but I don't.
It's Ash Wednesday, and all around the city, people are going to church. Priests are smearing ashen crosses onto one forehead after another that we might be reminded of the fleetingness of life; the inevitability of death. From here, we turn to the season of Lent, in which we turn our eyes to the life and death, the suffering and sacrifice of Christ.
I remember those years spent trying to reach God through a cloud of clinical depression and of my own anger, and I'm still figuring out what we mean when we talk about Capital-H Hell. But I'm desperately grateful for the other hells from which I've been freed. The ones constructed by myself and by others. The places I've been powerless to escape on my own.
The city skyline disappears behind me, and the sun breaks through the clouds, and I don't know what happens, exactly, when we die. Only that Jesus has made a way.