Today I hit the twenty hour mark of driving — give or take. I don't think that I could have imagined it — the depth of exhaustion I'd feel. How tiring it can be to sit in the Driver's Seat for so many hours, handing back juice and toys and books and stickers, quelling arguments, following maps.
Let me start with where I left off last time:
Tuesday morning, we left the Super 8 with happy hearts and bellies full of plastic-packaged cinnamon rolls from the Continental Breakfast "buffet." We made it half way to Nashville before I realized that I'd left the cord to my computer plugged into the wall of Room 314.
Usually I'm pretty cool when it comes to little snafus and hiccups and necessary stops. But tell me that I have to DRIVE ALL THE WAY BACK TO THE SUPER 8 because I left the freaking CORD, and I'm likely to burst into tears. I don't think I did. But I felt like it.
Cord retrieved, we tried the drive to Nashville again, and made it in time to see one of my dearest blogging friends, Leigh Kramer and the sweet little girl she nannies.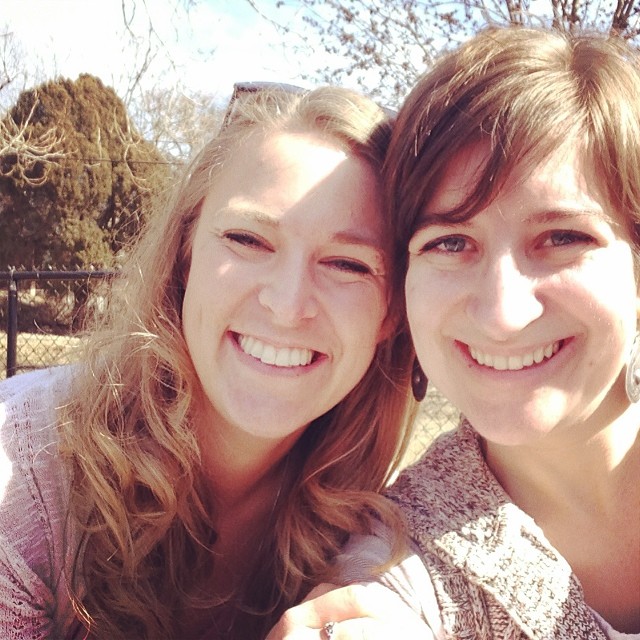 We walked to the park, and Dane spent an abnormal amount of time picking up sticks and pinecones and "saving them for Dad" in the stroller. There's been snow on the ground for so long in Minnesota that I think he doubts he'll ever see them in real life again, so he kind of wants to save them up.
The kids and I killed part of the day in the lovely Centennial Park. We made a picnic and checked out the Parthenon (though the kids were, admittedly, more interested in the dead fish in the pond.)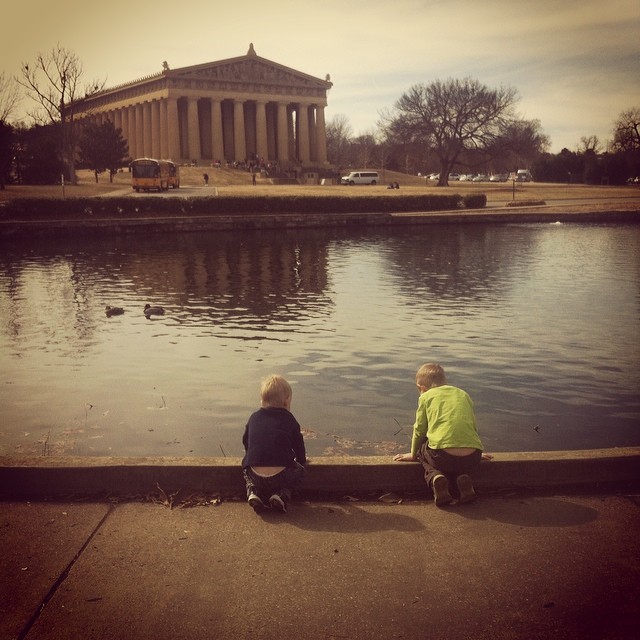 Nashville was in the upper-60s yesterday, and it was glorious. Every kid in the world was at the park, running and swinging, and mine leapt into the current of Nashville life, making friends, chasing, tipping their heads back and laughing loud.
We were able to have dinner at the home of a family I've met only briefly, and I can't show you pictures (more on why that is later…), but can I just tell you for a second about the power of hospitality? Of a near-stranger opening her door to you? Saying Come in! I made fresh lemonade! Let's order you some food! Let your kids play with every single toy in the house — I don't care! Come in, come in! 
On Tuesday evening, I had the pleasure of reading at Trevecca University. I'm amazed, always, at how sharing my story out loud manages to be both completely draining and unbelievably nourishing at the same time.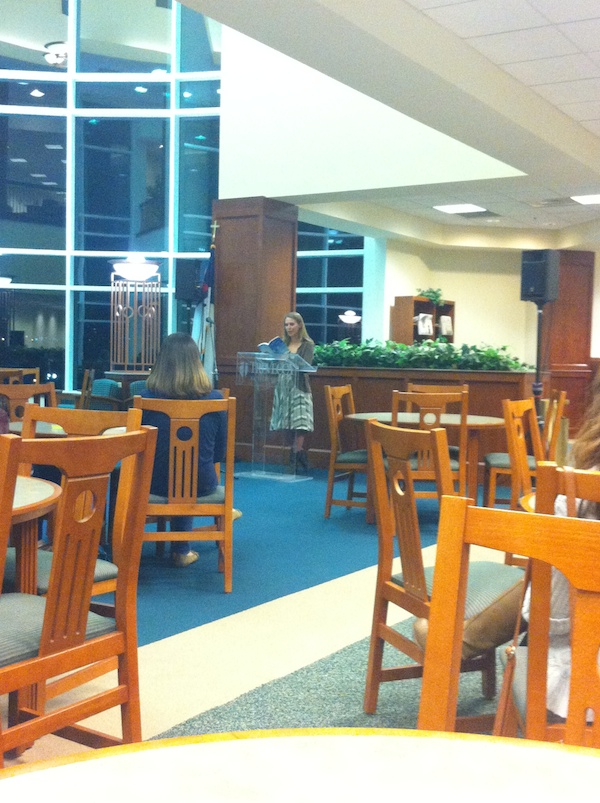 I'm so grateful for people who come to these strange Author Reading things and who sit across from me while I sign their books. Who take the time to tell me face to face that my words mean something to them. It's so incredibly powerful.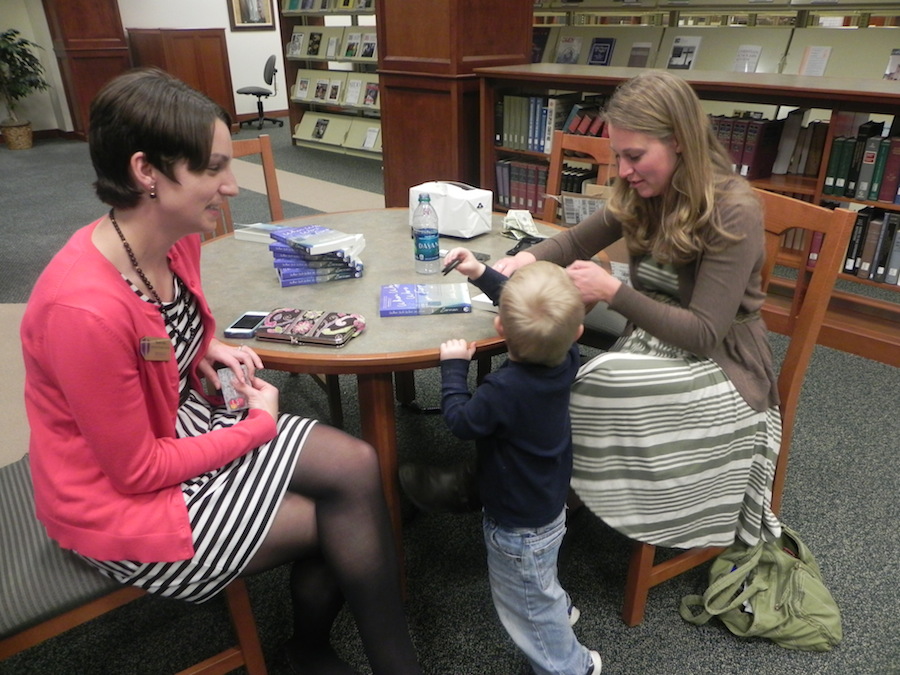 Then I got to stay at Leigh's house. She made me a mug of brownie. Enough said.
This morning, we got up and headed for Atlanta. The hills rolled around us, and the sun shone down, and I kept the windows open and touched the wind with my hand.
We got stalled, briefly, in Chattanooga thanks to some weird lane blockage, and the whole town smelled like a funnel cake — all sugar and sunshine and cooking oil.
We stopped off in Covington, Georgia, mostly to meet up with some beautiful reader friends…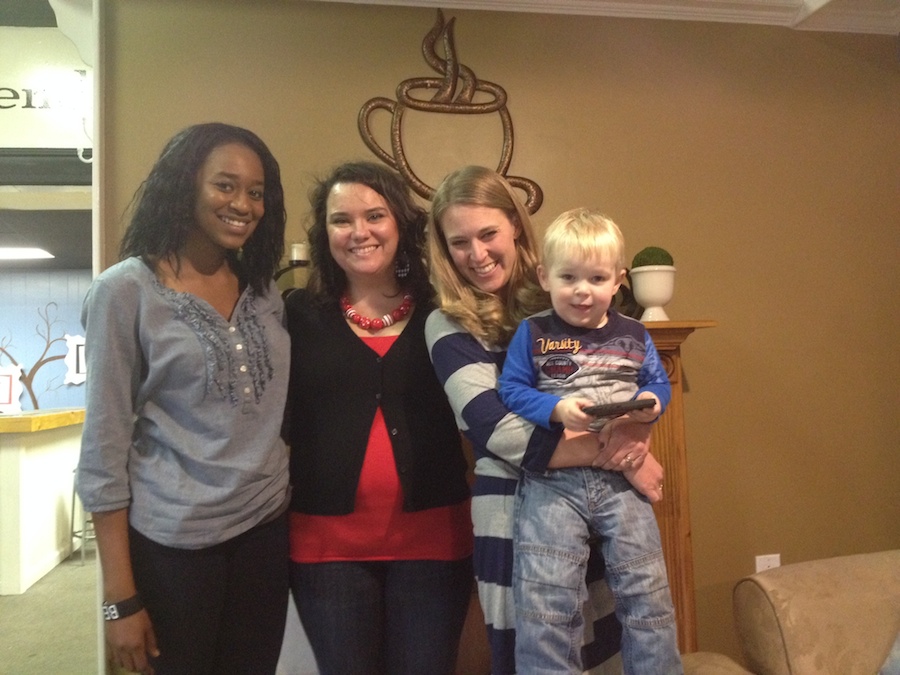 But also because it's the town where they film one of my favorite, guilty pleasure CWTV shows: The Vampire Diaries. And they were filming today. (I know. I'm a little ridiculous.)
This is a shot my friend Mandy got of Stephen, one of the main characters, from afar. To be honest, I was never actually was able to pick any of the actors out of the crowd of videographers and crew members, but there was something fun, still, about being in that tiny town square, creeping around with a gaggle of other fans. Being weird about famous people.
Still, I feel certain that if they had only known that the author of When We Were On Fire was in town, they would have been craning their necks to get a look at me. (A girl can dream.)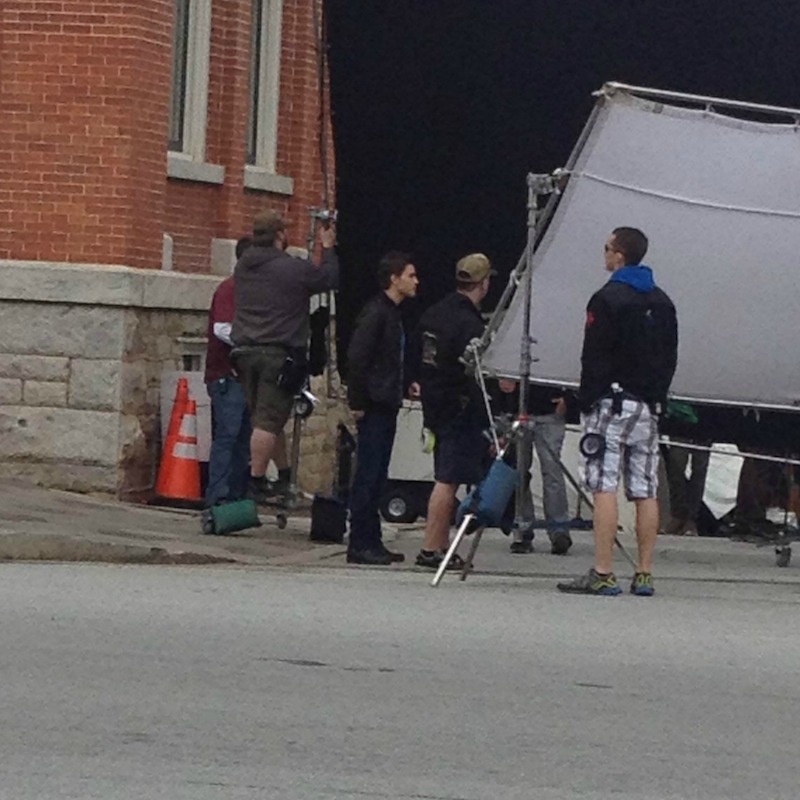 We made it to my cousin's house tonight near Peachtree City. She has four daughters, and my boys could not have been happier for the playmates. There was an epic stuffed animal war and plenty of fun before the whole night ended with a plop.
Literally.
Dane dropped my iPhone in the toilet.
The toilet was full of poop.
If you were wondering why there's not a ton of pictures in this post, it's because they're mostly all locked up in the dead phone in the kitchen. My cousin dug around her cupboards and found just enough rice to cover the thing, but I have a bad feeling about it.
I'm twenty hours into my trip. I'm so tired, and I keep randomly bursting into tears.
But.
I'm sleeping in a t-shirt, and I have shorts laid out for tomorrow for the kids. The sky is warm and dense here, and there was a fog over the whole thing tonight when I went to get our stuff out of the car.
It's worth it, this adventure. It's hard, and I'm tired. I'm a mess about my cell phone. I'm hundreds of miles from home and not sure what I'm going to do tomorrow if the thing won't boot up.
But my boys are fast asleep on the floor, breathing deeply. I have a bed all to myself. And when I called my husband tonight and told him about the whole unfortunate incident, he laughed so loud that I forgot for a second how terrible it all feels.
"I guess sometimes shit happens," I said weakly.
He laughed in that contagious way that he does, and then he said, "Sometimes, the shit hits the fan. And sometimes, your phone hits the shit."
And it's Georgia and it's the most beautiful night…and one way or another, it's all going to be alright.