I connected with Amanda Edwards a few months ago when she sent a beautiful piece for the Non-Blogger Edition of my When We Were on Fire Synchroblog (remember that?!). I'm so happy to tell you that Amanda has decided to OWN this writing thing, and she's started her own new blog since then! Be sure to check it out after you read this beautiful post — a perfect follow-up to last week's Love My Children One Small Change. So much begins in the hallways of our own homes, doesn't it?
Please welcome Amanda here!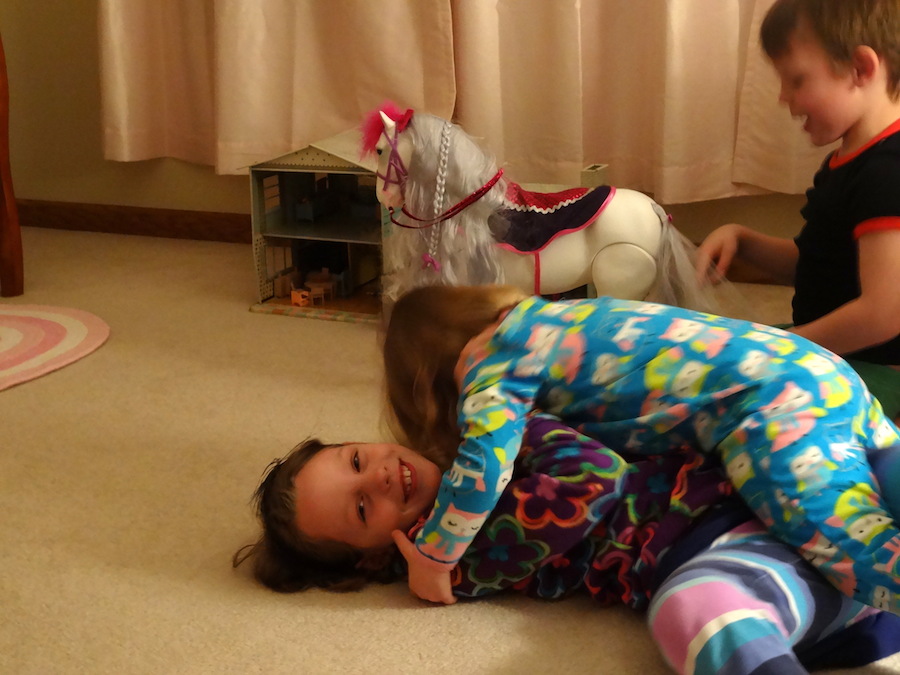 "Goodnight Moon". The creak of a wooden rocking chair. The soothing, intermittent rubbing and patting of my mom's hand on my back as I drifted off to sleep. My grandma bowing her head alongside mine as I recited "Now I Lay Me Down to Sleep." Asking for, "just one more song." Of all my childhood memories, bedtime moments shared with Mom or Grandma stick out to me. Love. Warmth. Nurture. Undivided time and attention from a favorite person.
When I became a parent, I established bedtime routines with our children. Three kids in, though, it seemed bedtime was ruling our evenings. I'd leave a child's room feeling parched and strung out. On nights my husband was home it was not as bad, but still seemed overwhelming.
Having grown up an only child, I've long been enamored with the idea of large-family rituals. From shared bedrooms to heaping into one big bed devouring picture books and literary masterpieces alike, a fantasy is alive in my head that features big-family bonding. So we tried it. Admittedly, my push to realize this fantasy was fueled by the selfish prospect of fewer books, less songs, and one prayer instead of three.
Perhaps I should have predicted the rise in my anxiety level. My best connections happen one-on-one. Sibling dynamics often befuddle me. Helping my children navigate their negotiations peacefully can leave me impatient and grouchy. Throw in three tired children finding it novel to be in a king-sized bed together with mom and all sense of fantasy quickly evaporated. We were lucky to make it through a prayer before someone was doing a somersault. If it was the right book it was never the right spot to sit (or stand, or leap, or hang). I didn't give up right away. I tried different tactics, with varying degrees of success. But when it came right down to it, I craved the quiet snuggle and prayer time with each child carved out of the end of a day swollen with activity. With sudden clarity I also knew that one night in the not so distant future, our children would be shooing us out of their rooms at bedtime.
There is a pedestrian mall amidst the downtown shops in the city in which we live. On weekdays, streams of university students and professors traverse the mall. Numerous festivals take place here. There's a library and coffee shops at which to curl up with a good book, places to shop for a new dress, a playground for a play date, and corner eateries to share meals with friends. Amidst the bustle, one might not notice the homeless people that sometimes find rest on the benches throughout the ped-mall. Or if one does, it might just be easier to keep on walking by.
Sometimes I feel like our upstairs hallway is like the pedestrian mall. Rushing, bustling, the mad dash for toothbrushes, the potty, and PJs. And then our children go their separate ways, with barely a glance at each other. Pondering the possible ramifications of this habit gave me pause. When we recommitted to putting each child to bed individually again, we made one small change. Before retreating to their rooms, one hug is given to and gotten from each person (or a high-five or handshake, depending on the mood of the crew). Such a little thing— and yet…I remember being noticed—every night—by someone who loved me. Over, and over, and over again. Until their warmth was part of the fabric of my being. I was loved. Every night. No matter what.
This is a humble beginning that may not seem like much. But I believe that if we can't stop long enough at the end of the day to show and demonstrate love to the family members with whom we live, I can't expect my children to stop long enough in the midst of their busy lives to notice the hurt, broken, and suffering, or to think deeply about a social problem long enough to devise their own small changes. So at bedtime, for now, we're showing grace, one sibling at a time. One hug, every night, no matter what. Over and over and over again.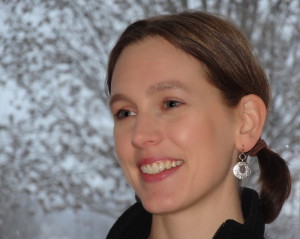 A native Iowan and a Northwoods Girl at heart, Amanda Edwards is a night owl and mom of three who is passionate about life, learning, faith, and building bridges with others. Aside from being wife and mom, Amanda is happiest writing, reading, paddling a canoe, and swimming laps-not necessarily at the same time!
A former teacher and camp director, Amanda hopes to add pastor to the list. In the meantime, she recently started blogging at http://writingtruenorth.com. Amanda also founded and facilitates Interfaithful Moms Gathering, where moms and faith meet to create a more peaceful world, one conversation at a time.