The problem with me is very simple: I want to do everything.
I am a Pinterest junkie with a tendency toward perfectionism wound so deeply into my DNA that I don't even realize that I'm being straight-up crazy until things have gone way. too. far. And it all seems to come to a head at Christmastime.
Take the other night, for example.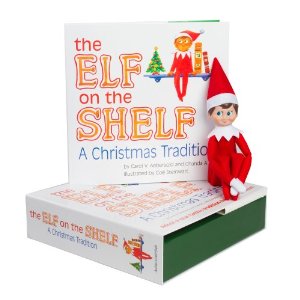 Let me preface this by saying that for the last two Christmases, I have successfully avoided the Elf on the Shelf craze.
For those of you who remain blissfully ignorant of this new phenomenon, it's this: for the low price of $29.95, you can own your very own "scout elf" who appears in your house every morning during the Christmas season and then disappears at night to report to Santa about the goings-on in your home, thusly helping him to manage his Naughty and Nice lists.
Because I have my own baggage with trying to stay on God's "Nice" list, this tradition-in-a-box never appealed to me. Until I saw this new spin on it.
In this alternative version, your elf is not a scout elf so much as a kindness elf, appearing every morning with ideas to help you focus on kindness, love, and goodwill as your family prepares for Christmas. Your elf has made a hysterical mess of the flour and chocolate chips when you wake up…but she's holding a note, "Let's make some cookies for our neighbors today!"
Suddenly, I found myself seized with the desire to be a (kindness)-elf-on-the-shelf family. "We have to do this," I told my husband. And then I dragged him through the aisles of JoAnn Fabrics on our date night so that I could buy the rag-doll form that the DIY elf tutorial on Pinterest said I needed.. "The boys will love it."
I could tell you about the felt explosion on my kitchen table. I could tell you about tearing apart the guest room looking for googly eyes. I could tell you that forming elf hair out of sculpty clay is not nearly as simple as the Pinterest tutorial would leave you to believe.
I started my DIY elf project at 8:30 at night, and at midnight, I was still working, jamming wire into his poor, ragdoll limbs, trying to make him pliable enough to get into elfish mischief around our house every morning in December.
Let's just say, he does not look like the tutorial.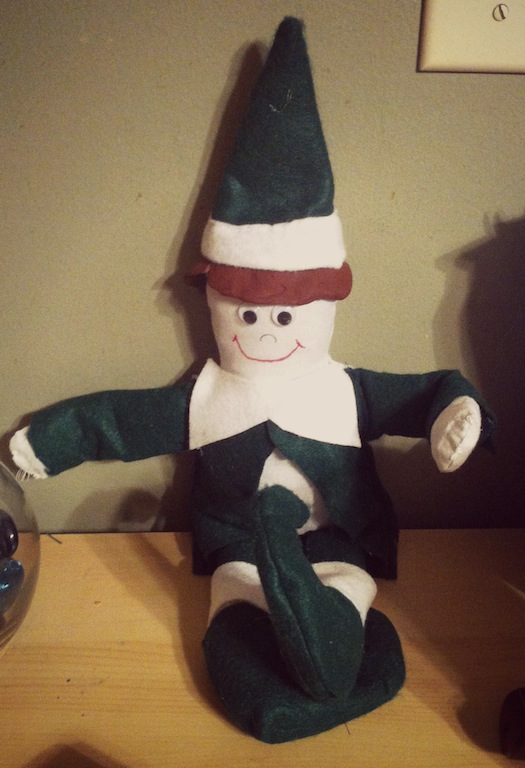 "What is that?" Dane asked when he woke up the next morning. "A winter clown?"
"No sweetie. It's one of Santa's helpers," I explained. "Every night, he'll go see Santa at the North Pole and bring us back an idea for being kind to others this Christmas."
"But Mom," he said, looking at me with a kind of pity. "He's pretend."
"He's magic," I corrected him.
"No, Mom. He can't walk. How can he get to Santa?"
"Magic?"
"Oh," he said, losing interest. "Can I color now?"
I've decided that we will probably not be an elf-on-the-shelf-family this year after all. Which is a relief because my DIY elf kind of creeps me out.
*
Our kids are four and two years old. We're in the early years of making Christmas memories, and we're feeling our way toward our own traditions. We're incorporating some of the things that we grew up with, letting others slip away. I feel the pressure of creating a scaffolding for Christmas memories to hang on.
I want it to be magical. I want this time of year to be holy and wondrous for my kids. I want the lights and the candles and the songs to communicate something true and powerful to them about God who they are just beginning to encounter.
And sometimes I forget the truth: Christmas does not depend on me.
I don't need to teach these kids anticipation. Listen to them ask, every day, if it's Christmas yet. They're looking at the Christmas tree, and Liam keeps saying, WOW, and I don't have to teach them wonder. It's at the surface of their hearts, bubbling over into every beautiful thing.
They are climbing up into the sleigh with Santa Claus at our local Culvers' tonight, telling him what they want for Christmas – asking for good gifts and believing that they will come. In so many ways, they understand so much more about the miracle of Christmas than I have in a long time.
And an elf isn't going to change that. The advent envelopes with the carefully crafted Jesse Tree ornaments that I spent days putting together may be a sweet and treasured memory…but in the end, even these spiritual lessons are not the point.
The miracle of Christmas is that Jesus comes anyway…no matter how much or how little I prepare for his arrival. And really, this is what I want my kids to remember from all of this magic, all of these traditions that we craft successfully or unsuccessfuly for them. Jesus comes anyway, and it's enough to change everything.
The earth stands still, and silent and often unaware – and still, she receives her King.
*
One of the beautiful and accessible things about Advent devotionals and calendars and traditions is that it gives us something to do or to think about or to sit with every day of the waiting. There's so much I love about that – the way it forces me to quiet down and look for God in each and every day.
But also, the every-single-day nature of many of the popular Advent traditions has a tendency to bog down my inner-perfectionist. I have to be very mindful of giving myself grace in the midst. It's okay if you miss a reading. An advent-photo-of-the-day. A writing prompt. A Jesse Tree ornament. Skip it. Start again tomorrow.
So I wanted to offer a few traditions and ideas here that are not daily activities…but rather simple things that you could slip in anywhere. Try one or two. See if they work for your family. If not? Let them go.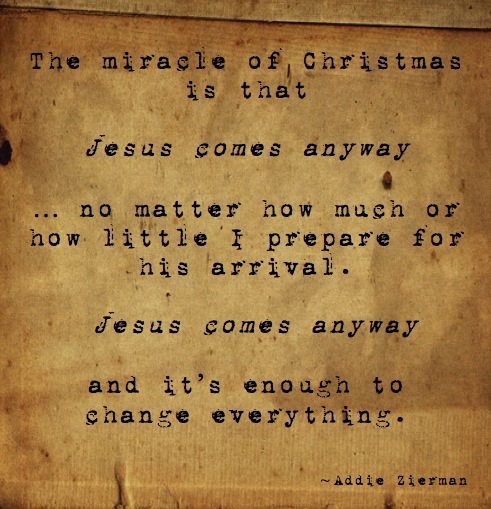 For the most part, these are free or inexpensive things. I included a few great ones from readers who shared their favorite Christmas traditions. I pulled a lot from my own childhood – my Dad was and continues to be a master of meaningful family moments, and none of it came in a box or cost $29.95, but I remember it all.
So here they are. 20 simple ideas for adding a little magic, creativity or meaning into your Christmas season: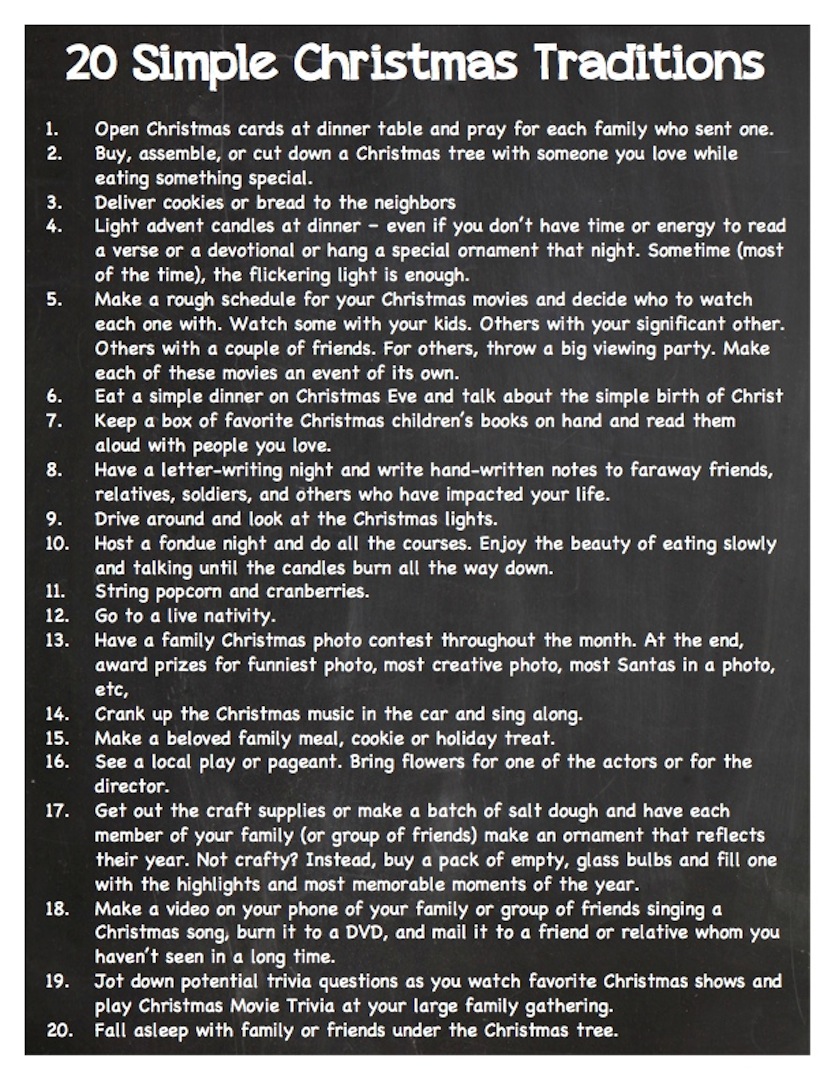 *
It's the season of Advent.
We do our best to make it special, to be mindful, to create traditions worth hanging onto.
But in the end, Jesus comes anyway. And this is why we wait, hope, rejoice.
*
This is Part 3 of a Week of Christmas Mindfulness. Monday, we focused on spiritual attentiveness, and yesterday, on how we love and honor family and friends. The series will continue tomorrow with a few ideas for being mindful of strangers and acquaintances. Be sure to stop by then!