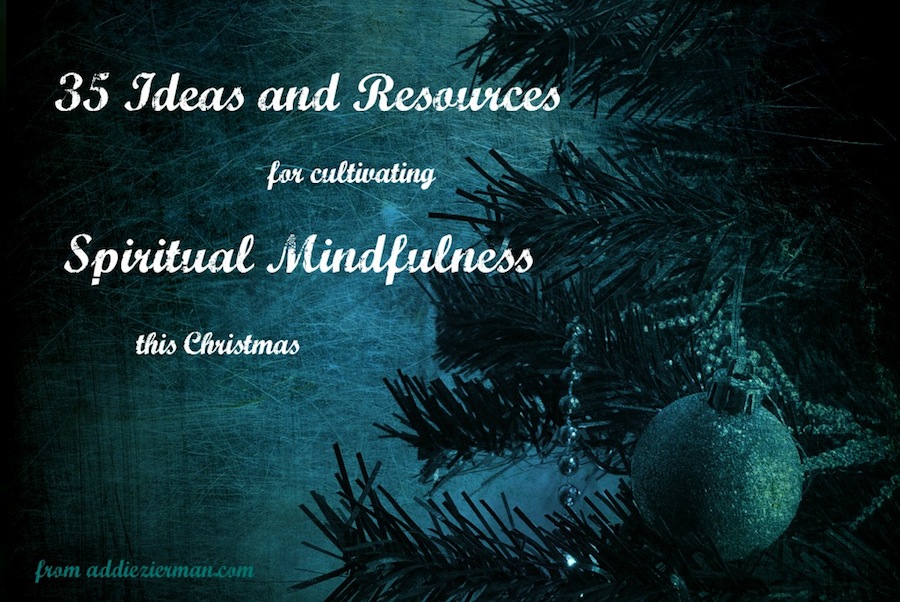 This morning, our church sanctuary was filled with stark winter tree branches covered in shining white lights. We sang our first Christmas carol, and my son came bounding out of his Sunday school class with a manger made out of a cut paper bag.
I cut and hung the rest of our Advent envelopes while Liam was napping and Dane was playing with his truck, and I felt proud of myself for getting all the pieces finished in time. The ornaments to hang. The chocolate to eat. The numbers counting the days until Joy to the world…the Lord is come!
We had to prop our Christmas tree up with a couple of my husband's dumbbells because it kept trying to fall over (and succeeded once, nearly ruining our entire day). But it's up now, decorated. The house is clean and bright and the whole place smells like evergreen and hope, and I don't want to miss it.
I feel like I'm always missing it.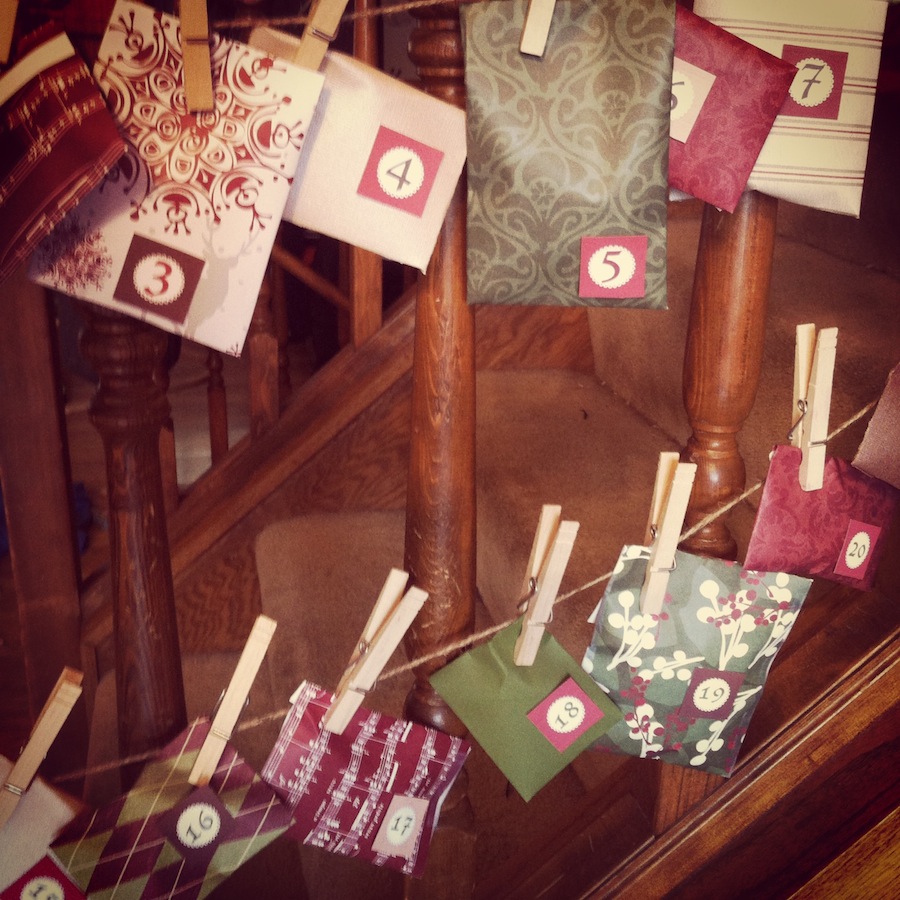 I have to be very careful at Christmastime. This season, more than any other hooks my perfectionistic tendencies, and I find myself scrambling here to be everything, to do it all, to cram as much Christmas fun and meaning into these days as is humanly possible.
Every year, I have to relearn the beauty of imperfection, the grace of letting go, the fact that it's not up to me to haul Christ back into Christmas.
It's a balancing act between making space for mindfulness…and becoming obsessed with how I think Christmas should look for me or for my family.
And that's part of why I started this Christmas Mindfulness Community Project.
A couple of weeks ago, I asked for your practices of mindfulness related to Christmas…and you responded with so many great ideas.
I created this series mostly for myself – as a reminder that there are so many beautiful ways to be aware of God and of one another. But also, I did it for us all – to open to doors to new ideas and practices and to inspire us toward love.
Today, I'm offering a list of resources to help cultivate spiritual mindfulness at Christmas. As the week goes on, I'll be posting about Christmas Mindfulness as it relates to friends and family, traditions and magic, strangers and acquaintances and the gifts we give. I hope you'll join us for this series (and if you have great ideas about any of these areas – send them to me now! It's not too late!)
Keep in mind that these are resources. Not a recipe for perfection or for meaning or for putting Christ back in Christmas. They're simply different windows through which we might peer into this Great and Beautiful Story – different ways in which we might find Light.
And really, couldn't we all use a little more light?
Advent Books and Guides (Reader Recommendations)
The Salt of the Earth Christian Seasons Calendar: While not specifically for the Christmas season, this calendar moves with the rhythm of the Church calendar, beginning with Advent. It includes contemporary art, readings and suggestions for ways to celebrate each of the seasons. (Scroll to the end of this post to learn how you can enter the giveaway and win this calendar!)
Behold the Lamb of God, Russ Ramsey
Preparing for Christmas: Daily Reflections for Advent, Richard Rohr
This is How We Welcome, Lori Manry at Environments of Grace blog (FREE EBOOK)
"[The book of] Luke. No really! I can hardly read that gospel without getting choked up."
Watch for the Light: Readings for Advent and Christmas (This was recommended by Leigh Kramer, but it's also one of my faves too.)
Accompanied by Angels: Poems of the Incarnation, Luci Shaw. (Another favorite of mine. It inspired this post last year.)
The Irrational Season, Madeleine L'Engle – particularly the chapter on Advent
Dwell: An Advent Guide (FREE EBOOK)
Sacred Space for Advent and the Christmas Season, The Irish Jesuits
Imagining Jesus – An advent blog series where various contributors from various perspectives reflect on the figure of Jesus Christ
The Advent Book, John and Kathy Stockman (Recommended for its beautiful windows that you open throughout the story)
Looking for Light — a daily Advent series on Diana Trautwein's beautiful blog.
God With Us: Rediscovering the Meaning of Christmas, Scott Cairns and others (Reader said: "Even if I don't have time to read the essays, the art inspires)
The Ancient Christian Devotional Series from InterVarsity Press
For the one experiencing pain and loss this Advent season:
Abby Norman at Accidental Devotional is re-running the series she wrote last year after her grandfather died at the beginning of Advent. For anyone who finds themselves in the darkness, struggling to cling to the light.
Creating an Advent Calendar for Prayer: "Last Christmas, I was pregnant with our second child, and every time I read stories about justice issues surrounding children, there were lots of tears. The DRC situation was exploding around that time with the rebels accused of all kinds of atrocities toward children, and my husband and my hearts broken. So we created an Advent "calendar" with a country and a photo of a kid from that country for each day I glued the photos on the squares and attached a little Advent calendar clip on each one, strung it on some twine and then put it on our mantle. And for 24 days we prayed for each child and the children of the nation represented on the card – it helped keep my mind on the nature of Jesus' birth, a time of trauma, darkness and sadness in the world he lived in even though beautiful because Jesus is beautiful and the light of the world.. but still, he was just a baby at the time surrounded by all of this pain. ~ Devi Abraham (For more information on this project, read Devi's blog post here.)
For the Creatively Inclined
Rethink Church does an Advent Photo-a-Day project. Each day, they give a prompt, which you're encouraged to use to inspire a photo every day during Advent. Tag #rethinkchristmas on Twitter to join the conversation.

Christmas words: Last year, Mandy Steward at Messy Canvas released an Advent Ebook which included a year a day gives you a word a day and several inspirational quotes. You could cut all the words out, put them in a bowl, and draw one every morning to inspire you toward thoughtfulness, creativity and mindfulness. I did this last year and loved it…but for whatever reason, I'm having trouble finding it again this year. 

Still, you could create your own advent window project like this by writing a list of 24 words having to do with Christmas, cutting them up, and choosing one each day to serve as a writing prompt.

"I Will Find a Way" – song by Jason Gray & Andy Gullahorn. (One reader said, "This is a song I've been listening to a lot that speaks of Advent to me and could be useful for those who are spoken to best through music."
Resources for Kids
The Jesse Tree One reader recommended this book as a great starting place: The Advent Jesse Tree: Devotions for Children and Adults to Prepare for the Coming of the Christ Child at Christmas, Dean Lambert Smith. Another suggested hanging Jesse Tree ornaments on a garland strung up across the opening between two rooms in our house
The Jesus Storybook Bible – my favorite kids' Bible ever – has 21 stories in the Old Testament…each of which ends with a tie-in to the coming of the Christ Child. And then three stories in the New Testament surrounding the birth of Jesus. Which is 24 – one per day in December leading up to Christmas Eve. (Adriel Booker offers a free reading guide download so that you can easily see which parts to read on which days.)
Combine the Jesus Storybook Bible reading plan it with the Jesse Tree idea. (This is what we're doing at our house this year.) We're using the Jesse tree outline adapted for The Jesus Storybook Bible here. I also downloaded the cute ornaments she features, and that's what's in our Advent envelopes…along with a couple of pieces of candy for the kids.
Other Simple Ideas for Spiritual Mindfulness
Advent candles: "The simple thing we do is that we light our advent candle(s) at dinner and say one thing we are thankful for when we light it and one thing we would like to see change in the world as we blow it out. It is simple, poignant and even small children understand thankfulness and that some things are right in the world. We remind them of whom we pray to and that Jesus wants to see that change too (well, most of the time they line up. I'm not totally convince Jesus wants to see my LEGO in the world!). We don't stress if we miss it or if dinner with 2 small kids becomes what it can become (chaos). We simply return to it the next day." ~ Jane Halton

Photo by Kristin Huntley at CreationSwap
Writing or curating blog posts, meditations, or devotions: The past two Decembers I have done an Advent series on my blog. I'm currently debating whether to do it again, because it does get a little much to manage to do daily posts during a busy time. But, I find myself drifting back to the idea because of what it cultivates in me. It keeps me reading what I should read and thinking about what I should think about when a million other things are pulling me in a million other directions."
 ~ Stephanie Spencer at Everyday Awe (Stephanie is doing another Advent Series this year. Check it out here.)
Taking time for silent wonder: "I sneak out to the balcony [where I can see our Christmas tree]. I quiet my heart from all the busyness of the season as I sit and watch the lights and their reflection on the large window behind them, frosted over from the cold. I take off my glasses and squint a bit, just to see the rays of blurred light echo the stars outside." ~ Jenna DeWitt
Waiting for the baby: "We do not place baby Jesus in the nativity that we set up when we decorate but rather wait until we get home from Christmas Eve service and together as a family place him in the nativity.  Throughout the season we talk about why baby Jesus isn't in the manger yet and how we have to prepare our hearts for his birth." ~ Martha Leader McGeehon
Decorating a "Jesus Tree" – (I love Kelly Stanly's special tree of "Jesus" ornaments. I may try this next year instead of the Jesse Tree.) She writes:
"I was having trouble translating the superficial into something meaningful…until I hopped online [and bought a few new ornaments for a new tree]: A Jesus Tree. A tree like this can never be complete, but as I hung the hooks on the branches, I felt the reverence I'd been longing for. With each ornament I placed, my prayers went something like this: Yes, Jesus, you are the I AM. You are love. You are the baby in the manger and Lord of All. And on and on, as I added ornaments symbolizing many of the names and faces of God. He is peace. Freedom. The light of the world. The Day Star. The lamb, and the lion. The shepherd, the carpenter, the gardener, the creator, the fisher of men. He is hope and joy. The Alpha and Omega. The king, the church. Faithful. He is my home, the vine, the gate, the door, the Word, and my daily bread. He is Christmas, but not just Christmas. He's so much more than that. And my tree served as a reminder to really think about who He is. To view Him in broader terms than the baby in the manger. To know that he is light, and love. He is everything."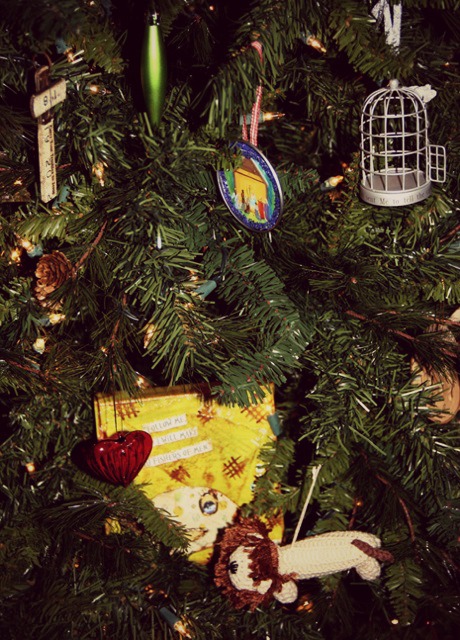 Serving communion: "Getting to serve communion — passing the bread to the couple or family or group of friends next in line, and then reading the passage from the Bible, looking each of them in the eyes — is the spiritual highlight of Christmas for me. It's so humbling to be the one serving. It changes the ritual completely for me."
 ~  Kelly Stanley
Listening to the radio: "What I'm really excited about this year is celebrating Advent on the radio. I host a night radio music program at a small Christian station, and I'm planning on incorporating all manner of things Advent into the words I say between the songs in the lead-up to Christmas, and all the way through Epiphany. It's such a good way for me to be mindful myself, while also sharing this mindfulness and expectancy and joy with whoever happens to be listening in the middle of the night." 
~ Lizzie Goldsmith
*
Thanks so much to all who contributed ideas and resources. I'm so inspired by your thoughtfulness, insight and creativity.
To help us celebrate Advent, Salt of the Earth has given me one copy of their gorgeous Christian Calendar to give away to one lucky winner! To enter for a chance to win, simply leave a comment – any comment – below! (I'll announce the winners of all giveaways this week on Sunday, December 8th.)
Did any of these ideas speak to you? What other ways do you choose spiritual mindfulness during this season? What other books, blogs or resources would you recommend?