One of the great things about opening up this One Small Change Series to submissions is that I've gotten to connect with some amazing new people. Matt Crosslin is one of them. I love how a moment from a long-ago mission trip has translated into this small change in his everyday life.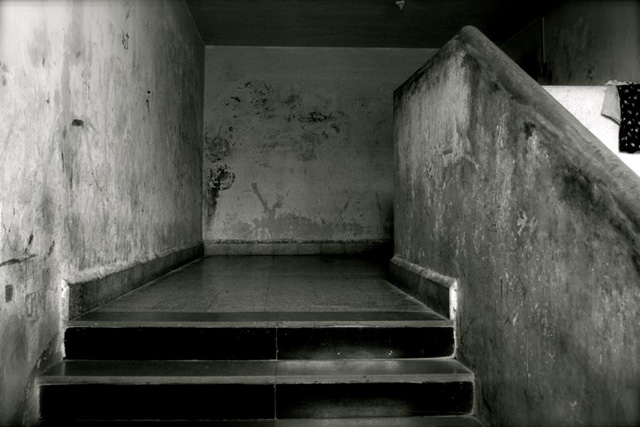 Sometimes the big things in life get stolen by the little things.
I still remember vividly a chance encounter during one of the "big things" I did in life – a mission trip to Mumbai, India. You would think that preaching at churches and praying for crowds of people would be the stories that I would keep coming back to. But it was actually a "little thing" that is permanently seared in my conscious.
Somehow we made a brief stop at a Mother Theresa orphanage. We were ushered into a room with hundreds of cribs laid out in a grid pattern. The first three or so rows were full, and my team jumped in to playing with those kids. But I was attracted to one small boy isolated a dozen or so rows back in the empty cribs. I walked up to his crib and was a bit shocked to see a small boy with no eyes.
Do you remember the horrible scene in Slumdog Millionaire, where the two brothers think they have found safety in an orphanage… only for one of them to witness a horrible act being carried out against another boy? While this scene where the little boy is intentionally blinded is hard to watch, what we saw is nowhere near as graphic as what this horrible practice looks like in real life. I have been told it takes on several forms, one of which leaves nothing behind – just empty sockets where the eyes once were.
But then this little guy smiled and I forgot the hollow cavities for eyes and just played with him for a while. I prayed as fast and as fervently as I could before we were ushered out, my heart heavy with the realization that I might end up being the only positive, loving male figure to enter his life.
The "big" event of an overseas mission trip was completely overshadowed by a small event that has stayed with me the rest of my life.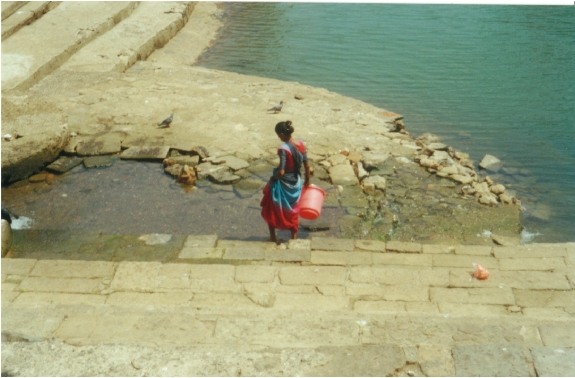 Over the years, all of those "big things" that I did for God have faded to a life of little things, just trying to keep a small toddler of my own happy and be a good husband and co-leader of a household with my wife. Part of me yearns for those days of traveling all over the world on my own insane spiritual version of The Amazing Race, completing Detours and Roadblocks "for the Lord."
But we are doing and living exactly as we felled "called" (whatever that means), so how do we impact the Kingdom from our house in the middle of nowhere, North Texas?
When I think of that little kid with the missing eyes, I know that there is an even darker evil out there. What we all saw a glimpse of in Slumdog Millionaire is connected to a massive problem of global slavery, mostly run by the sex slave industry.
I found one small way: Freedom Firm of India. I follow their efforts to free sex slaves through every outlet I can. Every time I get an update of what is going on, I say a quick prayer: "God, please let them find this girl" or "Lord, please help ____ find a permanent way out of prostitution."
Maybe these little prayers are not enough, but I have to believe that God is not the great Time Clock in the sky, rating our prayers on time or intensity. "Oh, sorry, you were five minutes too short, so no answer for you!" or "Well, you didn't pray as intensely as you did for that small boy in India, so no go!"
I wish it was more, but it is my small thing.
And my prayer is that maybe this small thing will grow into a bigger thing. Maybe I'll take the next small step and donate some money at the start of the month to help Freedom Firm with their Rehabilitation Program. Maybe after that, my daily prayers and occasional gifts will grow into a full-blown fund raiser where we raise enough money to pay for the rescue, legal defense, and rehabilitation of an under-aged girl.
You never know when you will suddenly have that opportunity… so maybe "sowing a seed" is just not for others. Maybe it is also for me. I have to hope so.
That is why I do these small things today – I never know when the seed will be given a chance to sprout in my future. But at least it will be there to sprout. I have come to see the little things as "big things in training," not faded relics of a bigger past.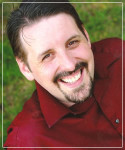 Matt Crosslin is an online course designer and educational technology consultant. He blogs about spirituality at Ecclesia Extraneus and about technology at EduGeek Journal. He also runs a free online magazine called Down the Line, which follows underground Christian alternative/heavy acts from the 80s & 90s.
He loves to travel with his wife and has been a Dad since 2010 — which he loves. Connect with him at his website here.