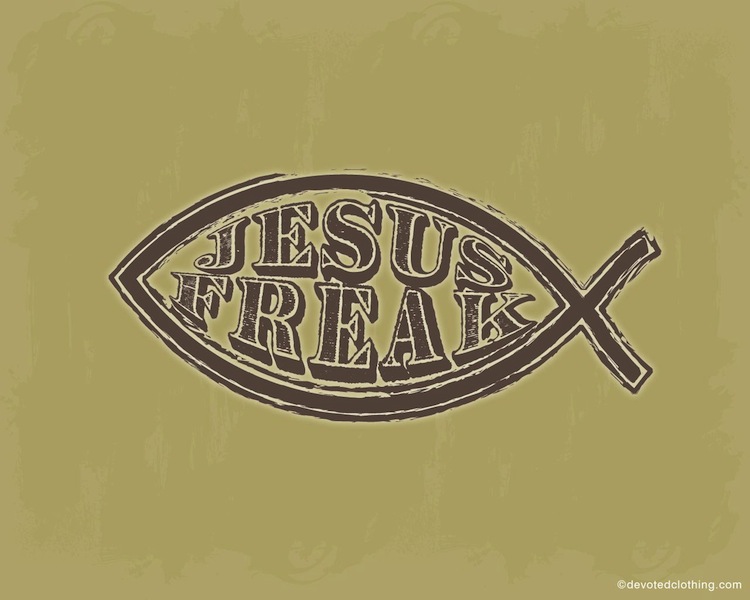 "I may not know much," she says from the edge of the circle of women – the group with whom I've come to share my book. "But I know you're too young and normal looking to be a Jesus Freak. Believe me, I was there."
In the book-filled basement room of the art center where I'm speaking, I feel knocked off balance by the force of her words.
She's thinking, of course, of the 1960s version, the hippie-turned-evangelists, roaming the streets, blissed out on Jesus. Strumming guitars and handing out tracts. I'm talking about something else entirely.
I back up. I try to explain, a little bit, about the way that the term Jesus Freak morphed into something else in the '90s evangelical culture in which I was raised. I talk about DC Talk – "Who?" she says "ZZ Top?" – and their hit song that challenged Christian youth to let their (Jesus) freak flag fly and embrace their wacky new identity.
So what if the rest of the world made fun of you? Mocked you. Pushed you out to the far edges of their social circles. I don't really care if they label me a Jesus Freak, the band sang, and they were so cool up there on stage, a hundred lights swirling around them. There ain't no denyin' the Truth!
I try to explain that when I say Jesus Freak, I'm talking about this resurgence – this wave of passion that rolled through the Christian world where I spent my youth. I'm alluding to this fact that I began to find my identity in not belonging in being an outcast for Jesus in being different from everyone and proud of it, wearing the Witness-Wear T-shirt, the WWJD bracelet, carrying my Bible to and from class.
This new "Jesus Freak" culture surged around me, and I disappeared into it.
*
The other day, I got a message from someone who's read some of my recent articles online. "Not really sure I understand what you are saying," she says. "I saw that you described yourself as a recovering Jesus freak…and it seemed sad to me that someone would want to recover from that."
I closed the message without responding, because I don't know how to explain it in one short note. What do I mean when I say "recovering Jesus Freak"?
I mean that I spent so many years defining myself by how out of step I was with the culture around me. I measured my success in t-shirts and purity pledges, missions trips and prayer group meetings. I thought the less "The World" loved me, the more God would.
During those years, I learned that I was supposed to find my identity in Christ, and I took it to heart – but I got Christ and evangelical subculture all mixed up in my head. I thought they were the same thing. So I built my life on I Kissed Dating Goodbye and Christian rock concerts, school Bible studies and early-morning prayer meetings.
No one ever called me a Jesus Freak. But they didn't really pay much attention to me either. They gave me wide berth as I careened through the halls like a firecracker, burning hot for Jesus.
And when I say I'm recovering, it's not from Jesus himself. It's from this false identity I inhabited so fully during those years.
I'm recovering from the defensive pose, the arms-crossed-over-a-Go-Against-The-Flow-tshirt. Because it's a thin line between I don't care what you think and I don't care about you. And when you're fifteen, the former so often bleeds into the latter.
I'm recovering, bit by bit, from a personality bent toward performance and an evangelical culture that encouraged that in me. I'm learning to separate my self-worth from the things I do – the Bible studies I lead, the length of my "quiet times," the intensity of my worship songs. I'm learning, slowly, that I don't have to be good to be Loved.
I'm recovering because finding my identity in Christ is at once so much more simple and so much more difficult than finding it in a t-shirt. It's choosing again and again to believe that I am defined only by the depth of his love for me – long and wide and high and deep. It's covering me completely – obscuring all that I do or don't do until it no longer really matters.
What I'm trying to say is that for so many years, I defined myself by a cultural construct instead of by the infinite love of God.
And so I'm a recovering Jesus Freak. I'm letting go of who I always thought I was supposed to be and trying to live into who I already am: Beloved. 
I'm learning every day that it's enough.