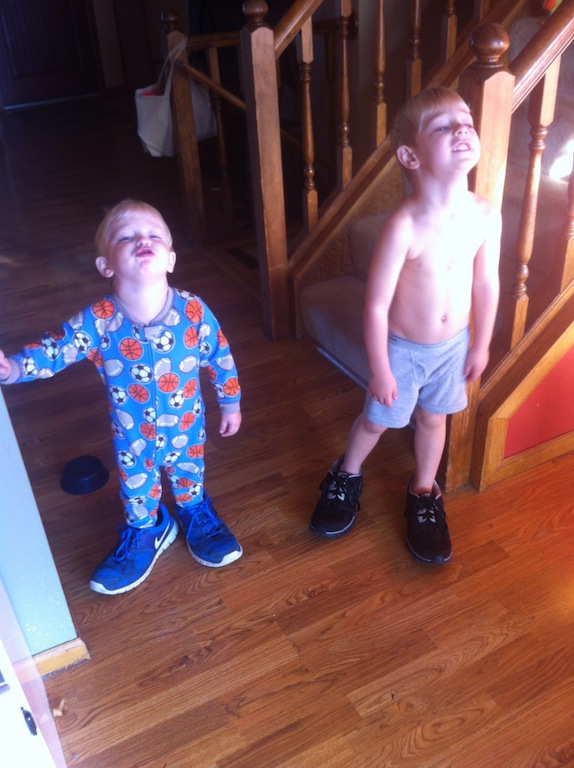 How are you going to raise your kids then? In regards to faith, I mean.
It's the question my publicist asked me early this summer on the phone. I took the call outside my favorite local coffee shop, and when he asked, I slid down against the brick of the strip-mall, my mind completely blank.
When I didn't respond, he cleared his throat and carried on. People will ask you this question. You should think about how you'll answer.
Four months later, my book is out, and I'm getting the question, just as he said I would.
And I still have no idea how to answer it.
*
First, you should know, I am Mama to two wild-hearted blonde boys. Dane and Liam are 4 and 2 respectively, which means I am in the high-intensity years.
It's heady joy, a heart so full of toddler kisses and pre-school curiosity and arms flung-wide open, waiting for you to scoop him up, to hold him close.
It's desperation and exhaustion and yelling in the soup aisle at Festival Foods to just GET BACK INTO THE CAR CART RIGHT NOW OR I WILL STUFF YOU IN THERE MYSELF.
And I want my kids to grow up with a healthy faith, with a steady beautiful picture of God. I want them to avoid some of the painful lessons I had to learn; I want them to feel free to question while knowing that they are still Enough for God.
But then, I always thought I'd be better at this Parenting thing. Each day the thin rope of patience holding my Crazy in frays and frays and frays some more until Mama loses her ever-loving mind.
The key to raising spiritually healthy kids is intentional parenting, someone tells me in an email, and the word intentional fills me with a rush of inadequacy.
Because some mornings, I wake early and pray thoughtful, heartfelt prayers for my boys and for the men they will become. I pray for Dane to be brave enough to love God and to love others and that Liam will learn the strength of gentleness. I hold my kids quietly in my heart before the God who loves them more than I could possibly ever love them. The God who knows them inside out, knows the people they will become and what they will have to endure to get there.
But on many other mornings, Liam wakes up at 4:15 and refuses to go back to sleep and I glare at him with the fire of a thousand suns while I hand him his juice cup and turn on The Incredibles.
Dane wakes up and throws a first-thing-in-the-morning tantrum because Liam picked out the wrong movie, and it's not even 6am and I am yelling at my four-year-old to PULL IT TOGETHER DUDE. THIS IS NOT SOMETHING TO CRY ABOUT!
Every now and then, Dane tells me that he's afraid, and so we stop, right there in the car, and pray that God will help him to be brave. And then we talk about how God is here. God is here. God is HERE with us all the time.
We'll forget to offer a prayer of thanks before dinner, and he'll fling wide his voice of praise. THANKS GOD FOR THIS WONDERFUL FOOD! We'll all echo his heartfelt sentiment, "Yes, thank you God!" and it's the sweetest of gifts being handed across the table to the unseen Love hovering somewhere in us, among us.
But then there's the hair pulling and the biting. The "I DON'T LIKE YOU MOM" screamed from the top of the stairs. The other day, he said dammit, in the car, and it shook me to my core. Because though I work very, very hard not to let my swear monkey out in front of the kids, I'm pretty sure it's my fault.
How then will you raise your kids?
I want to laugh. I want to cry. I want to tell you to ask someone else – certainly there must be experts on this sort of thing. I can't even get my kids to eat vegetables, let alone tell anyone how to help their kid learn to love Jesus.
I want to tell you I have no idea.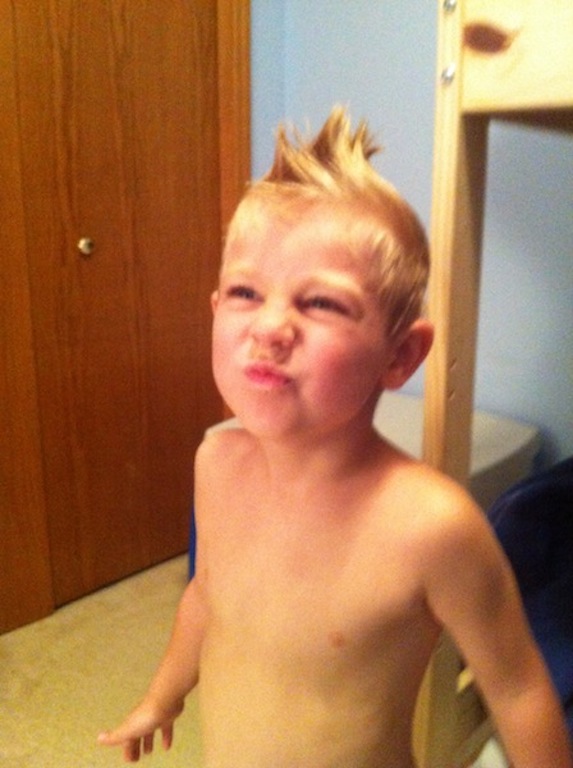 But then there's this:
Before bed tonight, Dane and I read the letters in his alphabet book one at a time. He's learning to recognize them, and it amazes me when he picks a letter out of a lineup and knows what it is.
Though we've been reading to him since before he could focus his eyes on a page, I've spent very little time "teaching" him his letters. I pin every brilliant idea for pre-k reading activities that I come across on Pinterest. I have every intention of doing them…but then my 4am-wakeups catch up with me, and I have nothing left to give.
So instead, Dane and I snuggle on the couch and in front of PBS, him zoned in to Daniel Tiger, me dozing next to him. His thick blonde hair sticks to my cheek as we rest, and it's not letters, not numbers, not intentional parenting in the least. Yet, also, somehow, I know these moments to be precious.
And here he is, less than two months into preschool, and he knows that's a W. And that one's a T. And that one's an R for Reese. He is learning in spite of me and because of me all at once.
He's learning because it's time.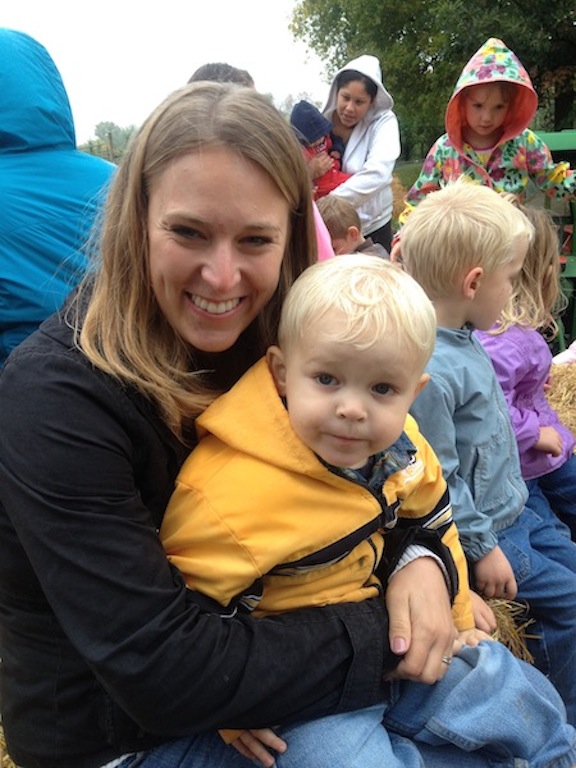 I'm am learning too, in my own imperfect way. I don't have strategies really. I have a bunch of books on parenting-type-things, none of which I have actually read.
This is learning is messy. It's trial-and-error. This is failing and apologizing, sitting down next to my small boy, saying, I'm sorry I said that. I'm sorry I got frustrated with you.
What this is is reminding us both that words mean things, that God is here, that No, Halloween candy for breakfast is really not a great idea for Mommy OR Boys. We have to give our body healthy things.
And if I've learned anything from my on fire years, it's that I can no more muster up perfect intentionality in my parenting than I could in my "quiet times" or in my "witnessing" or my "thought life." My focus fails, my patience frays and breaks, my love, while always there, is sometimes inconsistent and broken. It doesn't look like True, Perfect Love ought to.
And yet, God is here. He is working, moving in these boys' lives through me and in spite of me all at once.
His Grace is stitching together the things I break in them with my inevitable failings. His Love is strong enough for them to stand on when mine is not.
So I pray for my boys some days, but mostly I pray that where my intentionality fails, Grace would sweep in like a wind and do its good work.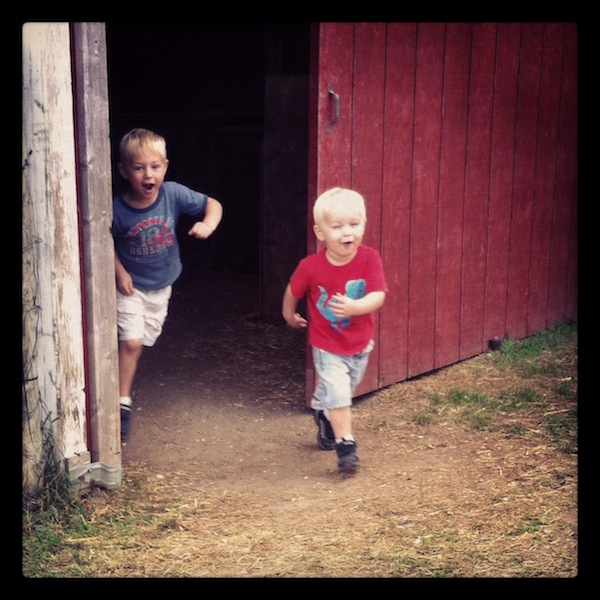 I tuck him in, and he wants a friend. He's lonely in his bed, and I know that this is a trick. It's a ploy to stretch out bedtime, and some nights I am over it, and I lose it totally and storm out with heavy footsteps in the hallway.
But some nights I remember. Some nights, I touch his hair, whisper, "God is here with you Dane. He loves you so much."
His lip trembles, "But I want someone real," He says. "I can't see God."
"Oh Baby," I say. "God is real, It sometimes doesn't feel like it, and it's okay to be sad that you can't see him. But I want to tell you that he is real, and he is here."
"He's here, Mom?"
"Yes, Baby. Always."
And it's not planned or scripted. There is no Bible study for this, no memory verse.  It's not a moment of intentionality, but a moment of grace that I have found myself inside of.
I pull the blanket over him, kiss his head, and I know, somehow, that these moments are precious.