Kim Van Brunt is one of my favorite people ever and proof that online friends are for real. She was the first person to ever link to one of my posts in one of those weekly best-of-the-internet linkups, and I vowed to love her forever after that. I just didn't know it would be so EASY.
Kim is a fellow Minnesotan, and every couple of months, we meet at the unfortunate halfway point between our houses — the Mall of America — for wine and dinner and deep, soul-level conversation. Her blog is beautiful and honest and insightful, and if you've been on the adoption journey or are thinking about it, you should head over there immediately and read everything she's ever written. After you read this great post, of course…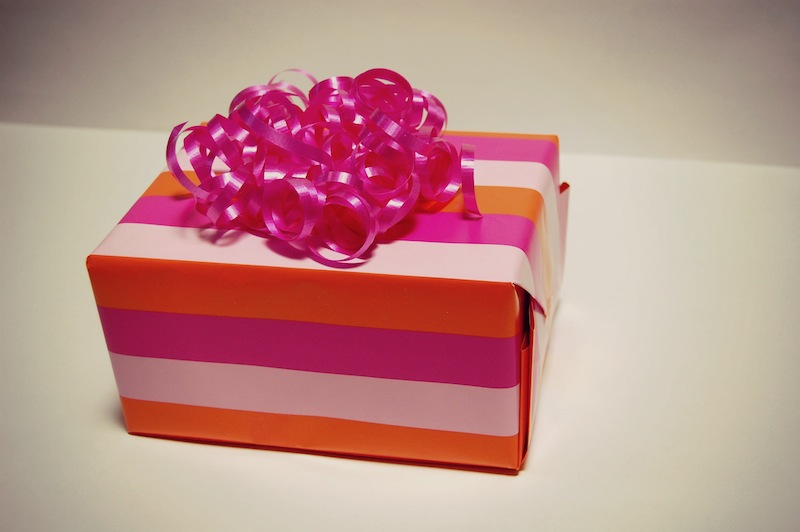 I wake up on my birthday and I can feel the weight already.
Laying there for just a minute, I try to sort out the fight in my head. It's not a big deal. But it IS the one day out of the year to celebrate ME. I shouldn't expect anyone to go out of their way. But it would be really nice if someone made it a special day for me…
The rest of the day, I walk around with a foggy weight, a vague discontent that I can't seem to shake off.
I get the same feeling on Mother's Day. A bit of the same on Christmas.
It's embarrassing, really, the selfishness it exposes. The insecurity.
Somehow, I want these singular magical days in the entire long year to make me feel like all the others have been worth something. That the work I've put in is valuable. That I might be worth something to the people I love, to those I serve, that somehow everything unseen will be called to mind and everyone will stop to recognize my sacrifice, my place, my contribution.
There's nothing wrong with wanting to be queen for a day. To be taken care of. To take the day off. That's not what I'm talking about.
I'm talking about being so myopic that I miss the point entirely.
* * *
Several years ago, a friend of mine sent me a sheep.
Specifically, it was her Christmas gift to me: A share of sheep from Heifer International.
It's a simple idea: You're donating to a worthy cause in honor of someone you love, but instead of just giving money, you're helping to buy life-giving livestock, milk — a sustainable living, hope for money for education, a livelihood — to an individual or a family you will never meet.
Our family now has a new Christmas tradition: Every year, we choose a gift for another family out of the Heifer International, World Vision or Food for the Hungry catalogs. One year, we bought a goat and two chickens. This year, I'm looking at a llama.
For a family gift exchange a couple years ago, my brothers and I agreed to purchase for each other only "gifts that give back," from organizations like Noonday, FashionABLE, Open Arms, Sseko and others.
On Mother's Day, I buy jewelry or other artisan gifts for the mothers in my life to benefit Mercy for Mamas,  an organization near to my heart (and my children's). It works to save the lives of mamas during and after childbirth in Uganda, one of the most dangerous places to give birth in the world.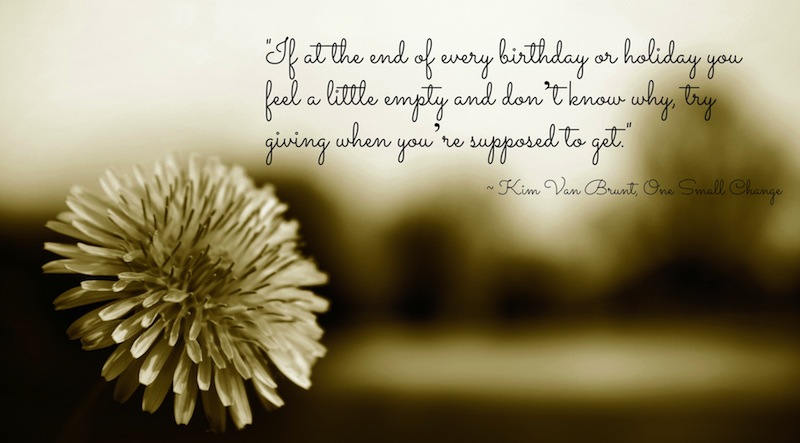 I'm not saying you can't put an iPad or those Frye boots on your Christmas list. I really don't want to get pious or self-righteous or (God forbid) legalistic about doing good on special days.
I'm just saying: If at the end of every birthday or holiday you feel a little empty and don't know why, try giving when you're supposed to get — and then tell me if the cloud doesn't dissipate a little.
For me, it's about feeling the connection I was created for, about God asking me to care for his creation and his children. It's about seeing beyond myself and looking for beauty in ashes. It's about redemption, life, hope, love, love, love.
Instead of feeding my insecurity, looking for ways to give moves me closer to my true identity: daughter of the King, partner in the work to make His kingdom come.
So on Thanksgiving, maybe invite someone for dinner: a neighbor or friend or the guy you know who's piecing his life back together after tough times.
At Christmas, buy fair-trade gifts or find creative ways to give as a family.
On Mother's Day, help another mama survive to mother her child; on Father's Day give to an organization that helps support a big brother or mentor organization.
On your birthday, think about how you could bless just one other person as you celebrate another year on this beautiful, messy globe.
* * *
If I can let go of what I think I need to get out of holidays and instead look for what I can give, who I can love, how I can help, I can get blissfully out of my head.
And for a moment, I think I can feel it: If I get very quiet, I can feel the very heartbeat of God.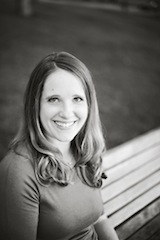 Kim Van Brunt is an adoptive mama and writer, holding up her broken pieces to the Light where everything is beautiful. She's just home from a second adoption from Uganda and is almost done writing her first book.
For more, follow her blog at www.kimvanbrunt.com, on Facebook, and on Twitter @kimvanbrunt.