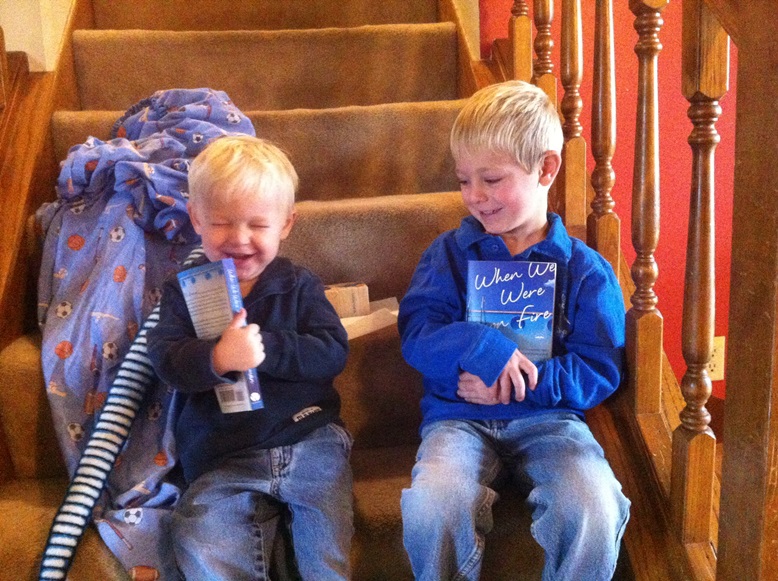 Today is a Tuesday. The garbage truck will come rumbling down the street as it does every Tuesday. I'll pack lunch for Dane and drive him to preschool, the radio on, his Cars backpack on the floor.
When we get to class, Dane will go find his name tag and put it on the board while Liam plays with the drinking fountain. He'll come running back to give me "the biggest hug EVER" before I gather up his brother and go home.
In the car, Liam will ask me six times, "Where Dane, Mom?" It's been a month, and we're still not altogether used to the way the school-day breaks into our routine and steals him away from us five hours at a pop.
The weather website says 100% chance of rain — pretty normal for a Minnesota Tuesday in October — so I'll snuggle next to Liam under a blanket and we'll watch his latest cinematic obsession — The Incredibles.
It's Tuesday, October 15th. I've known about this day for months…but I'm still not altogether used to it.
I'm not sure I'm ready for my first memoir to go winging into the world.
But release day is here. So, ready or not, it's time to let go.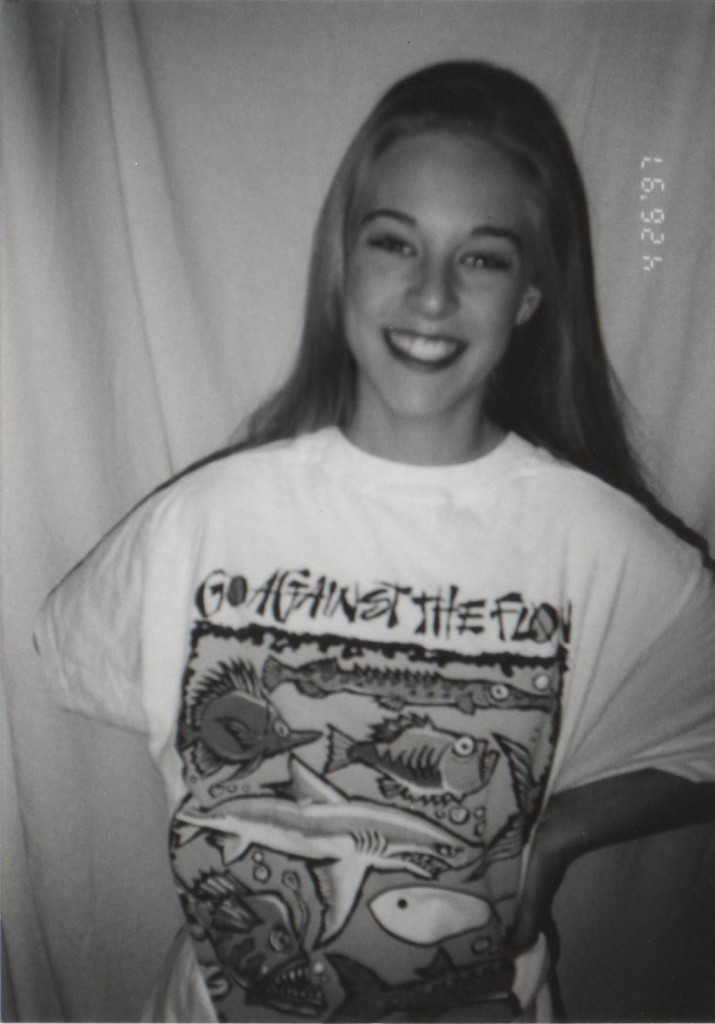 Once upon a time I was on fire for God, and I wore that T-shirt. (What you're looking at here is a DIY photo session. My junior high BFF Alissa and I had big plans to send these glossies to Models for Christ, where we'd use our beauty FOR THE LORD.)
I was on fire, so I wore sumo-wrestling suits at outreach events and ate a giant banana split out of a re-purposed rain gutter with my youth group in the Fellowship hall.
I rode the train downtown to see Jennifer Knapp at Moody Bookstore and sang her songs — from memory — all the way there. I owned a book called Keeping Your Cool While Sharing Your Faith and a well worn copy of I Kissed Dating Goodbye, which my boyfriend gave to me before he departed for a year-long missions internship.
I sang in the worship band every Sunday morning, praying under my breath that people would enter into the spirit of worship, instead of standing shifty-eyed and bored. In spite of my voice lessons with a lady from church, I was never much of a singer and secretly suspected that they were turning my mic down every week.
I learned how to wrap the microphone cords so that they wouldn't tangle, and I stayed after church, cleaning up when everyone else went home. I wrapped, wrapped, wrapped myself in God's love…and also in the evangelical culture…and eventually, the two were indistinguishable from one another. After a while I couldn't tell the difference between that still, small voice of Truth and the sleek words of Christian marketing. And the mixture of these two elements in my heart became a kind of toxic chemical.
I wrote When We Were On Fire because somewhere in the growing up, the flame flickered out, and I thought it was because I had failed somehow. I struck myself like a flint against church after church, trying to ignite some kind of spark. Instead I ended up angry, hurt, bitter, broken.
I felt so desperately lonely during that time. Looking back now, I see that I wasn't alone. So many of you were traveling a similar path, stumbling under the same baggage, trying to work it all out on your own.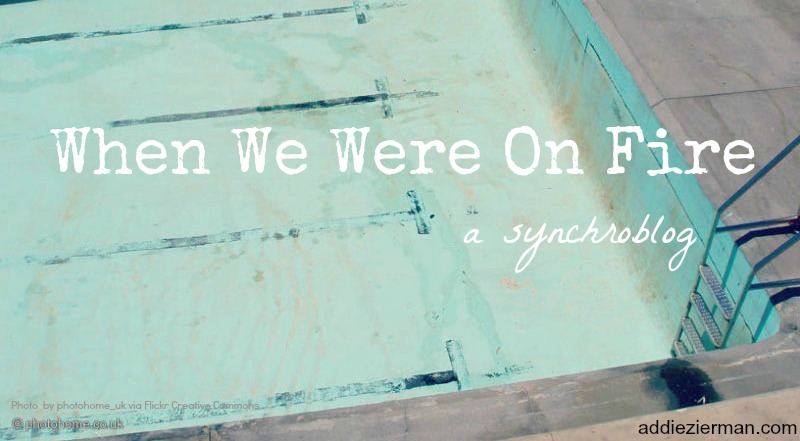 A couple of weeks ago, I invited you to share your on fire stories today in my first ever "synchroblog."
I hoped it would be a celebration both of the release this book…and also of the complex, hard, beautiful journey of faith.
But I also hope that seeing others' stories pop up here makes you feel a little less alone. A little less crazy and a bit more understood.
If this is the first time you're hearing about it, it's not too late! The synchroblog linkup will be open until 12:00 AM on Saturday the 19th. On Sunday (the 20th), I'll be posting some of my favorite quotes from your stories here on the blog.
Here's How to Participate:
Write your "When We Were On Fire" story on your blog. (If you don't have a blog, there's still a bit of time to get your words added to my When We Were On Fire: The Non-Blogger Edition post on Thursday. Just send me your story today or tomorrow in an email!)
If you're a blogger, make sure you include the image above and link in your post so that others can click back and see the roundup! (Link the image to this blog post: http://addiezierman.com/?p=2586)
Come back here use the link-up tool to add your post here. Make sure you link to the actual post, not your blog's home page.
Click around to other people's posts. If you have a few minutes, consider commenting on a couple that you specifically relate to. (Us blogging people love that sort of thing.)
If you want to share your post on Twitter, use the hashtag #WWWoF so that we can all keep track of what's happening. (This is the hashtag for the book, by the way. I just invented it. You can use it for all of your nice comments about my memoir…but none of your mean ones. I'm not strong enough.)
Thank you so much for helping me to celebrate this ordinary (and also…anything but ordinary) Tuesday.
I can't wait to read your words.
Note: Curious about the book but not sure if it's for you? You can read the first couple of chapters free here. I've also published a short excerpt from the middle of the book over at the Deeper Story site today.
Already pretty sure you'll love it? GREAT! Order it now here or here or here or here!