NOTE: This synchroblog is now live. Check it out here!
Today is October 1st, which means that my extremely-vulnerable memoir (choked full of spiritual angst, personal details and four-letter words) comes out in exactly TWO WEEKS.
I have been preparing for the release in the following ways:
Junk food. Cookies for breakfast! Pasta for dinner! Eight thousand cans of Diet Coke a day!! I bought a bag of dark-chocolate Milky Way Minis last week and ate them all, I'm sorry to say, in three days. I'm not even going to tell you how many times we've been to McDonalds in the last couple of weeks, and I just polished off my second bag of cheese puffs this month.
Watching Nikita on Netflix…because there's really nothing better for a mental breakdown than a really bad CWTV show. Particularly if said show has super-spies, cringe-worthy plot-twists, and a couple of drama-filled love triangles.
Naps.
A couple desperate, last minute web searches to find a new, local therapist. (Mine moved way to the other side of the city. Sarah, if you're reading this PLEASE MOVE TO ANDOVER IMMEDIATELY!)
Spontaneous and completely unnecessary Target purchases. (Clearly I need to re-read Abby Norman's One Small Change post on Putting Things Back. Sigh.)
I'm writing guest posts and articles and – here's a new one – video scripts. (My kind, wise editor told me that I need to put my face on YouTube soon, and though I know he's probably right, it didn't stop me from going into a full ten-minute panic coma about it during the sermon this past Sunday.)
I have seventeen lists on my kitchen table, and I'm not really sure which one of them is the official "To Do" list.
My book is coming out. In TWO WEEKS. I think I'm getting an ulcer. This is, apparently, what Living The Dream looks like.
*
When I started thinking about what it might look like to "Promote My Book," I knew that I wanted it to be about more than just me and my story. The title is, after all, When We Were On Fire, and, in one way or another, you were there too.
You were somewhere on the other side of that giant arena downtown, singing along to "Jesus Freak," jumping up and down with your hands raised high.
(Or you were outside the concert, smoking surreptitiously by the dumpster with other youth-group bad-asses. I'm not here to judge.)
You were waking up at 6:00 in the morning, bleary-eyed and fuzzy, driving to your school's Bible study. You were standing at your school's flagpole. You were attending Wednesday night youth group. You were saying all the right things, believing it all…or not. You were singing loud and soulful, or you were doodling on your youth group handout in the back row, feeling indescribably lonely.
You were hiking through foreign countries in matching t-shirts, reciting your three-minute testimony in your head. You were signing a True Love Waits pledge card, promising purity before you understood what it meant.
Or maybe you weren't in this world at all…but you knew people who were. You had barbed interactions with them…or beautiful ones. Or both.
Whatever it looked like for you, your life was touched by the 90s Christian Culture: this world where it was a kind of success to be "on fire for the Lord," and you were measured – however inadvertently – by the power of your passion.
I want to hear your story.
On or before Tuesday, October 15th, write a blog post about your "on fire" days.
The good of it or the bad of it. The beauty or the pain or all of it wrapped up together somehow. Tell me about the time you broke the rules on a missions trip. Tell me that funny story from Bible camp…or that heartbreaking one. Did you wear the t-shirts, the one with messages like Life's Hard, Pray Harder? Did you string WWJD bracelets, one-by-one, up your wrist?
Maybe it wasn't you, exactly, but it was your daughter. Your son. Your niece or nephew or granddaughter. Tell what that was like, watching them sort out God under the fluorescent light of this strange subculture.
When you think about those days now, what comes back? What rises to the surface? Tell me. Write it all down.
Here's How to Participate:
Write your "When We Were On Fire" story on your blog on or before Tuesday, October 15. If you don't have a blog, don't worry! Send me your story in an email, and I'll compile those somehow in a post called When We Were On Fire: The Non-Blogger Edition.
If you're a blogger, make sure you include this image and link in your post so that others can click back and see the roundup! (Link the image to this blog post: http://addiezierman.com/?p=2500)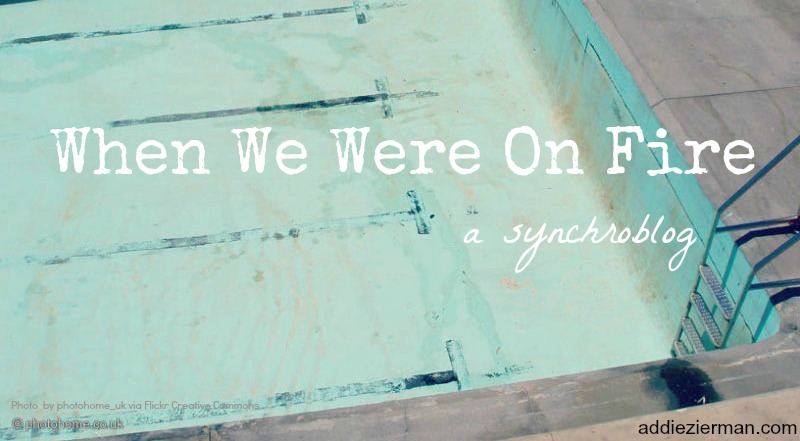 3.   Come back here on Tuesday, October 15, and use the link-up tool to add your post here. Easy peasy.
4.   Click around to other people's posts and feel way less crazy.
5.   If you want to share your post on Twitter, use the hashtag #WWWoF so that we can all keep track of what's happening. (This is the hashtag for the book, by the way. I just invented it. You can use it for all of your nice comments about my memoir…but none of your mean ones. That will only drive me back to the cheese puffs.)
I'm looking so forward to hearing your stories.
Thank you for joining me to remember and to redefine. To celebrate, expose and to begin to understand those years when we were on fire, burning wild, burning out. Becoming the people we are today.