This is Part 2 of a short series about my road to publication. Because sometimes it helps to know the story behind the story. Read Part 1 HERE.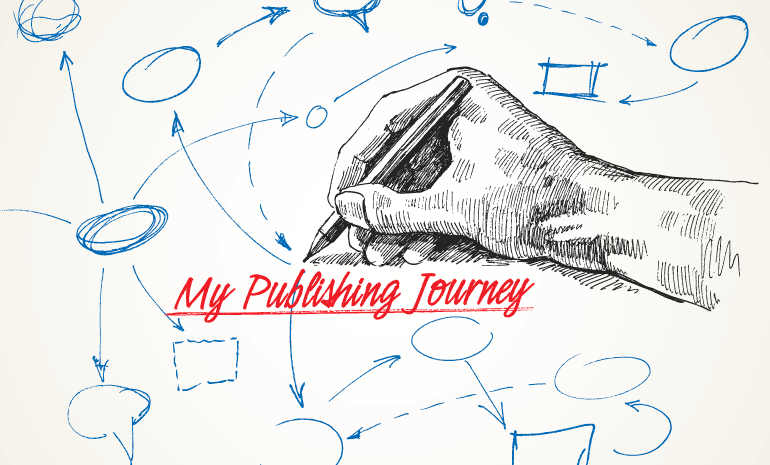 So there I was, in the middle of my echoing ignorance. I stood with a finished manuscript in one hand and an overabundance of vague information about GETTING YOUR BOOK PUBLISHED in the other.
I did what any good, Type A personality would do.
I bought a brand new binder. I started making lists.
I stalked publishing blogs like Churck Sambuchino's Guide to Literary Agents and Rachelle Gardner and Chip MacGregor. I took notes, like the honor roll student I used to be. I spent hours researching literary agents, entering them one by one into a detailed, informative spreadsheet. I read dozens of query letter samples until I learned the cadence and rhythm of the industry.
One day, I went to Barnes and Noble and sat for several hours with my computer and a book on proposal writing. I texted my Mama Friend who was watching my son, complained, "This is harder than writing a whole book!" and it felt true. I didn't know how to summarize what I had tried to do, how to put a marketing spin on it, how to reduce it to an "elevator pitch," a sound bite, a couple of paragraphs of engaging summary.
When I finally began sending agent queries, I was steeled by statistics. I knew about the shaky economy, the changing publishing industry, the complications, the risks. I knew it might take months, years even.
No one was more surprised than I was when one of the first agents I queried asked to see the complete manuscript…and then offered to sign me.
We spoke briefly on the phone, and her New York Agent voice was fast and important. I signed the contract just a few weeks before my second son was born, and all at once, my grad-school-thesis-memoir was out on submission.
*
Let me tell you about false starts. They trick you into thinking that things will be fast and easy now. That you are MOVING, that it's all happening.
And then…nothing. A slowing. A fading.
After a couple of months on submission, my manuscript came back with a handful of thanks-but-no-thanks. "They like your book," my agent said, in her matter-of-fact, New York Agent tone. "But they can't sell a writer with no platform. You need to start a blog. We're going to take your book off submission until you get your numbers up."
I sat, stunned, in my little red kitchen – my two-year-old son tantruming on the floor, my newborn getting fussy, ready to nurse. The laundry was piled up on the table, the dirty dishes from last night were congealing on the counter.
I read the email again and again, and then I started crying, because when in the world was I going to find the time? How was I going to manage a blog when I couldn't even manage my own chaotic everyday?
I put my kids to bed that night and sobbed to my husband – But I don't WANT to be a blogger. I bought myself a super-sized cheeseburger value meal at McDonalds and drank a lot of wine and watched trashy TV shows until I passed out.
And then, the next day, I got up and did what any good, Type A personality would do.
I started making lists.
*
The How to Talk Evangelical blog was "born" on September 26, 2011. Yesterday was my 2-year Blogoversary.
I think about those early days now, and it occurs to me that the sweetest gifts often turn out to be the ones you never saw coming.
I started the blog because my agent told me I "had" to…but it stopped being about that within a few short months. It started being about something else entirely: Healing. Community. Unexpected connections and being stitched back together, word by word.
I've written about this before. About the surprising gift of "platform":
And here it is: I'd spent five years ripping up the rotten, mildewed boards of my warped view of God. A theology that could not sustain the weight of my pain.

But as I began writing my blog, I realized that we were not so much building a platform for a book as a new platform of faith. A sturdier foundation. Something I could stand on; something that could hold me up.
I still remember my first non-family-or-friend commenter, and the thrill it sent through me to know that my words were somehow relating to someone I'd never met. I've keep every email that readers have sent me. I read every comment, tweet, and message. Every time a new person finds me on Facebook, I read their name, and I look at their picture, and I feel a sense of wonder that I am finding my people, here in this void of the Internet.
And it felt like a false start, like hope deflated when the New York Agent pulled my book out of the publishing world. But it wasn't. I was starting down a new road that I didn't understand, toward a beauty that I hadn't yet seen.
Make sure to come back next Friday, October 4th for Part 3 of the series! Have a great weekend!